by
JuliaGuard

Esri Contributor
Mark as New

Mark as Read

Bookmark

Subscribe
As of January 2014, the use of Bing imagery requires a 'Bing key' purchased from Microsoft. Before you can complete the steps below, you will need to contact Microsoft to obtain a key. You can email bing4esri@microsoft.com to get in touch with a Microsoft representative.
To install your Microsoft Bing key:
1. With administrative access, sign in to your ArcGIS Online organizational account.
2. Navigate to 'My Organization' > Edit Settings.
3. In the Organizational Settings, select the Maps tab.
4. Under the Bing Maps section, paste your Microsoft-supplied Bing key and save the changes.

5. Navigate to Groups > Create A Group. Give your group a name, a tag, and update the Status to Organization. Save this group.
6. Navigate to Map > Add > Add Layer from Web. Select 'A Bing Basemap' from the drop-down menu.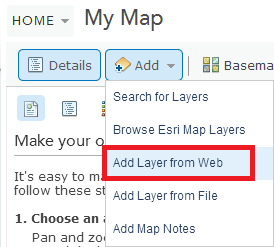 7. Select the type of Bing basemap you want access to, and click 'Add Layer'.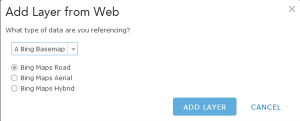 8. Save the web map. Give the web map a name and tag.
9. Share the web map. Select both your Organization and the group created in Step 5. At this point, you can choose to repeat Steps 6-9 if you want to save all three formats of Bing imagery.
10. Navigate back to My Organization > Edit Settings > Map tab.
11. Under the Basemap Gallery Section, select the group created in Step 5 and check the box for "Add the Esri default basemaps to this group". Save the changes.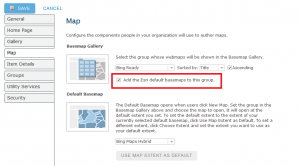 12. When you navigate back to the map viewer and select "Basemap", you should see both your Bing basemaps and the Esri default basemaps in one location!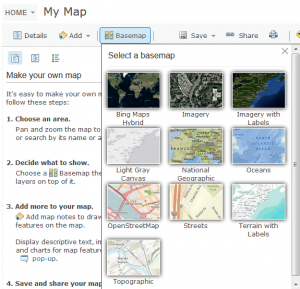 13. If you are using ArcMap Desktop 10.0 or later, you may also want to access the Bing imagery on your local machine. To do this, you will also need to supply your Bing key to the machine where Desktop is installed. If using ArcMap 10.0 SP5 or 10.1 SP1, you will need to first install the Bing key patch, which is available for download under the Additional Resources section of this blog. Once the patch is installed or if you are running ArcMap 10.2, the steps are as follows:
1. Open Windows Explorer and navigate to the [location where you installed the software]\ArcGIS\Desktop10.2\bin.

2. In the 'bin' folder, there should be a SetBingKey.exe. Double-click the executable file, and a window will open, allowing you to enter your Microsoft-supplied Bing key. Once the key has been entered, click OK.

3. Open a blank or existing map document.
4. Navigate to File > Sign in, and enter your ArcGIS Online Organizational credentials.
5. Navigate to File > Add Data > Add Basemap. You should now see the same Basemap options available to you in ArcGIS Online, including the Bing Maps imagery. You will also be able to open and use any map documents that contain Bing imagery created prior to the requirement of an access key.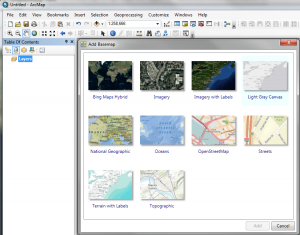 Additional resources:
Bing Map Use in ArcMap has changed
Getting a Bing Map Key from Microsoft
Bing Maps FAQ
Bing Key Patch for ArcMap 10.1 SP 1
Bing Key Patch for ArcMap 10.0 SP 5
How To: Set the Bing Maps key in ArcGIS for Desktop
---
Julia G. - Desktop Support Analyst
1 Comment
You must be a registered user to add a comment. If you've already registered, sign in. Otherwise, register and sign in.