Mark as New

Mark as Read

Bookmark

Subscribe

Email to a Friend
On the weekend of August 1
st
, the Esri summer interns came together to participate in a hackathon hosted in the Esri café. The weekend was designed to encourage innovation through the rapid creation of applications; the event was extremely successful. One of most interesting aspects of the hackathon was watching the diversity within each team harmonize to improve the overall quality of the final products. Each team included at least one developer to write the code and several other members from Marketing, Support Services, Professional Services, and other Esri departments to help with creative design, the use of GIS, and the delivery of the final presentation.
The interns may not have realized it, but they were inspirational to watch; they collaborated beautifully to find a common problem and showcased the functionality of web GIS to solve that problem.
Click the link below to see coverage of the weekend through an Esri Story Map:
Esri Intern Hackathon 2015 Story Map
To assist the interns, four analysts from different teams at Esri Support Services were tasked to answer questions, provide troubleshooting tips, and address software issues encountered along the way. We worked alongside the interns throughout the weekend and were fortunate to collectively experience the challenges and rewards of working with Esri software. We also got a first-hand look at how fearlessly the 'millennials' approach the use of GIS and application development. Native-based applications constructed with AppStudio for ArcGIS or the ArcGIS Runtime SDK for Android were the most popular, and the importance of aesthetic design was a highlight.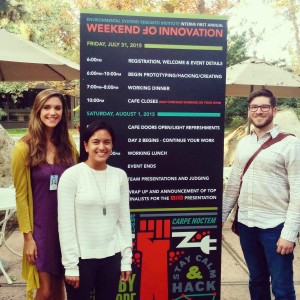 Esri Support Analysts onsite as mentors
Overall, the interns reminded us of how exciting it is to stay relevant and of the value of taking a chance with new products or new ways of thinking about our work.
AppStudio for ArcGIS, which was released in Spring 2015, is just one of the Esri products teams implemented while creating their apps. The tool allows you to create cross-platform apps in literally minutes (see this
video
from the Esri Developer's Summit) and without any background in coding. You can get started with a pre-created template or create your own application from scratch using QML code. In just one weekend, many of the interns went from working with AppStudio for ArcGIS and QML for the first time to mastering the application interface, terminology, and workflows. It was truly inspirational watching the excitement and dedication the interns had towards learning something totally new and presenting their amazing products.
While AppStudio is currently still in Beta 3, you can already start creating apps to showcase your own ideas, maps, and data. Click this
link
for documentation to help you get started.
If there is anything this weekend proved, it is that application development is changing rapidly and can be a lot of fun. Esri is working hard to make the process a whole lot easier with the release of AppStudio for ArcGIS. Like the interns, if you take a bit of time to learn something new, you too can produce some amazing results. Just take a look at the apps the interns created in under 12 hours!
And, if you need help with AppStudio for ArcGIS or any other Esri products, contact Esri Support Services through a call, chat, or email. We are all very excited about this new product and can't wait to help you get started creating exciting and beautiful new apps!
Resources:
Contact
Esri Technical Support
, or learn more about the
Esri Internship Program
.
---
Julia G. - Server Support AnalystSupriya K. - Geodata Support Analyst
You must be a registered user to add a comment. If you've already registered, sign in. Otherwise, register and sign in.