Mark as New

Mark as Read

Bookmark

Subscribe

Email to a Friend
Users/Administrators of ArcGIS Online Organizations may have noticed some irregularities with feature storage credit charges between January 1st and July 4th, 2018. This was a result of a bug in the credit accounting process that resulted in sporadic timeouts and increased execution times while running the feature storage credit calculation service. This issue fixed on July 4th, 2018. The operations team is working towards being able to detect such scenarios with improved monitoring of these services.
BUG-000100343: Occasionally, users are not charged for feature service storage for an hour at a time.
As a result of the bug, some organizations were sporadically not charged for feature storage in hour long increments over this time. Organizations will not be charged for any missing feature storage charges. Although no action is required on your part, we want to show you what the error may have looked on the status tab and point you to the reporting tools to understand credit storage. understand if you were affected by this bug
Identify irregularities:
1. Navigate to the status tab and view the last 60 days, or a time period that includes before and after July 4th
2. View Irregular and Consistent Feature Storage in status reporting.
NOTE: Keep in mind that if members in the organization were publishing, deleting or adding to new features to hosted feature layers, feature storage may fluctuate due to changes in data storage.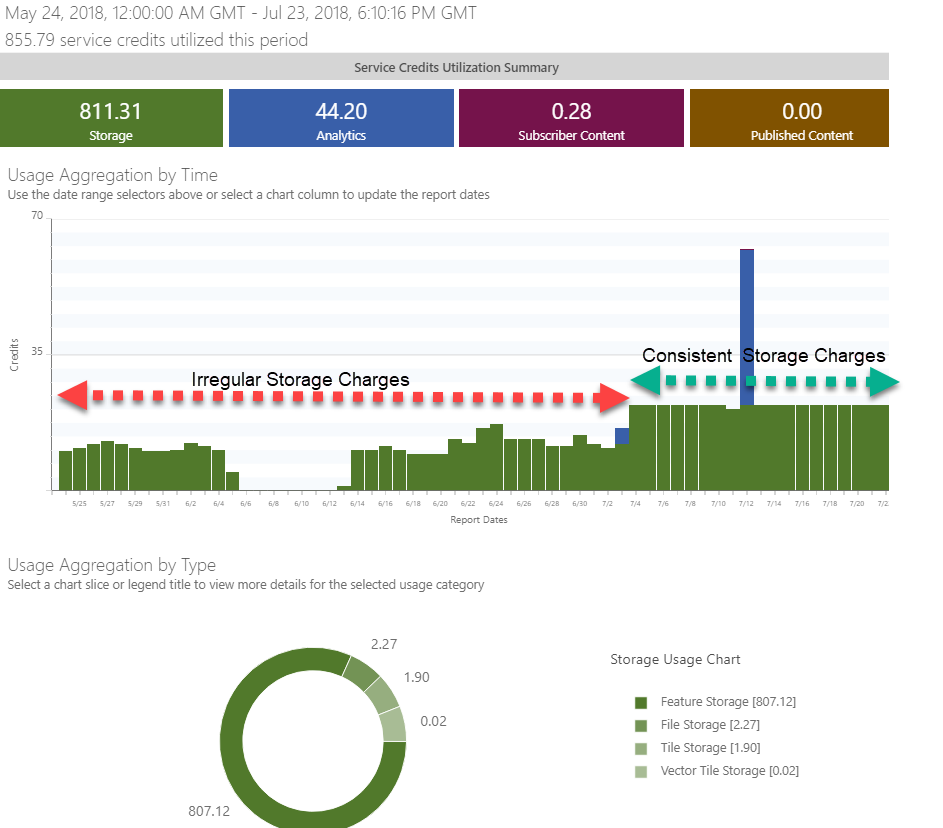 3. Click on a specific day to verify if the charges were consistent for each hour. If there are sporadic missing hourly charges, then you have probably experienced BUG-000100343. If you are consistently charged hourly across the day, then you were not affected. As this bug was sporadic, you may have been affected on some days and not others, so feel free to check out multiple days.
BUG-000100343: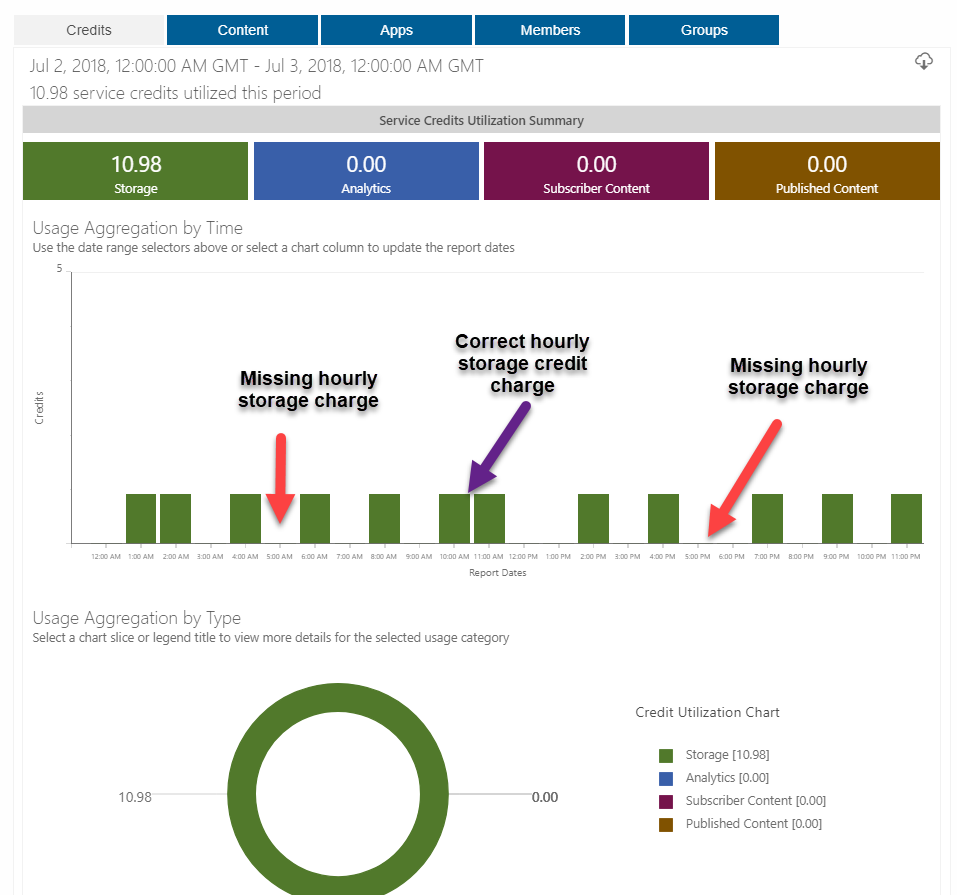 Correct hourly credit charges: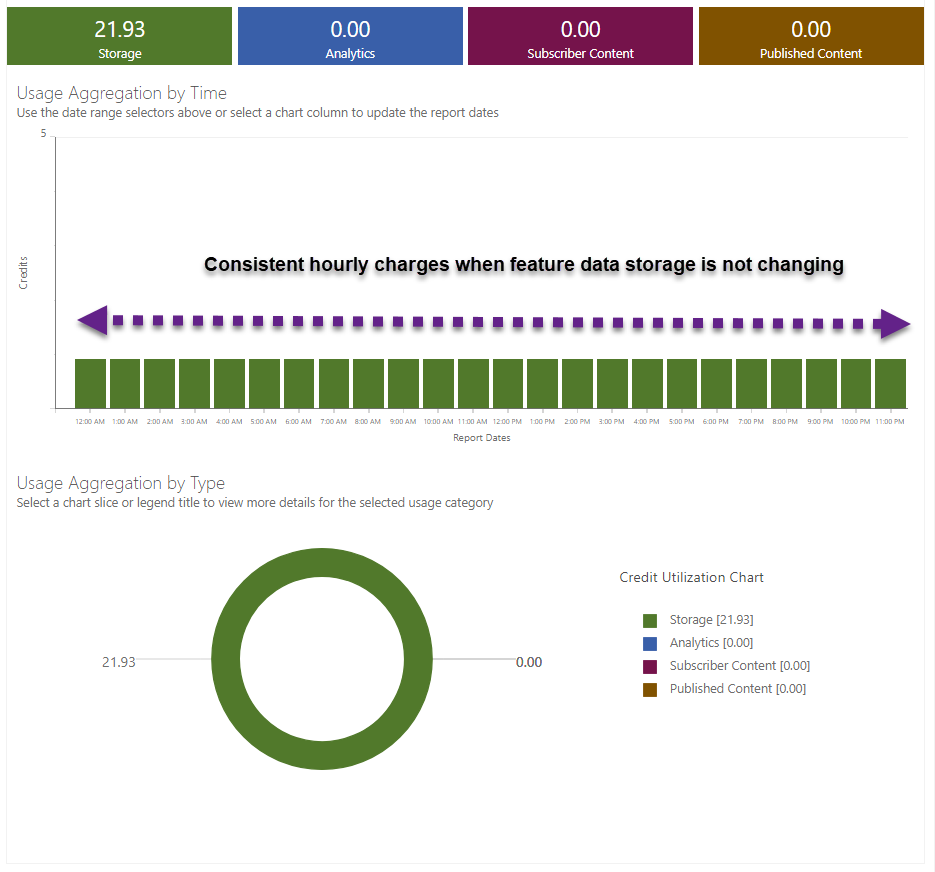 4. To verify the amount of data stored for a specific day, click on the storage ring and view the table below. You will notice that the size remains the same when comparing the feature storage before July 4th and after July 4th, but the credits charged may vary.
BUG-000100343: Before July 4th 2.76 GB, 11.83 credits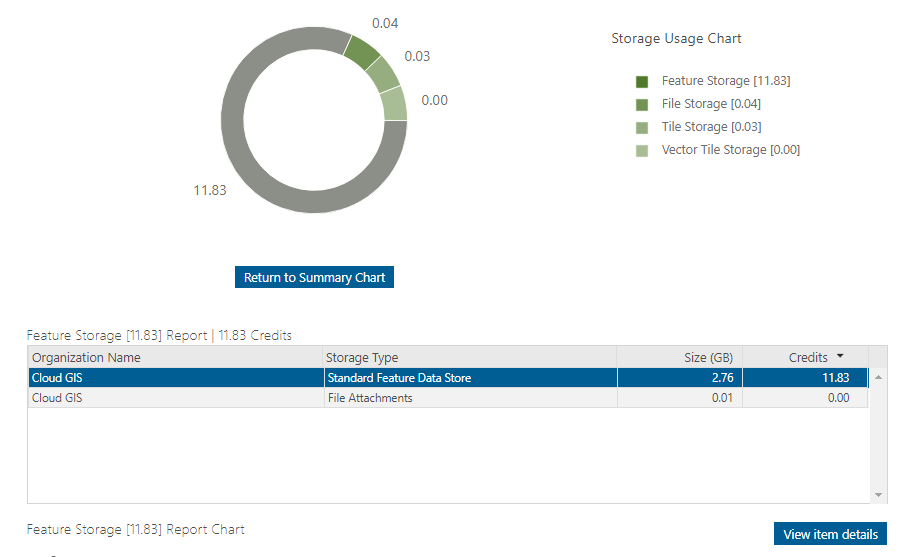 After July 4th, 2.76 GB, 21.84 Credits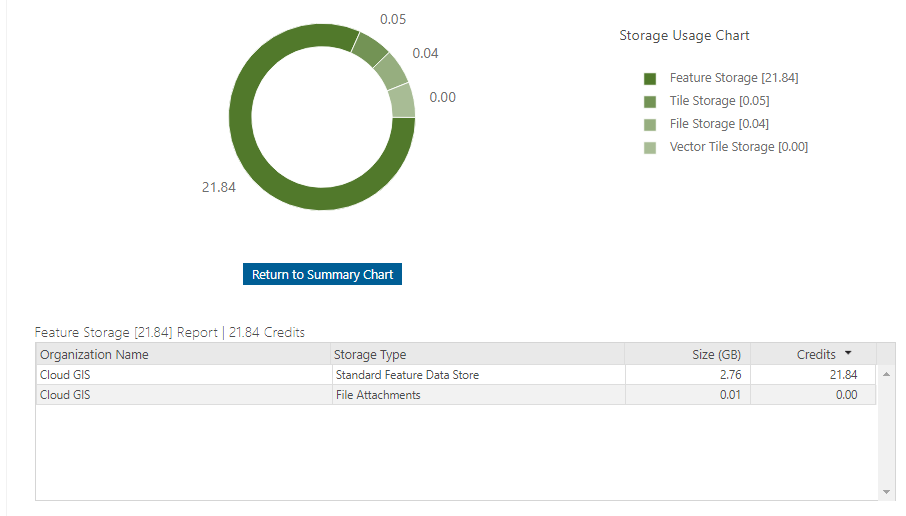 To verify your feature storage size, throughout this time period, please view the feature storage details on the status dashboard. As mentioned above, there is no action required on your part, but as an administrator you can dig into your credit reporting to see if you were affected. If something doesn't quite seem right, feel free to get in touch with us in Technical Support to answer any questions.
Some helpful blog links:
Feature Storage Reporting on the Status Tab:
https://www.esri.com/arcgis-blog/products/arcgis-online/administration/understanding-feature-storage...
Strategies for managing credits:
https://www.esri.com/arcgis-blog/products/arcgis-online/administration/five-strategies-and-tools-for...
Help:
http://doc.arcgis.com/en/arcgis-online/reference/credits.htm
http://doc.arcgis.com/en/arcgis-online/administer/view-status.htm#ESRI_SECTION1_1D001100A7A24CDF85A0...
You must be a registered user to add a comment. If you've already registered, sign in. Otherwise, register and sign in.