Mark as New

Mark as Read

Bookmark

Subscribe

Email to a Friend
The new Support website provides a variety of tools and resources to help you find answers to your questions and solutions for your technical issues. If you are just looking for general help information, the site includes multiple channels to guide you to important reference materials. If you are looking for more specific information related to a certain product and version, the Support's new product pages are designed to only show you the content that is relevant for your ArcGIS deployment.
Find Information for Your Product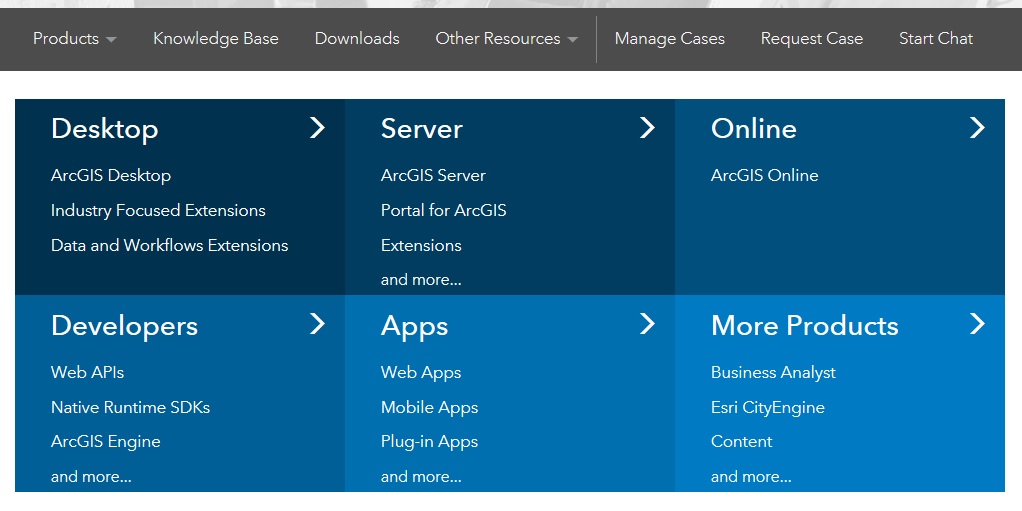 On the Support home page, the "blue blocks" represent the six product areas that Esri serves, and you can click any of the links in those blocks if you see your product. These same six categories are also accessible from anywhere on the website from the Products drop-down menu in the navigation bar.
Desktop - ArcGIS for Desktop (ArcCatalog, ArcMap, ArcGIS Pro, etc.), industry focused extensions, and data and workflow extensions.
Server - ArcGIS for Server, Portal for ArcGIS, server extensions, and more
Online - ArcGIS Online
Developers - ArcGIS Engine, Runtime SDKs, Web APIs, and more
Apps - "ArcGIS/Esri Maps for X" series, ArcPad, Explorer for ArcGIS, Collector for ArcGIS, other mobile / web apps, etc.
More Products - Business Analyst, Esri CityEngine, ArcGIS for Local/State Government, legacy products, and everything else

If you're not sure where to go, you can click Knowledge Base or Downloads in the gray navigation bar. These pages show a full list of all Esri software products. Clicking the named link of any product takes you to the information page of the latest release of that product.
Product Categorization

It's helpful to click on a specific page to get information about only your product, but sometimes you need more. If you want to go deeper, there is a list of drop-down menus for each Product page that can be selected, changed, and reset; they'll automatically take away any results from the list that don't apply to your conditions. If your product version isn't 10.4, simply click the Version drop-down and change this to the version of the product that you're working with.

Issue Product Categories

Still not good enough? There are other tools available for you to use when searching the website. You may see it blurred in the background above, but there are additional filters that can be used to narrow your search. Of course, you can still filter by content type, but we have created new filters for 'Product Categories' and 'Product Sub-Categories,' which match the six product groups above.

These filters may not immediately be available, but once they are, they will become especially useful if you are looking for documentation on a 'niche' product and version, service packs, web help, bug reports ... anything, really.

Product Information Tabs

And yes! Some of the product information that is most important to you is organized such that you don't have to click through links and download PDF files to find the information you need. The blue 'tabs' you see when you choose a product provide direct links to any support information available for your product and version.
Overview - Provides a link to the specified product and version's blog site, web help home page, latest downloads, technical articles, product life cycle, and related GeoNet discussions.
Solution Finder - This specialized search tool allows you to 'drill down' into our knowledge base and find information based on the issue topic.
Knowledge Base - Any technical articles or white papers for your specific product and version are listed and available here.
Downloads - Any downloads, service packs, patches, or updates for your product can be found here. Clicking the 'Subscribe' button that appears will allow you to subscribe to this list, and you will be informed when new downloads are released.
Product Support - Displays the product's support lifecycle, system requirements, and additional product information.
Visit Web Help - Takes you to the product (and version)'s Web Help page.
Ask on GeoNet - Takes you to the product's GeoNet (Esri Community forums) page.
Solution Finder: Issue Topics Index

If you're working on a specific task, such as building a network or geocoding addresses, or maybe you're just trying to get that feature service up into ArcGIS Online, you may want to try using our Issue Topics index tree, located inside the Solution Finder tool. Its organization is built around what you are trying to do, or what you were doing when you started having problems or needing answers to your questions.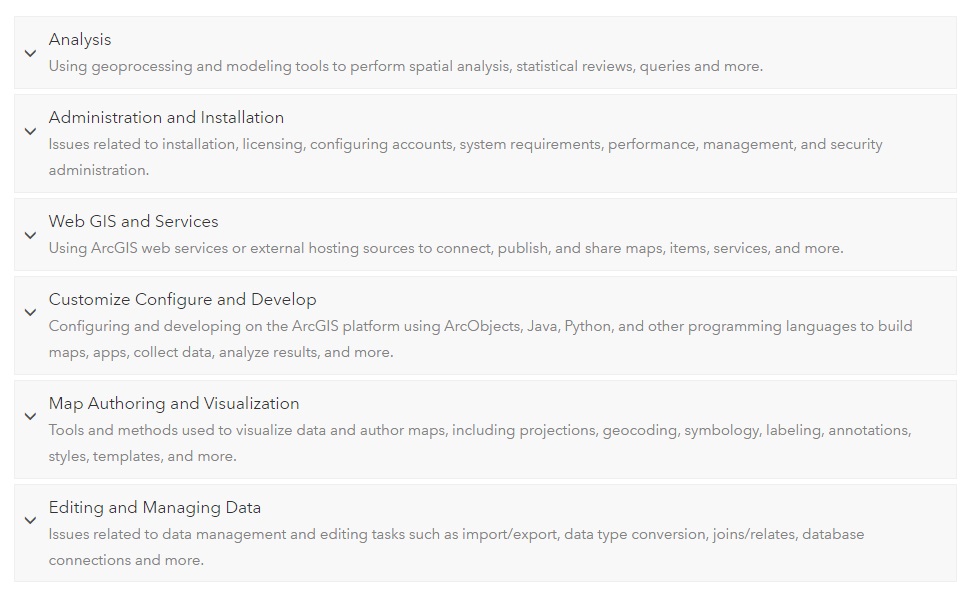 Click one of the drop-downs (see image above) to view the subset of topics available. For example, if you wanted to build a 50-meter buffer around a feature class containing polylines, click "Analysis" ('Buffer' is an analytic tool) and select 'Buffering.'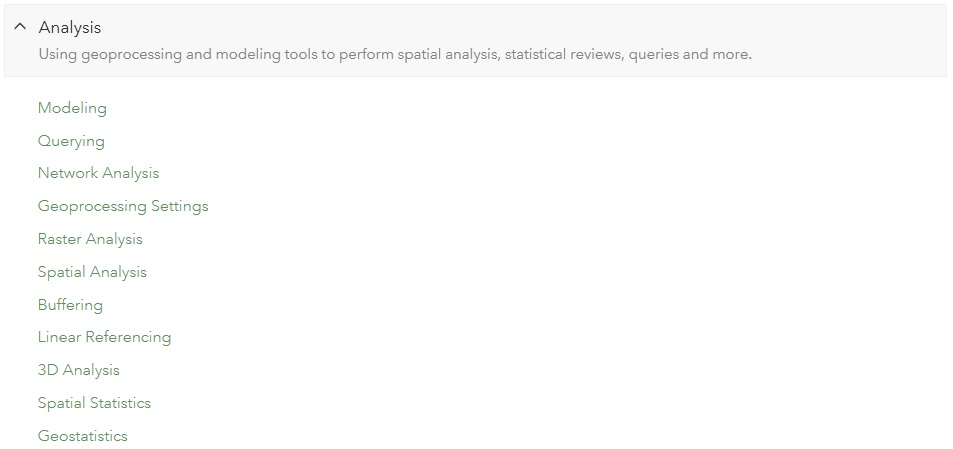 We hope you enjoy the new redesign of this site. Please contact Support Services by using the Feedback form located at the bottom of the front page, or call us at +1-888-377-4575. Thank you!
---
Gregory L. - Online Support Resources
6 Comments
You must be a registered user to add a comment. If you've already registered, sign in. Otherwise, register and sign in.