Mark as New

Mark as Read

Bookmark

Subscribe
Many of the menus and processes, such as the new
geoprocessing
toolset for example, have changed in ArcGIS 10.0. One of the biggest changes in ArcGIS 10.0 is the switch from Image Server to Mosaic Datasets.
Previously, in Image Server, you could use the Advanced menu to manually control the options when adding rasters to an image service.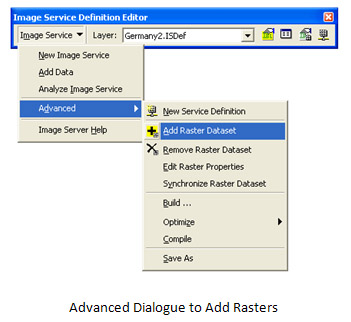 However, there are several situations where rasters added to an ISDEF should not apply the internal overviews that are present with some raster formats. SIDs, and other rasters with multiple levels of pyramids, can affect the performance of image services. Since image services use overviews to increase performance, increasing the number of overviews will improve the performance.
When SIDs are added to an image service with the Advanced process under the General Tab, there is an option to "Include internal overviews". If this option is unchecked the raster will be added without bringing in the pyramids that are in the raster. For highly compressed rasters like SIDs, there can be many levels of overviews built into the raster which affects the number of overviews created by the mosaic dataset or ISDEF.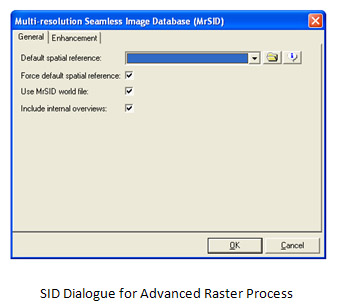 In order to replicate the same workflow in ArcGIS 10.0, the Add Rasters To Mosaic Dataset tool includes a section of Raster Pyramid Options. In order to prevent the internal pyramids from being added to the mosaic dataset, set the value to zero (0). This increases the number of overviews that will need to be created, but the performance should be improved. If this option is not used, the overviews that are inherent with the SID will be used in place of overviews. So, the choice from a design perspective is whether to utilize the overviews of the rasters added to the mosaic dataset or to create new overviews for the mosaic dataset. This pyramid option is available for all raster formats, not just SIDs.
Add Rasters to Mosaic Dataset dialogue with Raster Pyramid Options
To recap, the ability to apply or ignore the internal pyramids and pyramids of input rasters is available in the Raster Pyramid Options section of the Add Raster to Mosaic Dataset tool.
Jeff S. - Geodata Raster Support Analyst
---
You must be a registered user to add a comment. If you've already registered, sign in. Otherwise, register and sign in.