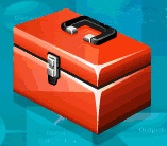 Hey Everybody! This is Darrin from the Desktop group in our Eastern Support Unit. I just wanted to highlight some handy new functionality in the next release of ArcGIS.
If you've created custom toolbars in previous versions of ArcMap or ArcCatalog, you already know how convenient it can be to have a specific toolbar that contains only your frequently used or favorite ArcMap or ArcCatalog tools (instructions here). The process in ArcGIS 10 is basically the same, but you can now add your favorite geoprocessing tools to your new toolbar!
As long as you know the name of the tool or toolbox that contains the tool, you can easily drag and drop to your new toolbar:
Click Customize > Customize Mode.
In the Customize window, click the Commands tab.
In the "Categories:" panel, select the toolbox that contains the tool you want to add. All toolboxes have " Tools" appended to their names. For example, the Analysis toolbox will say "Analysis Tools".
Drag and drop the tool onto the toolbar as illustrated below.
Close the Customize window and enjoy!
Having your frequently used tools in a custom toolbar can eliminate confusion, save searching time, and ultimately increase productivity when performing geoprocessing and other tasks in ArcGIS.
-Darrin C., Support Analyst - Desktop Group, Esri Support Services - Charlotte, NC
---