by
JosephKerski

Esri Notable Contributor
Mark as New

Mark as Read

Bookmark

Subscribe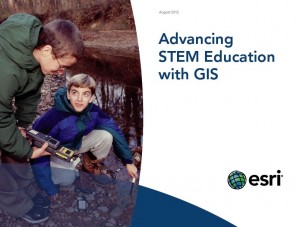 Science, technology, engineering, and math (STEM) education is a multidisciplinary approach to improving education, the work force, and national competitiveness. President Barack Obama noted that "Strengthening STEM education is vital to preparing our students to compete in the twenty-first century economy, and we need to recruit and train math and science teachers to support our nation's students." (White House Press Release, September 27, 2010).
Geographic information system (GIS) technology can engage several critical elements in STEM curriculum and instruction. GIS tools and techniques lead to understanding cross-disciplinary phenomena and solving problems rooted in academic and real world concepts. People use GIS to make maps, analyze data, and decide on best solutions. From a curricular perspective, GIS allows us to study climate change, design cities, inventory geologic samples, plan ecological growth models, catalog contents of an archaeological site, and countless other activities. GIS and related geospatial technologies of global positioning systems (GPS) and remote sensing can be used to simultaneously engage students in science, technology, engineering, and math.
To support the ever growing interest in GIS and STEM from teachers, researchers, and administrators, Esri has released a new (free) ebook addressing the multi-faceted supports GIS offers STEM classrooms. Dr. Tom Baker begins the ebook by addressing the core question, "How does GIS enhance STEM learning?" The ebook is filled with rich case studies of STEM in formal and informal environments. The power of STEM collaborations and partnerships and ties to career and workforce development is also a central theme of the volume. The ebook outlines three beneficial tracks for student learning in STEM by integrating GIS technology:
Improved declarative knowledge
Improved procedural knowledge (critical thinking, problem solving, spatial reasoning, etc)
Career skills development
The new ebook Advancing STEM Education with GIS is available now for
download in PDF here
(right-click to "Save as"), perfect for mobile devices and tablets.
Contributors include:
Steve Obenhaus, Olathe North High School
Penny Carpenter, Byron Martin Advanced Technology Center, Lubbock Independent School District
Matthew North, Washington and Jefferson College
Kerry Lagueux, Heather Deschenes, and Maria Elena Derrien
Jim Baumann, Esri
Nicole Minni, University of Delaware
Susan Harp, Esri
Daniel C. Edelson, National Geographic Society
Karen Dvornich, University of Washington and Dan Hannafious, Hood Canal Salmon Enhancement Group
Hans Bodenhamer, Bigfork High School
Joseph Kerski, Esri
You must be a registered user to add a comment. If you've already registered, sign in. Otherwise, register and sign in.