by
TeresaDolan

Esri Contributor
Mark as New

Mark as Read

Bookmark

Subscribe

Email to a Friend
You've moved on: you've changed jobs, or retired, or graduated from school, for example. It's time to clean house. You want to remove the connection you have with the old organization in My Esri.
You can do this a couple of ways.
The first way is to use the form found at My Organizations > Overview > Contact My Administrator to request the admin at that organization to remove you. This will send an email to all the admins at your organization, letting them know you want to be disconnected. The burden is then on the admin to sign in to My Esri and disconnect you. However, if your organization lacks an admin, that will not be an option for you. Or if the admin is on vacation, or misses your email, you will still be connected.
The easiest and fastest way to handle this is to do it yourself.
Navigate to My Profile > Disconnect from Your Organization. Here you'll see a list of all the organizations you are connected to. Click Disconnect for any organization you no longer want to be connected to.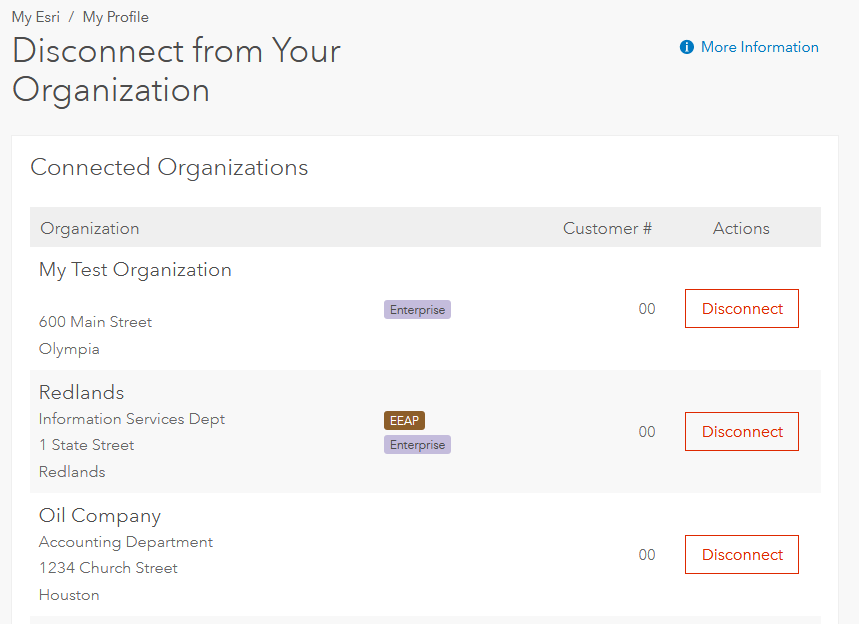 The organization will no longer appear in your list of organizations to select througout My Esri. Any access you had to its downloads, licensing, training information, User Conference registration information, and more, will be removed.
Administrators at the old organization will receive an email letting them know you are no longer connected to their organization.
That's how you do it if you were connected. But what if you weren't connected yet - if you had only asked to be connected, but have changed your mind?
If you used the Request Permissions form, requesting to be connected to an organization, but no longer want to be connected, you can use the
Withdraw
tool at
My Profile > Pending Permissions Requests.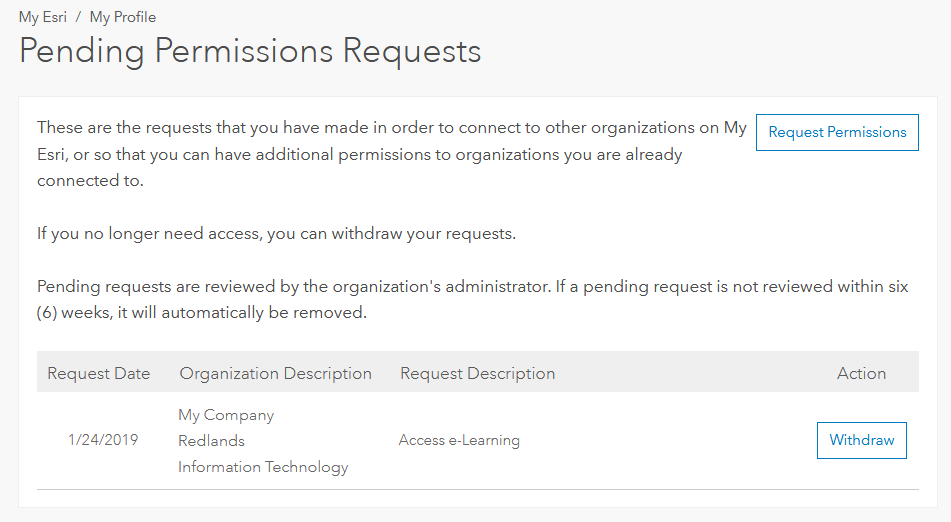 Unlike disconnecting yourself, no one is notified of this change. Because permission requests aren't necessarily tied to an organization, there isn't anyone to notify in most cases. However, if your request contained the right organization information (as when you request additional permissions to an organization you are already connected to), a record of your withdrawal is added to that organization's Permissions Log, so that the admin has visibility to your decision.

We hope you are finding these blog posts helpful. We welcome your comments, and also your suggestions for future blog posts. Is there something you need help with in My Esri? Let us know by adding your comments below.
2 Comments
You must be a registered user to add a comment. If you've already registered, sign in. Otherwise, register and sign in.