by
JoshBeaton

Esri Regular Contributor
Mark as New

Mark as Read

Bookmark

Subscribe
New User Interface Experience
In the current experience, to access the developer features when associated to an Annual Developer Subscription, users go into My Esri and need under the Organizations tab and choose the Developer sub tab. This is the workflow even when an end user is not connected to any Organization. To move away from this confusing User Interface experience, the new site has a unique stand-alone Developer setting.
For the scenario when an end user is not connected to My Esri and is sent an email to subscribe to an Annual Developer subscription, once they select the option in the email, they are taken directly to the new Developer Subscription home landing page.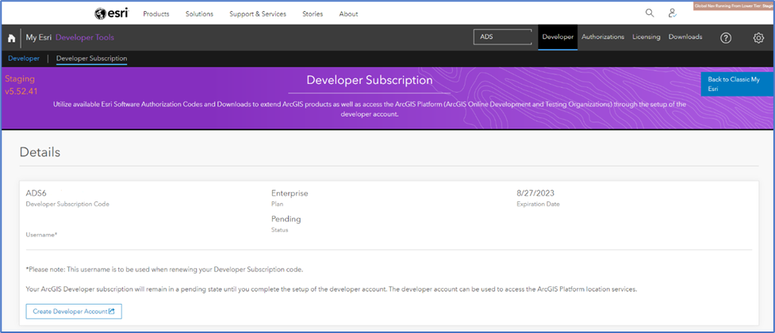 The end user now has an uncoupled interface where they can access all of the software entitlements at the mega menu level that are part of the Annual Developer Subscription.
If an end user is connected to My Esri already and is associated to an organization, when accepting access to an Annual Developer Subscription through the email, the experience will send them to the same Developer Subscription landing page, however if they need to access their organizations portal, selecting the My Esri home page icon takes them to the organizations profile page. Once on the Organizations Profile page, the user can then access permission driven features.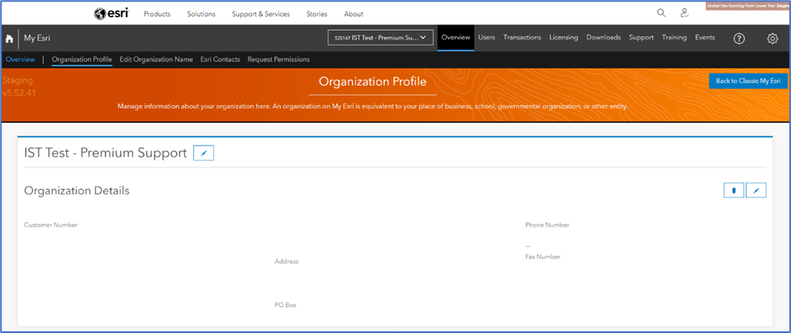 Updated Navigation
After the initial access to the Annual Developer Subscription via the email. Two options have been added for accessing the developer site.
The first is from the user's profile.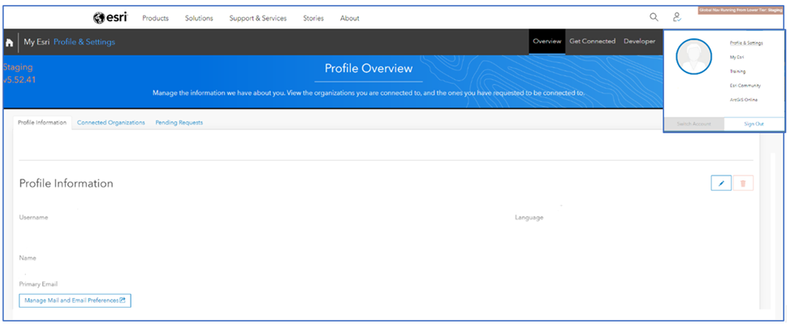 A Developer option has been added in the main menu and will show when a user is associated to an Annual Developer Subscription.
The second, is under the main gear icon on the My Esri Organization Profile page.

Please note that this option will only show when the user's profile is connected to an organization's customer number in My Esri. If they are not, the gear will not appear as it is not needed since the user's main experience is the Developer Subscription environment.

With this location being different than the current experience, supporting messaging has been added on the site to help users locate the option.
You must be a registered user to add a comment. If you've already registered, sign in. Otherwise, register and sign in.