Occasional Contributor II
Mark as New

Bookmark

Subscribe

Mute
Hi,
I am working with GP task for the first time and I am having some trouble getting it to work. I have published a synchronous GP service and I am trying to use that in a JS web application.
In my application all I want is a base map and I am using a map click to draw a buffer, with a user defined distance and select all the census block points that fall within that distance and output a summary of total block points, population and housing units within the buffer, I am not using a feature layer to select features or a result map service to draw the selected points on the map, but I want to use GP task to output a summary table.
What I am trying to do is, add the buffer graphics on the map and use it to input GP task result, something like in his sample which is using the user defined polygon to input the GP task, and getting a summary of population for that area.
http://developers.arcgis.com/javascript/sandbox/sandbox.html?sample=gp_zonalstats
The GP task is working fine, because I added This GP task to the geoprocessing widget in the web app builder and it is doing exactly like I want it: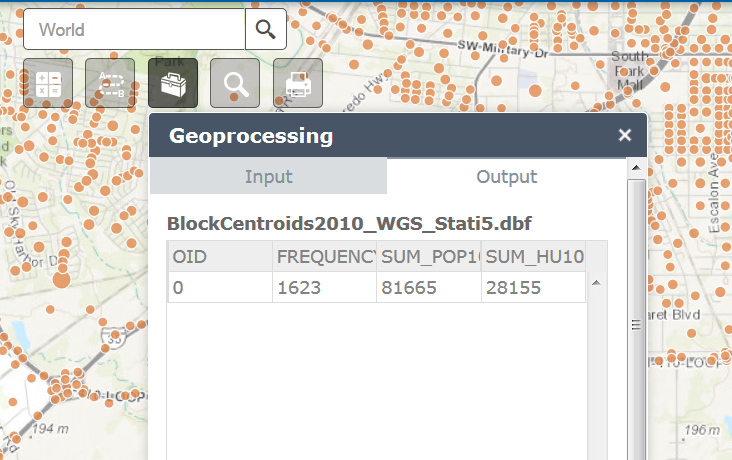 I am having trouble adding it to JS application, here is a JS fiddle with what I have so far but is not working:
This is what JSON from the service looks like: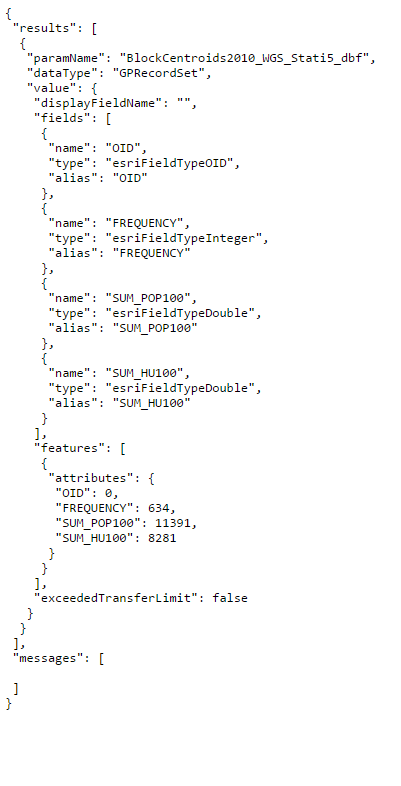 I have also attached the image of the model used to publish the service and the details from the REST service directory.
Any help will be greatly appreciated!!
1 Solution

Occasional Contributor III
Mark as New

Bookmark

Subscribe

Mute
To convert the point you would use this:
var ptGeo = webMercatorUtils.webMercatorToGeographic(evt.mapPoint); 
However, there are several other issues in the code that will also prevent it from working. I have created a modified version that uses your service and shows the results.
Please check the working example - GP Task (link removed).
The source is available from this page (link removed).
Let me know if you have questions about the code.
EDIT - the links have been removed as requested, please see the update by Saloni Rajput​ with the working code sections.
11 Replies