by
JosephKerski

Esri Frequent Contributor
Mark as New

Mark as Read

Bookmark

Subscribe
I recently heard some memorable words which stated that "wise people have recognized the importance of what it is like to
not
know". This is different from the wisdom of "
Socratic ignorance
" but may be even more applicable to the use of GIS in education. What it is like to
not
know in my view means that we as GIS educators understand the challenges that exist in embracing a new set of tools and methods that the use of geotechnologies entails in teaching and learning. In other words, "we've been there!" and can empathize.
I think this empathy is part of the reason why the online and face-to-face professional development workshops and courses (such as the
T3G institute
) have been so positively received by the education community over the years. Because the instructors have "been there", as instructors, we approach each of these professional development events with sensitivity and humility. As leaders of these institutes, we very purposefully model what we are teaching--we know what it is like to not know about GIS.
We understand what it is like to be immersed in new technology with its associated new terms and new tools. We know what it is like to be simultaneously grappling with new ways of thinking, teaching, and learning. I think back to the first time I took an ArcGIS Server course where all of the other students were systems administrators, who regularly used terms I only had vague notions of. I am reminded on a daily basis how much I still have to learn about GIS, despite having used it since 1984. It's very humbling to be taught new skills by someone who, for example, has "only" been using GIS for a few years. But veteran and new GIS educators alike have much to learn from each other.
GIS has become much easier to use over the past 25 years, though challenges remain. However, for the good of the planet and for the good of our students, I believe that the challenges are worth grappling with. And for those of us who have instructor roles--remember what it was like to
not
know!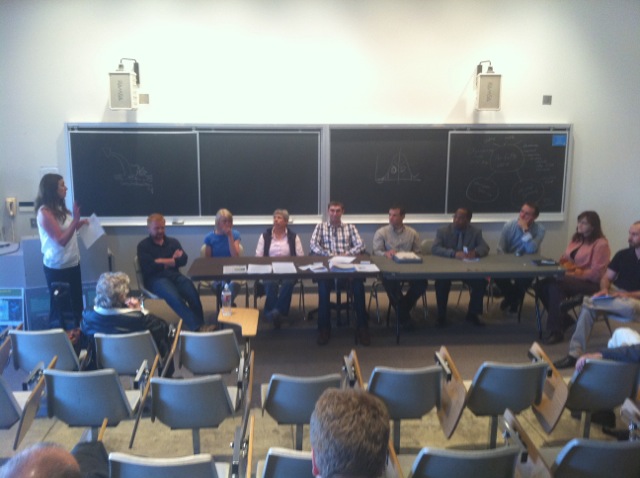 Educators discussing their use of GIS in education.
You must be a registered user to add a comment. If you've already registered, sign in. Otherwise, register and sign in.