by
JosephKerski

Esri Notable Contributor
Mark as New

Mark as Read

Bookmark

Subscribe
At the recent annual meeting of the American Association of Geographers, several of us had a conversation focused on running GeoTech Clubs--clubs focused on geotechnologies, mapping, fieldwork, and related topics, at schools. Over the past 15 years, I have had the opportunity to run these types of clubs in elementary, middle, and high schools, and have participated in career panel presentations sponsored by geography, environmental, and GIS clubs at universities as well. With the launch of the
GeoMentors
program last year, I think the time has come to revisit this topic. As
an update to what I wrote a few years ago
with a video I
created at the same time
, I would like to invite the community to discuss your experiences below with the club approach to promoting GIS at educational institutions.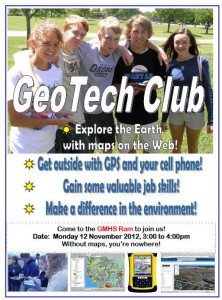 Flyer promoting a GeoTech Club at a school.
An after-school club such as GeoTech provides an excellent way for students to engage in tools and experiences. A club environment provides the freedom to experiment with different approaches and techniques. I encourage anyone thinking of starting and running a club to make the activities fun and engaging. I distribute maps, satellite images, and other mapping related items. Choose a wide variety of topics and scales, including current events and relevant 21st Century topics such as energy, water, population change, natural hazards, open space trails, local businesses, weather, and the environment using GIS.
Bring in real job ads requiring GIS skills in the local area and discuss career decisions and work environments. Make sure the club gets students out into the field, even if the field is just the school campus, gathering data about litter, trees and shrubs, social zones, cell phone reception, and infrastructure using GPS receivers and smartphone apps. Map your field collected data in ArcGIS Online. Ask students what
they
are interested in examining. After the students get familiar with some mapping tools, let the students pursue an independent project of their own choosing. One student I had in a GeoTech Club created an ArcGIS Online map with data points and photographs to support the field trip the Earth Science teacher was conducting. Another made a map-based project comparing all of the local lunch spots that students in his school frequented. Another made a map with all of the major league baseball stadiums complete with team logos used as point symbols.
Since there is so much competition for students' time after school, make sure that you not only advertise the club via school newsletters, announcements, and web sites, but also (1) Encourage the students in the club to tell and bring their friends, (2) Ensure that the club is well supported by the school's teachers and administrators, and (3) Build connections between what you are doing in the club to the school's focus areas.
Career academies are an important part of the high school housing the GeoTech Club I facilitated most recently. The themes of geotechnologies, inquiry, and critical thinking have become an important part of the school's STEM (Science Technology Engineering and Mathematics) academy and soon in their Business and Global Studies academy. The STEM academy's pathway on computer technology and its "Earth, Energy, and the Environment" theme were particularly well aligned with the GeoTech Club.
I would also like to see examples where students are directing the activities of their own club. A GeoTech Club is also an excellent way for you to bring in other geomentors in your community to give presentations and lead activities.
If you are already running a GeoTech Club at a school, what activities do you include in it? If you are not running such a club, I encourage you to look into it, or encourage others to do so.
You must be a registered user to add a comment. If you've already registered, sign in. Otherwise, register and sign in.