Mark as New

Mark as Read

Bookmark

Subscribe
[[COVID Update June 2020: The Education Summit will be online only, Aug 5,6,7. See FWG271 and FWG273.]]
The "best event in town" for a GIS-using K12 teacher just got better for those at a school with an ArcGIS School Bundle. K12 teachers attached to the Bundle can attend all four days of the Esri Education Summit for $100.
The Education Summit features two days, Saturday plus Sunday, just with educators, in plenary sessions, user presentations, and hands-on workshops, plus hours of the best networking around, with hundreds of GIS-using educators swapping tips and strategies. Then we join the launch of the main Esri Users Conference, in the vast auditorium with nearly 20,000 GIS users, for the Monday plenaries followed by the afternoon reception up in the Map Gallery in a forest of amazing maps! And finally Tuesday, in the enormous Expo, with Esri staff from technical, training, and industry teams, plus hundreds of companies, agencies, non-profits, and partner organizations. If you can extract yourself from the Expo, you can immerse in any of hundreds of technical sessions and user presentations.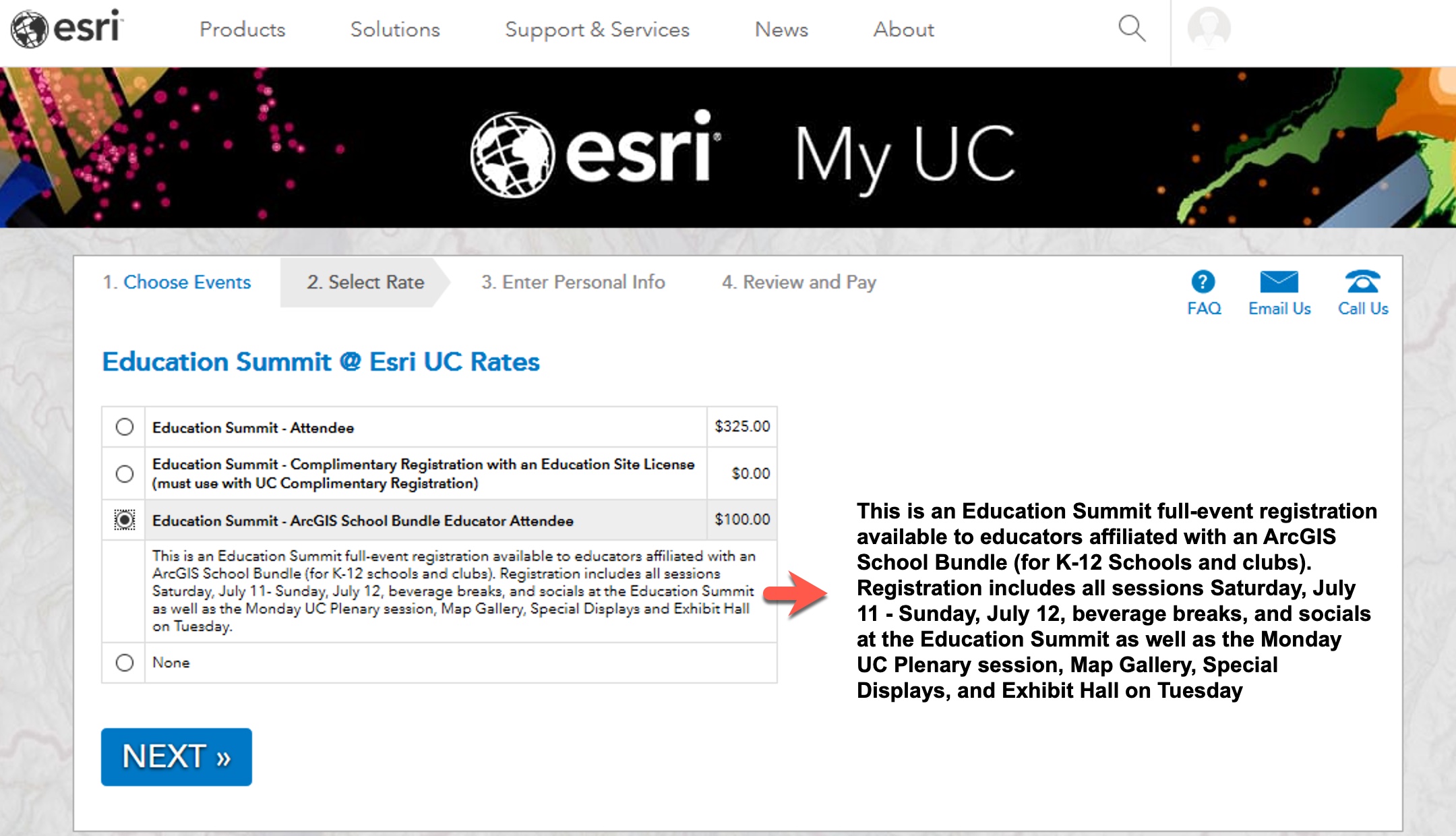 The screenshot above from the registration page appears about 6 screens into the actual registration process. When registering, be prepared to provide your Esri Customer Number, ArcGIS Online Org "shortname" (the part of the URL before ".maps.arcgis.com"), and "login with Esri access," along with your standard information.
For $100, K12 teachers can be part of the world's largest GIS event, with education everywhere you turn! Be there! See esri.com/educ!
1 Comment
You must be a registered user to add a comment. If you've already registered, sign in. Otherwise, register and sign in.