Mark as New

Mark as Read

Bookmark

Subscribe

Email to a Friend
Results are in for the 2019 ArcGIS Online Competition for US High School and Middle School Students! Congratulations to the national winners and honorable mentions at both levels, and to the 40 other state winners competing for the grand prize -- a trip to the 2019 Esri Education Summit and Esri User Conference. And cheers to the 124 other awardees who, just like the state and national winners, each earned $100 and important skills for the future.
A Story Map about the competition includes all the 2019 results and links to the creations of all 168 awardees. All four national awardees demonstrated strength in the competition's three essential elements: good geographic analysis, good cartography, and good documentation. These students (three soloists and one duo) show how clear geographic thinking using GIS can clarify the patterns and relationships that build understanding, answer questions, and solve problems.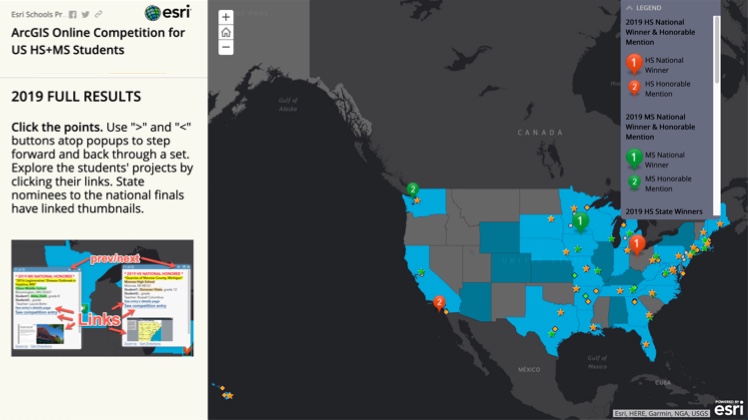 A number of other entries were also strong in their own way -- powerful, enlightening, entertaining, even endearing -- so see the creations by all the state leaders and other awardees. Exposing students to many examples is important, as there are innumerable topics, data sets, tools, techniques, and strategies for presentation. Teachers, club leaders, and mentors who want to help students build skills should explore these and talk about the overall challenge: identifying a topic, researching it, drawing conclusions, and presenting the results in a format that is focused, clarifying, engaging, and consumable.
Teachers need not allocate significant in-class time or instruction about the competition, although some did. With the array of instructional resources available, students can learn a lot on their own, but they do need that first exposure, and an account with which to explore, build, save, and share. Esri offers all schools and clubs free instructional accounts, plus lots of classroom-ready content and project starters, links to local mentors (see Map#4) and instructional opportunities (see Maps #6 and #7), so all students can participate. This year's high school winners have strong GIS experience, but the middle school winners are new to GIS, so there are opportunities for all to engage and succeed.
The 2020 competition will operate much like 2019, with states applying to participate in the fall. Start planning now, with a visit to see the terrific work by high school and middle school students.
You must be a registered user to add a comment. If you've already registered, sign in. Otherwise, register and sign in.