by
JosephKerski

Esri Notable Contributor
Mark as New

Mark as Read

Bookmark

Subscribe
I worked with our fabulous Urban Observatory team here at Esri to add another theme that will be very useful in teaching geography, geology, environmental science – the Ecology theme. This data comes from the amazing Ecological Land Units data set (another excellent teaching and research tool) and allows you to compare the bioclimate, landform type, lithology, and land cover for any city you would like to examine, thus providing a very useful land connection for each urban area. Having it in the Urban Observatory provides the interface to compare the ecoregions for over 100 cities, which can be compared to the other variables provided, all with nothing to install.
To access this new theme, go to the Urban Observatory: http://www.urbanobservatory.org/compare/
On the left side, you will now see the ECOLOGY theme. Select it, and choose from the cities listed at the top. In which ecoregions do cities tend to be the largest? How does the ecoregion influence the land cover in and around that city? Name the chief environmental challenges for the cities you are investigating, based on the ecoregion they are in. How do you think the landforms and lithology impact construction in the area, or traffic patterns?
Another feature that is very helpful about the Urban Observatory: If you copy the URL while examining a specific theme and send it to someone (or yourself to access it later), then the application will open with those themes and cities that you were examining, just as you left it: For example, this URL opens with 3 cities and the ecology for each, as I had been examining the last time I taught this content: Rotterdam, Rio de Janeiro, and Delhi. Rotterdam is in the cold wet bioclimate, while Rio is hot wet and Delhi hot semi-dry. The landforms are hills, plains, and plains, respectively, while the lithology is mixed sedimentary for Rotterdam and unconsolidated sediment for the last two. The land cover is grassland, shrub, or scrub for Rotterdam but mostly cropland for Rio and Delhi.
See the graphic below. The Urban Observatory, in my opinion, is still one of the best examples of a web mapping application that is ready-to-go for teaching and learning.
Teaching note: You might need to click outside the urban area when you are examining the cities. If you just click on the urban area itself, everything comes up as Cold Wet hills. Therefore, click outside or zoom out once and click outside and you will be fine.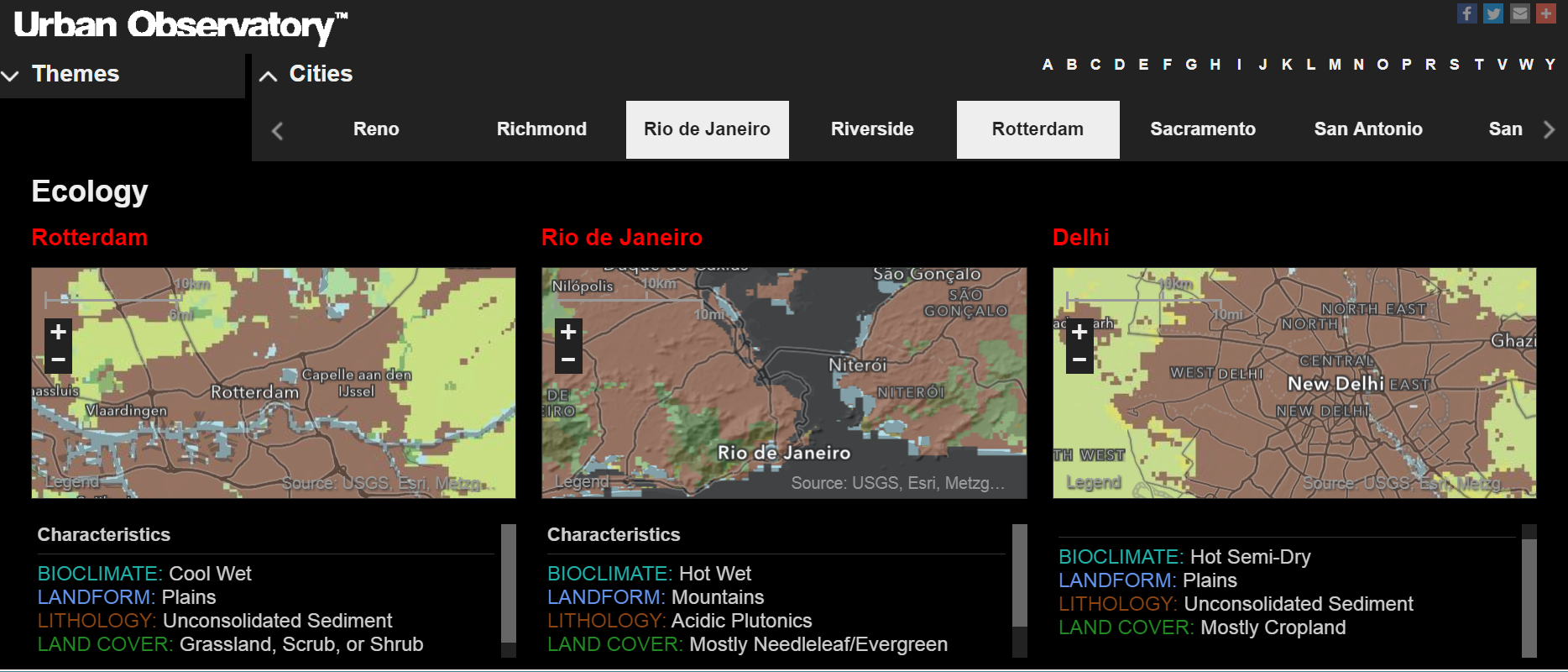 1 Comment
You must be a registered user to add a comment. If you've already registered, sign in. Otherwise, register and sign in.