Mark as New

Mark as Read

Bookmark

Subscribe
Esri created the COVID-19 GIS Hub site to share authoritative content and information to our global community.
You can build your own Coronavirus Hub site with the new ArcGIS Hub Coronavirus Response template. The template is provided for free for any customer with ArcGIS Online subscription as part of ArcGIS Hub Basic license. All you need is an ArcGIS Online account with Publisher role. Once you are logged to ArcGIS Online, follow these instructions:
Go to the app launcher
Navigate to ArcGIS Hub
Click new site
Browse the gallery
Activate the Coronavirus Response template
The template is highly customizable and an effective way to share information to your community.
Refer to this newly published blog titled How to Launch a Coronavirus Response Website Today for step-by-step instructions on how to get started using the template.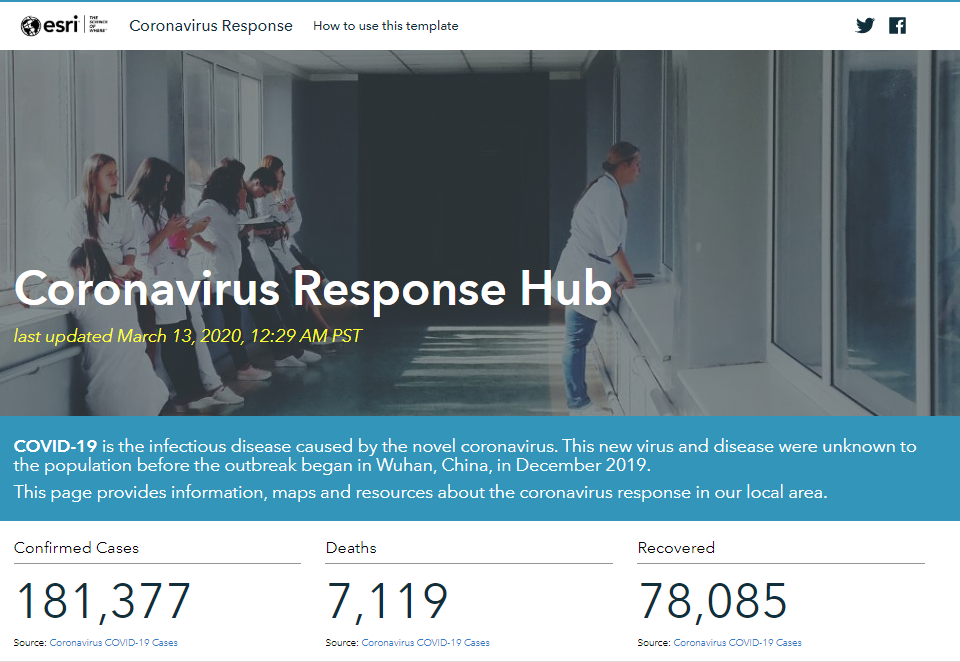 ArcGIS Hub Premium license
If you need to go further and incorporate community engagement into your Hub site, an ArcGIS Hub Premium license provides community user accounts that can be issued to community members to provide a secure account in your Hub. This enables them to contribute data, create maps and story maps, and participate in initiatives.
ArcGIS Hub Premium is included in the Higher Education Institutional Agreement. Contact your institution's Esri license administrator for information about access to your institution's Hub.
If you are your institution's Esri license administrator and need information about activating your Hub Premium license, contact your Esri Account Manager or Customer Service representative for details. You can only have one ArcGIS Hub license per ArcGIS Online subscription ID. Please include the ArcGIS Online Subscription ID when requesting an ArcGIS Hub license.
Additional resources
There is tremendous potential for students to use GIS for analysis and visualization of the COVID-19 outbreak. We would like to hear from you. Send us links to your Hub sites, dashboards, or story maps on the topic, or contact us at highered@esri.com for more info or questions.
You must be a registered user to add a comment. If you've already registered, sign in. Otherwise, register and sign in.