by
JosephKerski

Esri Notable Contributor
Mark as New

Mark as Read

Bookmark

Subscribe
A memorial to honor those lost to COVID-19 in which GIS played a big role is happening now in Washington DC. Last week, 650,000 flags were planted on the National Mall in Washington to represent those lost to the COVID pandemic. People that have lost someone dear to them can dedicate a flag with a personalized message on the website. Volunteers then create the flags and use ArcGIS Survey123 to locate and take a picture of the flags with a notification sent to the family. See the flags and messages here:
https://www.inamericaflags.org/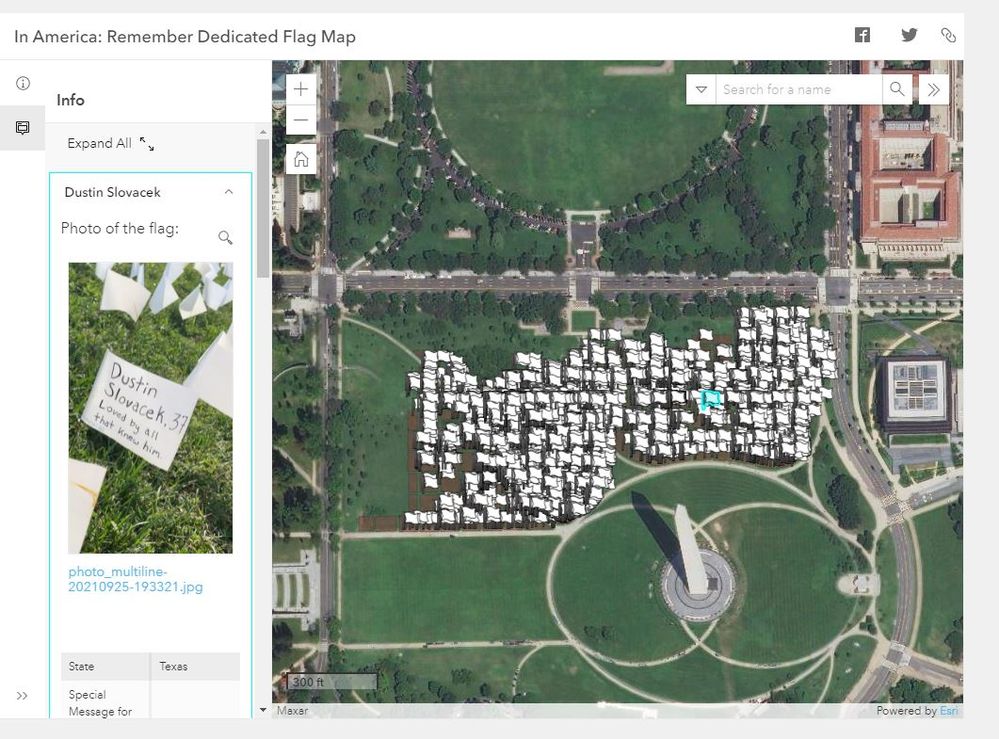 I was so impressed by this project that I created a video: https://youtu.be/OfAqoUq-JjA about this so you can learn more and share it with your students, fellow faculty, and friends and families. I also salute the artist behind this project, Suzanne Brennan Firstenberg.
If you have lost someone to the pandemic, below the map on the In America Flags site is a Survey123 form where you can dedicate a flag. Submissions for flags are accepted until 30 September 2021 and the exhibit lasts until 3 October 2021.
In addition, people who fill out the form can optionally add a picture and their loved ones will appear on the COVID Lost Loved Ones map. Zoom around and click on some of the pictures to see the touching and personal stories of the many who have been lost (too many!).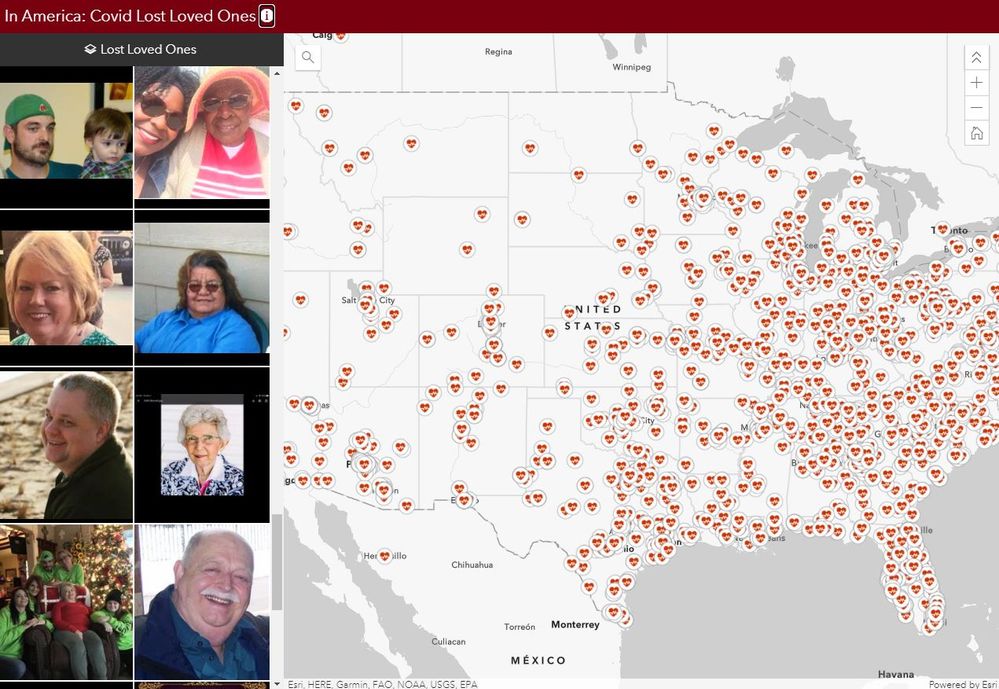 This exhibit is important to so many families who have provided emotional gratitude for this work. Many of the victims did not have proper funerals nor did their families have a chance to grieve. Some families are traveling out to Washington DC to help honor their loved ones for this exhibit, or have expressed thanks for this recognition. For the longer term, this data will be stored digitally by the Smithsonian Institution.
Many volunteers stepped in to make this all happen: Most of the on-site volunteer work and initial website done by George Washington University Anthropology dept and some assistance from some Esri folks including the health and human services team, and GISCorps.
One of many press articles from the launch yesterday:
https://www.msn.com/en-us/news/us/670-000-flags-on-the-national-mall-pay-tribute-to-america-s-devast...
Follow for updates:
https://twitter.com/inamericaflags
https://www.facebook.com/inamericaflags
Once again, this is a keen reminder, of how GIS can help us tell stories, connect with what we have and … what we have lost.
You must be a registered user to add a comment. If you've already registered, sign in. Otherwise, register and sign in.