New Contributor II
Mark as New

Bookmark

Subscribe

Mute
This maybe is simple but what is the quickest way to find out which feature classes hold any data in a database with many classes/tables? (points, lines, polygons) Is there a quick way to analys the geodatabase and visual show which classes contains data? Or a script listing all feature classes and add "data exists" in a text file.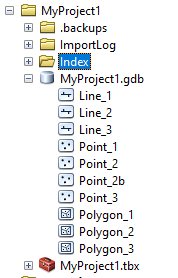 1 Solution
Mark as New

Bookmark

Subscribe

Mute
3 Replies
Mark as New

Bookmark

Subscribe

Mute
Hi Daniel,
Are you trying to get a summary on what kind of data residing in a feature class?
Or you want a quick visual look at the data?
If it is the latter, you can always use the preview tab in ArcCatalog, and it will show you the data as points, polyline or polygon based on the geometry type of the feature class and in addition it gives an option to check out the attribute data as well.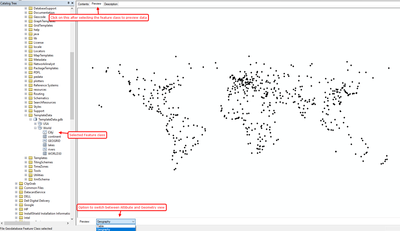 If you are using ArcGIS Pro, then you can do the same from within your project , by adding the Catalog View from View Tab.

~Shan


New Contributor II
Mark as New

Bookmark

Subscribe

Mute
Hi, I´m trying to get a summary of wich feature classes contains data. A "visual" list will do, but an summary in a text file would be better. (or Excel, XML, etc)

The preview tab I know about, but this is not the thing I was looking for. <50 feature classes need to be checked...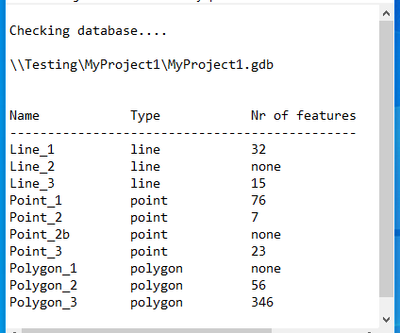 Mark as New

Bookmark

Subscribe

Mute