New Contributor III
Mark as New

Bookmark

Subscribe

Mute
What in the world am I missing? How is it even possible for drop downs to land on a phantom page in my Survey?
This is driving me bananas y'all and I BET it is going to be something obvious.
If so , please feel free to tease me about it. No seriously, it will probably make me feel better.
The issue is- I am getting taken to extra pages for some of my drop down If/Then's and they do not exist anywhere else in my design platform. Phantom page but one of the redirects works perfectly. How is this even possible?
Background-
I am charged with designing a smart form to be used for our GIS requests. I have big goals but my skillset is still in the development stage.
Eventually, my goal is to host my Survey form and insert web hooks to alert the proper channels of new requests. I would love to integrate some other interfaces to my form like automated project management.
My dreams of automating a system that could hook into calendars and all kinds of bells and whistles is still under construction but for now, I am using Survey 1,2,3 If/Then trees to streamline the request form and get details from clients without being too overwhelming.
Because this survey is not yet hosted (I am waiting on the green light to take it live) I do not have the full capabilities of attempting other integration techniques so I am focusing on a clean, simple form that can help the end user make choices that will give us details on the specific needs and scope of the request.
The issue comes inside the If/Then drop down redirects for the request Type-
Choices and redirects are supposed to be
Map = question 13
Data = question 18
Support= question 18
Other = question 18 Like this-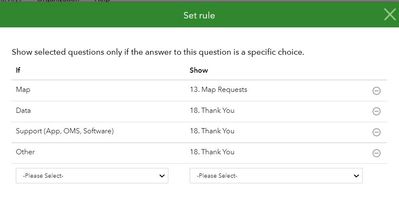 But the branches other than "Map" are giving me a phantom page 5 of 6.....
They all eventually make it to the correct page (Question18 on page 5) but first a pit stop in some random page 5 of 6 which is not in the design anywhere.
It doesn't even say anything but Back and Next -

( Phantom Page of supreme irritation )
If you click "Next" it will kindly take you to the designated route- question 18- page 5 the "Thank you" page that was intended.
Here you can even see the branches listed (question 11= 18 Page 5 of 5)
There isn't even a page six!?

If you made it this far- THANK YOU.
Please feel free to humble me with the obvious answer.
Super grateful for your thoughts,
Ashley the Map Nerd
The Map NERD
1 Solution

MVP Regular Contributor
Mark as New

Bookmark

Subscribe

Mute
Aww, no problem at all. 🙂 Honestly, I think you nailed the solution on the head...just try making a brand new form from scratch with the same "final" schema you've arrived at now. Hopefully that will be enough to clear out the issue.
If you still get weird results...I'll just be biased and say give Survey123 Connect a try 😉 haha!
Good luck!
4 Replies