New Contributor II
Mark as New

Bookmark

Subscribe

Mute

Email to a Friend
Hi there!
Im trying to share a feature service with branch versioning to AGS but cant enable the version management: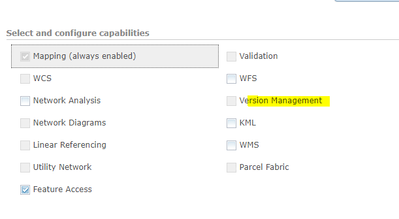 Does share branch versioning only with portal and enterprise and not AGS standalone?
thx for any advice!
1 Solution

New Contributor III
Mark as New

Bookmark

Subscribe

Mute

Email to a Friend
I was curious about this as well so I decided to see if there was a workaround and I found a solution. Once you have ensured that the database is set up for branch versioning and the other steps needed (Global IDs enabled, editor tracking enabled, replica tracking etc.) publish to the stand Alone ArcGIS Server with Feature Service capability enabled. Then...
The IMPORTANT PART. Pull up your ArcGIS Server Admin page and navigate to the service in question. The URL should be something like "https://MyServer/arcgis/admin/services/MyServiceName.MapServer/" Choose EDIT at the bottom of the page and then do a search for the word "versionmanagementserver" just a few lines below that you will see
"enabled": "false",
change this value to true.
After I made this change I was able to successfully edit and manage branched versions from the feature service inside ArcGIS Pro to a stand alone ArcGIS Server.
I am running Pro version 2.6.2 and PostgreSQL.
12 Replies