Not applicable
Mark as New

Bookmark

Subscribe

Mute

Email to a Friend
We use a publicly available map service (see below) with a 70% transparency in our maps in ArcGIS Pro (2.7.2).
In ArcGIS Pro the transparency for the service works, but sometimes the transparency will be lost and will draw at 0% transparency even though a transparency for the layer is still set to 70%.
It is very inconsistent and I can't find a pattern. It seems to happen more often when there are other layers in the map. I can't get this to happen when the service is the only layer in the map. So, I am coming here to see if anyone else has experienced this issue?
Below is the service we use and the steps we use to add it to a map in ArcGIS Pro.
https://elevation.its.ny.gov/arcgis/rest/services/NYS_Statewide_Hillshade/MapServer
In a map in ArcGIS Pro>Add Data drop down> Add from PATH/URL
Add the URL above
Select the Group layer: NYS_Statewide_Hillshade
Open the Layer/Appearance tab in ribbon
Set Transparency to 70%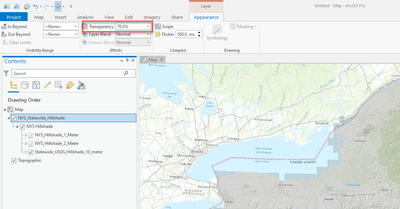 Thanks in advance!
Supriya
10 Replies