by
KoryKramer

Esri Community Moderator
Mark as New

Bookmark

Subscribe

Mute

Email to a Friend
I recently saw a Twitter post (a tweet?) with this ArcGIS Pro tip: Nathan Shephard on Twitter: "Random @ArcGISPro tip - you can click the 'Selected Features' count lab...
And I thought to myself, "Well, we see these scattered about all over - wouldn't it be cool to find these in one place?" Wait, somebody must have already done this, right? So I did what I do with so many questions and I Googled it. You can do the same, but I figured I'd help by getting you started: Click here to Google "arcgis pro tips and tricks"
Indeed, we do in fact get a number of results. Like this one by James Sullivan‌ is golden: http://proceedings.esri.com/library/userconf/fed17/papers/fed_10.pdf I love how he calls out "hidden gems" and we see some convergence here with Nathan Shephard‌'s tip from his Twitter post.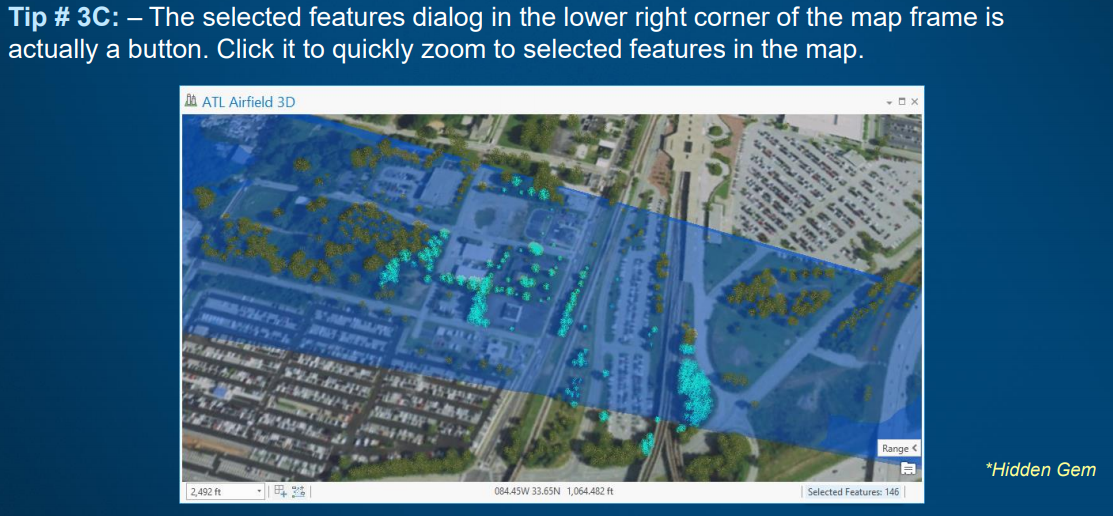 Instead of sifting through multiple Google results, and more importantly, to hear from YOU, ArcGIS Pro users in the wild, I wanted to create a place where we can all share our Pro tips and tricks.
I'll kick it off below with another one I learned just this week. We'll ask around the halls here and continue to post some favorites from the the ArcGIS Pro team, but I want to hear from you. Please post YOUR Pro tips and tricks.
Thank you for sharing!
38 Replies