As a change management practitioner, I meet with staff filling a variety of roles at organizations that use Esri's geospatial technology. Recently, I was in a meeting with a team that included a CIO, a system architect, and a business analyst. When I asked how they defined "change management," they all had different answers.
The reason is that change management is a catch-all term that has many different applications. While there are some similarities, technology change management, as defined by Information Technology Infrastructure Library (ITIL), is different from organizational change management, as defined by Dr. John Kotter, Prosci, and other change management experts. (Image source: BMC, Inc. and Prosci, Inc.)
Technology change management is focused on procedures and policies for managing updates and or changes to technology. This procedure can vary by organization but below is a general flow of how this could work: (Image source: Cisco Change Managment Best Practices)
Organizational change management is focused on the people side of the change that is occurring. As such, most of the planning in an organizational change management approach is centered around the human capital of the organization. The business objective is to help people at all levels of the organization transition from the "as-is" to the "to-be."
When leaders ask, "Which approach should we take?" the answer is almost always both.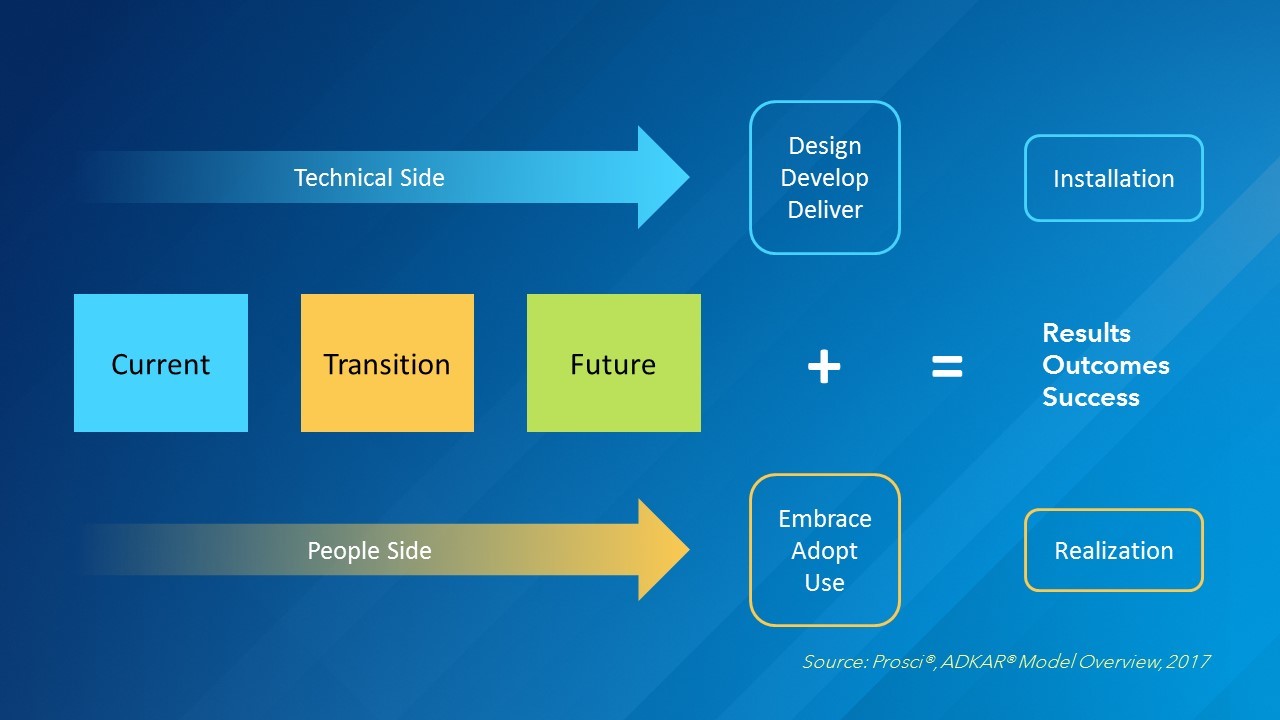 The comprehensive approach helps ensure that technology-driven changes are adopted by the people who are impacted. This process of change tends to be highly cyclical in nature as business requirements and priorities evolve. Using a two-pronged process enables IT to have a more structured approach to managing technology updates while enabling the business side of your organization to minimize disruption by preparing the workforce, at all levels, for changes.
In the current technology landscape of rapid releases that deliver new capabilities, achieving technological and organizational agility is a competitive edge. Addressing the people side of change helps government organizations be more efficient stewards of technology investments by realizing more business benefits.