by
ChrisCatania

Esri Community Team
Mark as New

Mark as Read

Bookmark

Subscribe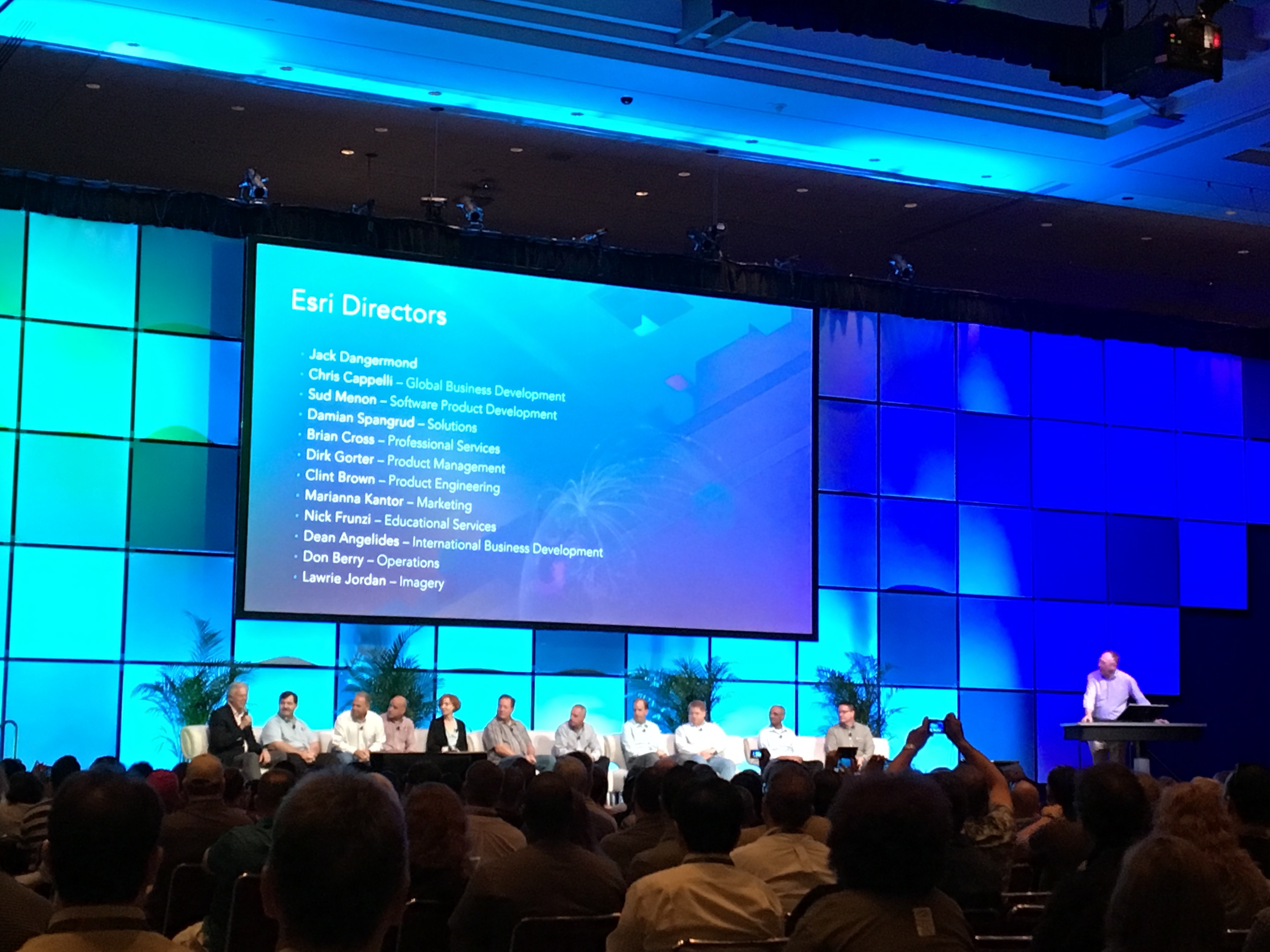 What a fun, fascinating and inspiring experience it's been at UC 2016! Whether I was getting inspired about the future of Esri during the plenary, discovering new trends in the expo or learning more about the power and possibilities of GIS in a technical session, I enjoyed my first UC and I hope you learned a lot this week too.
We wrap up our daily UC updates with this final post about the closing session which includes highlights of the overall UC awards, the GeoNet MVP awards and the open Q&A discussion. (In case you missed them, a full recap of the plenary live blogging and daily UC updates is listed below.)
The closing session started as Jack took time to introduce the team of Esri directors and thank attendees for making this year another valuable time of listening, learning and collaboration. Here's a recap of the numbers and hot topics that were highlighted.
UC by the numbers:
16,000+ attendees
1,950 Esri Staff
556 students
138 countries
365 exhibitors
547 Young Professionals
42 Planery speakers
324 technical workshops
109 Special Interest Groups
268 Paper Sessions
354 Demo Theaters
1,262 Maps (Map Gallery)
568 Runners (Esri 5K)
4,000 Puzzle Pieces
51,600 Buttons
Hot Topics: What was the buzz about this year?
ArcGIS Pro
Web GIS
Apps
Big Data and GeoAnalytics
Real-time
Insights
Python API
Content - (DigitalGlobe, Green Infrastructure, Vector Basemaps)
Drone2Map
Community GIS
Have you read the UC Q&A?
Jack spoke about the importance of the pre-conference Q&A and how critical it is to getting feedback and customer questions answered. He then handed the floor to Mark Harrower to announce the winners of the UC and GeoNet awards.
Award winners (Maps and Application Fair)
Here are pictures of some of the UC award winners. What a superb collection of map and application work that I'm looking forward to exploring more after UC.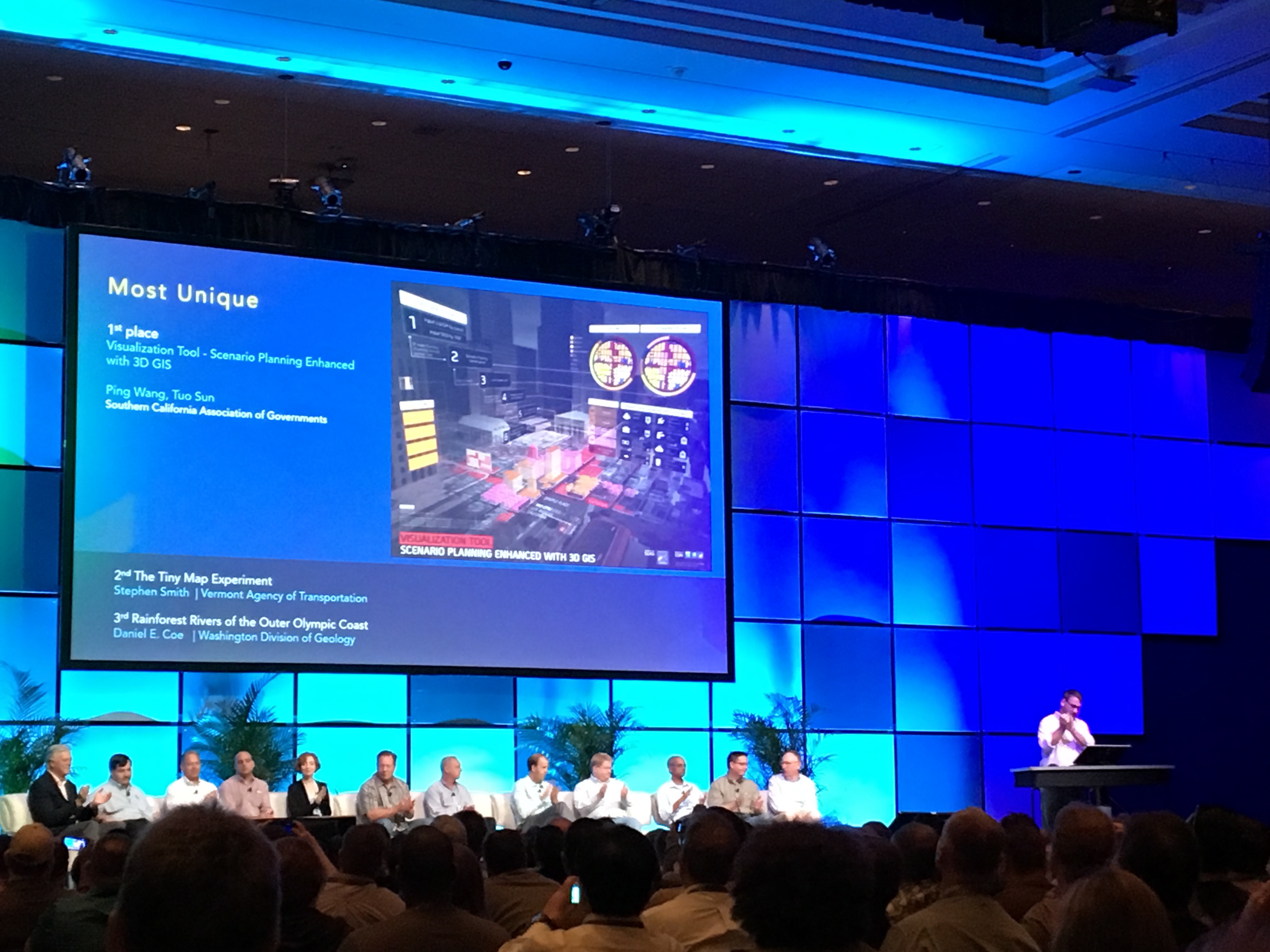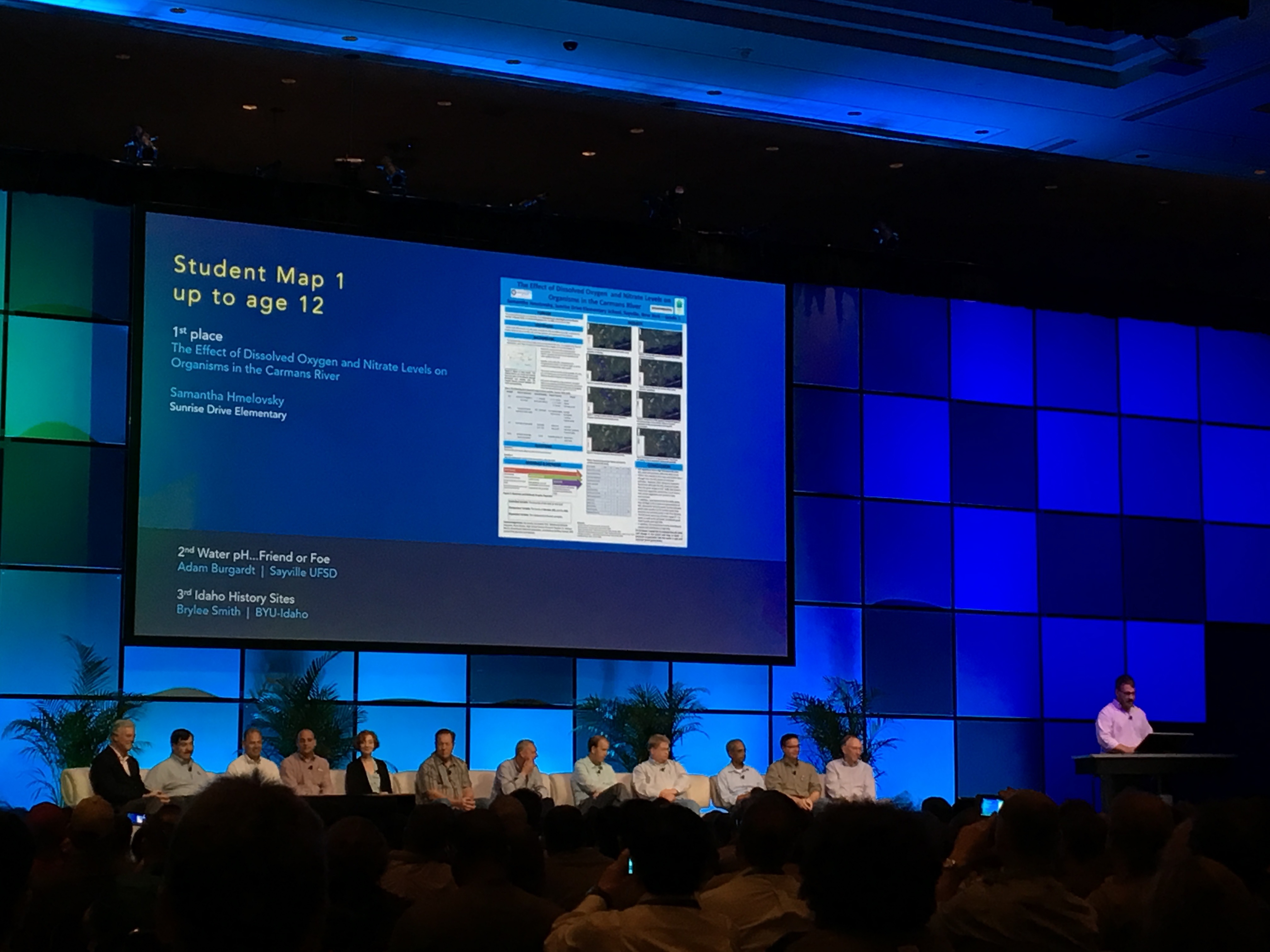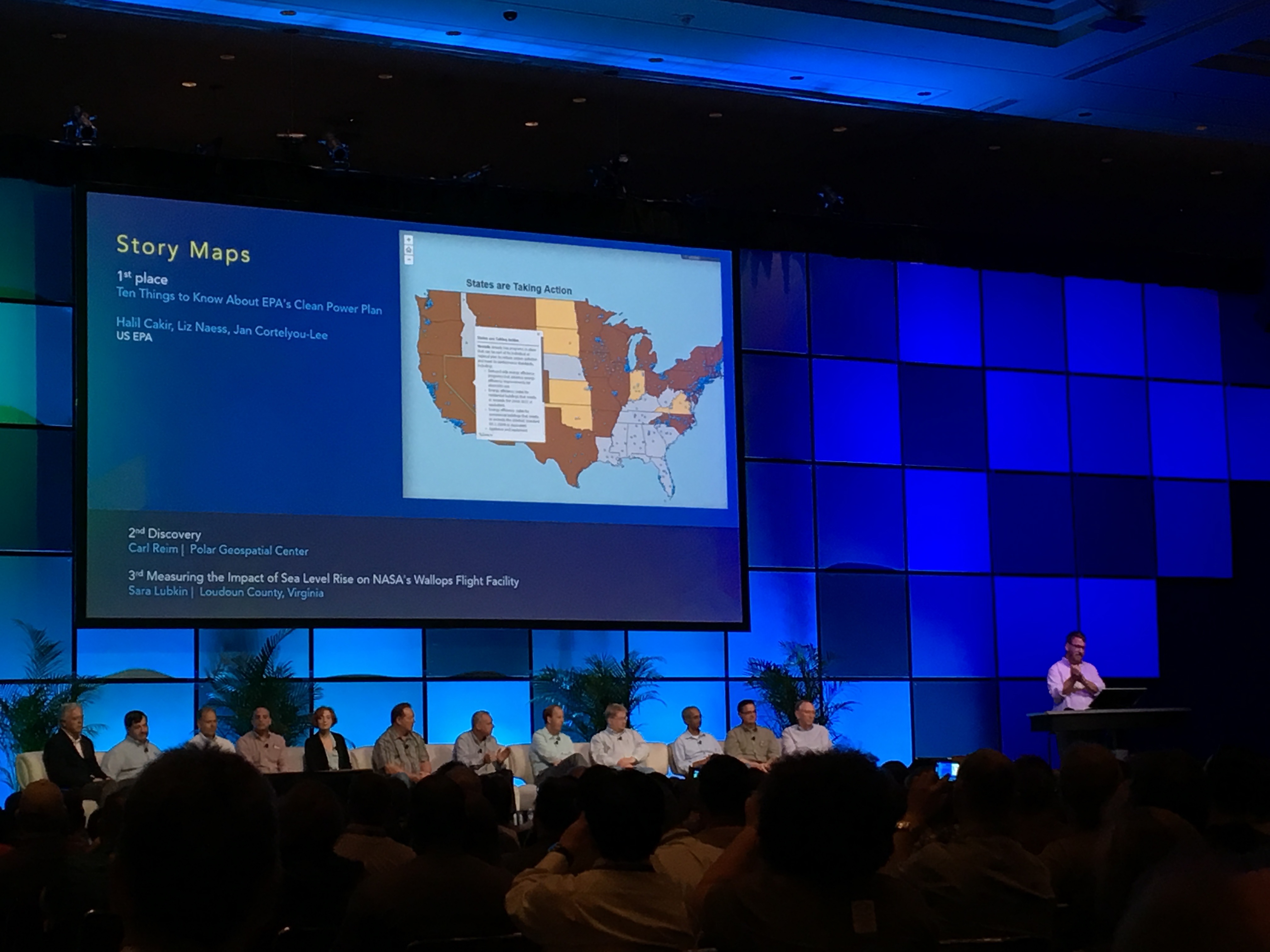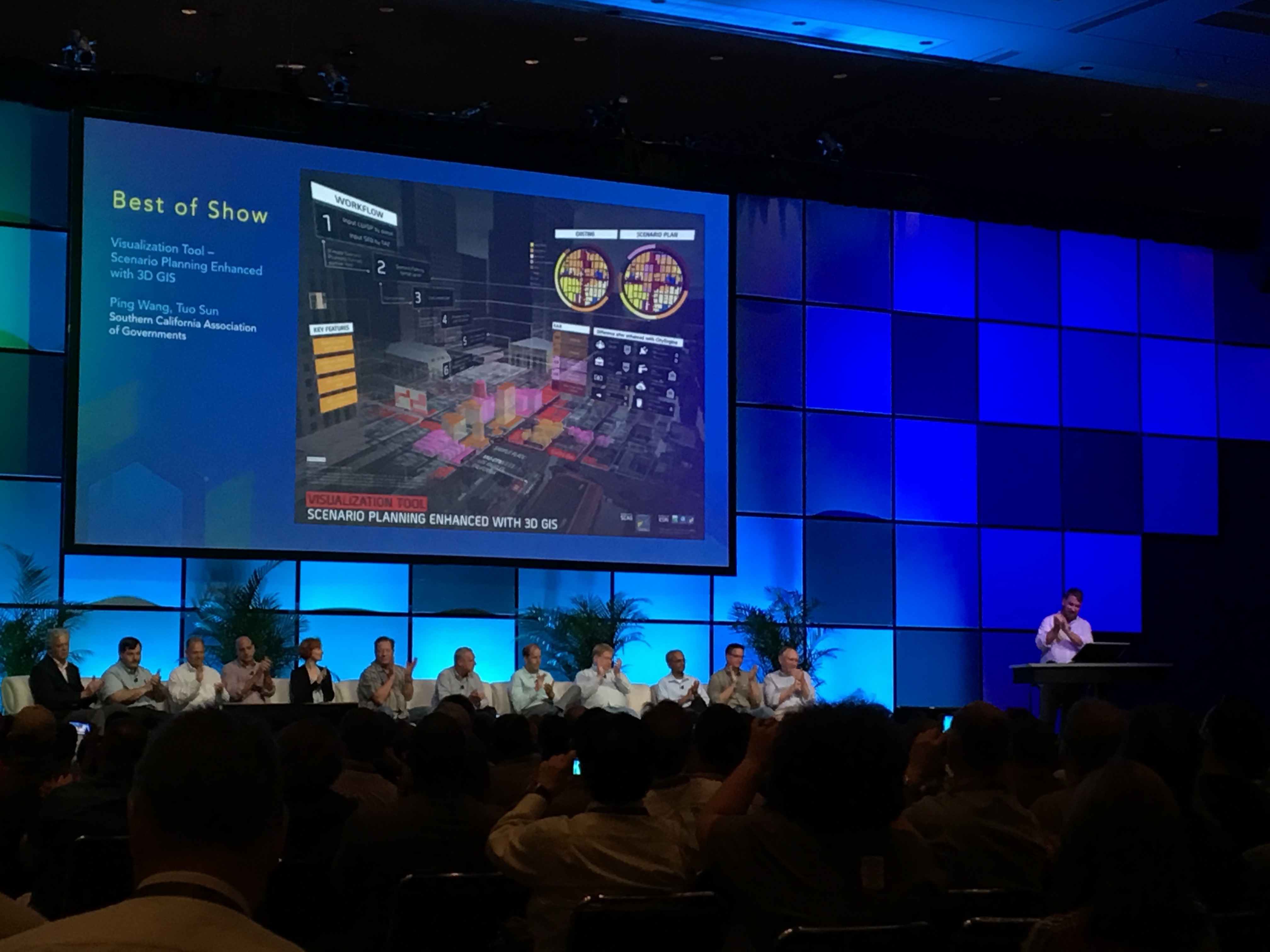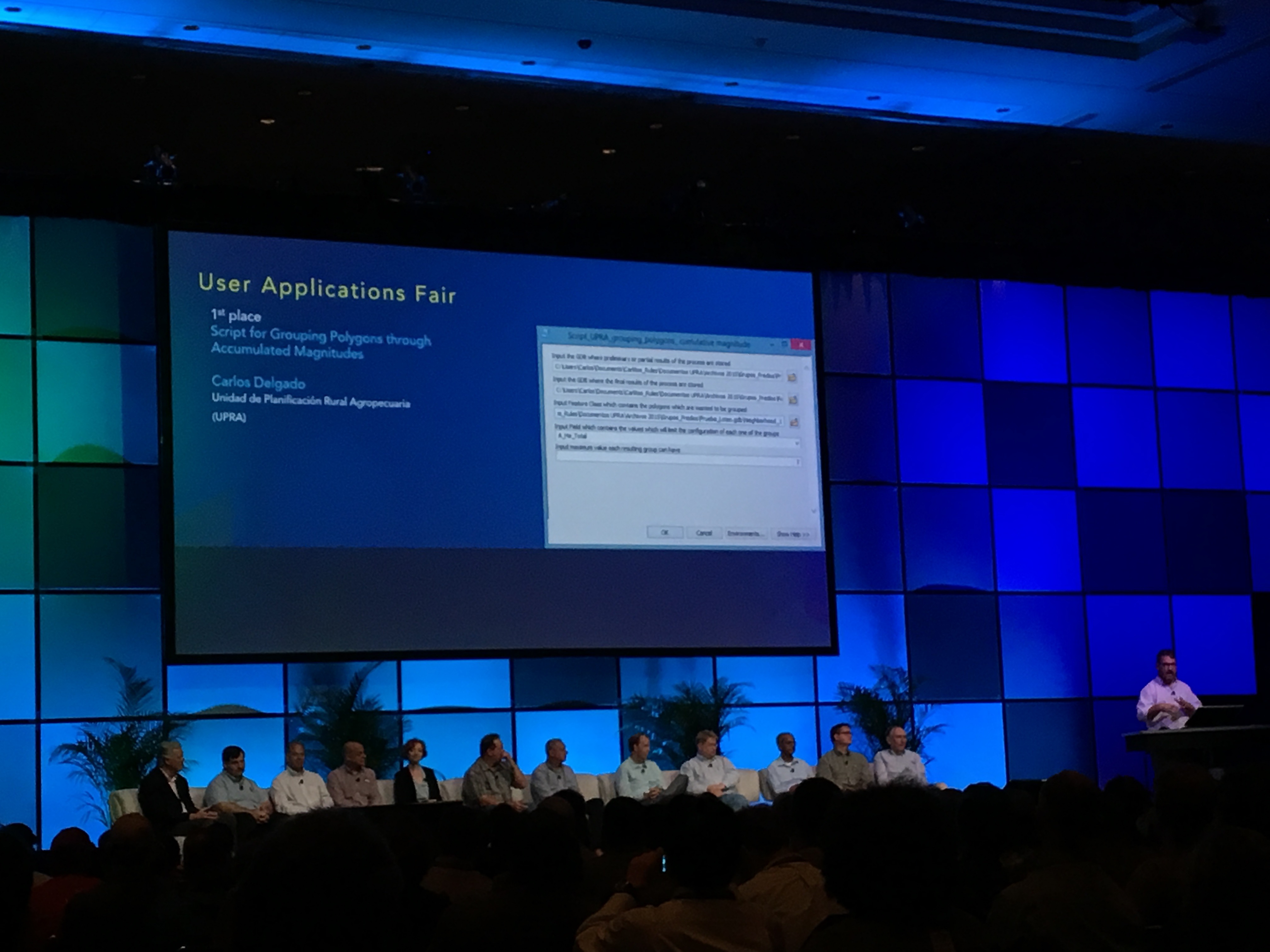 GeoNet Community MVP Awards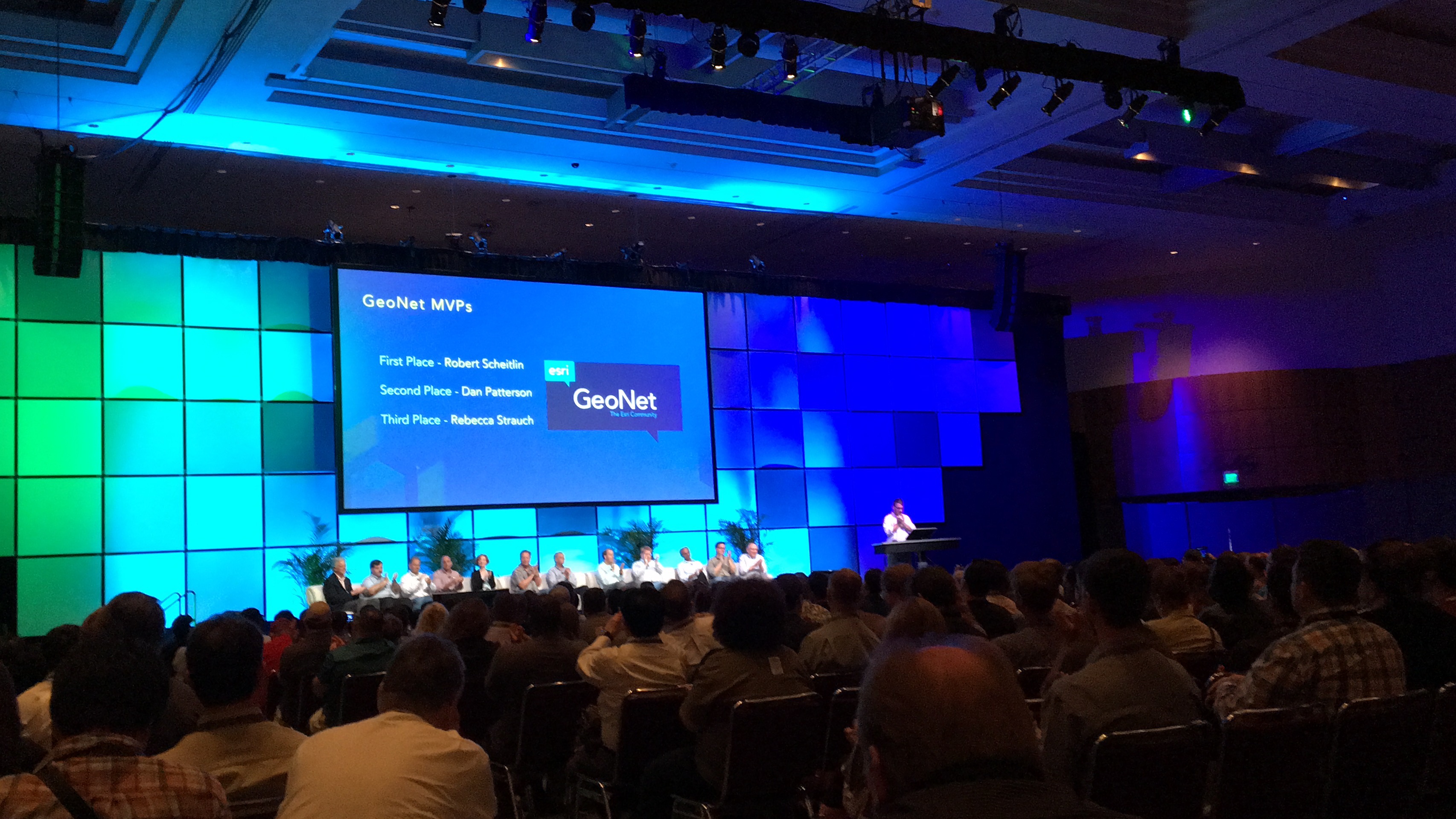 It was a pleasure to see our top contributors Robert Scheitlin, GISP, Dan Patterson and Rebecca Strauch, GISP recognized for their contributions. Thanks so much to everyone in the GeoNet Community. We appreciate your contributions and commitment to making the community a valuable place to connect and collaborate.
To see the other stories and stats from the GeoNet Community UC meet-ups this week, you can download a copy of our meet-up presentation deck here.
Open Q&A
The closing session wrapped with a lively open discussion between customer and Esri staff as Jack and the directors fielded live questions and feedback about everything from the user conference experience and newly released products to improving license agreements and enhancing marketing initiatives.
Addressing a hot topic, Jack did a live in the moment "raise your hand" vote about whether or not there should be a paper pocket agenda made available next year and not only a mobile app or online version. More people voted to keep the mobile app versus only offering paper, but Jack offered an option to print the agenda if attendees wanted to, and Jack's suggestion received a loud applause of approval. Jack highlighted that the agenda and mobile app experience will continue to be improved and he appreciated the honest feedback. (We also invite you to share your thoughts in the comments on this thread: UC 2016 Agenda -- Working Much Better (6/22/2016) In my opinion.)
It was moments like this during the closing session where you could see and feel how this final UC 2016 conversation between Esri staff and customers personified the entire spirit of user conference; which is to listen and connect with customers so we can work towards real solutions together to make the world a better place.
Growing the community strategy. Let us know what you think of our UC experiment.
It's been an amazing week and whether you were at UC or following along remotely, we hope you enjoyed the live blogging during the plenary and the daily updates here on GeoNet. As I mentioned during the meet-ups and in my welcome post, I'm focused on developing the GeoNet Community strategy with the goal of making the community more valuable and integrated into the business, so the UC live blogging and updates was something new that we wanted to experiment with this year as part of the growth of the community strategy, so let's us know what you think so we can improve it for next year.
In case you missed it, here's a collection of the live blogging and daily updates we did during the conference. Timothy Hales and I couldn't cover it all, so we invite you to continue the collaborative conversation and post your experiences in the comments on each daily update post.
Live Blog: 2016 Esri UC Plenary (Morning Session)
Live Blog: 2016 Esri UC Plenary (Afternoon Session)
UC Daily Discussion Monday 6/27: Map Gallery Highlights
UC Updates Day 2: GIS Managers' Open Summit, GeoNet Meet-up, Education Sessions, Platform Enablement
UC Updates Day 3: Esri 5K, Drones, GeoMentor, GeoNet Meet-up, Startups and more
UC Updates Day 4: GeoNet Meet-up Recap, Regression Analysis and Nicholas Cage, UC Party
Let's continue the UC 2016 conversation...
What were your favorite moments? What did you learn and discover? What questions do you have? We look forward to hearing your thoughts, ideas and UC experiences in the comments below. Thanks for sharing and we hope you had a great UC!
3 Comments
You must be a registered user to add a comment. If you've already registered, sign in. Otherwise, register and sign in.