Mark as New

Mark as Read

Bookmark

Subscribe
USDA Forest Service: Stewarding America's Forests with a View from Cloud and Boots on the Ground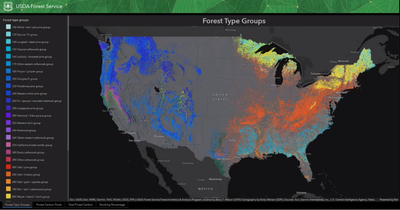 Vicki Christiansen, Chief of the USDA Forest Service, joins the Plenary to introduce how Esri and USDA Forest Service's Research and Development unit is working to build imagery and analysis content through the Forest Inventory and Analysis (FIA) Program.
Charles "Hobie" Perry, Ph.D. from the USDA Forest FIA program, shows how they collect tree measurements and other attributes from a network of more than 300,000 plots to monitor and manage land across the United States. USDA performs a range of tasks in their own application called BIGMAP, including observation of land changes through imagery and remote sensing and cloud computing for large data processing. Barry "Ty" Wilson, Ph.D., Research Forester, shows how they use Python, harmonic regression for vegetation conditions, and other methodologies with their data. Christopher Oswalt, Ph.D., Research Forester and National Digital Portfolio Lead, closes out the story by sharing how services are being used today and how you can access them for your work.
You can find USDA data in the Forest Service ArcGIS Online Organization Hub and ArcGIS Living Atlas Open Data portal. Check out The Forest Inventory & Analysis Geospatial Data Showcase to see their data, application, and stories.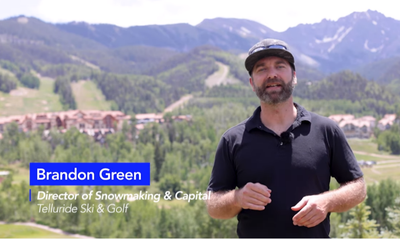 Telluride Ski & Golf
Learn how Telluride Ski & Golf uses ArcGIS solutions for operations and logistics across approximately 2,500 acres of terrain in Colorado. In focused product demos, you can see how Telluride Ski & Golf uses ArcGIS products like Site Scan for ArcGIS, ArcGIS Online, ArcGIS Dashboards, and ArcGIS Field Maps more closely to build a digital twin with cloud-based infrastructure. In this story, you'll get an overview of the facility from Brandon Green, Director of Snowmaking & Capital, and Matt Tarkington, GIS Analyst & Drone Operator, to understand the need and vision for building a digital twin and how all the products work together to help manage their business.
NASA Jet Propulsion Laboratory: Mapping Mars for Rovers
Dr. Fred J. Calef III, Mars2020 Mapping Specialist and Science Systems Engineer, takes us out of this world to understand what it took to map Mars for a successful landing. You can see where Perseverance Rover is daily at Where is the Rover.
Keynote Speakers
A Walk Through the Anthropocene
Paul Salopek, Founder and National Geographic Explorer, tells us about his journey to walk the earliest migration path of ancient humans from the Rift Valley in East Africa to the tip of South America – requiring 70 million footsteps and approximately 14-15 years. In this story, he shares what he's learned so far in year eight from Shangai, China. He explains how the topic of sustainability shows up consistently as he builds this journey's story with slow journalism, allowing him to see how political, economic, climate, education, and other common factors have interconnected impacts on the world.


Expanding Racial Equity through Community Action
La June Montgomery Tabron, President and CEO of the W.K. Kellogg Foundation, talks with Jack about understanding racial equity and why identifying the impact of inequities can help us understand patterns and systems that can be steered towards creating a positive change in our communities. The Sustainable Development Goals (SDG) Data Alliance formed by W.K. Kellogg Foundation, PVBLIC Foundation, Esri, and the United Nations recognizes that reducing inequalities of all kinds (SDG-10) supports a world where everyone can thrive. Jack and LaJune discuss the work around building community action hubs to activate this work locally with changemakers and GIS professionals.
2021-2030 – Last Best Chance to Protect the Ocean for the Benefit of Humanity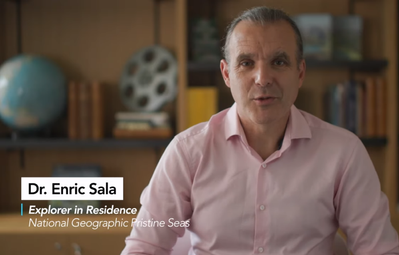 Dr. Enric Sala, Explorer in Resident and Founder of National Geographic Pristine Seas, is striving to help save the last wild places in the ocean and helped establish 23 of the largest marine reserves around the world. The Pristine Seas team created The Global Ocean Conservation Rankings application to help governments understand the impacts of humanity on the ocean, while conveying the benefits of protecting areas to humanity. Learn more from the ArcGIS StoryMap about the protected locations and the project's impact.


Nature-Based Solutions in California: Combating Climate Change and Achieving 30x30
In California, Governor Gavin Newsom created an executive order to protect 30% of the state's land and coastal waters by 2030, thus establishing the 30x30 initiative. Secretary Wade Crowfoot and Jennifer Norris, Deputy Secretary, Biodiversity and Habitat of the California Natural Resources Agency, discuss putting the initiative in action by working with Esri and sharing the collection of mapping and visualization tools with authoritative data on California's biodiversity, climate, and access efforts with ArcGIS Hub and ArcGIS Survey123.
After seeing the talk with Jack, take a look at the hub to learn more: California Nature
More Recaps from the 2021 Esri User Conference
You must be a registered user to add a comment. If you've already registered, sign in. Otherwise, register and sign in.