Occasional Contributor III
Mark as New

Mark as Read

Bookmark

Subscribe
Welcome and thank you for following the 2018 User Conference Plenary! We will be sharing the latest news and updates during the plenary, and we look forward to seeing your feedback and contributions in the comments below!
Be sure to follow the User Conference space for daily recaps, pictures, discussions, and more. 
Esri UC 2018 Plenary Schedule
Doors Open at 7: 45 a.m.
Morning Session: 8:30 a.m. - 10:15 a.m.
Mid-Morning Session: 10:45 a.m. - noon
Afternoon Session: 2:00 p.m. - 3:30 p.m.
And We're Live with the GeoNet team and the Customer Advocacy team contributing to today's blog in the comments below.
8:30 a.m. - Opening video and Jack's Welcome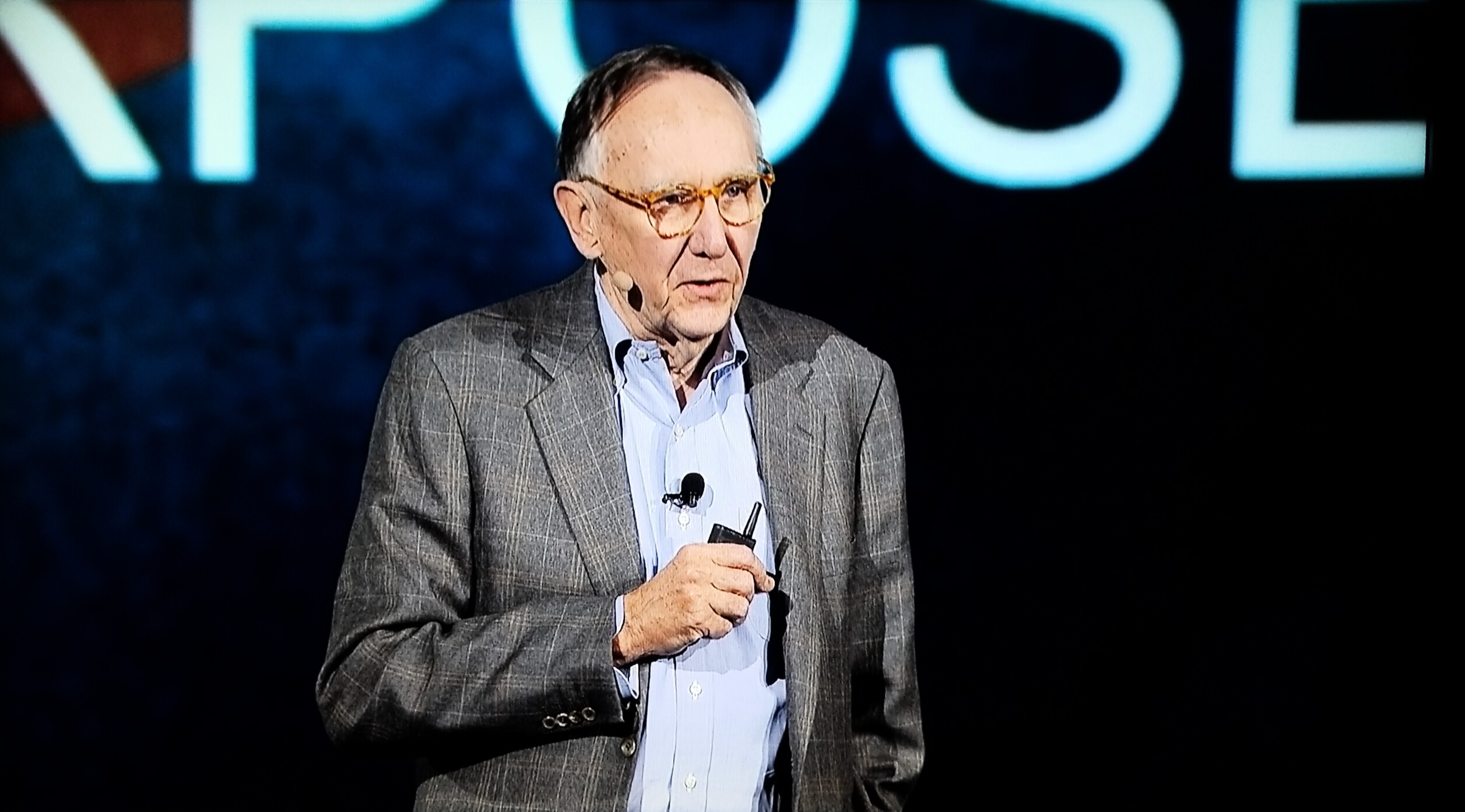 8:33 a.m. - The audience applauds, and Jack enters the stage. Jack opens the Plenary with his vibrant, "Welcome" to the audience. He continues with the purpose of the conference...GIS continues to evolve and increasingly plays a vital role in digital transformation, working smarter, providing a wealth of information at the fingertips of everyone all over the planet.
And to keep with his conference tradition and instill the sense of community, Jack encourages everyone to turn and meet someone around them they do not know.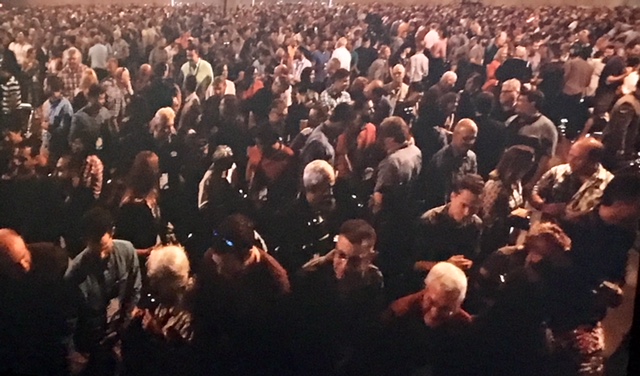 After the audience settles, he continues to discuss the fantastic work of others, 13 user slides showing examples of work submitted by Esri customers; work that demonstrates some of the most innovative of uses with Esri products and Applications. Each submission that was selected will receive a certificate.
And the categories are…
Environmental Modeling and Assessment
Natural Resource Management
Managing and Analyzing Land Information
Planning and Urban Design
South Korea - Urban Redevelopment

Abu Dhabi
Transportation Planning and Management
Engineering and Public Works
Sidewalk Vertical

The growth of Dashboards as a means of communication
Utilities and Telecommunications
Outage and Voltage dashboards with real-time status systems from Colorado
Business Analysis and Location Intelligence
Public Health and Demographics
High-risk schools index -

San Bernardino

Kenya Presidential Elections -

3D democracy
Public Safety and Security
Incident planning response with Super Bowl
Preparing for and Responding to Disasters
Earthquakes to hurricanes, wildfires, and floods
Portal, Open Data, and Citizens Engagement
Abu Dhabi – One-Stop Citizen Hub

Citizen Engagement

FEMA Open Data

And Org portals
Cartography
Swiss Topo as the gold standard in cartography

NGA - quantity and million updates per day

DNA mapping - London DNA Compass
Story Maps | Telling Stories About Everything
8:46 a.m. - And the Awards go to…UC 2018 Awards
Story Map and Special Achievement in GIS (SAG) Awards
Jack announces the Special Achievement in GIS Awards winners.
Enterprise GIS - Sempra Energy Award
Sempra Video - Representatives receive an award
Jimmy Cho - Senior Vice President
Katie Spears - Vice President
Debbie Booy - GIS Manager
Jamie Exon - Solutions Manager
Thomas Edghill‌ shares a comment for Sempra Energy.
Leadership in Government Award
Governor Hickenlooper - Colorado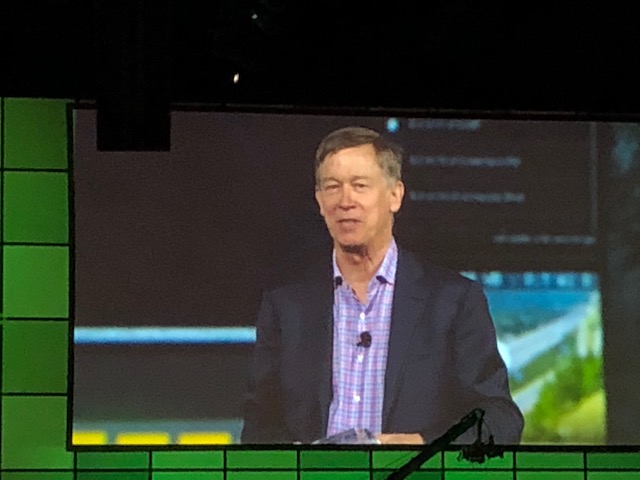 President's Award – American Red Cross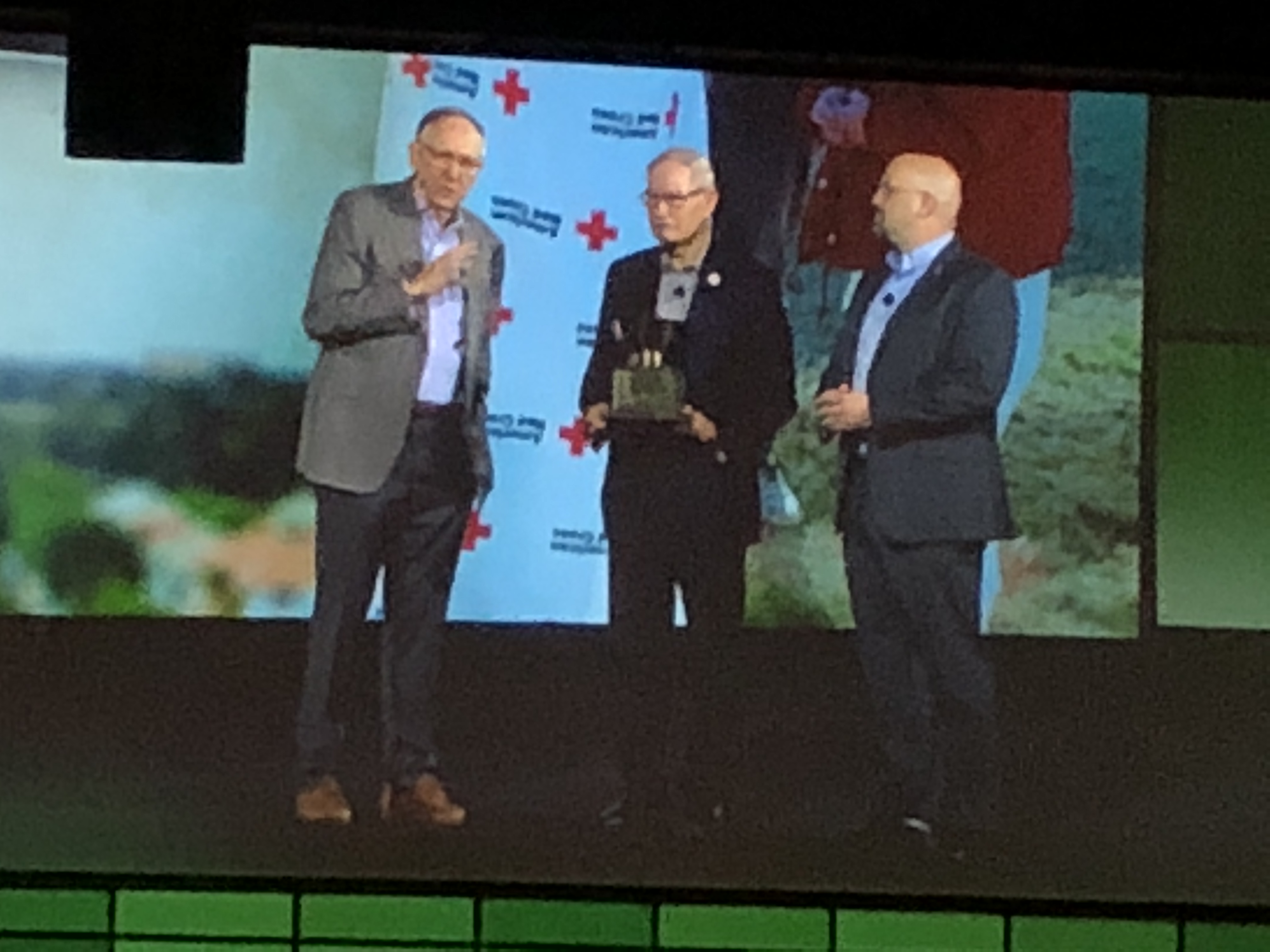 8:59 a.m. Vision
Jack shares the vision of GIS and what we should do next. Envisioning what's possible. Accelerating and improving efficiency. Integrating environmental thinking in everything we do.
How do we take the next step? We need to embrace the digital transformation to create a societal GIS. My sense over the years is not whether this is possible, it's essential and inevitable. You will be participating in this, and making it happen.
Web GIS is Driving Digital Transformation - Helping Organizations to re-envision their workflows.
Jack shares what's next.
See comment shared below >>
9:15 a.m. - Our Work
ArcGIS supports two kinds of community. It integrates and embodies all types of data by organizing content and information you creating a common language. It focuses on three main areas of the Enterprise - Systems of records, systems of insights and systems of engagement.
9:15 a.m. - Seedling to Shelf – The Transformation of GIS Across a Vertically Integrated Forestry Supply Chain
J.D. Irving, Limited (JDI)
Speakers: Jason Killiam, J.D. Irving and Heather Morrison, Esri
Jack introduces Jason Killiam, Chief Forester.
Jason reflects in time to 1882 when J.D. Irving, Limited (JDI) began in a small town in Atlantics, Canada. This small family business continues to grow and diversify with 15,000 employees operating in 22 States and eight Provinces. JDI is pursuing a vision using GIS as a way to keep their growing business connected.
Jason continues to tell how JDI started their GIS journey in 1984 as a system of records for 6-million acres of woodlands that they managed. As the business grew, so did their records from paper maps to a digital GIS platform.
Lidar technology has changed how JDI, sees the forest; with a hyper-accurate scan of the forest, they can uncover new opportunities to use the technology to propel decision-making.
Jason shares the Seed to Shelf video. The video begins with the seedlings grown in the nurseries to the planting and harvesting to make paper.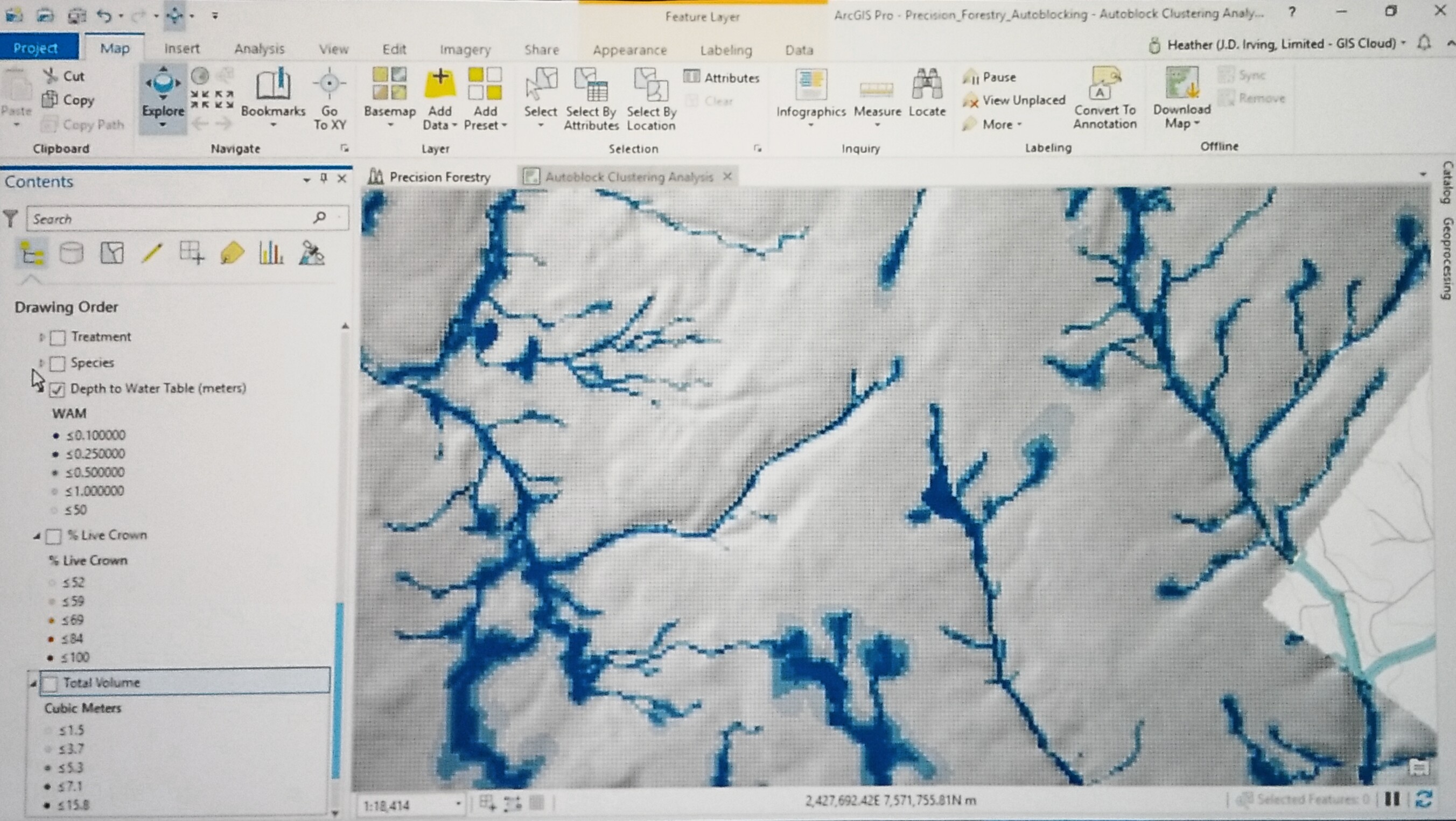 He continues the demonstration with a Lidar image using modeling, displaying the outputs of our new precision inventory.
How much volume is standing in the forest
The percent of live crown of the trees
Map how deep the water table is below the surface of the land
Better protect waterways and areas in their operations
Over the last few years....we've been investing in precision forestry....which for us means taking the Lidar scan of the forest....and transforming the inner workings of our supply chain processes.
Heather chimes in with a Field Demo on Ops Explorer where they are taking advantage of the offline capabilities of Explorer and giving the power of GIS and precision forestry into the hands of foresters in the field.
Jason presents a second demonstration with location intelligence to track where the fleet of harvesters are operating. They are tracking more than 180 machines 24 hours a day and tracking data to capture treated and depleted areas of forest inventory.
Heather continues with a workflow demonstration for how JDI can conduct planting audits using ArcGIS Collector's new offline workflows pre-planned in the office to downloads onto devices for auditors.
Routing is also made simpler for JDI's supply chain management of harvested logs delivering over 20 forest products to more than 30 mills. They also track the road conditions and speed of their trucks.
Using Survey123, they found a solution for asset inspection for forest products moved by rail. With the offline version, they can update existing assets and collect new inspection records.
At the sawmill, JDI is using Drone2Map for ArcGIS to capture 2D and 3D products to calculate the volume of chip piles.
In our operations, nothing goes to waste. – Jason Killiam.
Logs turn to lumber. The residue (bark, chips, sawdust, and shavings) are used in other processes. The chips go to the paper mills producing paper and tissue.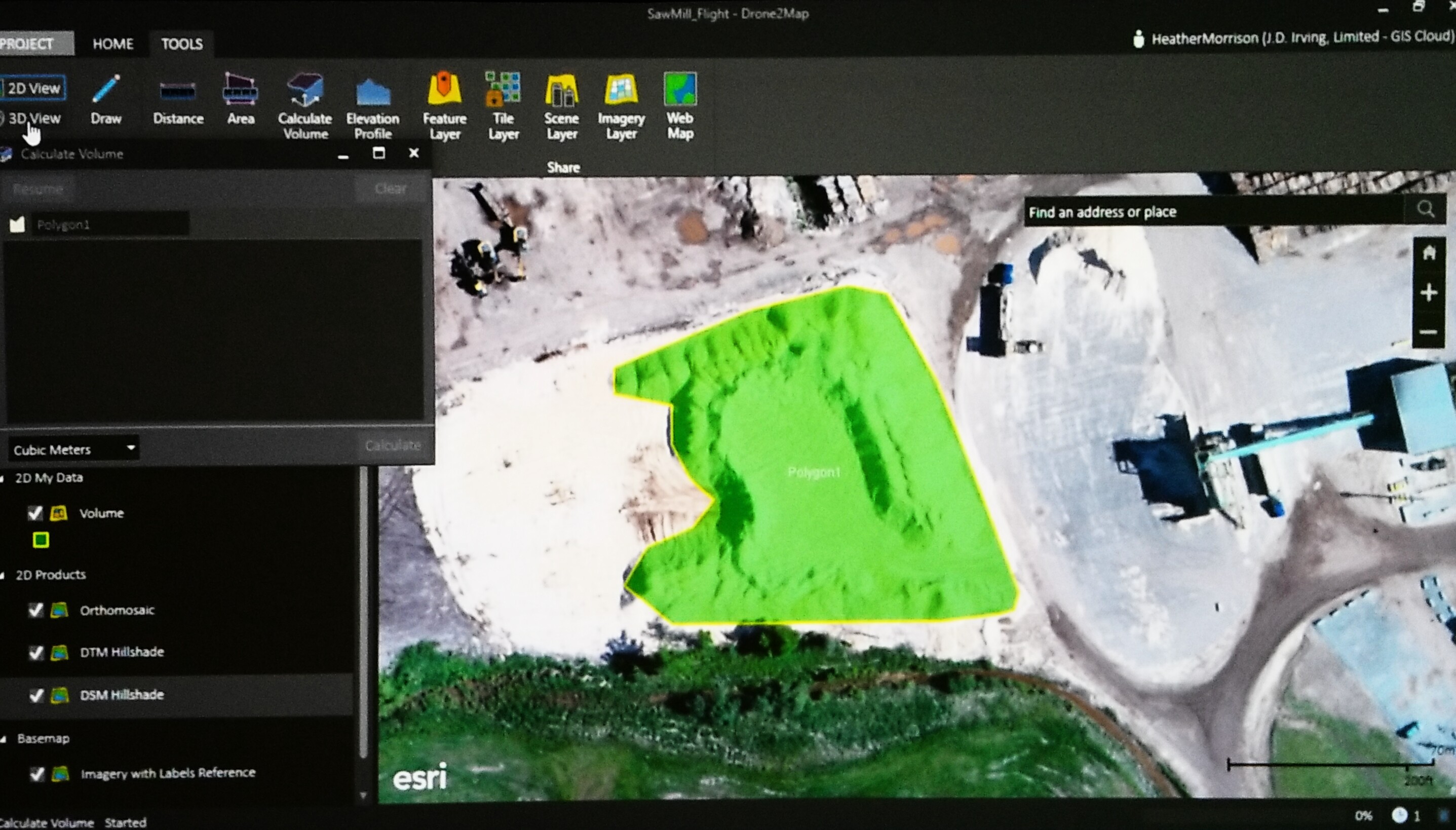 The real-time dashboard they display confirms their lean inventory is at the right level.
Looking at distribution maps, they can see opportunities for tissue sales in North America. They can identify and flag stores for growth opportunities.
JDI's digital transformation doesn't stop at the supply chains. Using location analytics, they are the primary funding partner behind the largest deer research projects in the Northeast, tracking over 100 deer with precise GPS collars over the last five years.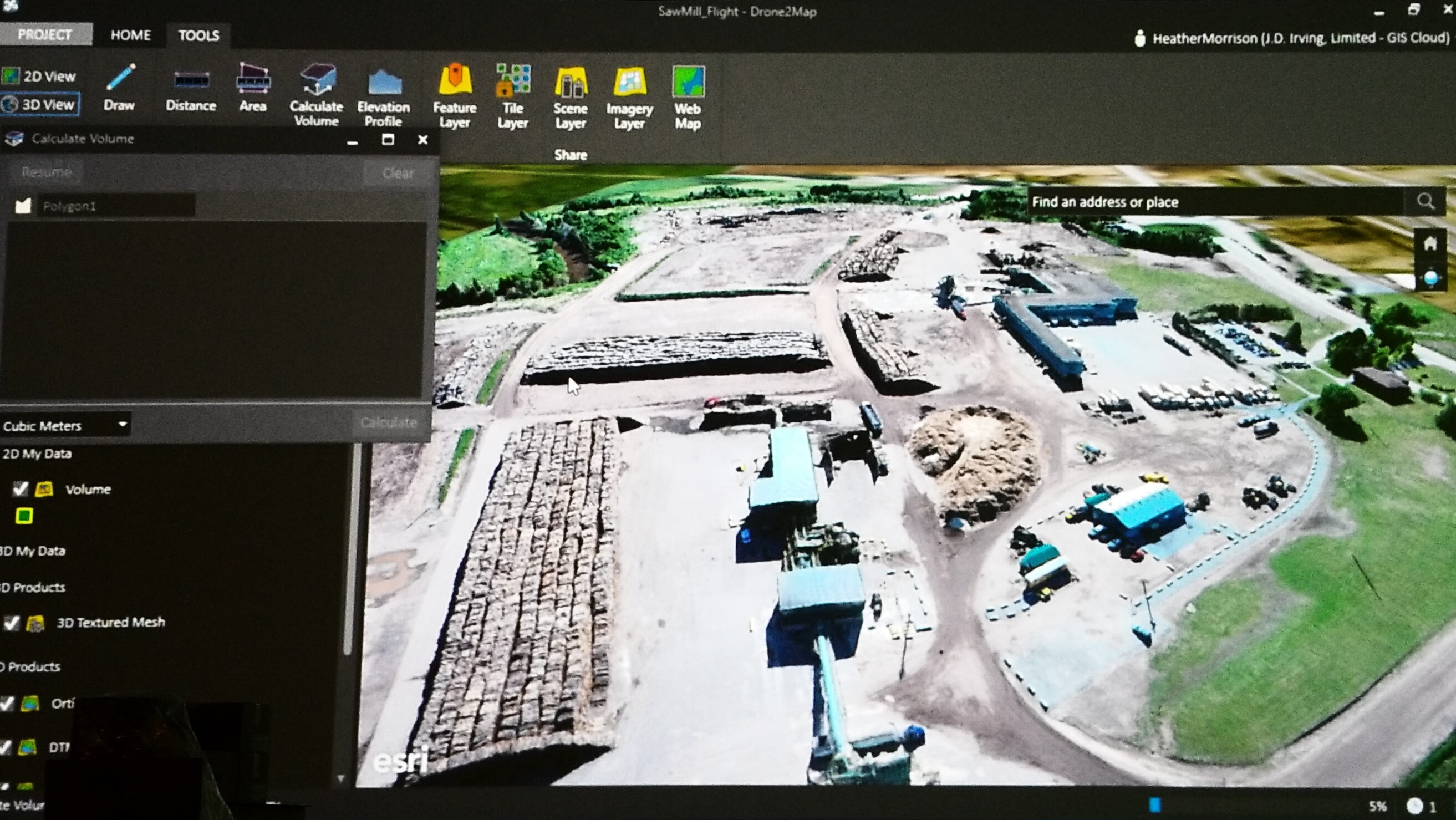 Jason shares the JDI inspiration. JDI's story goes beyond the research they support and do, but also in sustainability. Their award-winning program protects over 1,450 special sites across more than 180,000 across of plants, wetlands, habitats, and biodiversity.
Jason continues, "We planted our first tree over 60 years ago…and in less than 3-weeks, we will be planting our One Billionth Tree." Before exiting the stage, he presents Jack with a sister seedling in celebration of their tree planting milestone.
9:28 a.m. Our Work
Speaker: Jack Dangermond
ArcGIS is advancing in many new and exciting ways with Data Management and Industry Models.
Autodesk and ArcGIS direct product integration and interoperability for AutoCAD to ArcGIS Pro.
GIS Design and engineering > ArcGIS > Revit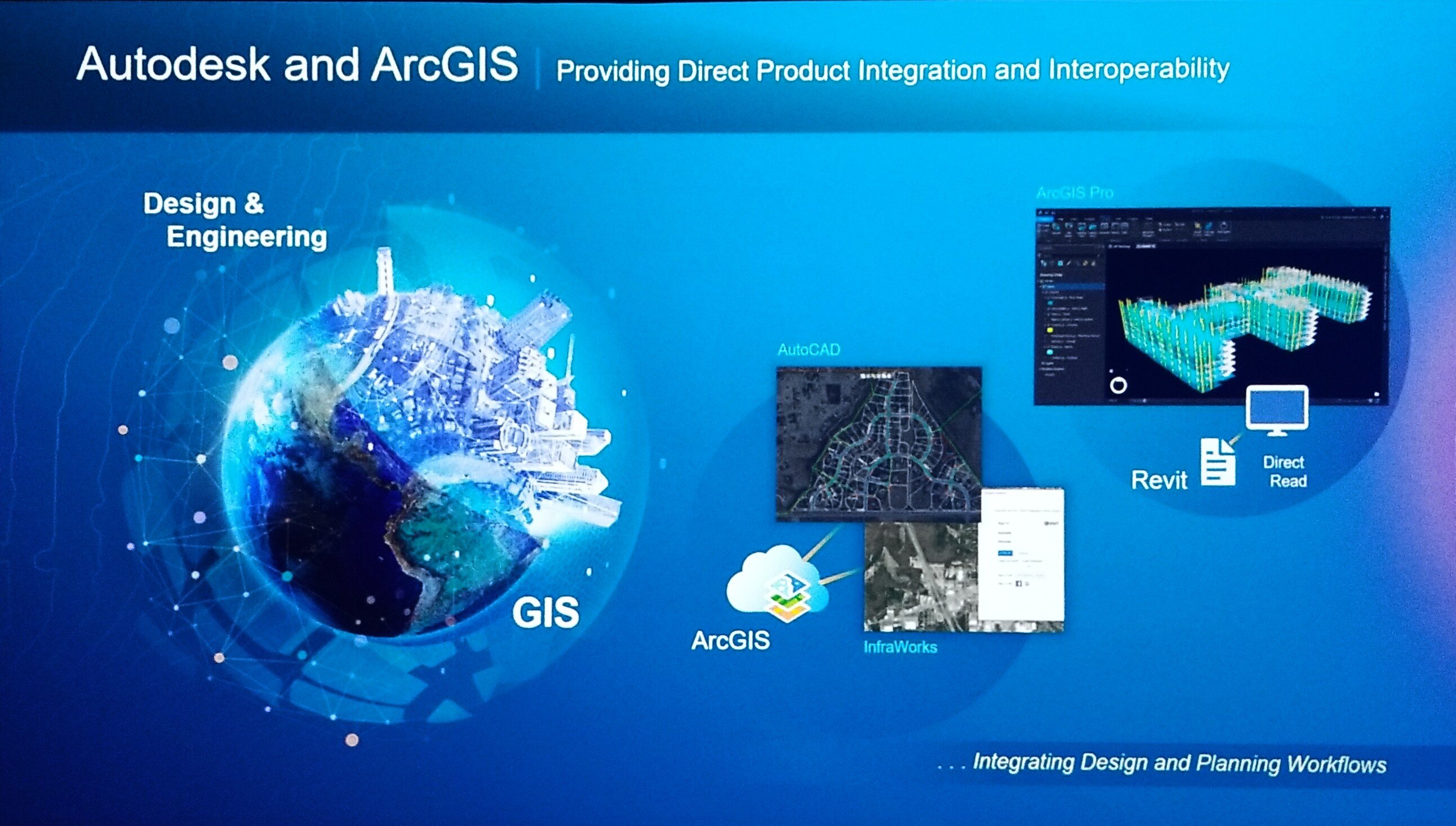 Field Solutions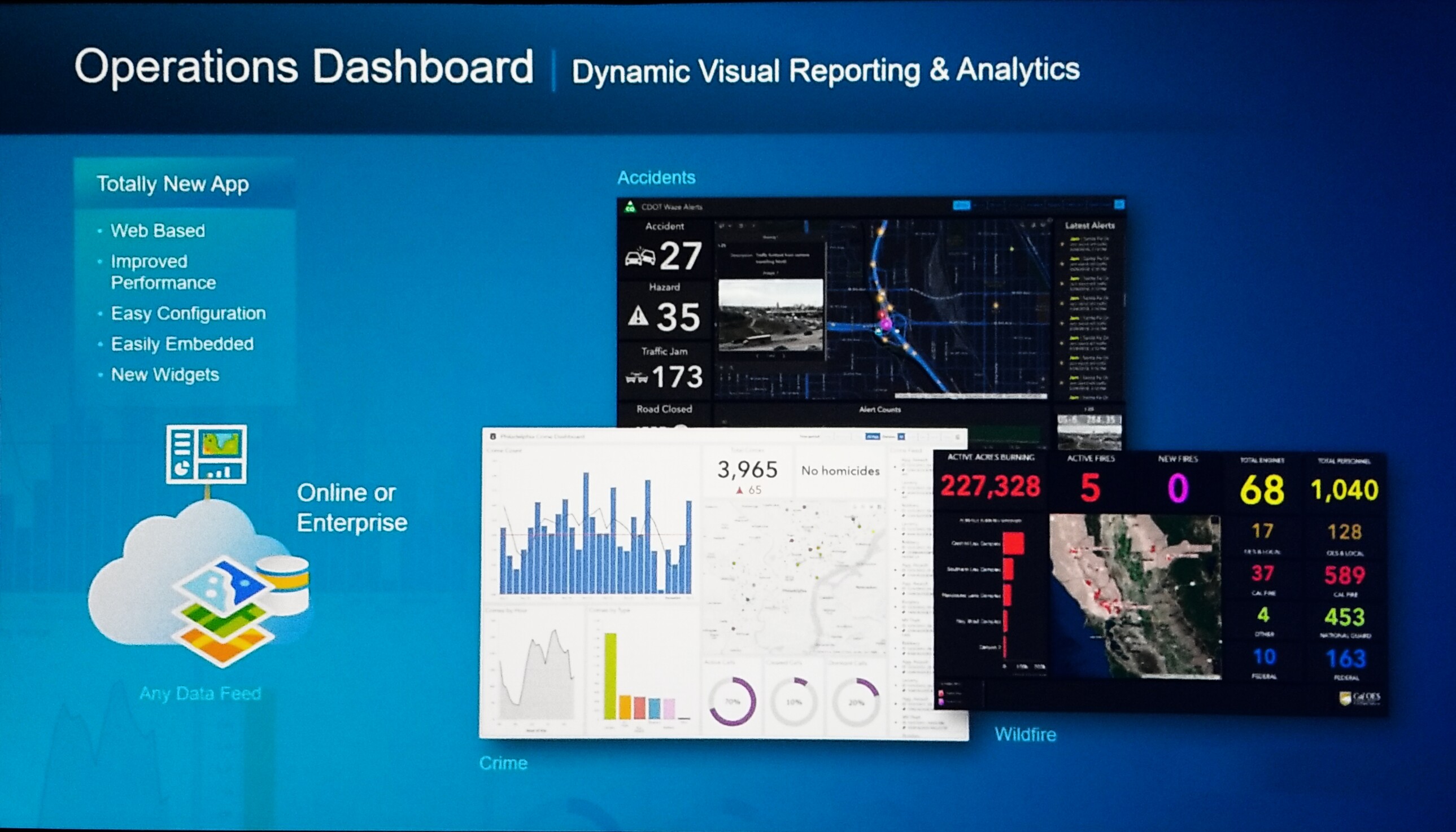 ArcGIS Content - basemaps, imagery, demographics, shared by everyone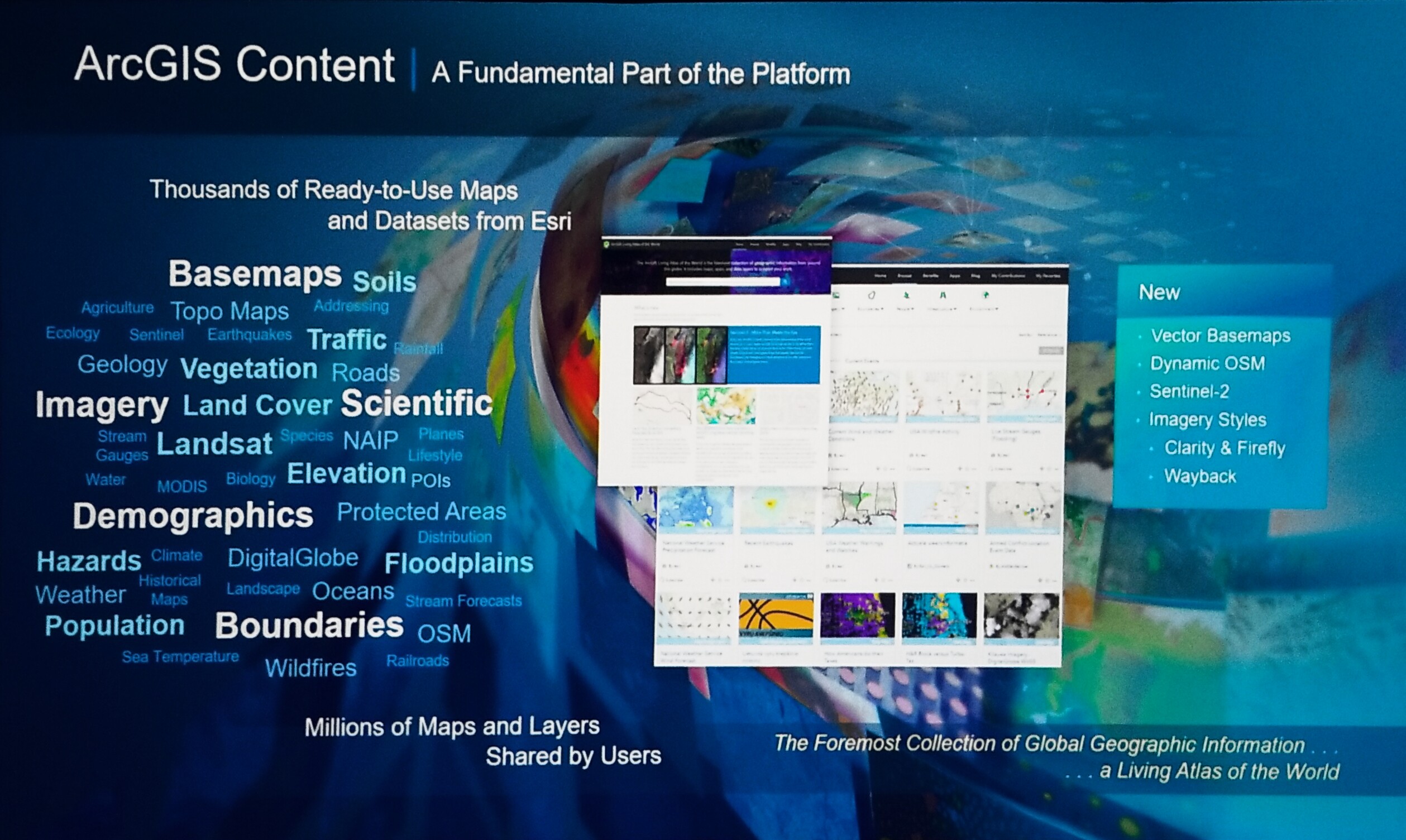 9:33 a.m. - Earth Information System
Speaker: Bernie Szukalski, Esri
Jack introduces Bern Szukalski to talk about the ArcGIS Living Atlas of the World. The Living Atlas is always evolving. Bern's demonstration shows the World Imagery Way-back application to create layers of imagery that show a progression of a map.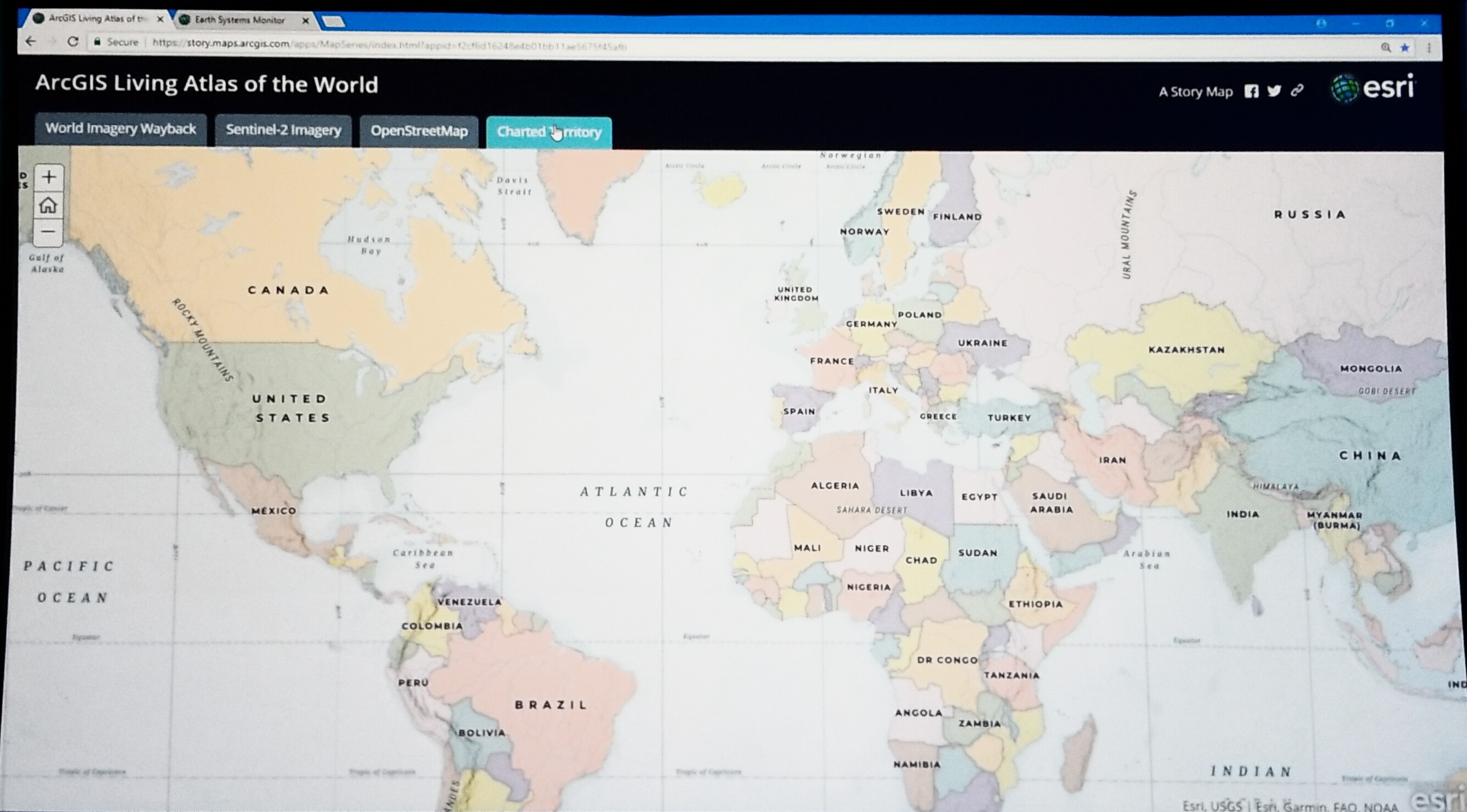 He also demonstrates a map using the Sentinel-2 Imagery, OpenStreetMap and Chart Territory.
He wraps it up with the Earth Systems Monitor. We can see history, forecasting, real-time data for land, ocean, and even the human footprint, taking the 2D map and turning it into a 3D map of the globe.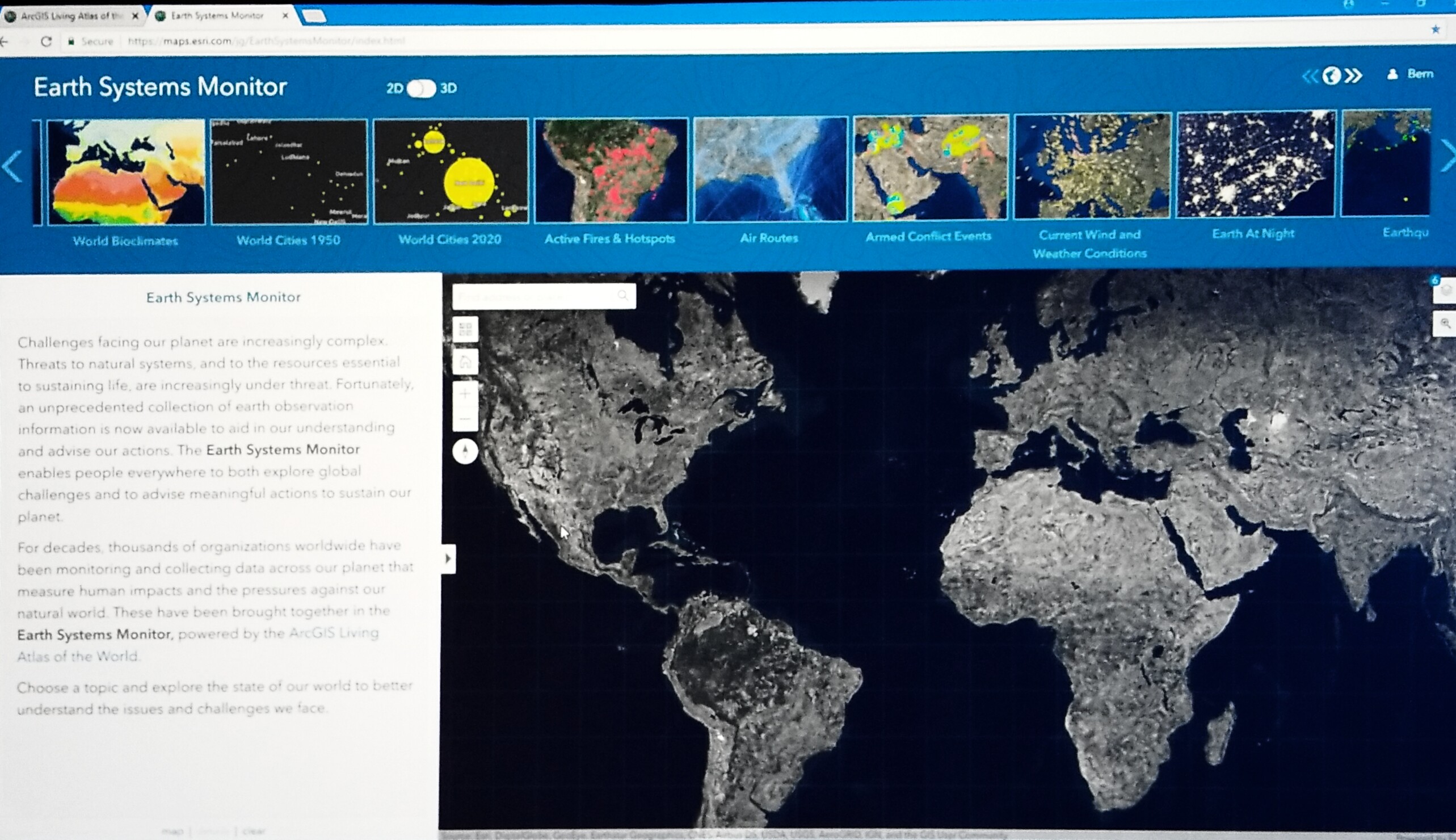 Written by Matt Ball‌

Wayback imagery is a digital archive of the World Imagery basemap, enabling users to access more than 80 different versions of World Imagery captured over the past five years. Each record in the archive represents a version of World Imagery as it existed on the date it was published. We can move forward and back in time and choose the imagery you want to use. Learn more about the Wayback App in this ArcGIS Blog post.

Sentinel 2 Sentinel-2 is now part of the ArcGIS Living Atlas of the World. Sentinel-2 image service, powered by ArcGIS Image Server, includes daily updates, all Sentinel-2 imagery going back 14-months, and includes 13 bands of information. Image analysis can be applied to create image indices that show properties such as vegetation health or soil moisture as well as quantifying changes over time. Read more about Sentinel-2 imagery in this ArcGIS Blog post.

The ArcGIS Vector Tile Style Editor gives you a fast and easy way to create a custom basemap style that matches your brand and the type of app that you are building. Read this ArcGIS Blog post to learn more about the ArcGIS Vector Tile Style Editor.
9:35 a.m. Our Work
Speaker: Jack Dangermond
Jack shares more with a focus on Smart Mapping enabling everyone to make maps. The audience claps.
Mapping and Cartography with improvements in tools and technology with symbology and annotation.
Mobile device and Web
3D Analysis more than visualization - Analytics, Volumetrics, Apps
Real-time analytics – improvements
Imagery - A complete system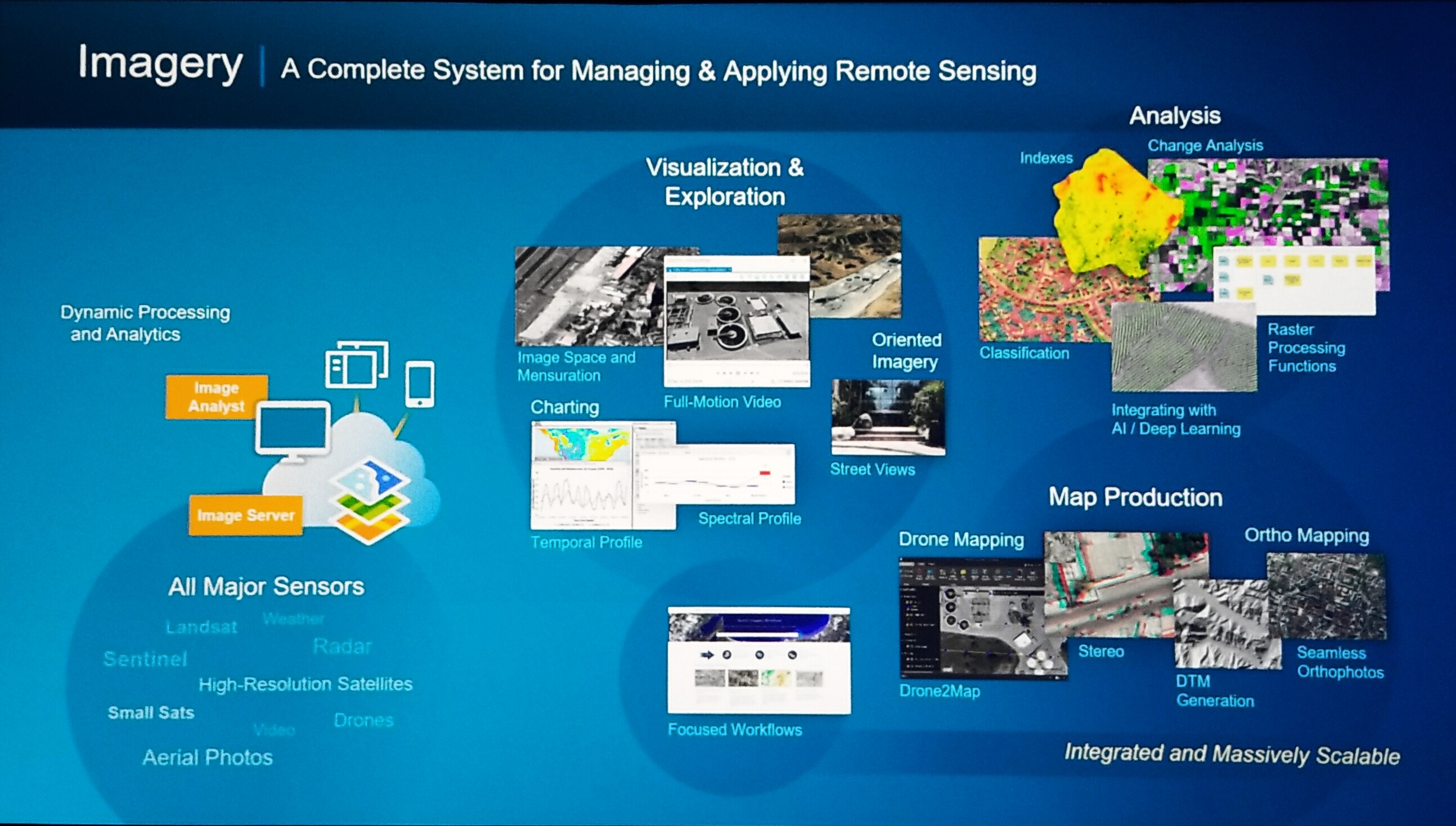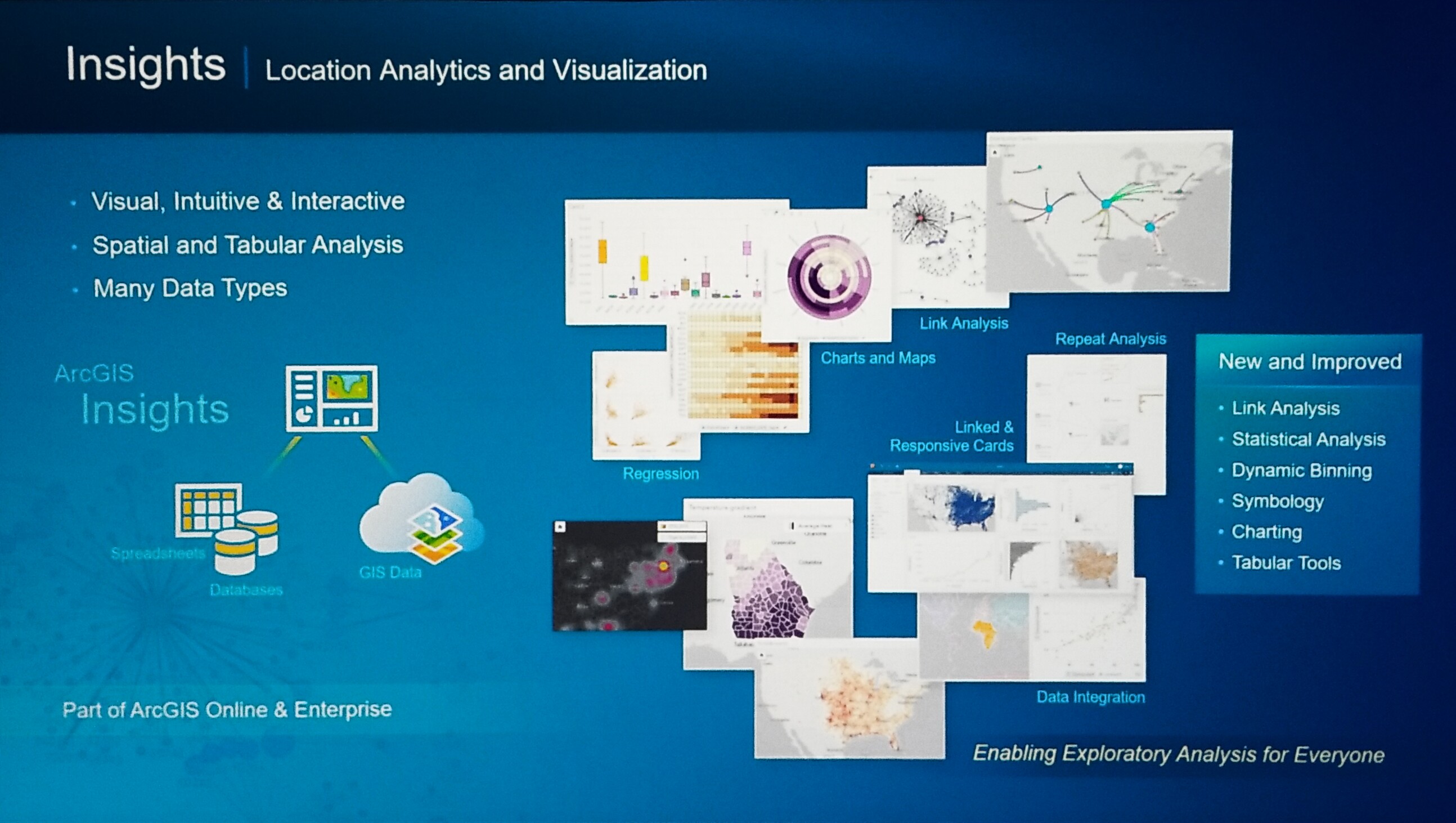 Comprehensive Spatial Analysis - enabling geospatial data science
Spatial statistics, Raster Analysis, Charting, Improved Processing, Network Analysis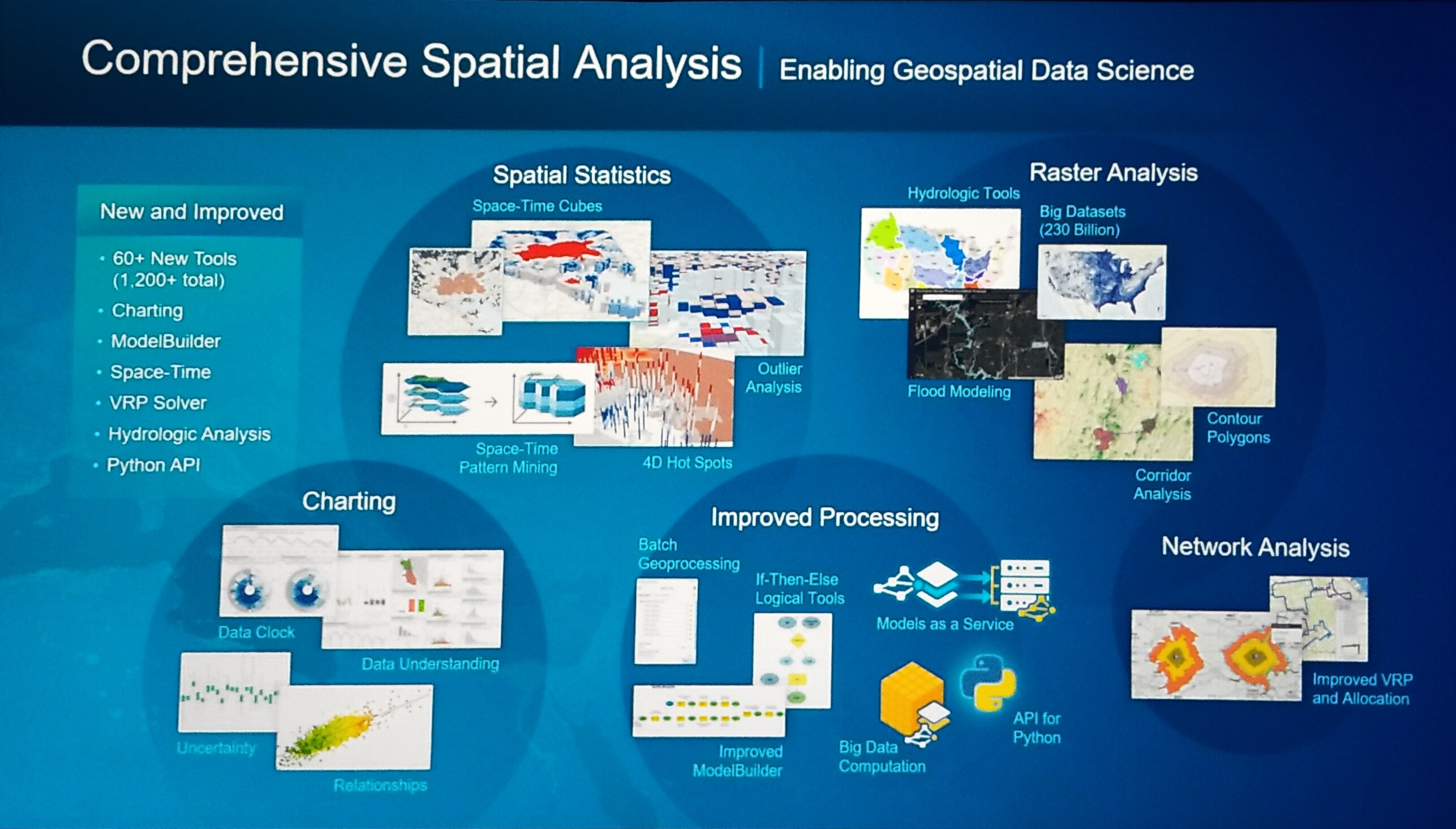 Artificial Intelligence and Machine Learning
Geoprocessing tools, integration
9:43 a.m. - ArcGIS Pro Machine Learning & Analysis
Lauren Bennett, Esri
We're infusing machine learning and AI in many aspects of GIS.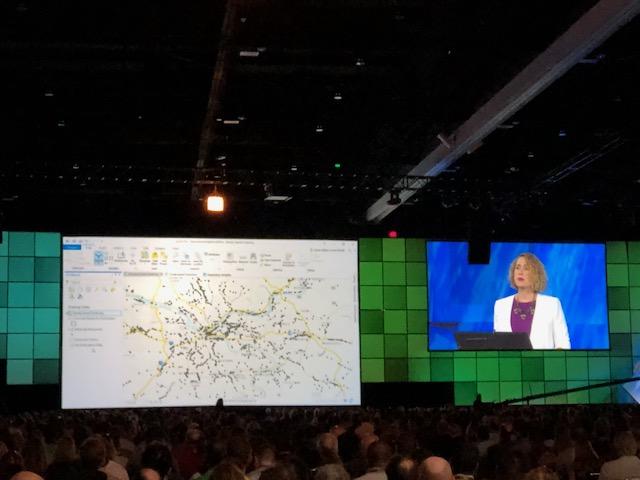 We've made it simple... giving a demonstration of density clustering to show machine learning. All we have to do is tell it what we think is a cluster.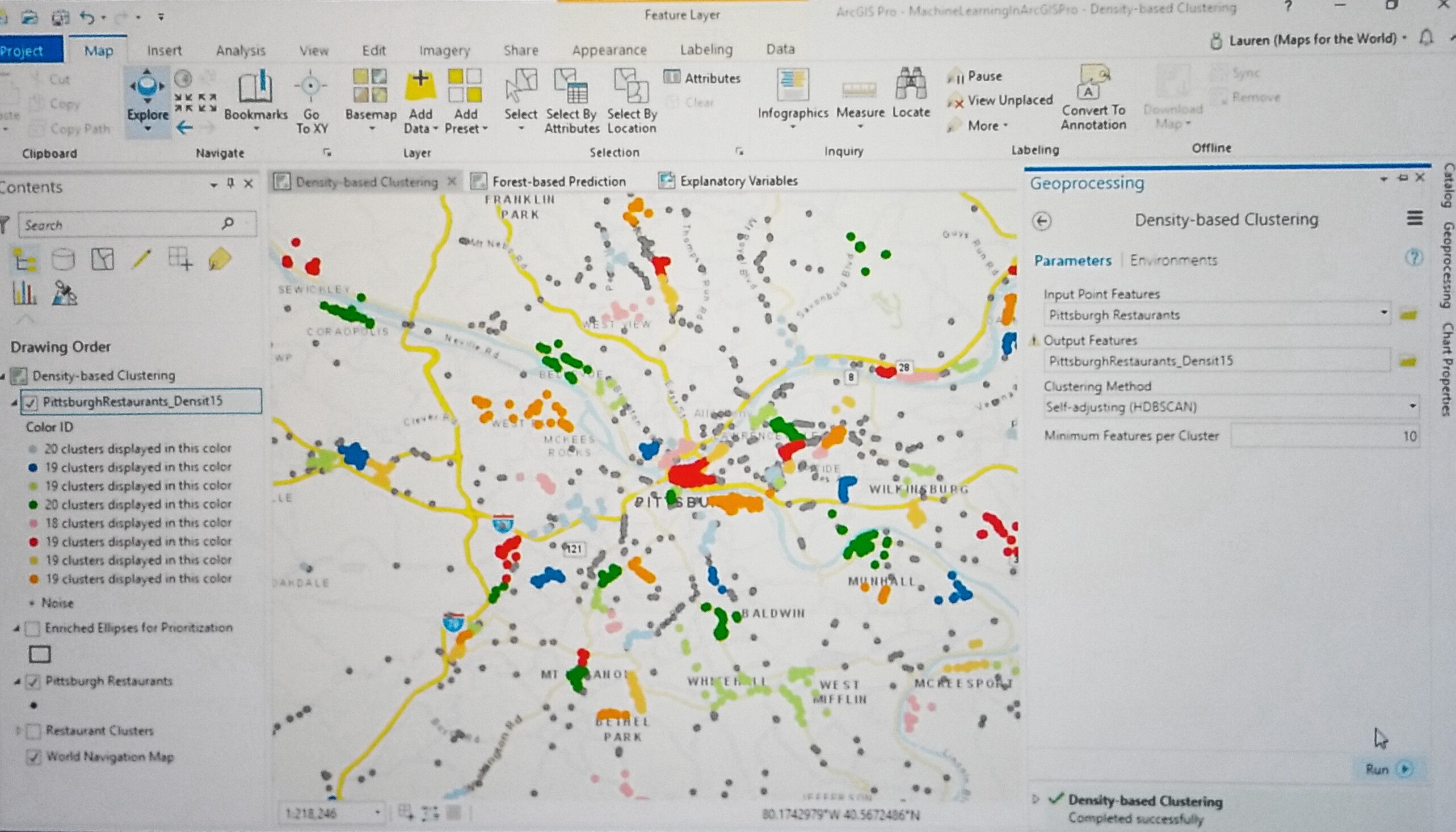 Ones in color are clusters, the ones in gray are noise.
Using the forest-based prediction tool to measure Childhood asthma we can use it to predict the asthma hospitalization rate in block groups.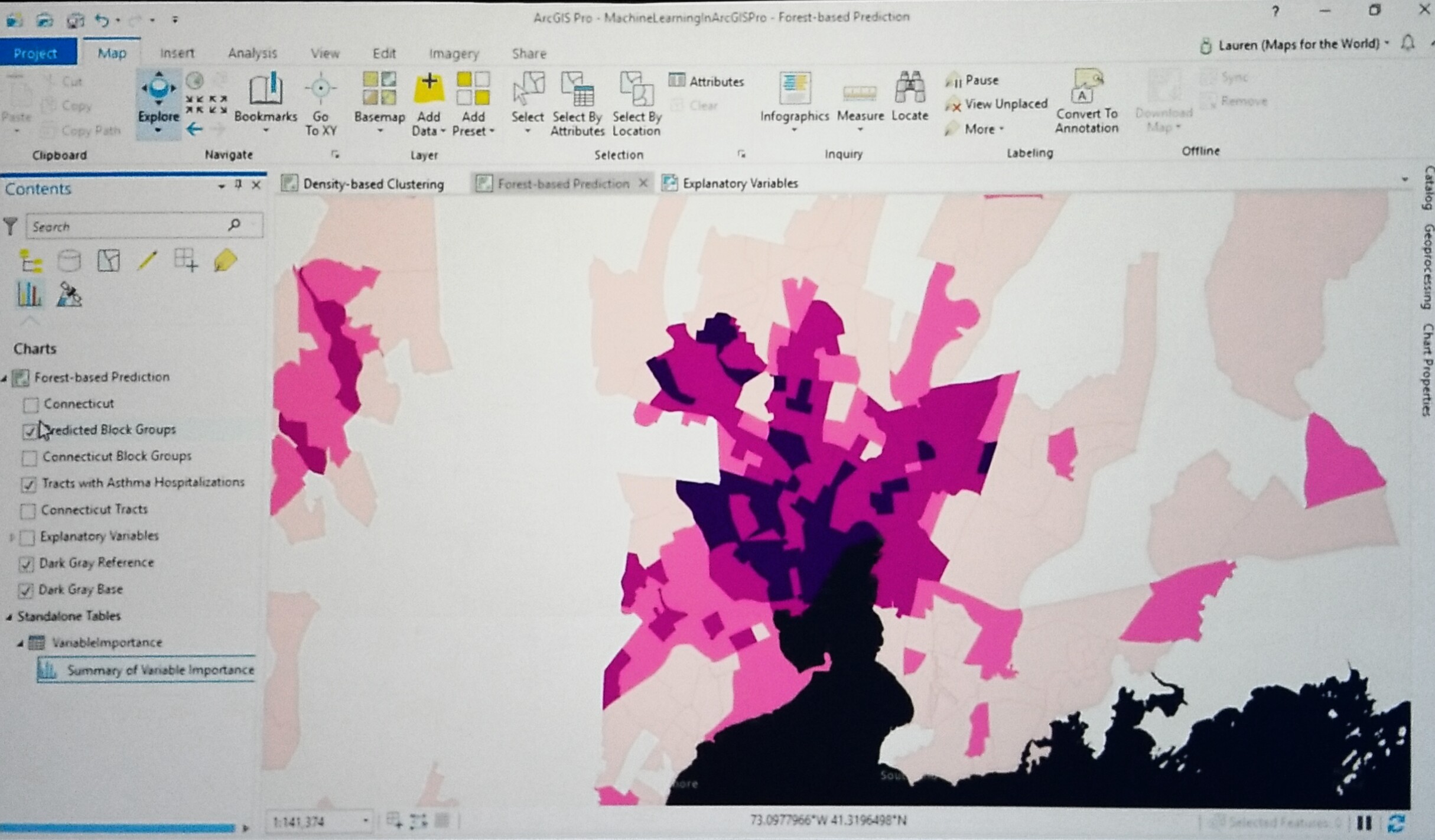 To train our Forest model – all we do is point it at an algorithm of clusters. Using R-squared, we are predicting with 80% accuracy.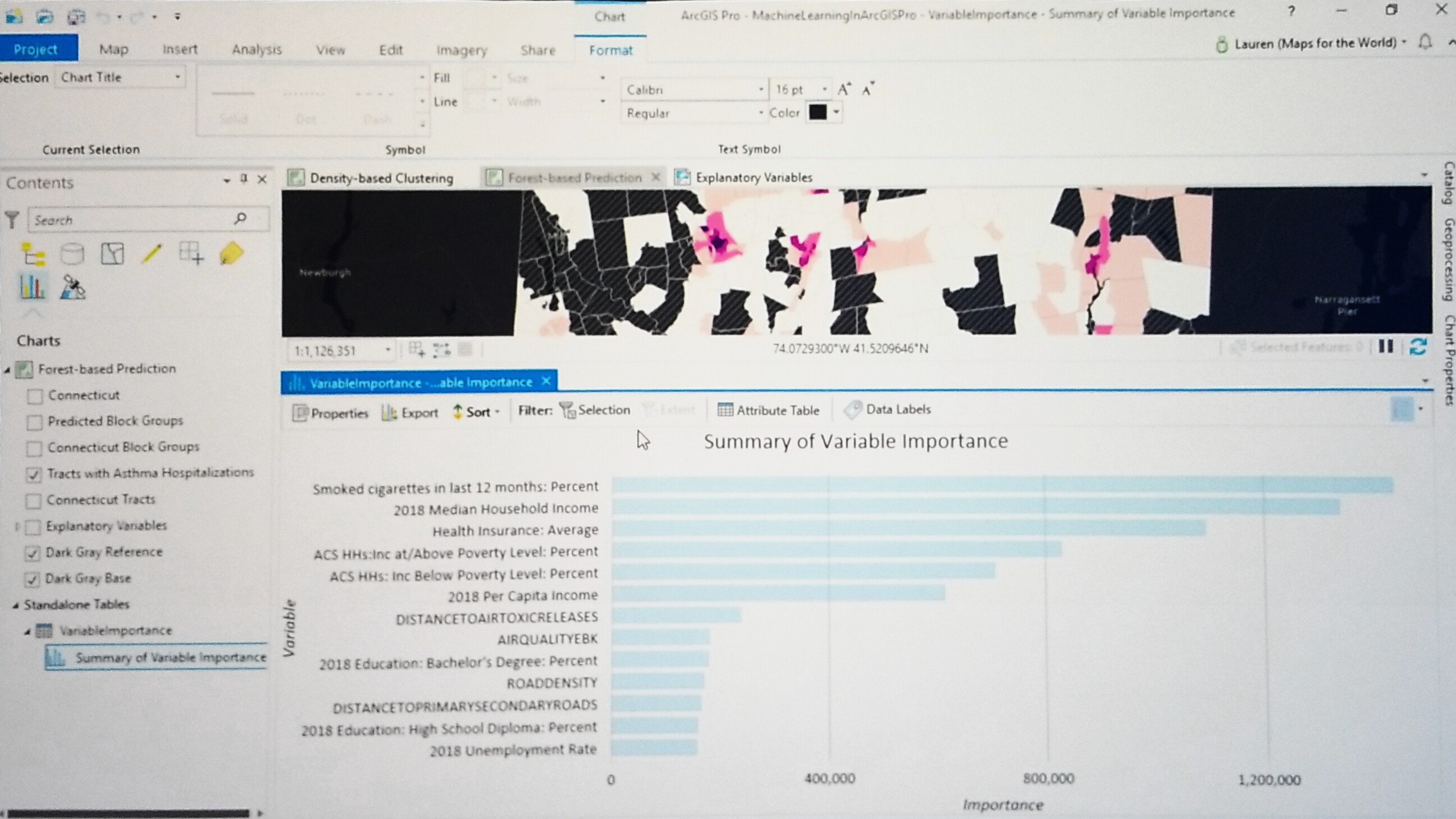 9:47 a.m. - Our Work – ArcGIS Hub, Indoors, Urban
ArcGIS Products
ArcGIS Pro‌
- improvements, professional GIS, Pro 2.2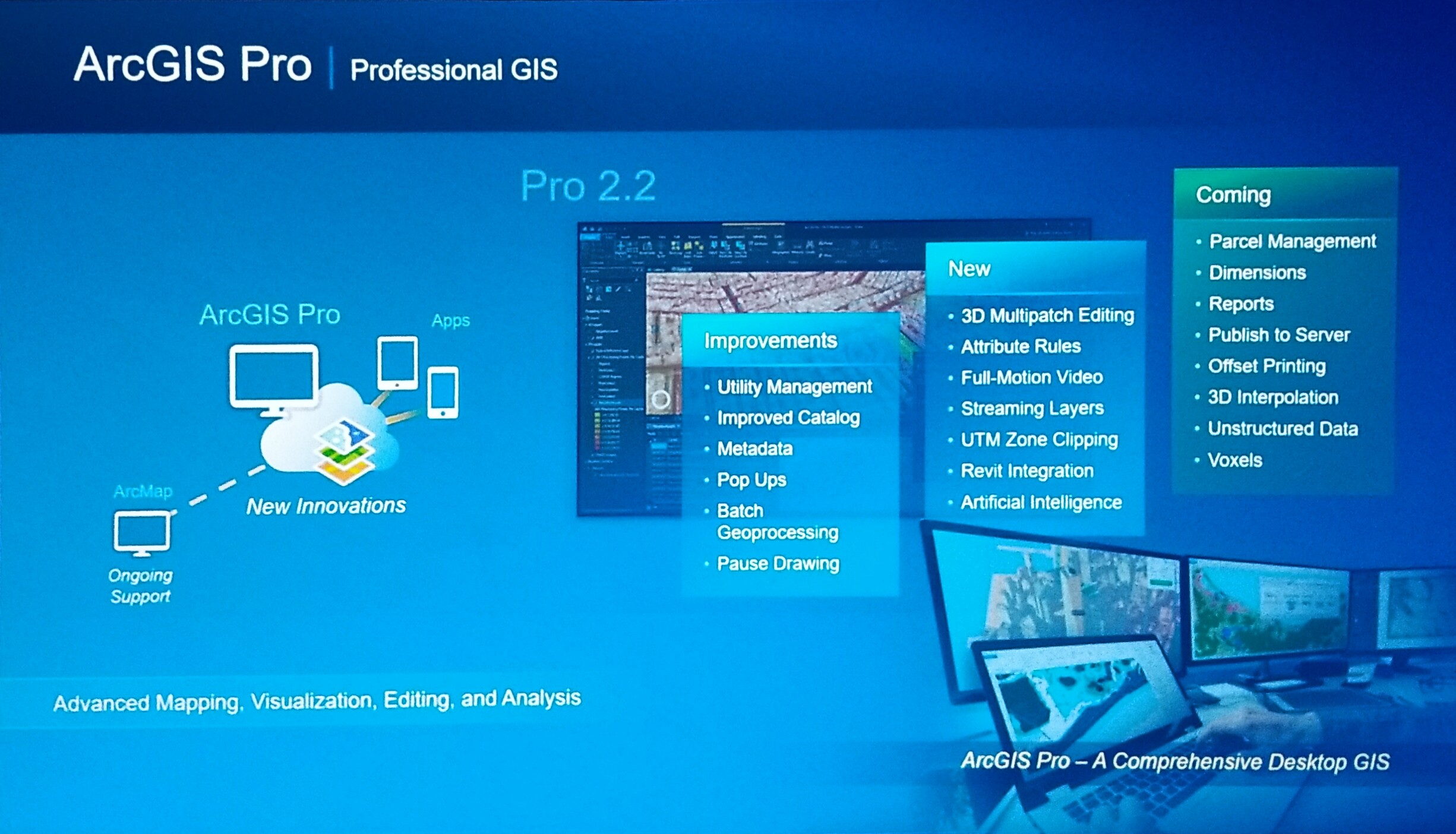 ArcGIS Pro Extensions – Integrating Focused Capabilities
New to ArcGIS Pro Extensions: Image Analyst and LocateXT (ArcMap Now) Pro later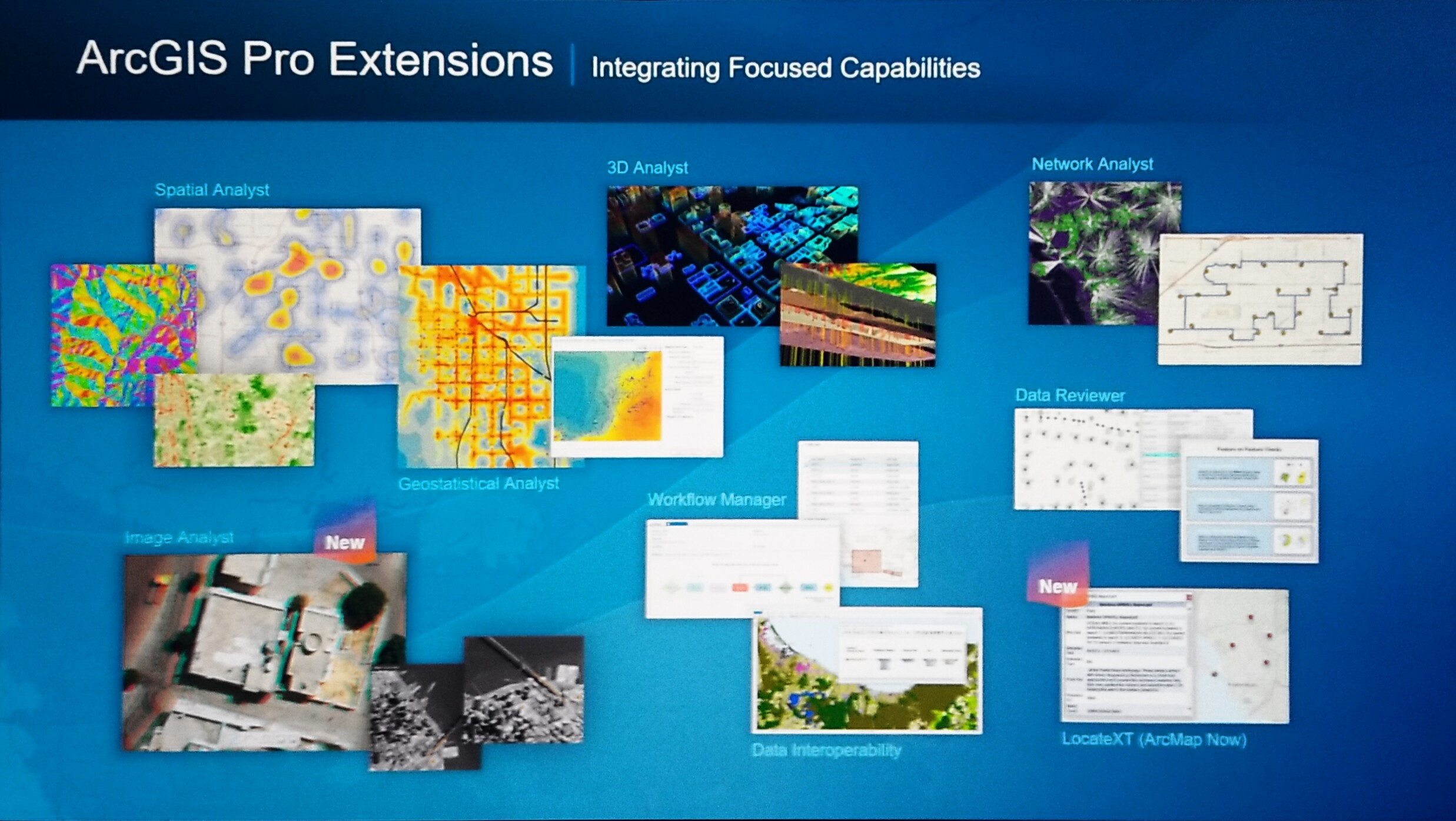 ArcGIS Online‌
and amazing growth - world's largest data sharing platform available everywhere in the world.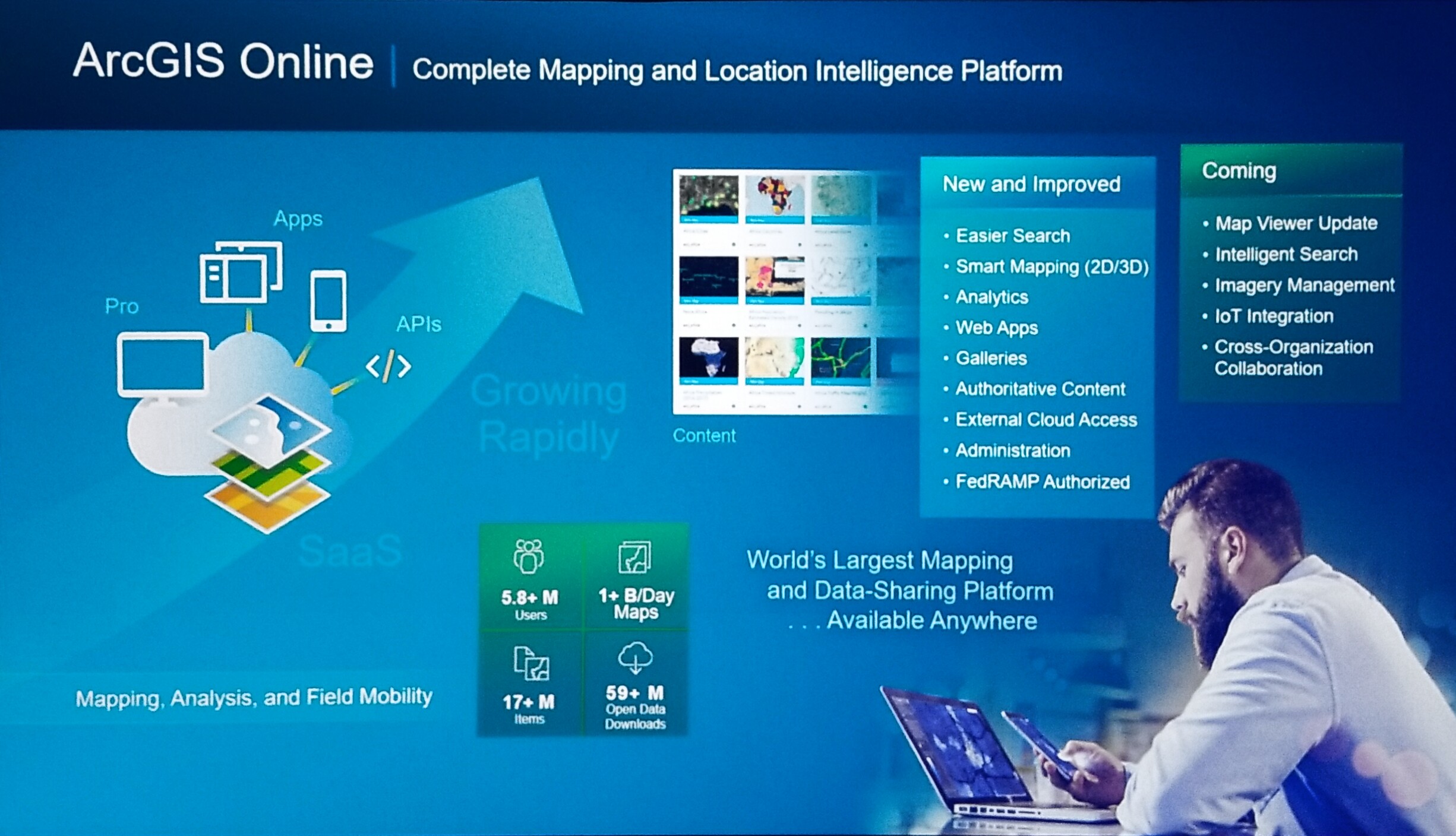 New & Improved features to Enterprise:
Sites (Microsite Builder)

Enterprise Builder

Announcing all level-one users are

Now

FREE in Enterprise only. (The audience cheers in excitement.)

User Experience

Performance

Resilience

Big Data Analytics

Distributed Collaboration

ArcGIS Monitor
Coming soon in ArcGIS Enterprise‌
Containerization

Intelligent Search

Machine Learning & Predictive Analytics

Hosted Python Notebooks
ArcGIS Enterprise Architecture
Easy to set up and is modular and massively scalable with specialized servers, the ability to be independently scalable and flexible.
Monitor >
· Portal > GIS Server - Data Store
o Image Server > GeoEvent Server > GeoAnalytics Server > Supports distributed collaboration
ArcGIS Solutions
Industry-specific apps, maps, tools, and configurations - pre-configured with workflows, training, and support as configured packages. Had half a million downloads in the last year. The best part is that they are FREE.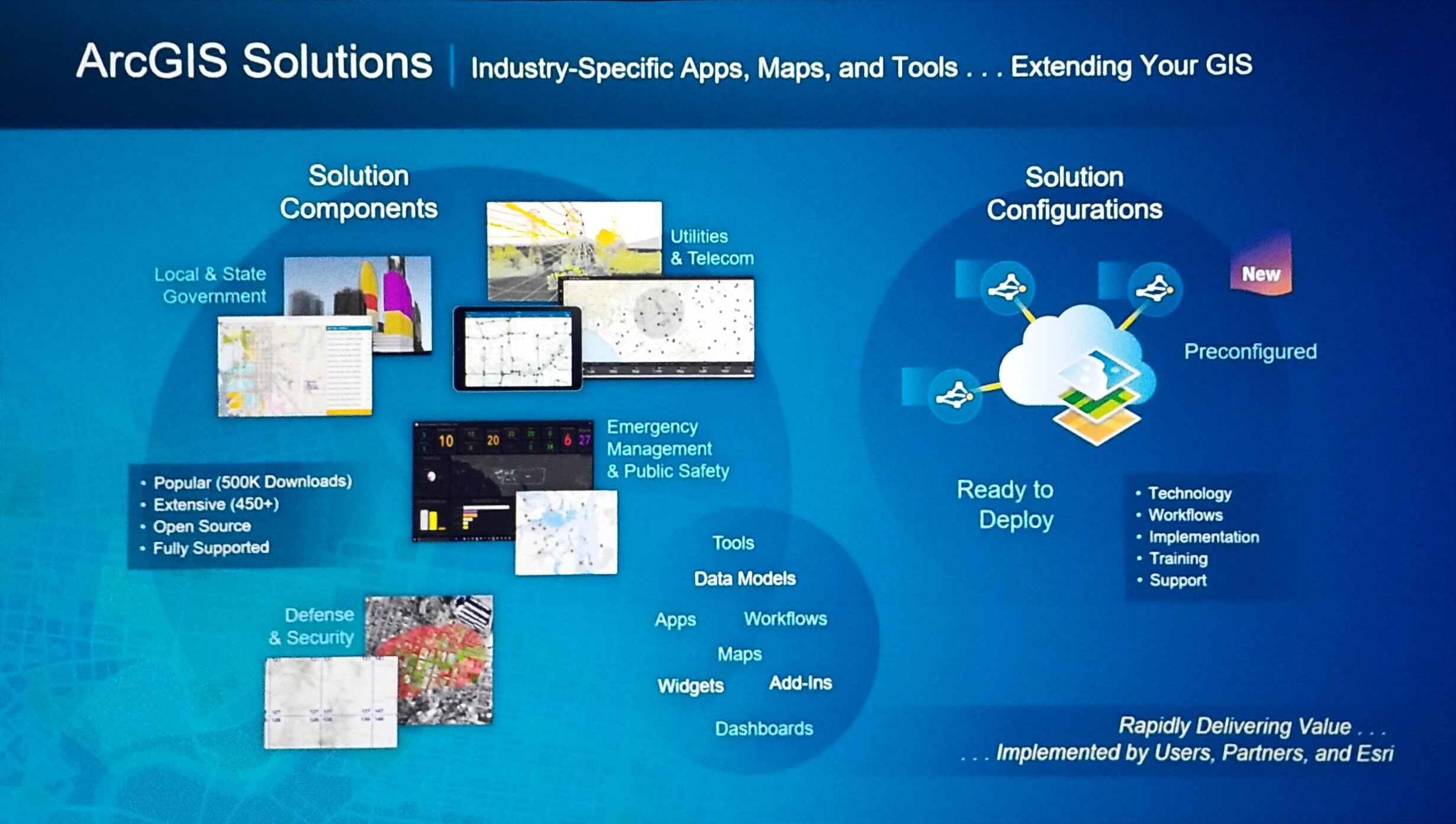 Solution products - ready to use
ArcGIS Hub - consolidated to Open Data

Indoors (new), Portfolio Management, Operations

Watch for a new GeoNet space for Indoors coming soon

Urban (new) - most impactful as a landscape architect and will revolutionize how we do urban planning around the world.
Smart Solutions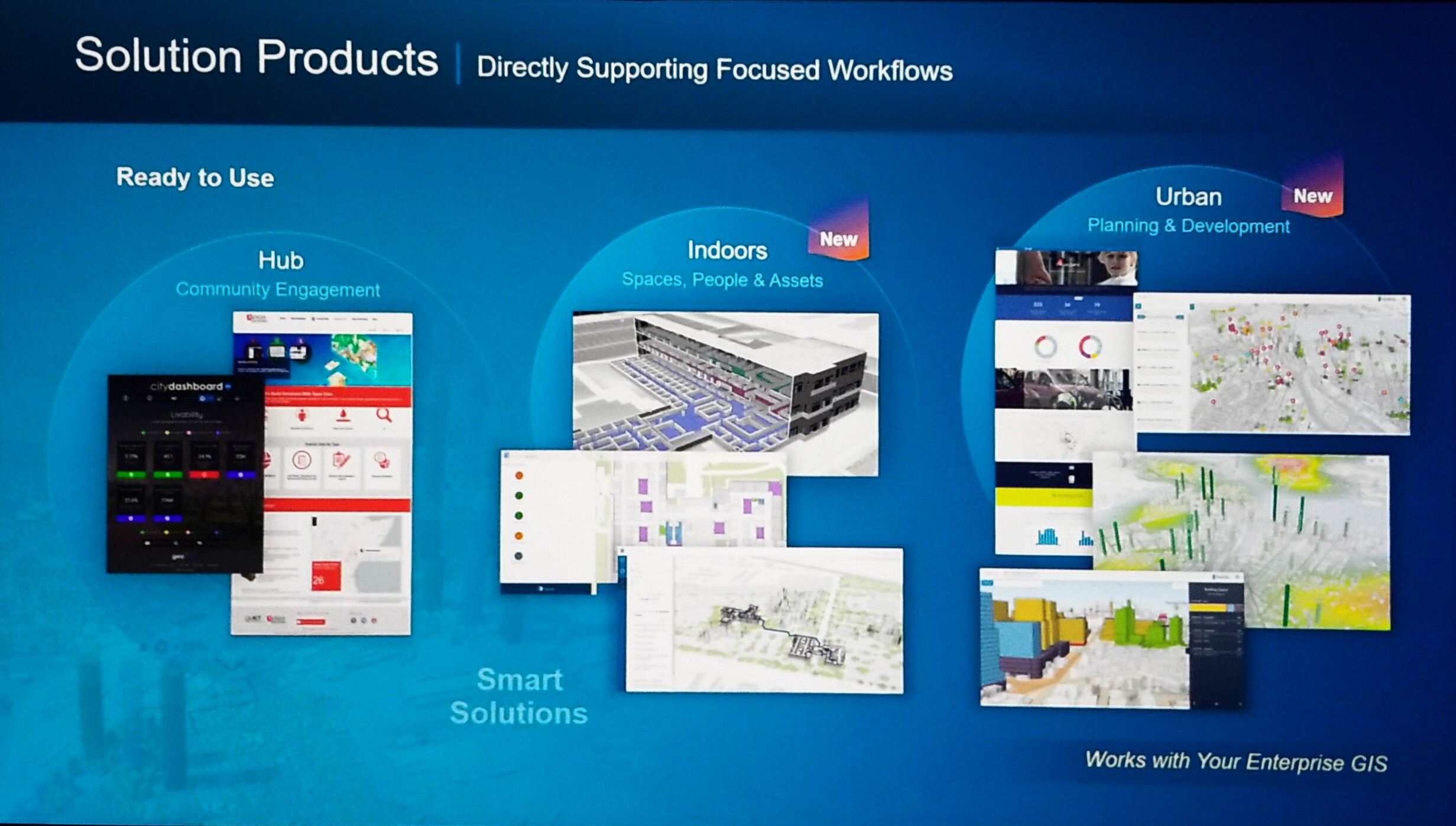 9:59 a.m. - A New Revolution in Urban Planning
Company: Boston Planning and Development Agency (BPDA)
Speakers: Carolyn Bennett, BPDA and Brooks Patrick, Esri
Carolyn thanks Jack for his introduction.
Written by Matt Ball, Esri Staff Writer

We are also introducing a whole new class of software products that support focused workflows.

The first we actual introduced last Summer, ArcGIS Hub is about engaging communities through initiatives. Dozens of communities are leveraging their connections with open data, performance dashboards, and apps that engage citizens.

ArcGIS Indoors is about smart buildings, and looking at the use and management, including safety, security, energy use and wayfinding.

ArcGIS Urban addresses this challenge through software that holistically shares what's being planned and what's being built

The Boston Planning and Development Agency (BPDA) have partnered with Esri on a solution product centered on the workflows of urban development and planning called ArcGIS Urban.

Our cities are going through profound transformations, with greater density created to accommodate growing populations. Developers are spending $1.3 Trillion a year on construction. The key stakeholders—government, citizens, real estate, architecture, engineering, and construction—lack a common platform to address these challenges. Often this leads to unintended growth.

ArcGIS Urban addresses this challenge through software that holistically shares what's being planned and what's being built. No longer will government plans be locked into text-heavy PDF documents; planners will not be limited to outreach that centers on children's building blocks; real estate professionals will get out from underneath the weight of large plan sets; and AEC designers will get away from designing in white space, instead designing in the context of the project's geography.

City planners are engaged in work that must take into account a host of considerations in weighing different development scenarios for the physical and economic growth of their communities. They assess population metrics, zoning constraints (density, height constraints, etc.), transportation flows, and other factors throughout a thoughtful planning process, presenting this detail to leaders, citizens and other stakeholders in the march toward often difficult decisions.

ArcGIS Urban allows planners to visually present complex zoning codes calibrated to local parameters, allowing for the presentation of current code, the testing of changes, and the presentation of what the city would look like if the full extent of zoning restrictions have been reached. It presents a suitability score for different scenarios of planned development based on economic feasibility. It displays the mix of land use across the city, including residential, commercial, retail, industrial, and other development types. The tool provides quick visual feedback of zoning changes, allowing viewers unlimited vantage points, and an overall understanding of growth capacity.

ArcGIS Urban focuses on standard practices. The first iteration will provide the means to evaluate and share zoning and land use plans at the city and county scale. It will include digital submission workflows to streamline this process while adhering to a city's submission guidelines. It will also provide planners with multiple tools to measure the impacts of development.

Learn more about Boston Planning & Development Authority's use of 3D GIS in the Esri_Blog https://www.esri.com/about/newsroom/blog/3d-gis-boston-digital-twin/
Partnering with Esri, the BPDA can develop a solution using ArcGIS Urban to illustrate patterns for "orchestrating urban development and planning workflows," explains Brooks before turning the stage over to Carolyn.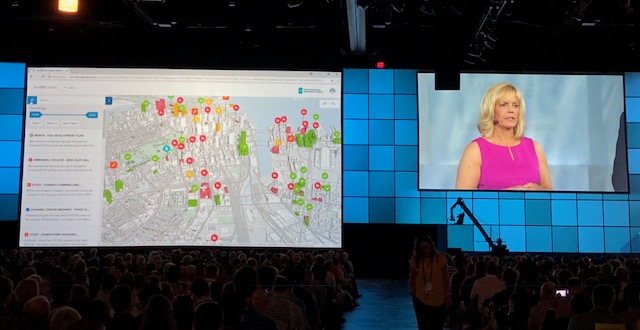 "ArcGIS Urban is streamlining our work," begins Carolyn. Carolyn explains that population growth (seen in red on the slide), is resulting in an average of 80 large development projects per year. The BPDA is responsible for the planning, building, and indicators that impact decisions for these projects.
Carolyn gives a demonstration of the Dorchester Avenue Planning Initiative project to proactively accommodate for future changes in population growth and industry demands. Uploading zoning codes to ArcGIS Urban allows BPDA to begin zoning code scenario planning for current and future changes. Introducing Brooks to demonstrate how they are using ArcGIS Urban for the DOT Ave zoning project.
Brooks continues the demonstration with a look at the forecasted scenarios in 3D. You can see the changes in land development, height limits and new building uses by transforming from residential towers to commercial
office towers.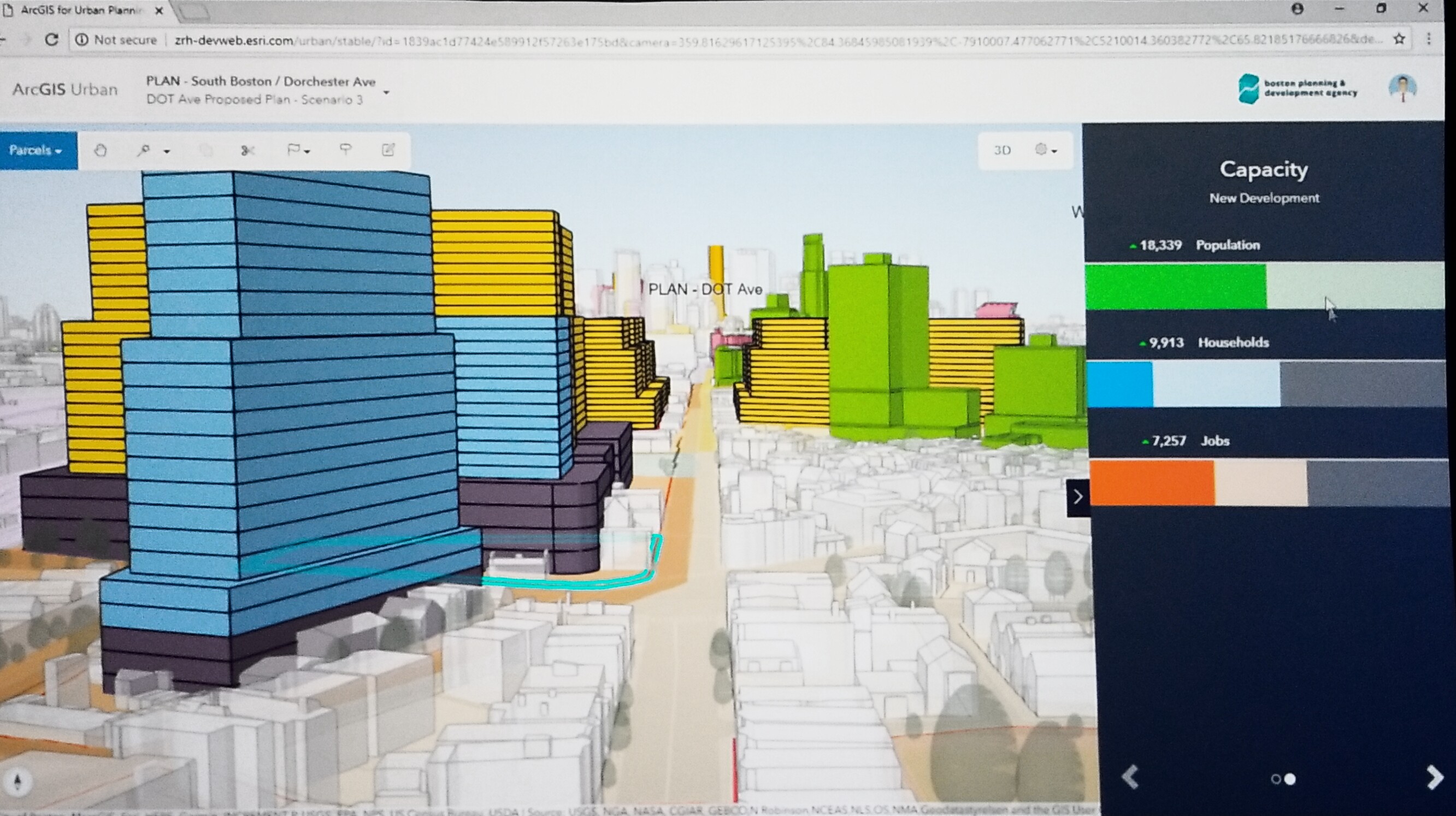 Carolyn wraps up with a look at how using the digital models can assist with running each project through a standard impact evaluation; such as measuring shadows on the historic Boston Common to determine building heights.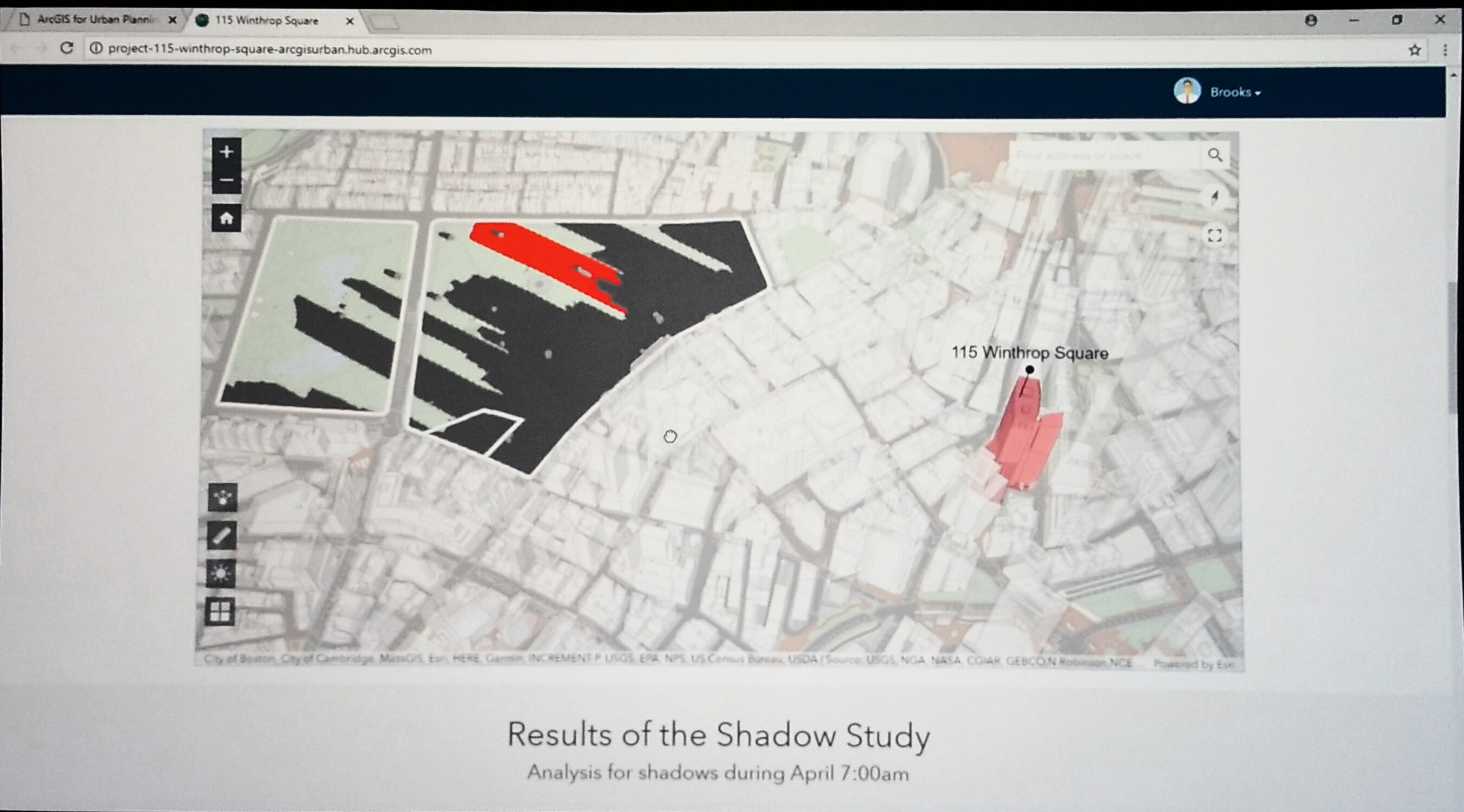 "This collaborative platform will ensure a more economically prosperous, resilient, and vibrant city for generations."
What's Next -The Road Ahead
Jack wraps up his closing with a few more works and what we can look forward to, the What's Next is GIS.
He shares how we are Serving Our Users.
Who is Esri?
Professional Development – Lifelong Learning
Special Relations
In closing, Jack quotes Charles Darwin. "It is not the strongest of species that survive, nor the most intelligent, but the ones most responsive to change."
Thank for joining us for Part One of the morning session.
We're back! You can continue following along for Part 2 of the morning session here.
27 Comments
You must be a registered user to add a comment. If you've already registered, sign in. Otherwise, register and sign in.