by
TimothyHales

Esri Notable Contributor
Mark as New

Mark as Read

Bookmark

Subscribe
Welcome to the 2016 Esri International User Conference Plenary. We (Christopher Catania & Timothy Hales) will be sharing the latest news from the plenary.
Note: You can follow the Plenary afternoon session live blog here.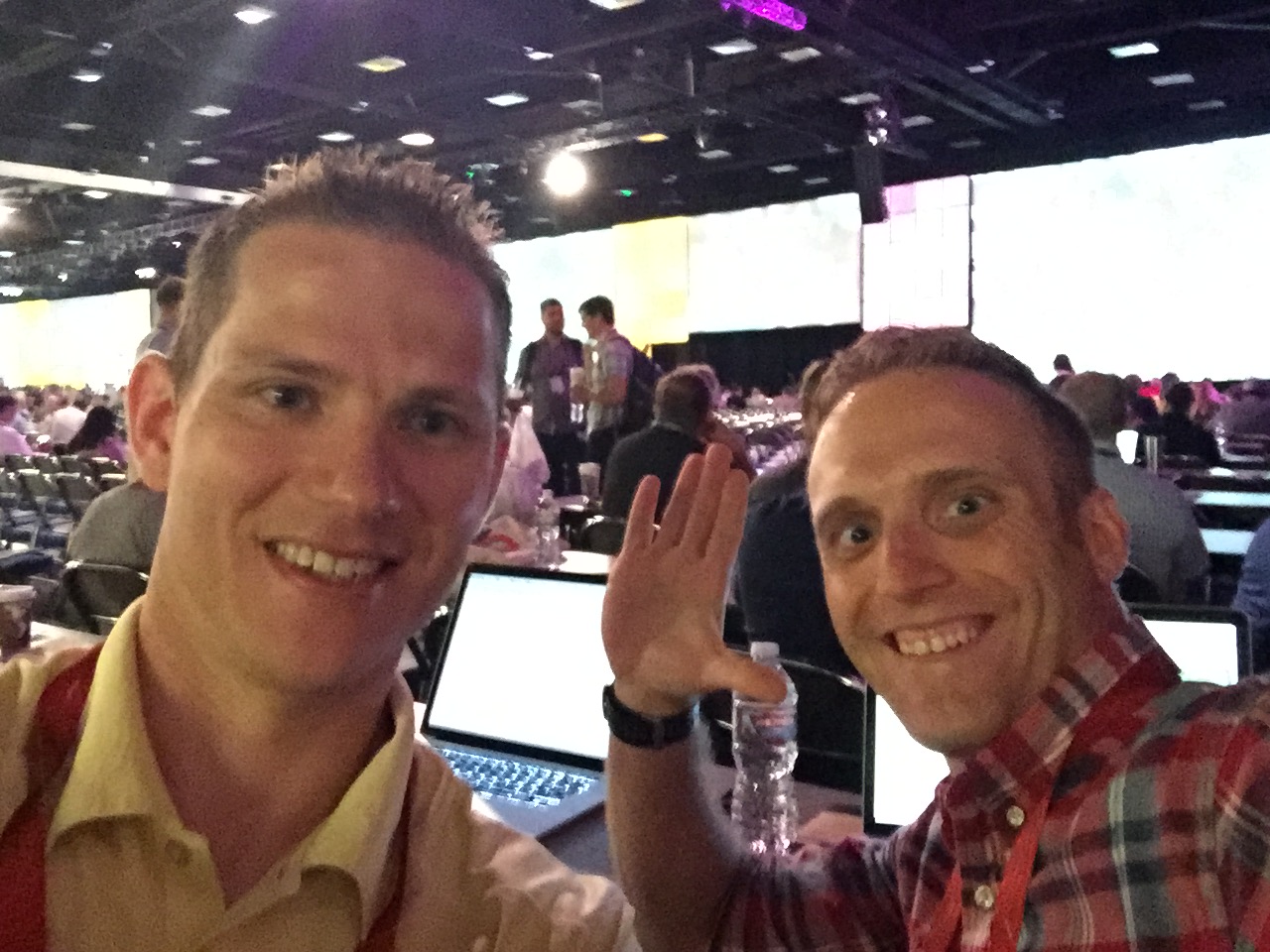 7:55 - The excitement is building as we wait for the plenary doors to open.
8:30 - Intro video talking about the power of GIS in a variety of industries from business development to environmental studies. The audio was created from previous keynote speaker. GIS Enabling a Smarter World.
8:33 - Jack Dangermond welcomes everyone to the 37th Annual User Conference. The audience has come from 130 different countries. Jack is inviting us to meet those around us. This type of networking is what this conference is all about.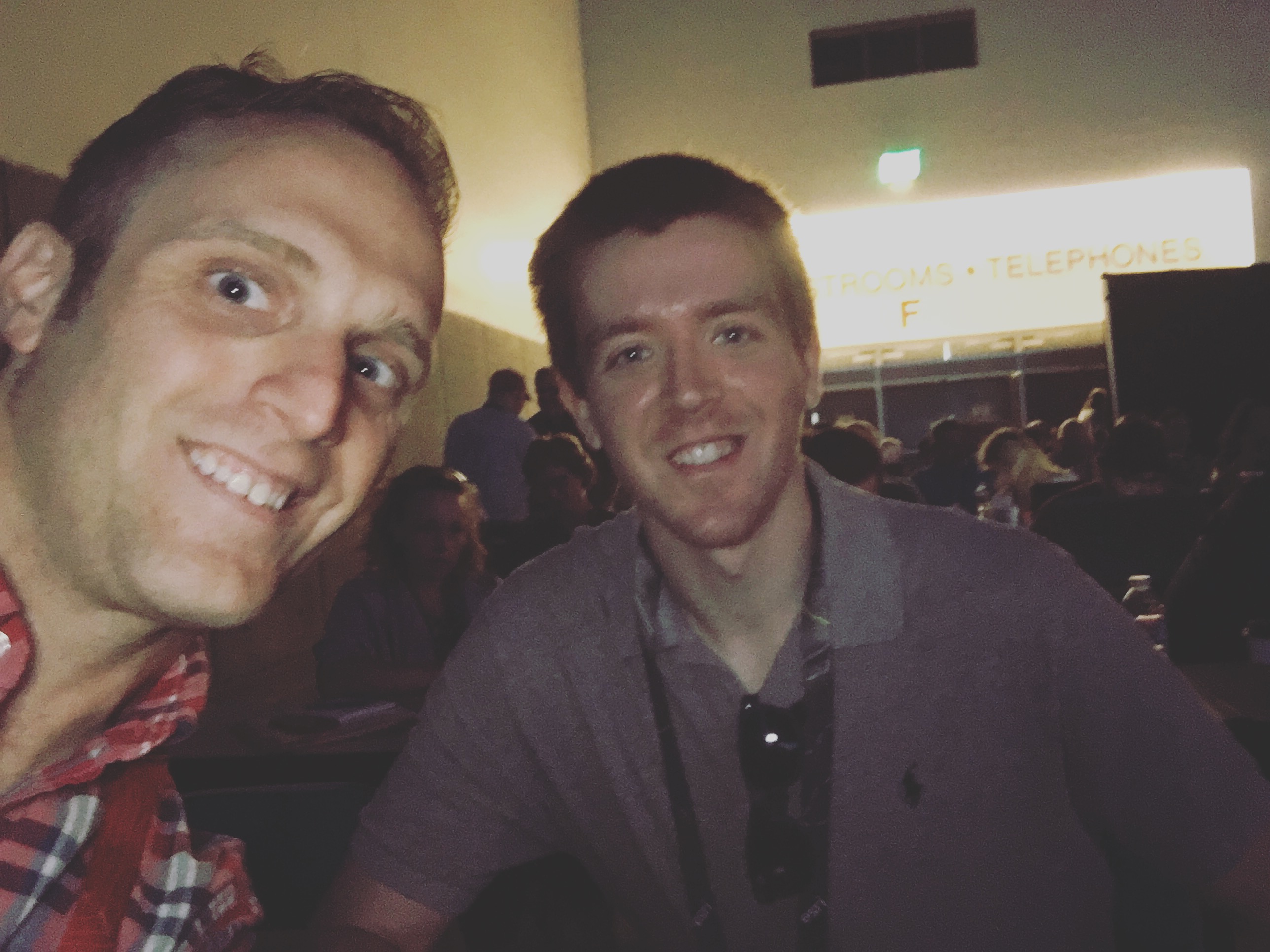 Nice to meet Kenny from Texas during the intros! He uses the Esri platform to support the city of Keller. It's his first UC too. Thanks for coming and hope you enjoy your UC, Kenny!
8:36 - Jack is highlighting your work.
Environmental Monitoring
Energy Development and Managing Natural Resources
Managing Land Information, Urban, Regional and Conservation
Transportation Planning and Management
Engineering and Public Works
Utilities and Telecommunication
Buildings and Campus Management
Business Analysis and Management
Health, Education and Demographics
Public Safety and Security
Preparing for and Responding to Disasters
Citizen Engagement, Open Data and Collaboration
Cartography
Story Maps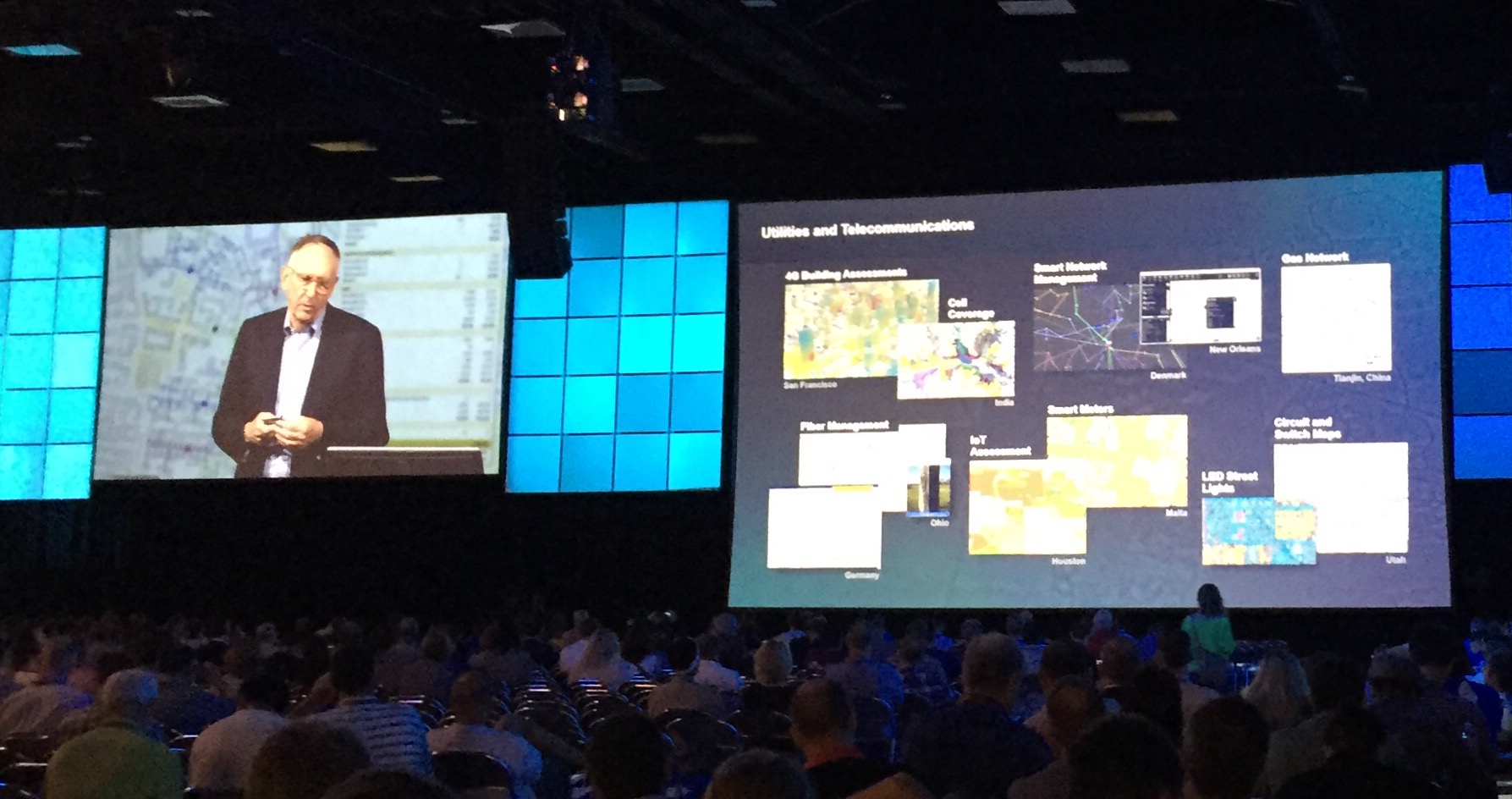 8:47 - This year there is a Storytelling with Maps Contest and they are sharing several of the entries in a video. Pennsylvania Horticultural Society is this year's winner.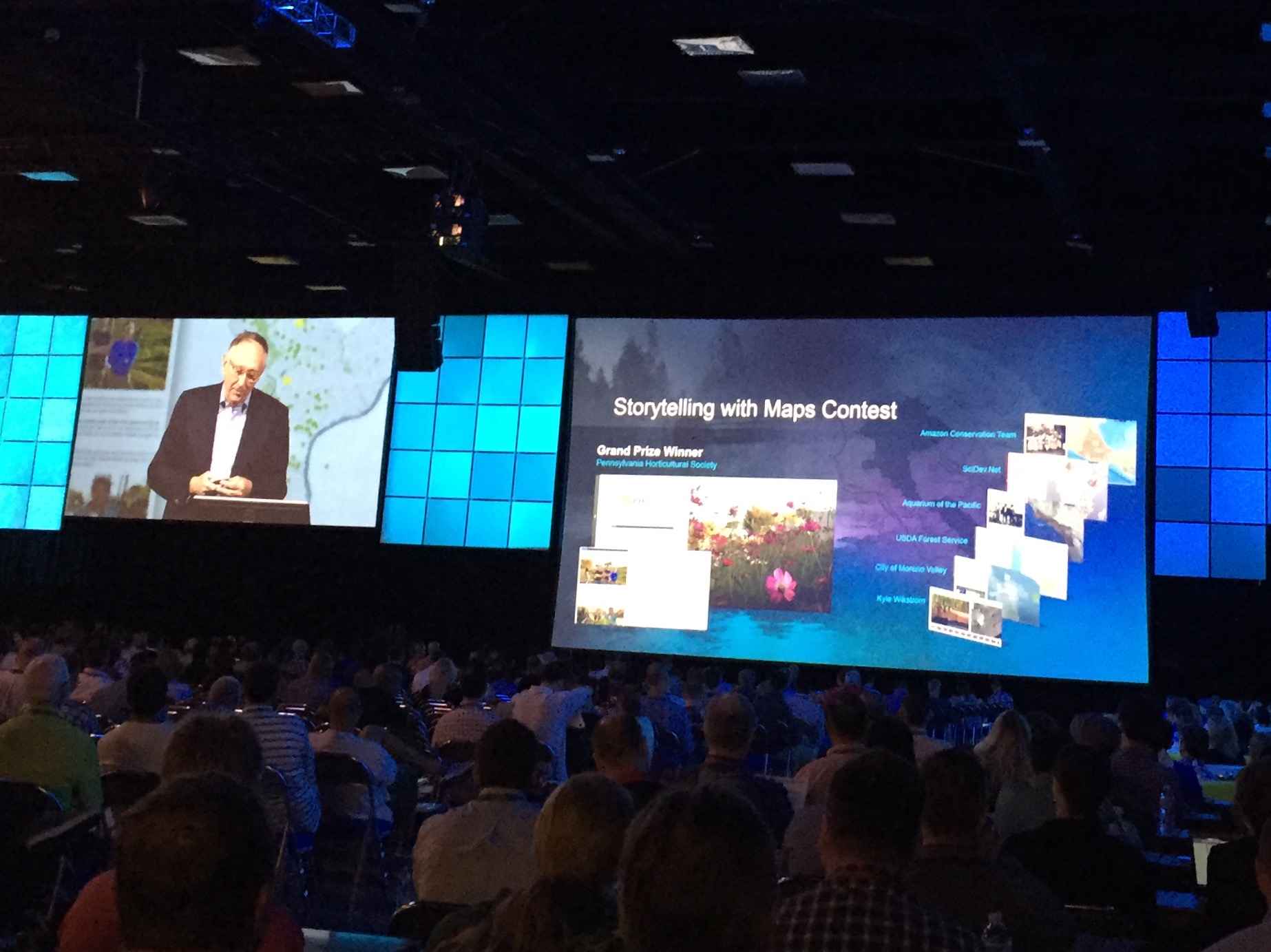 8:48 - Recognizing the 2016 Special Achievement in GIS Award winners.
Enterprise GIS Award - Pinellas County, Florida
President's Award - Federal Emergency Management Agency (FEMA)
Craig Fugate telling about the partnership with Esri to use social media to help emergency responders.
8:56 - UC Vision: GIS - Enabling a Smarter World
GIS Provides the Framework and Process for Enabling a Smarter World
GIS is Getting Smarter - Integrating and leveraging many mnnovations
Smart GIS Integrates Real-Time Data - Providing dynamic information and everything
Smart GIS Connects Everyone - Creating a system of insight; Connecting people, processes, things and data about them
Smart GIS Applications - Are already changing how we think and act
Smart GIS Engages Communities - "Community of GIS" is a new pattern
9:08 - Jack introducing Mayor Eric Garcetti from the City of Los Angeles. Video of Mayor Garcetti describing their Esri Partnership and their GeoHub Portal.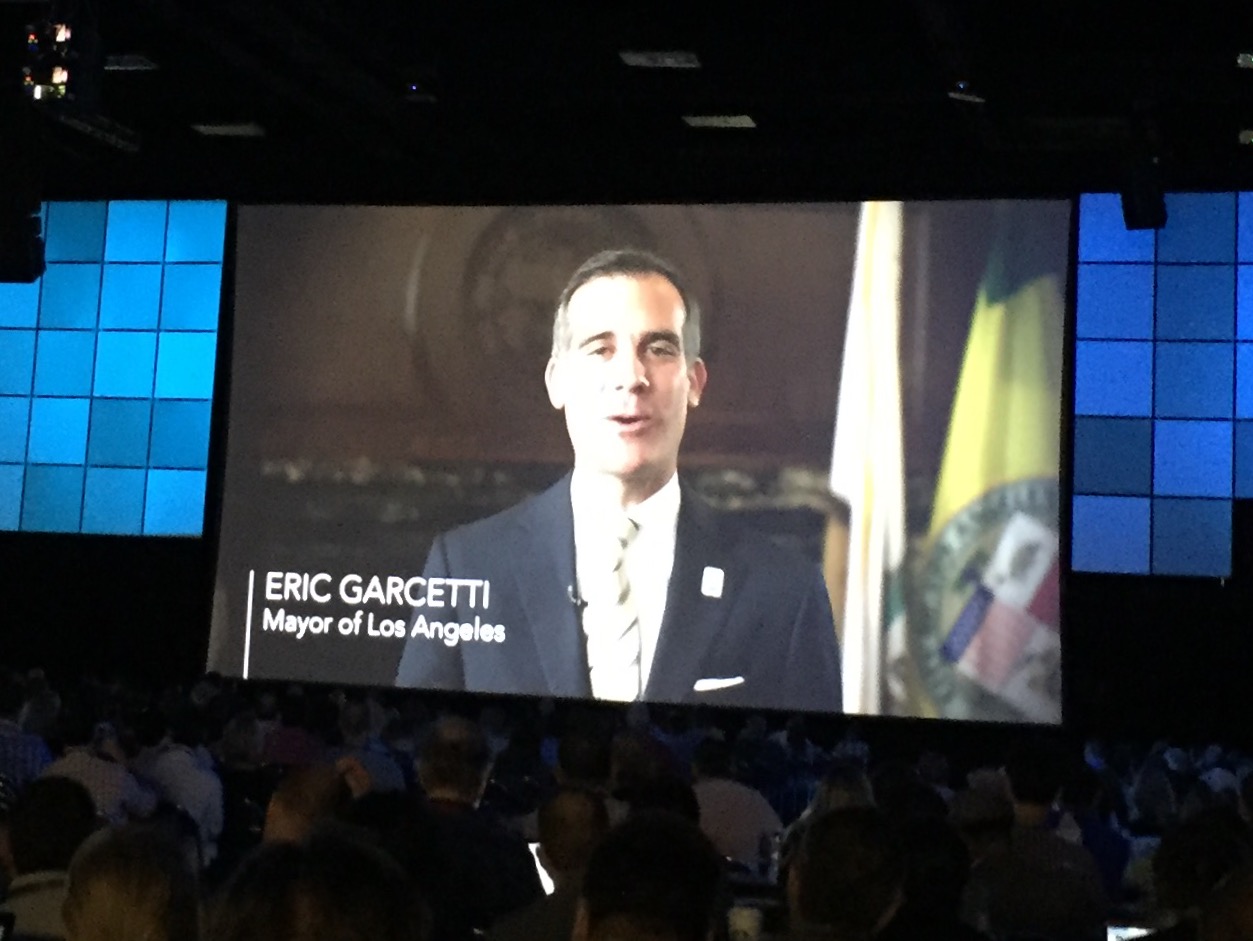 Lilian Coral, LA Chief Data Officer - Describing GeoHub and how is provides better access to real-time data. Lilian introducing Vision Zero which is a citywide effort brings together transportation engineers, police officers, advocates, and policymakers to work together towards creating safer streets.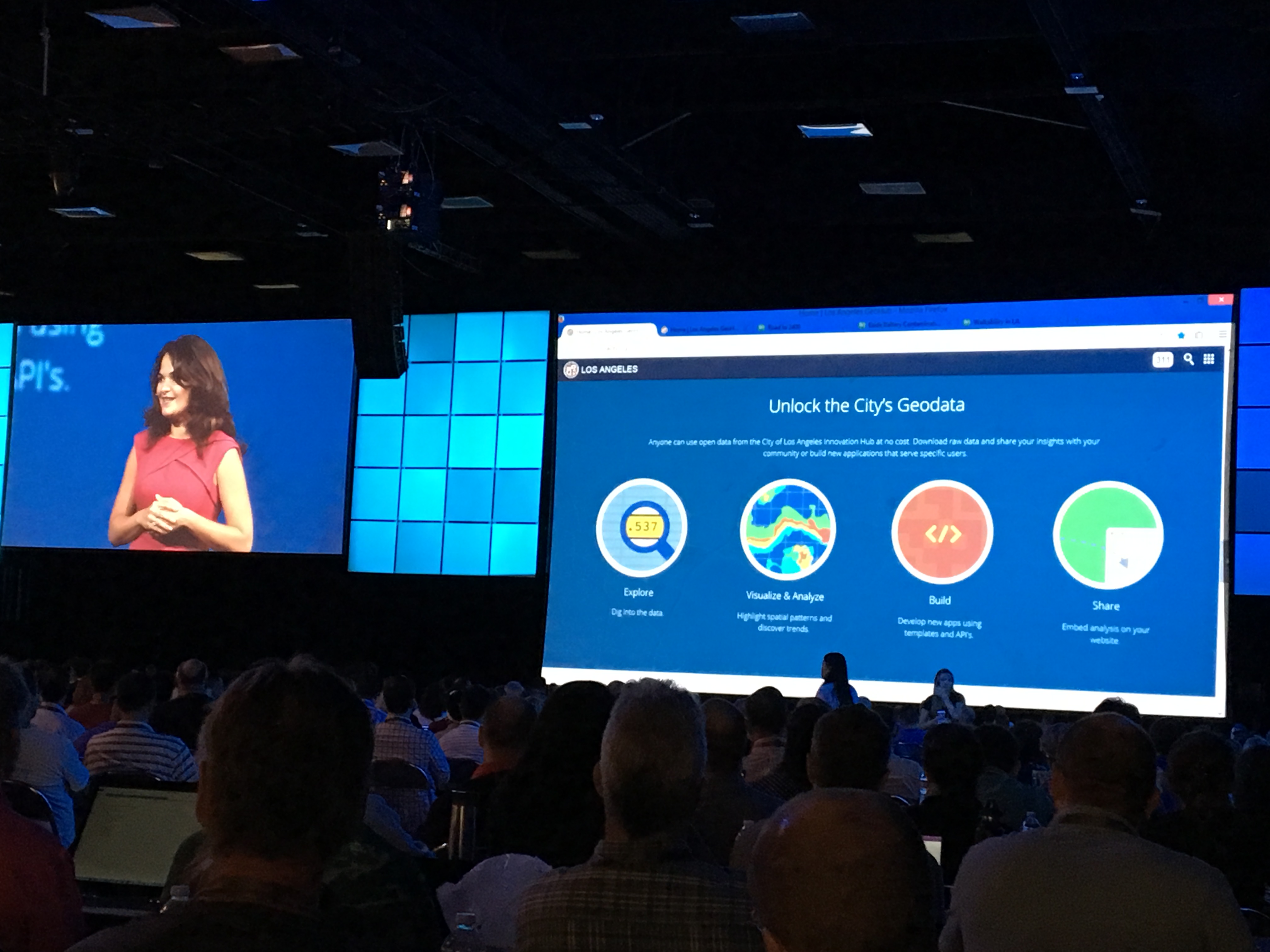 9:22 - Our Work (Esri technology and supporting our users)
ArcGIS
A complete web GIS platform
Enables multiple types of systems
ArcGIS is Evolving - Moving from simply supporting client server to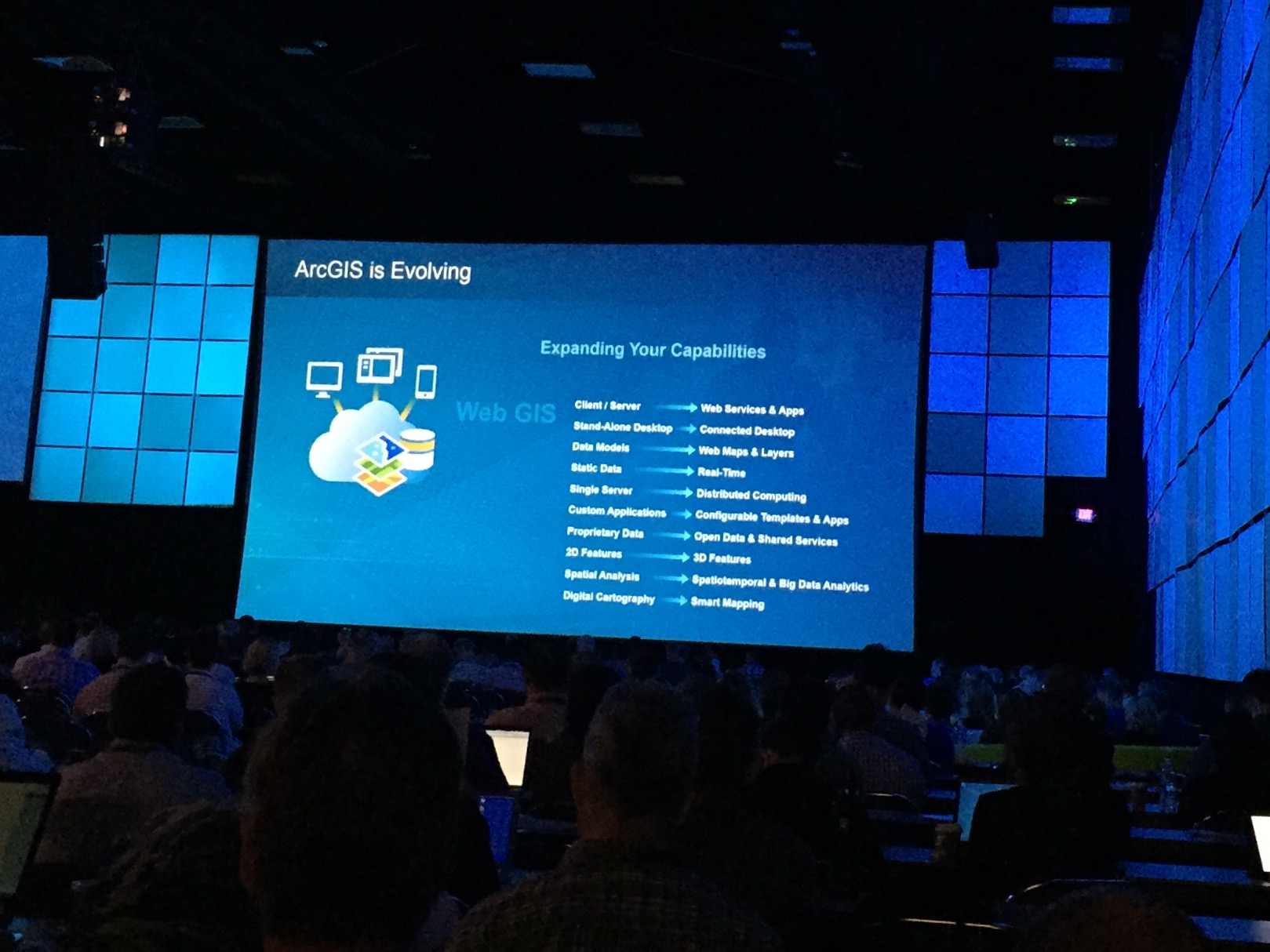 ArcGIS Capabilities are Advancing
Data Management and Editing
Field GIS - Taking GIS Beyond the Office
Living Atlas - Ready-to-use Maps and Data

Esri has a new partnership with Digital Globe to get their best imagery for the entire planet.

Mapping and Visualization
Isights - Transforming understanding with exploratory Analysis
9:32 - Linda Beale showing the all new Insights application. Spatial Analysis plays a big role in this app.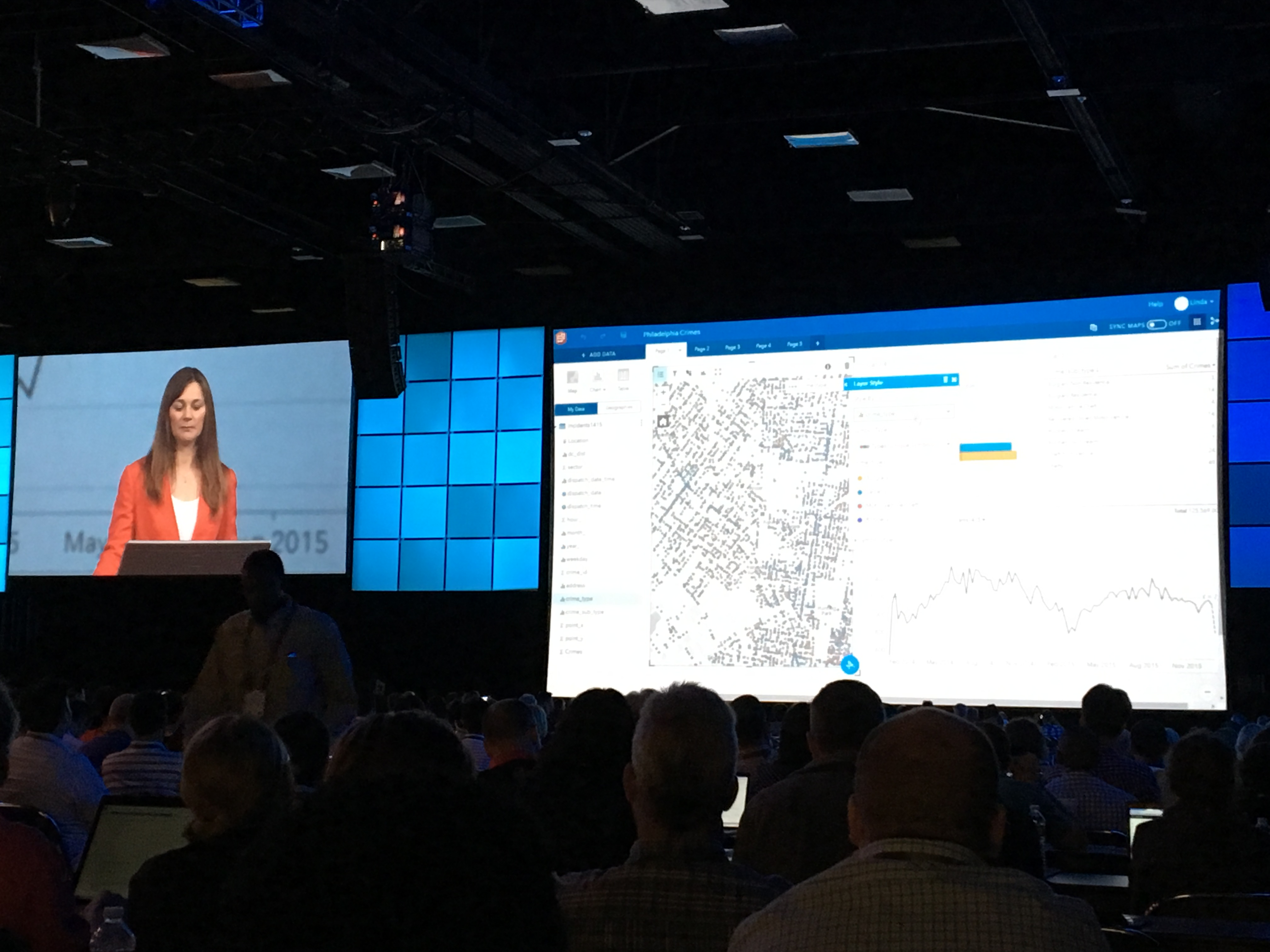 During the analysis, everything is automatically recorded so that processes can be rerun.
Insights is being licenses as premium ArcGIS service.
ELA Users will receive on prem version without cost.
Spatial Analysis - Introducing new technologies and methods
Big Data - GeoAnalytics and visualization of massive data
Suzanne Foss - Demoing GeoAnalytic capabilities with a great example of fraud analysis and processing billions of records.
3D - New and improved capabilities across the platform
9:52 - Smart 3D Cities - Brooks Patrick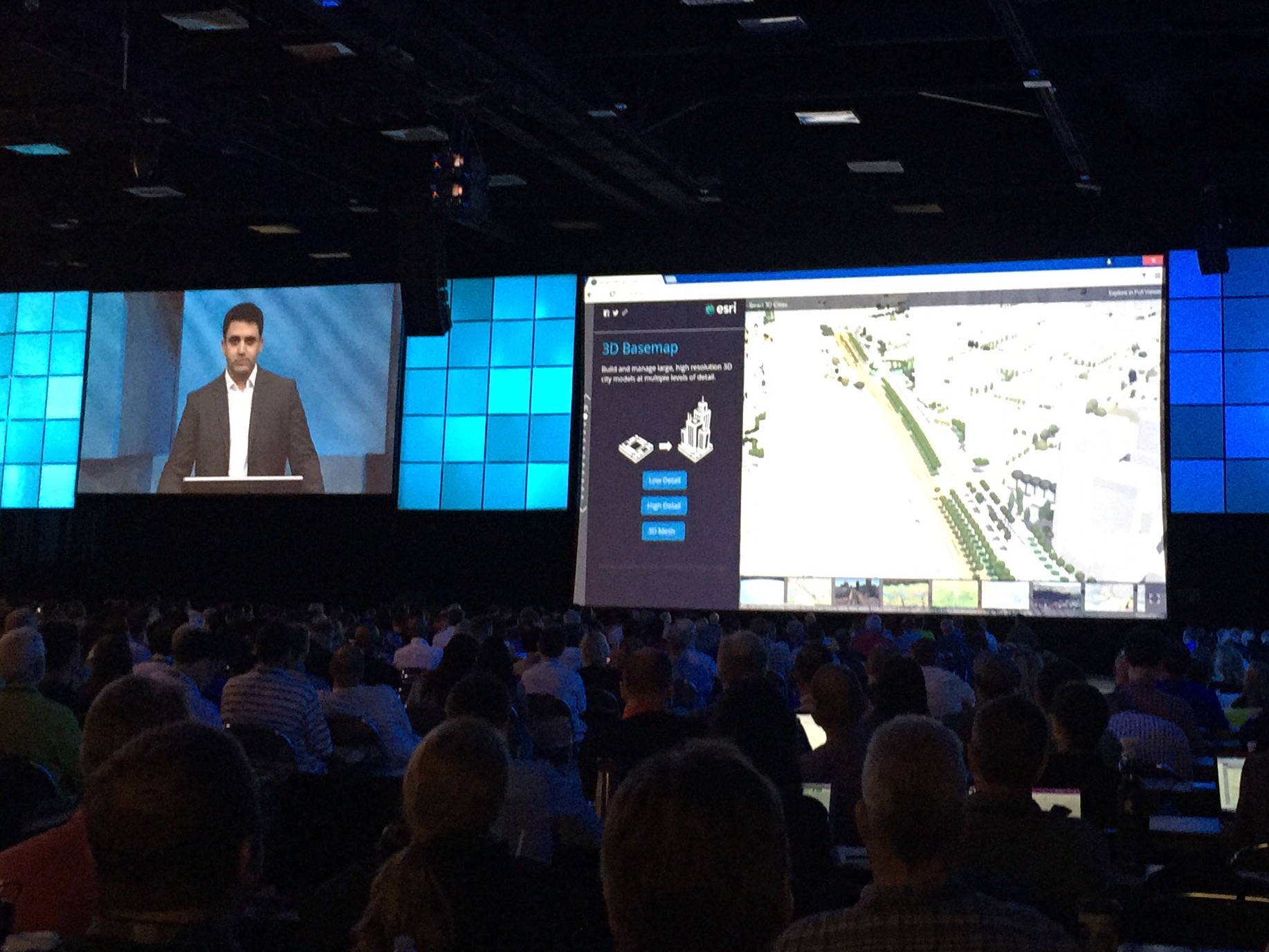 Imagery - Improved capabilities for ortho mapping, image management and analysis
Apps - Extending ArcGIS capabilities everywhere
Open-Source Maps and Apps
App Builder - Easy-to-configure and Create pps
Development and Scripting Tools- For extending, customizing, and embedding
ArcGIS is Open and Interoperable

Open Standards and Formats
Product Integration
Open Software
ArcGIS Platform Components
ArcGIS Desktop - Professional GIS

ArcMap - Continues to be supported
ArcGIS Pro - Investing in the development of pro to work alongside of ArcMap

ArcGIS Online - Host Web GIS

3.2 Million Users
94 Billions Map Views
6.2 Million items
15.3 open data downloads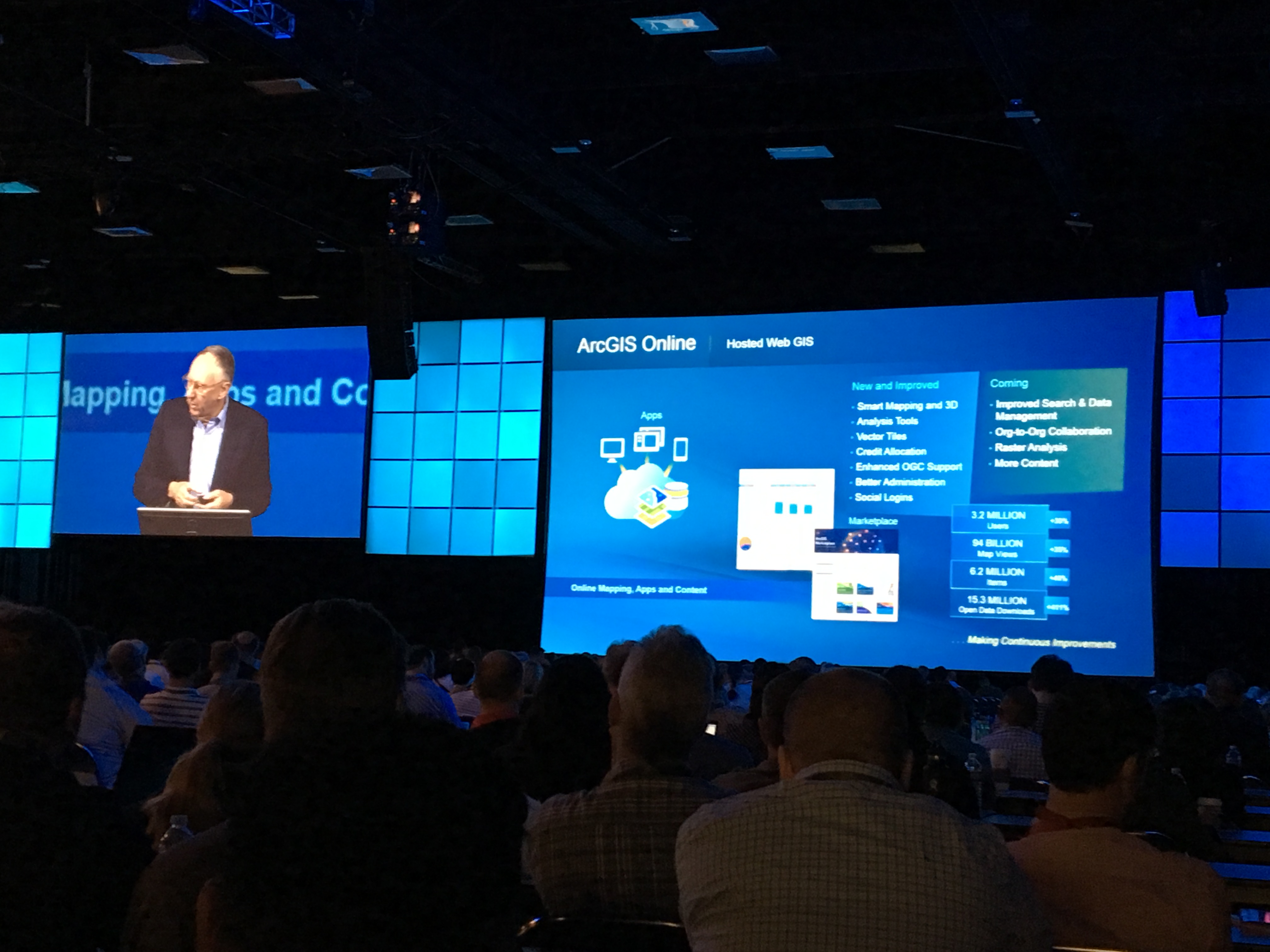 ArcGIS Server - Web GIS in your own infrastructure
ArcGIS Portal Replication
Specialized Products - Providing Focus Applications

Geodesign
Decision Support
Domain-Specific
10:06 - Road Map - Incremental and Groundbreaking Advancements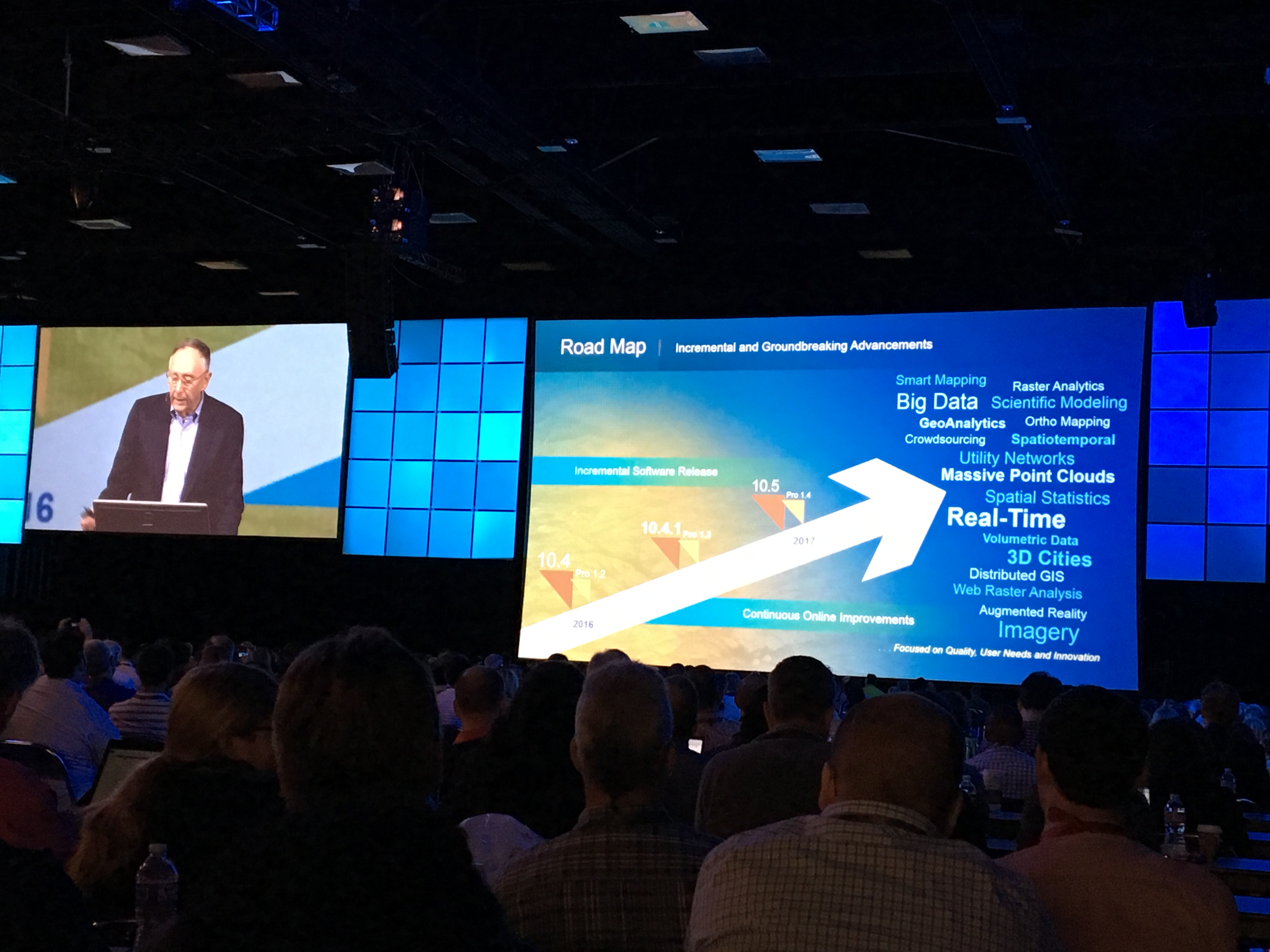 Esri - Serving our users
Advancing GIS and Spatial Science
Professional Development - Lifelong Learning
Esri Young Professionals Network

Self-Paced Learning is now free to all users

Partner Ecosystem - Committed to Your Success
Special Relationships - Enriching our user community making a difference
Education (Education) - Building the Next Generation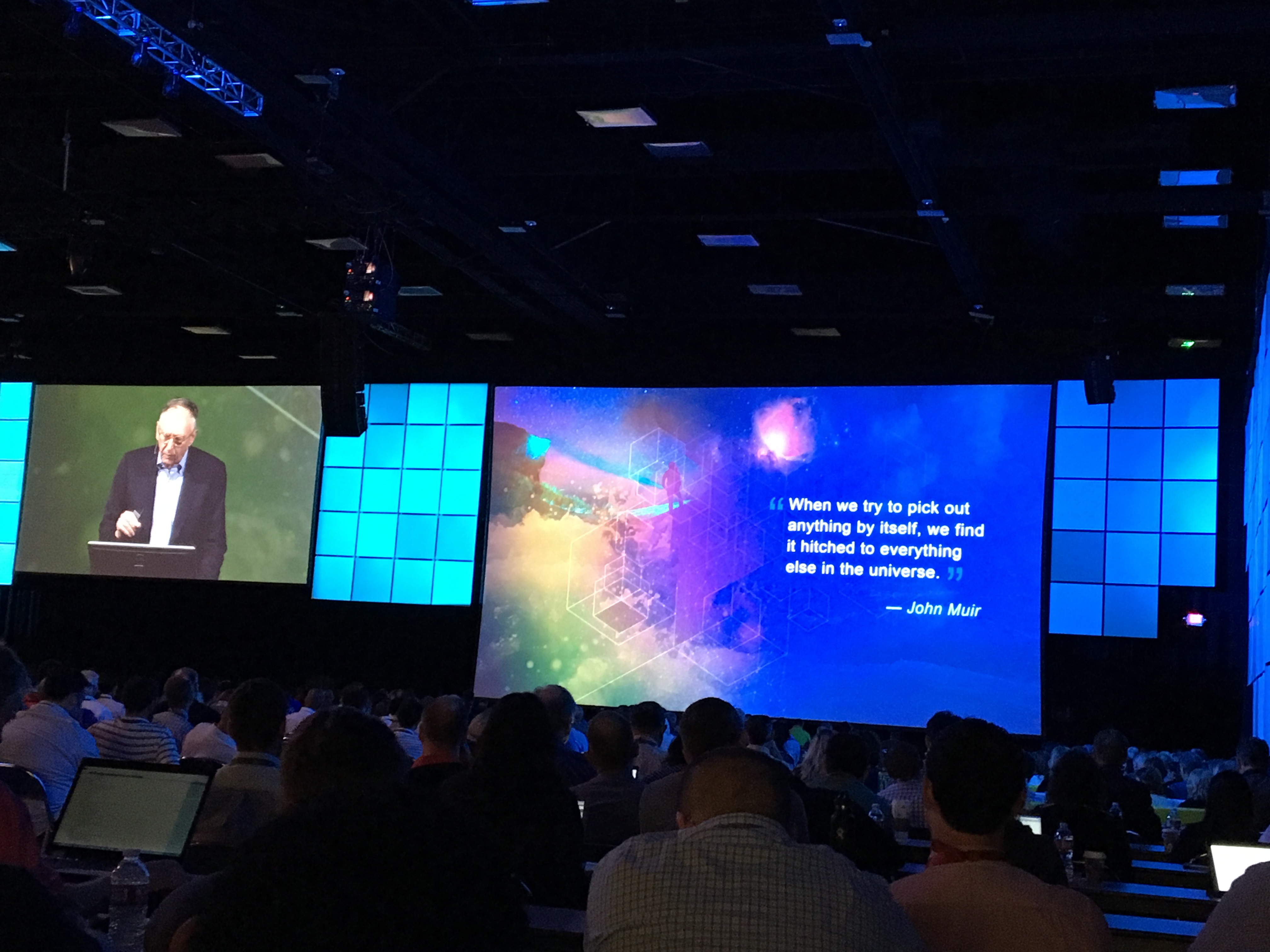 10:15 - BREAK
10:30 - Lauren Bennett - Welcomes up back and invites us to take a look at how GIS is enabling a smarter world
The Living Atlas of the Works - Deane Kensok
Content

Imagery
Landscape
Earth observations
Boundaries and Places

Vector Basemaps
A Symphony of Apps - Jean Gea
Apps for the Field
Apps for the Office
Apps for the Community
AppBuilders - No Coding Required
Open Source Apps for Industries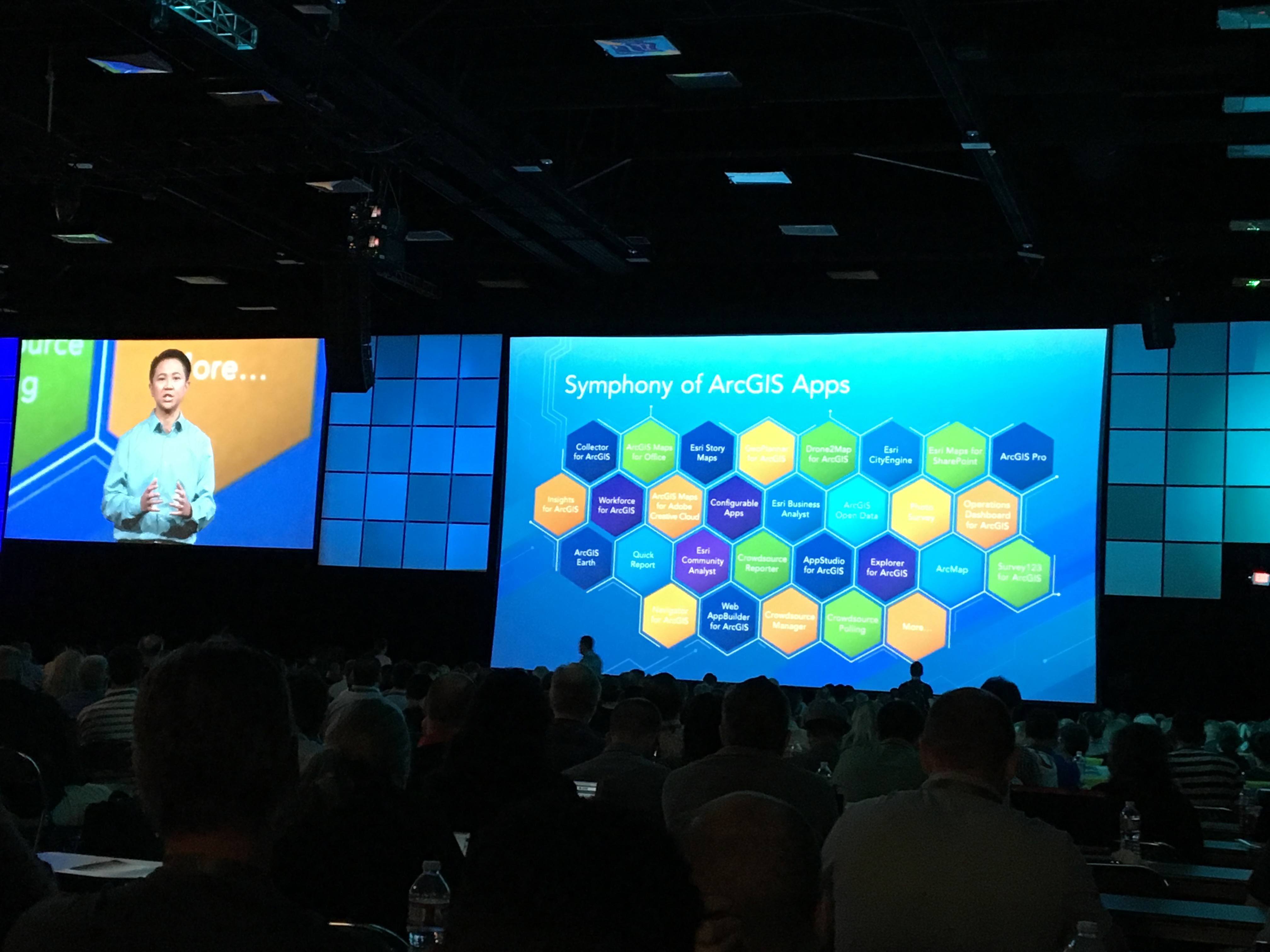 10:48 - Auckland Council - Creating the worlds most livable city
Ian Smith and Lauren McAarthy
Five Steps to Maximizing Web GIS
Create Destinations
Integrate Systems
Configure First
Apps for Efficiency
Maps for Communications
11:00 - ArcGIS Pro (ArcGIS Pro) - Flora Vale
Smart mapping help us to visualize and integrate more data at once

Charting visualizations

Explore new relationships between data

Integrates with Living Atlas

Flora used ArcGIS Pro for finding favorite music venues in downtown and how to find the best place to hold a music festival to demonstrate the new tools.
11:05 - Guy Carpenter
Shannon Peterson & Brian Adam
Exposure Assessment
Multiple Exposures
Seismic Modeling
Building Accumulations
Growing the Business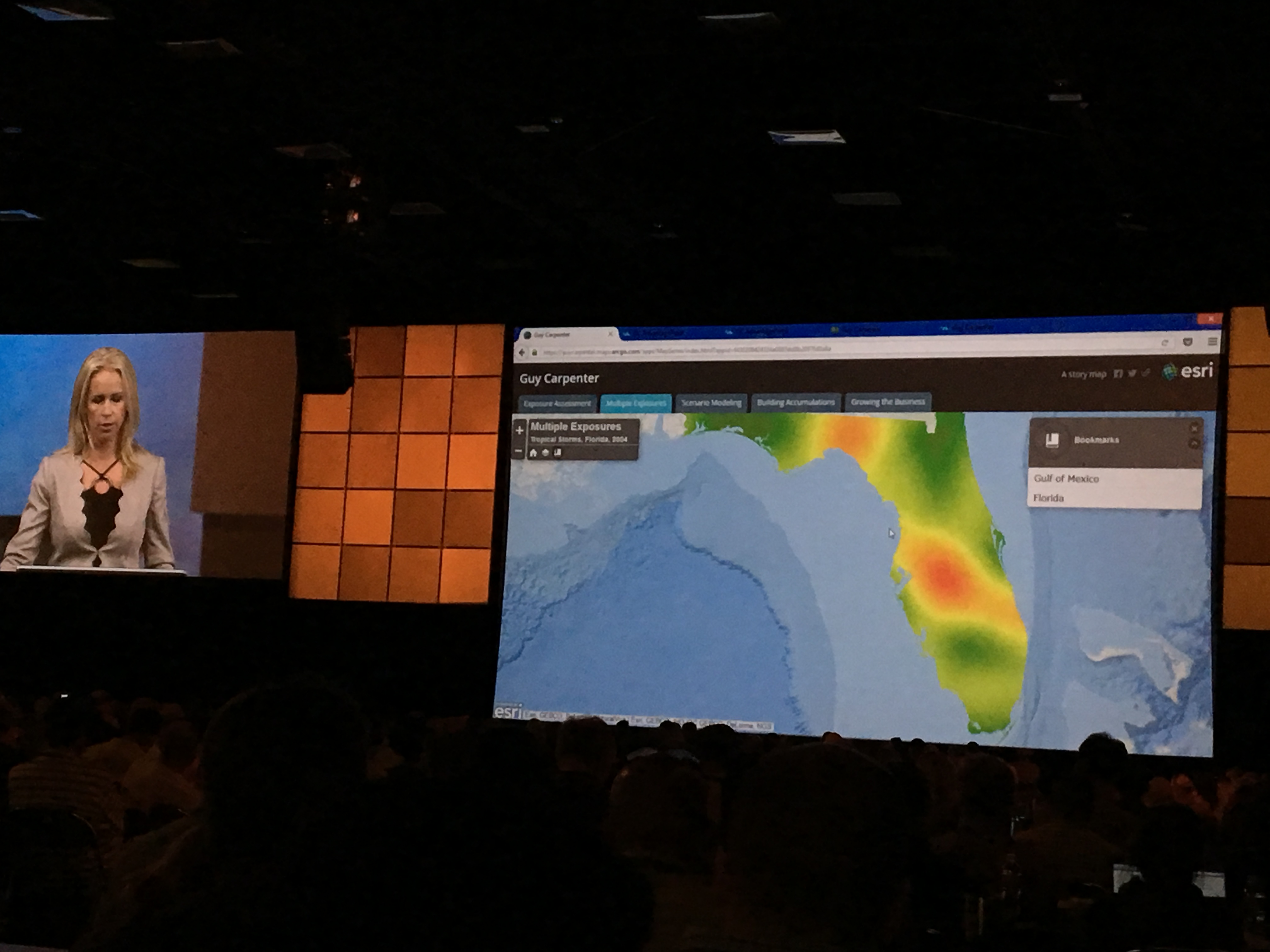 11:15 - Remote Sensing (Imagery and Remote Sensing) - Peter Becker
ArcGIS Online (ArcGIS Online) imagery analysis
ArcGIS Pro - Classification Tools that works with data from ArcGIS Online
Drone2Map for ArcGIS provides a way to collect imagery and LIDAR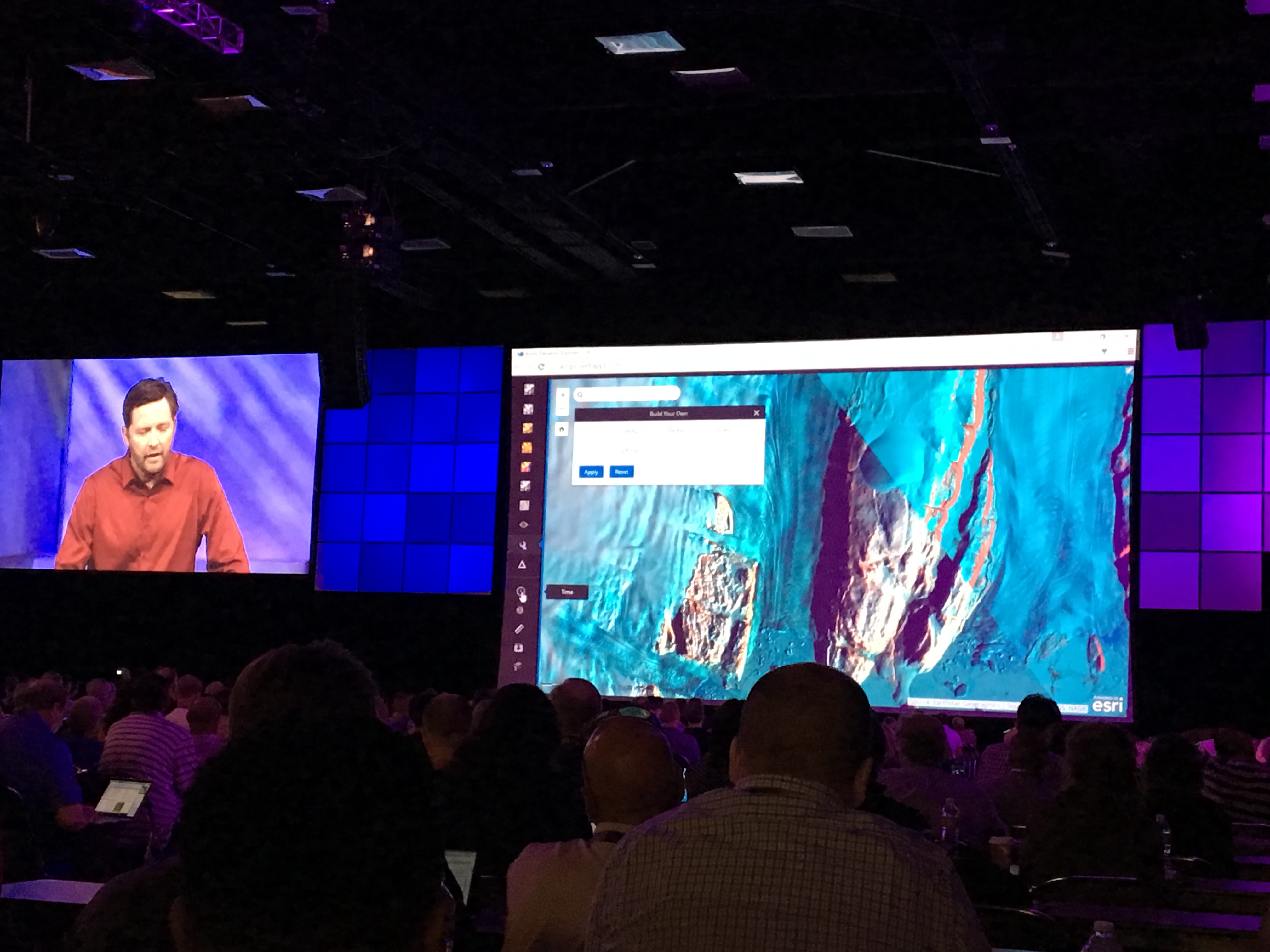 11:21 - City of New Orleans
Lamar Gardere, Greg Hymel & James Raasch
NoticeMe - Land use changes
RoadWorks - Communicating road work project information
311 Street Flooding
Adopt a Catch Basin
Water Management Projects in New Orleans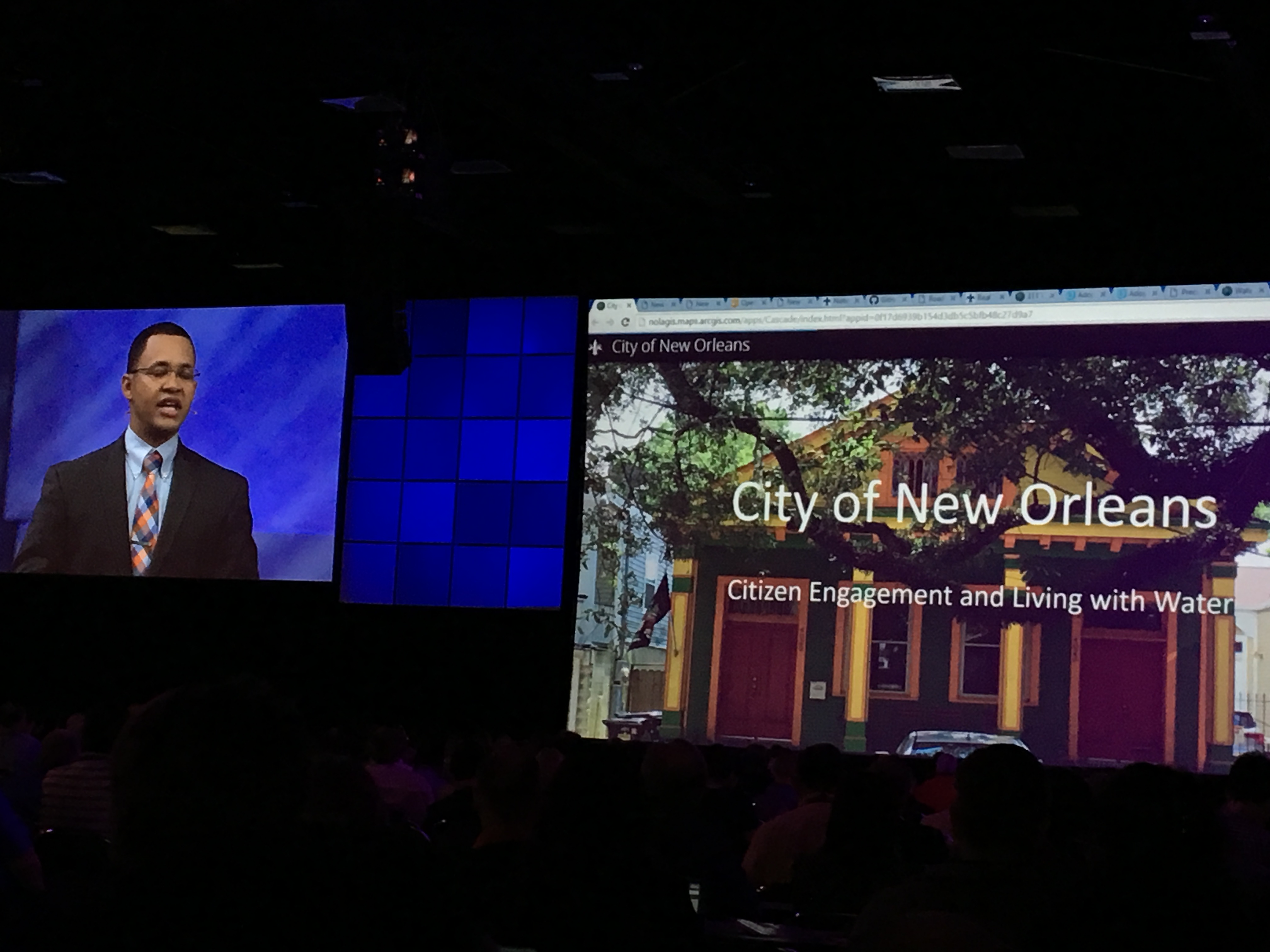 11:34 - Real-Time GIS - Suzanne Foss & Adam Mollenkopf
City of Auckland: Real-Time Transit
Real-Time as a Managed Service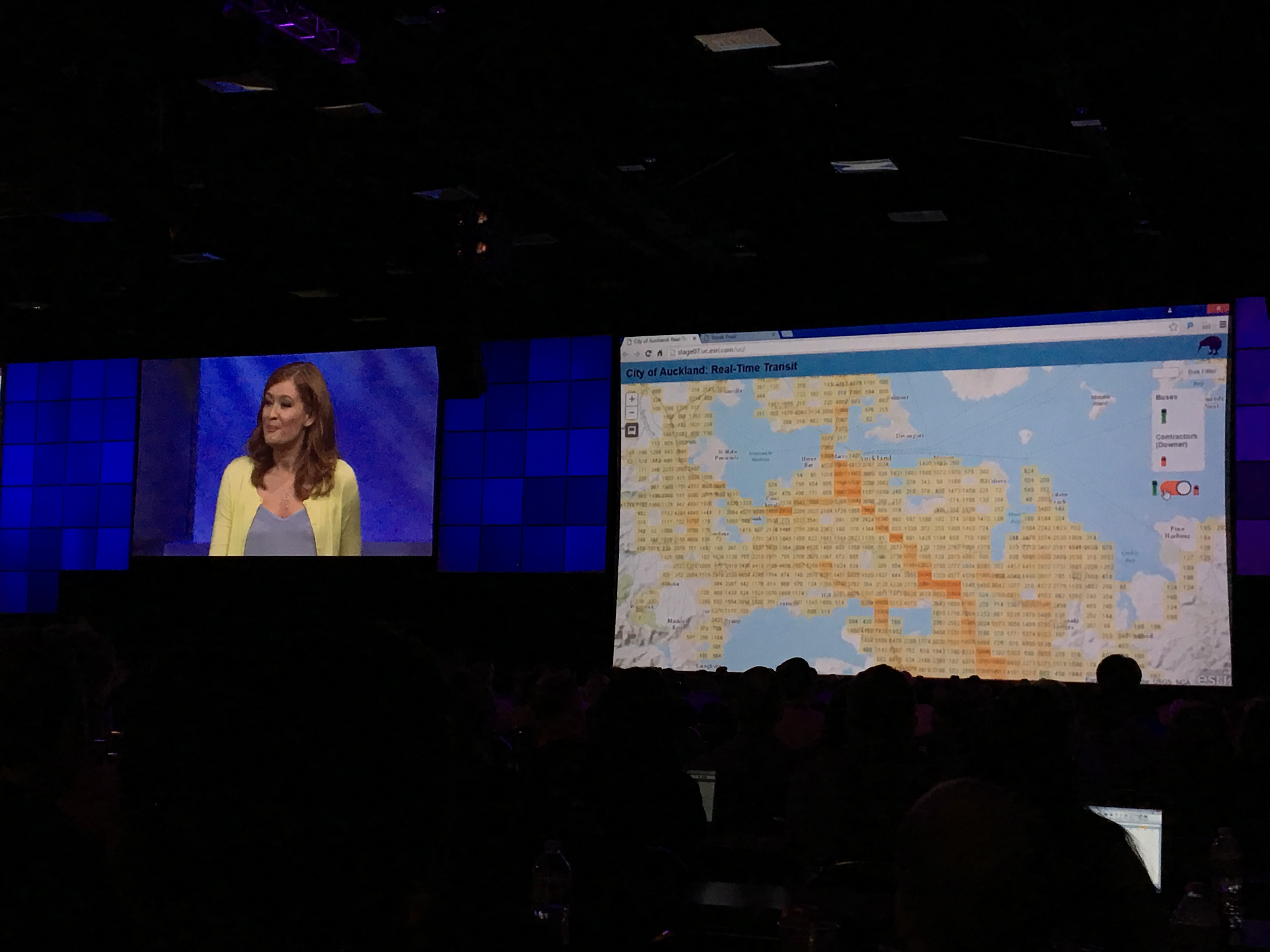 11:39 - 3D and Global Visualization - Jo Fraley
Taking 2D data and making a 3D map
Visualizing data analysis in 3D (Water modeling)

Can Publish 3D packages to ArcGIS

ArcGIS Earth

Visualize KML data in a simple application
Support for 3D meshes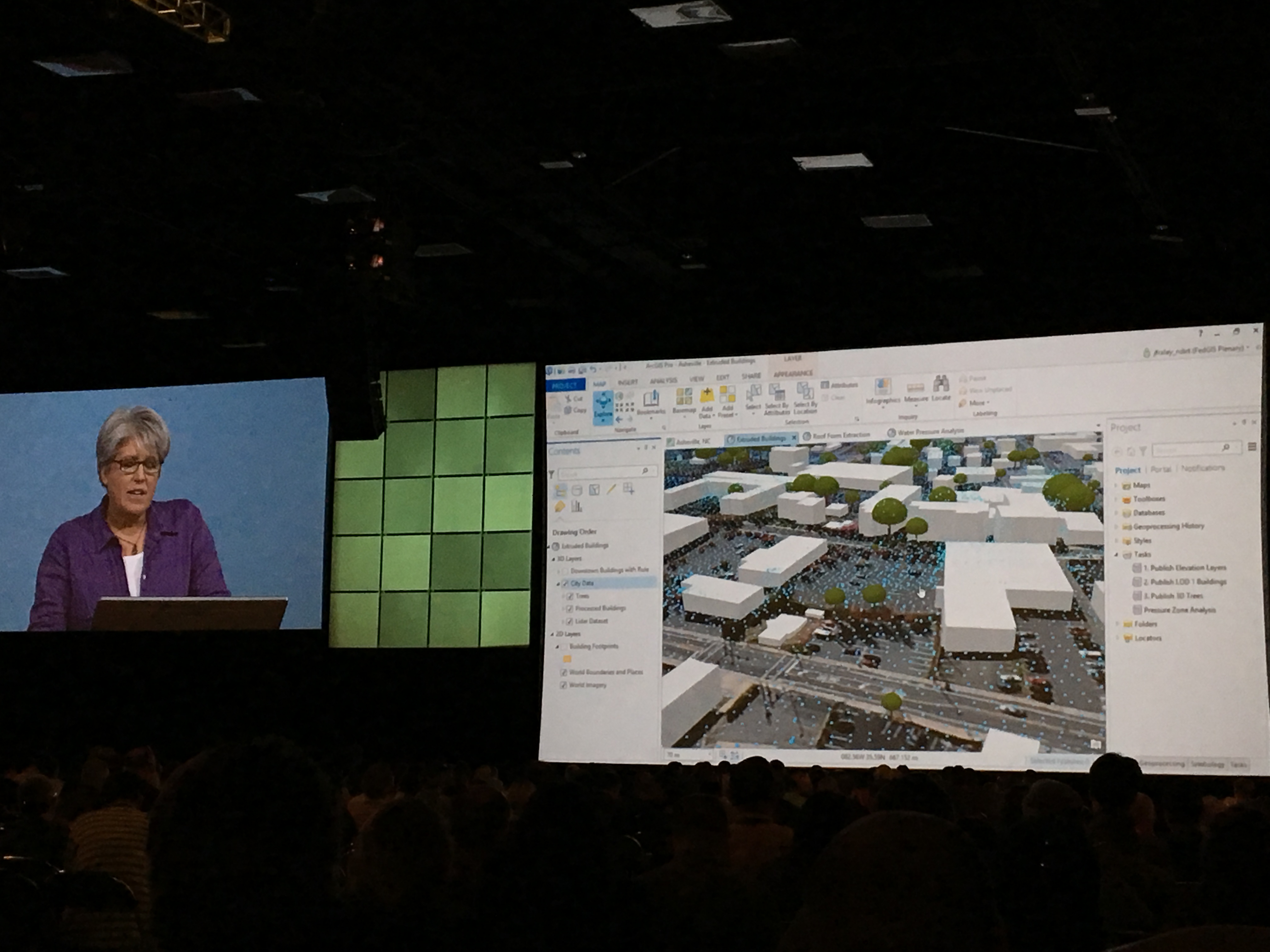 11:46 - Frozen in Time - A History of Life and the Moments of Death at Sandby Borg
Kalmar County Museum - Nicholas Nilsson & Fredrik Gunnarsson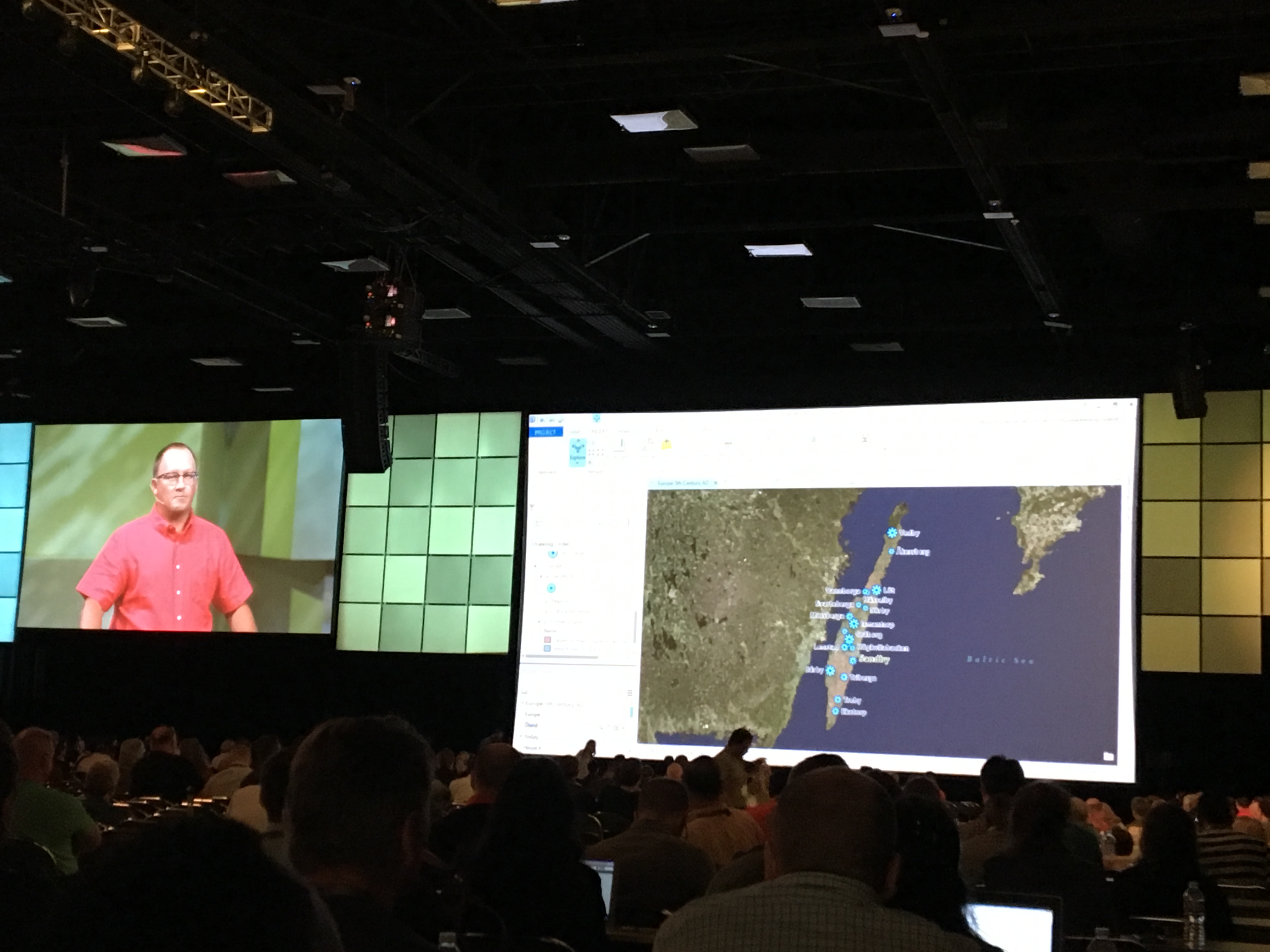 Use of archeology dog and Collector for ArcGIS (Collector for ArcGIS)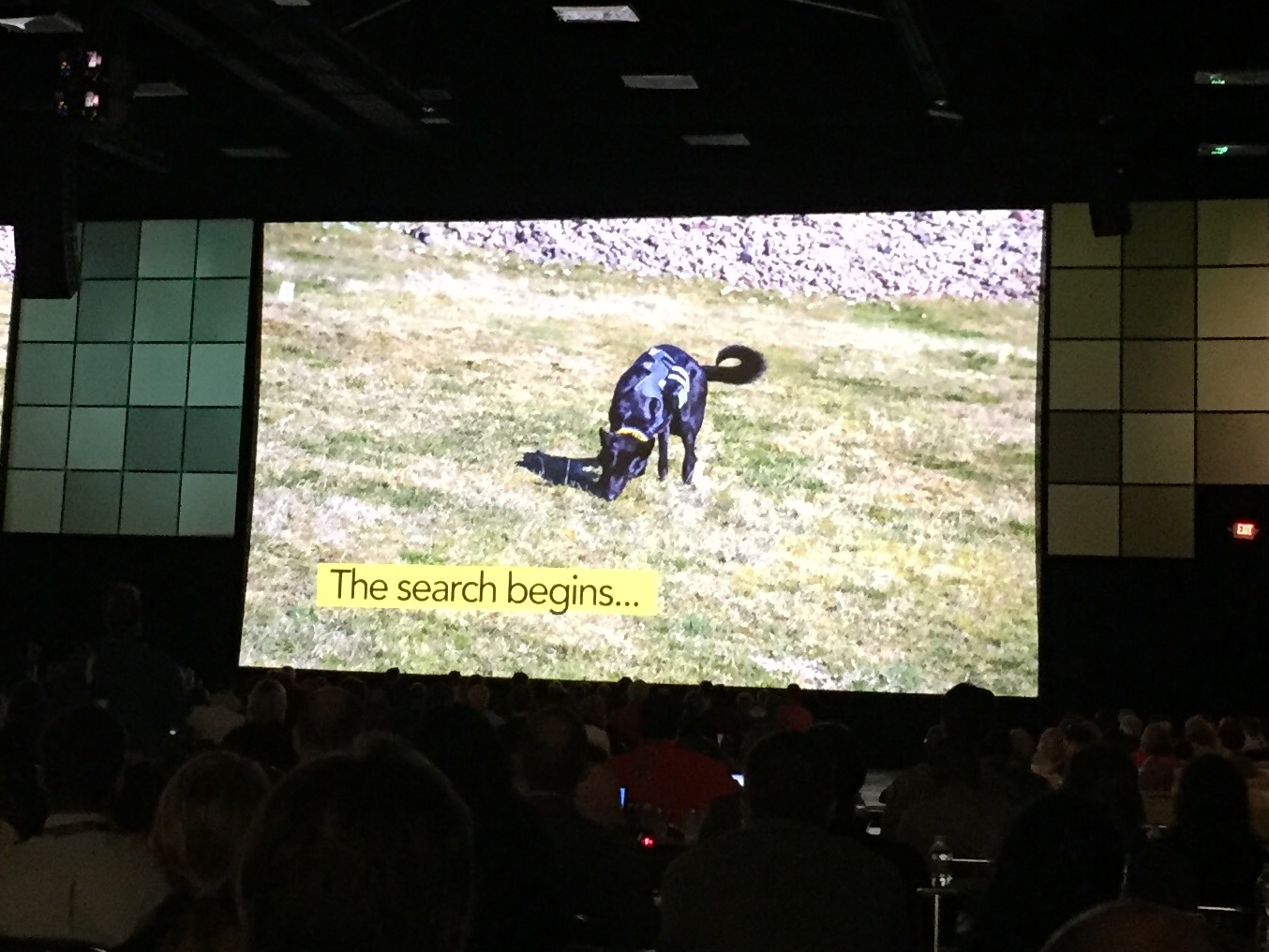 11:57 - Runtime Applications - Adrien Meriaux
Virtual Archeology Android App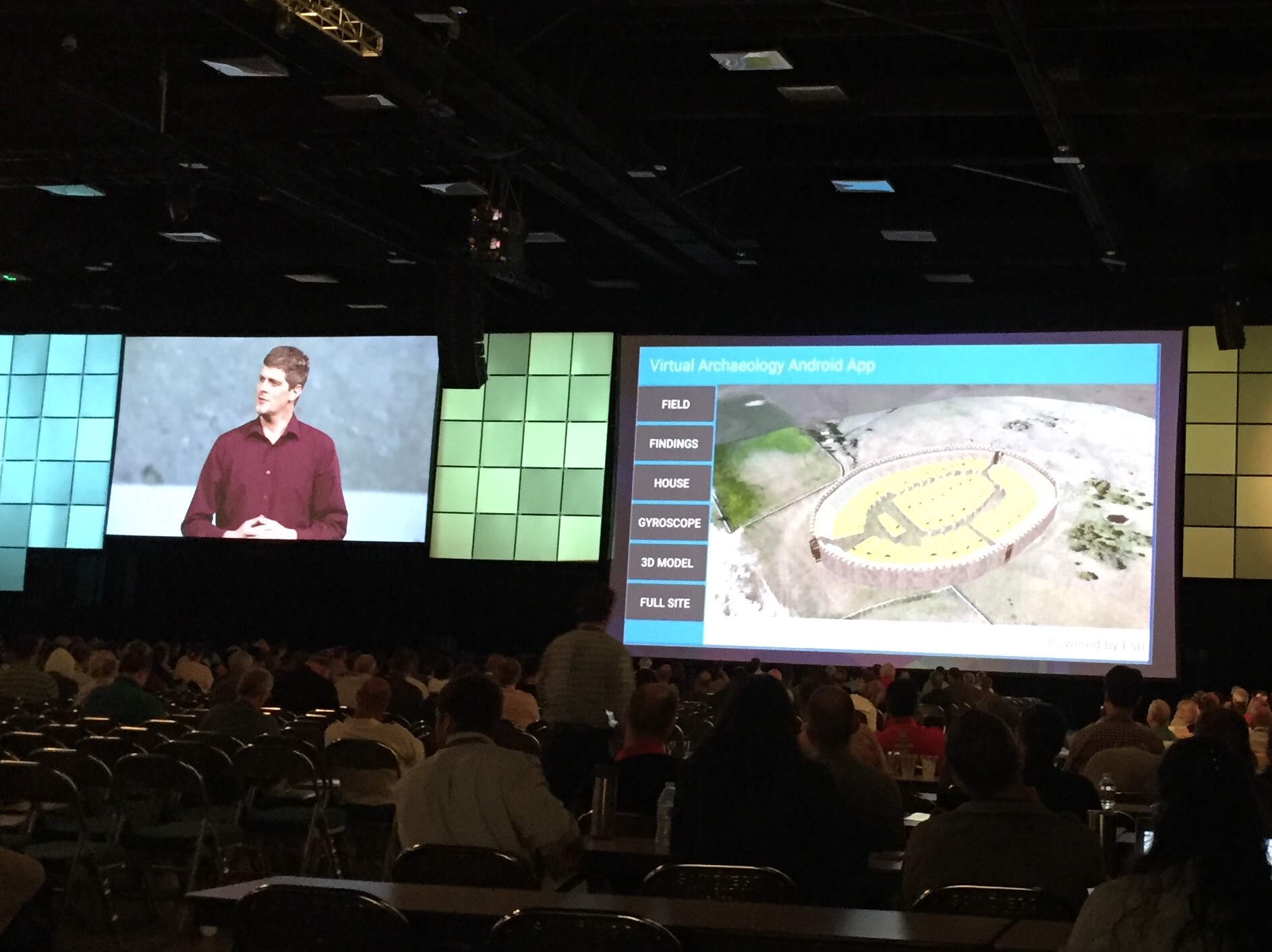 12:04 - BREAK for lunch - Return at 2:00pm
Check out 2016 Plenary Part 2: the live blog for the afternoon plenary session.
15 Comments
You must be a registered user to add a comment. If you've already registered, sign in. Otherwise, register and sign in.