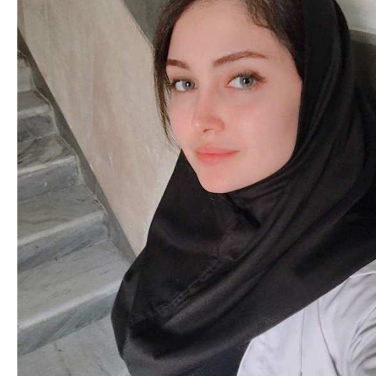 New Contributor II
Mark as New

Bookmark

Subscribe

Mute
1 Solution

by
XanderBakker

Esri Esteemed Contributor
Mark as New

Bookmark

Subscribe

Mute
Hi margarita stevia ,
Could you validate if this works for you? I will create the additional p-value raster and a mask raster containing the pixels with value 1 where the condition (p-value <= 0.05 and positive correlation) is met. The calculation of the p-value is based on the code provided by Dan Patterson
It seems that the resulting areas (blue pixels) are near the rivers . Does that make sense?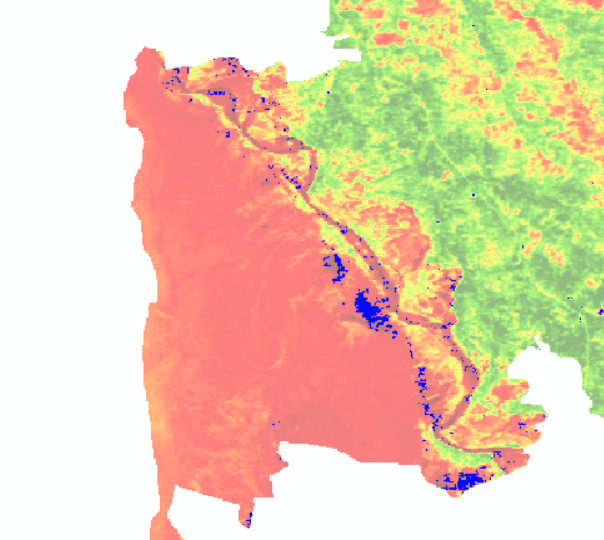 See code below:
def

 

main

(

)

:


    

print

 

"load modules..."


    

import

 arcpy
    arcpy

.

env

.

overwriteOutput 

=

 

True



    

import

 numpy 

as

 np
    template1 

=

 r

'C:\GeoNet\Pvalue\Send\NDVI\r{0}_WUE.TIF'


    template2 

=

 r

'C:\GeoNet\Pvalue\Send\temp\r{0}_TEM.TIF'


    nodata 

=

 

-

3.4028235e+38


    out_ras_corr 

=

 r

'C:\GeoNet\Pvalue\Send\Results\correlation_v01.TIF'


    out_ras_pear 

=

 r

'C:\GeoNet\Pvalue\Send\Results\pearson_v01.TIF'


    out_ras_pval 

=

 r

'C:\GeoNet\Pvalue\Send\Results\pvalue_v01.TIF'


    out_ras_mask 

=

 r

'C:\GeoNet\Pvalue\Send\Results\mask_v01.TIF'



    

# settings


    max_pval 

=

 

0.05


    min_corr 

=

 

0


    mask_val 

=

 

1


    no_mask_val 

=

 

0



    

print

 

"create nested numpy array list..."


    lst_np_ras 

=

 

[

]


    

for

 i 

in

 range

(

1

,

 

5

)

:


        ras_path1 

=

 template1

.

format

(

"%03d"

 

%

 

(

i

,

)

)


        

print

 

" - "

,

 ras_path1
        ras_np1 

=

 arcpy

.

RasterToNumPyArray

(

ras_path1

)


        ras_path2 

=

 template2

.

format

(

"%03d"

 

%

 

(

i

,

)

)


        

print

 

" - "

,

 ras_path2
        ras_np2 

=

 arcpy

.

RasterToNumPyArray

(

ras_path2

)


        lst_np_ras

.

append

(

[

ras_np1

,

 ras_np2

]

)



    

print

 

"read props numpy raster..."


    ras_np 

=

 lst_np_ras

[

0

]

[

0

]

  

# take first numpy array from list


    rows 

=

 ras_np

.

shape

[

0

]


    cols 

=

 ras_np

.

shape

[

1

]


    

print

 

" - rows:"

,

 rows
    

print

 

" - cols:"

,

 cols

    

print

 

"create output numpy array..."


    ras_path 

=

 template1

.

format

(

"%03d"

 

%

 

(

1

,

)

)


    raster 

=

 arcpy

.

Raster

(

ras_path

)


    ras_np_res_corr 

=

 np

.

ndarray

(

(

rows

,

 cols

)

)


    ras_np_res_pear 

=

 np

.

ndarray

(

(

rows

,

 cols

)

)


    ras_np_res_pval 

=

 np

.

ndarray

(

(

rows

,

 cols

)

)


    ras_np_res_mask 

=

 np

.

ndarray

(

(

rows

,

 cols

)

)


    

print

 

" - out rows:"

,

 ras_np_res_corr

.

shape

[

0

]


    

print

 

" - out cols:"

,

 ras_np_res_corr

.

shape

[

1

]



    

print

 

"loop through pixels..."


    pix_cnt 

=

 

0


    

for

 row 

in

 range

(

rows

)

:


        

for

 col 

in

 range

(

cols

)

:


            pix_cnt 

+=

 

1


            

if

 pix_cnt 

%

 

5000

 

==

 

0

:


                

print

 

" - row:"

,

 row

,

 

"  col:"

,

 col

,

 

"  pixel:"

,

 pix_cnt
            lst_vals1 

=

 

[

]


            lst_vals2 

=

 

[

]


            

try

:


                

for

 lst_pars 

in

 lst_np_ras

:


                    lst_vals1

.

append

(

lst_pars

[

0

]

[

row

,

 col

]

)


                    lst_vals2

.

append

(

lst_pars

[

1

]

[

row

,

 col

]

)


                lst_vals1 

=

 ReplaceNoData

(

lst_vals1

,

 nodata

)


                lst_vals2 

=

 ReplaceNoData

(

lst_vals2

,

 nodata

)


                

# perform calculation on list


                correlation 

=

 CalculateCorrelation

(

lst_vals1

,

 lst_vals2

,

 nodata

)


                ras_np_res_corr

[

row

,

 col

]

 

=

 correlation
                pearson 

=

 CalculatePearsons

(

lst_vals1

,

 lst_vals2

,

 nodata

)


                ras_np_res_pear

[

row

,

 col

]

 

=

 pearson
                pvalue 

=

 CalculatePvalue

(

lst_vals1

,

 lst_vals2

,

 nodata

)


                ras_np_res_pval

[

row

,

 col

]

 

=

 pvalue
                

# compare correlation and p-value


                

if

 pvalue 

==

 nodata

:


                    mask 

=

 nodata
                

elif

 

(

correlation 

>=

 min_corr

)

 

and

 

(

pvalue 

<=

 max_pval

)

:


                    mask 

=

 mask_val
                

else

:


                    mask 

=

 no_mask_val
                ras_np_res_mask

[

row

,

 col

]

 

=

 mask

            

except

 Exception 

as

 e

:


                

print

 

"ERR:"

,

 e
                

print

 

" - row:"

,

 row

,

 

"  col:"

,

 col

,

 

"  pixel:"

,

 pix_cnt
                

print

 

" - lst_vals1:"

,

 lst_vals1
                

print

 

" - lst_vals2:"

,

 lst_vals2

    pnt 

=

 arcpy

.

Point

(

raster

.

extent

.

XMin

,

 raster

.

extent

.

YMin

)

 

#  - raster.meanCellHeight


    xcellsize 

=

 raster

.

meanCellWidth
    ycellsize 

=

 raster

.

meanCellHeight

    

print

 

"Write output rasters..."


    

print

 

" - "

,

 out_ras_corr
    ras_res_corr 

=

 arcpy

.

NumPyArrayToRaster

(

ras_np_res_corr

,

 lower_left_corner

=

pnt

,

 x_cell_size

=

xcellsize

,


                                 y_cell_size

=

ycellsize

,

 value_to_nodata

=

nodata

)


    arcpy

.

CopyRaster_management

(

ras_res_corr

,

 out_ras_corr

)


    arcpy

.

DefineProjection_management

(

in_dataset

=

out_ras_corr

,

 coor_system

=

"GEOGCS['GCS_WGS_1984',DATUM['D_WGS_1984',SPHEROID['WGS_1984',6378137.0,298.257223563]],PRIMEM['Greenwich',0.0],UNIT['Degree',0.0174532925199433]]"

)



    

print

 

" - "

,

 out_ras_pear
    ras_res_pear 

=

 arcpy

.

NumPyArrayToRaster

(

ras_np_res_pear

,

 lower_left_corner

=

pnt

,

 x_cell_size

=

xcellsize

,


                                 y_cell_size

=

ycellsize

,

 value_to_nodata

=

nodata

)


    arcpy

.

CopyRaster_management

(

ras_res_pear

,

 out_ras_pear

)


    arcpy

.

DefineProjection_management

(

in_dataset

=

out_ras_pear

,

 coor_system

=

"GEOGCS['GCS_WGS_1984',DATUM['D_WGS_1984',SPHEROID['WGS_1984',6378137.0,298.257223563]],PRIMEM['Greenwich',0.0],UNIT['Degree',0.0174532925199433]]"

)



    

print

 

" - "

,

 out_ras_pval
    ras_res_pval 

=

 arcpy

.

NumPyArrayToRaster

(

ras_np_res_pval

,

 lower_left_corner

=

pnt

,

 x_cell_size

=

xcellsize

,


                                 y_cell_size

=

ycellsize

,

 value_to_nodata

=

nodata

)


    arcpy

.

CopyRaster_management

(

ras_res_pval

,

 out_ras_pval

)


    arcpy

.

DefineProjection_management

(

in_dataset

=

out_ras_pval

,

 coor_system

=

"GEOGCS['GCS_WGS_1984',DATUM['D_WGS_1984',SPHEROID['WGS_1984',6378137.0,298.257223563]],PRIMEM['Greenwich',0.0],UNIT['Degree',0.0174532925199433]]"

)



    

print

 

" - "

,

 out_ras_mask
    ras_res_mask 

=

 arcpy

.

NumPyArrayToRaster

(

ras_np_res_mask

,

 lower_left_corner

=

pnt

,

 x_cell_size

=

xcellsize

,


                                 y_cell_size

=

ycellsize

,

 value_to_nodata

=

nodata

)


    arcpy

.

CopyRaster_management

(

ras_res_mask

,

 out_ras_mask

)


    arcpy

.

DefineProjection_management

(

in_dataset

=

out_ras_mask

,

 coor_system

=

"GEOGCS['GCS_WGS_1984',DATUM['D_WGS_1984',SPHEROID['WGS_1984',6378137.0,298.257223563]],PRIMEM['Greenwich',0.0],UNIT['Degree',0.0174532925199433]]"

)






def

 

CalculateCorrelation

(

a

,

 b

,

 nodata

)

:


    

import

 numpy
    

try

:


        coef 

=

 numpy

.

corrcoef

(

a

,

b

)


        

return

 coef

[

0

]

[

1

]


    

except

:


        

return

 nodata




def

 

ReplaceNoData

(

lst

,

 nodata

)

:


    res 

=

 

[

]


    

for

 a 

in

 lst

:


        

if

 a 

<

 nodata 

/

 

2.0

:


            res

.

append

(

None

)


        

else

:


            res

.

append

(

a

)


    

return

 res




def

 

CalculatePearsons

(

a

,

 b

,

 nodata

)

:


    

import

 numpy 

as

 np
    

from

 scipy

.

stats 

import

 pearsonr
    

try

:


        x 

=

 np

.

array

(

a

)


        y 

=

 np

.

array

(

b

)


        r

,

 p 

=

 pearsonr

(

a

,

 y

)


        

return

 p
    

except

:


        

return

 nodata



def

 

CalculatePvalue

(

a

,

 b

,

 nodata

)

:


    

import

 numpy 

as

 np
    

from

 scipy

.

stats 

import

 stats
    

try

:


        x 

=

 np

.

array

(

a

)


        y 

=

 np

.

array

(

b

)


        r

,

 p_val 

=

 stats

.

pearsonr

(

x

,

 y

)


        

return

 p_val
    

except

:


        

return

 nodata





if

 __name__ 

==

 

'__main__'

:


    main

(

)

‍

‍

‍

‍

‍

‍

‍

‍

‍

‍

‍

‍

‍

‍

‍

‍

‍

‍

‍

‍

‍

‍

‍

‍

‍

‍

‍

‍

‍

‍

‍

‍

‍

‍

‍

‍

‍

‍

‍

‍

‍

‍

‍

‍

‍

‍

‍

‍

‍

‍

‍

‍

‍

‍

‍

‍

‍

‍

‍

‍

‍

‍

‍

‍

‍

‍

‍

‍

‍

‍

‍

‍

‍

‍

‍

‍

‍

‍

‍

‍

‍

‍

‍

‍

‍

‍

‍

‍

‍

‍

‍

‍

‍

‍

‍

‍

‍

‍

‍

‍

‍

‍

‍

‍

‍

‍

‍

‍

‍

‍

‍

‍

‍

‍

‍

‍

‍

‍

‍

‍

‍

‍

‍

‍

‍

‍

‍

‍

‍

‍

‍

‍

‍

‍

‍

‍

‍

‍

‍

‍

‍

‍

‍

‍

‍

‍

‍

‍

‍

‍

‍

‍

‍

‍

‍

‍

‍

‍

‍

‍
11 Replies