New Contributor
Mark as New

Bookmark

Subscribe

Mute
How to find the minimum bounding rectangles (MBR) of the route in order to calculate the shortest distance to the MBR to determine the direction of measurement? because inconsistency problems often occur in measurement direction.
1 Solution

MVP Honored Contributor
Mark as New

Bookmark

Subscribe

Mute
Below is the picture you need to see that represents what the Create Route tool actually does. The actual behavior is different from what you have been imagining that it is doing. No tool does what you were imagining, because a Rectangle By Width is a time consuming rectangle to create and no tool uses it by default. As far as I know, other than the Minimum Bounding Geometry tool when the Rectangle By Width or Rectangle by Area option is chosen. all rectangles evaluated within the tools of ArcGIS are based on envelopes. Only custom user defined tools will actually use the Rectangle By Width shape to do further geoprocessing.
When I stated that I use the Rectangle By Width to evaluate routes, that meant I use it in my custom tools only. That statement was also made before I knew what your network looked like and I thought you might be dealing with a road network, like I do, where routes are simple with no branches and the lines making up a route are for the most part all oriented in a single direction with relatively few gaps between lines. My network is much more of an ideal input for using the Create Route tool with the Coordinate Priority option and the Rectangle By Width Minimum Bounding Geometry for creating and evaluating route measures than the network you are inputting to either of those tools. In my network no acceptable route that I create would ever come close to the level of complexity of the route shown in your picture. Virtually no tool Esri publishes is designed to deal with the level of complexity shown in your picture nearly as well as they are designed to deal with the simplest geometry cases.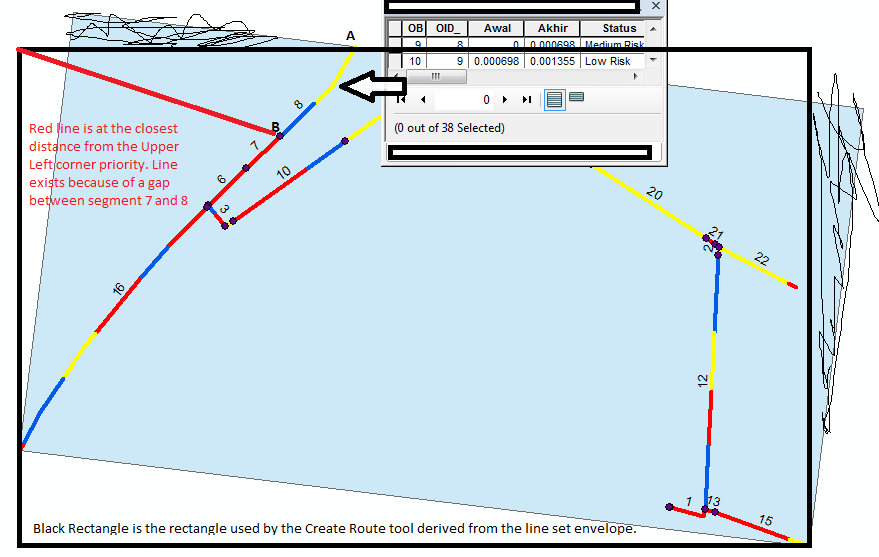 6 Replies