New Contributor III
Mark as New

Bookmark

Subscribe

Mute
Hi all
I want to add two tables in geodatabase view (see attached). Those two table can not be related (attributes tables)
I am struggling with the SQL statement
Thanks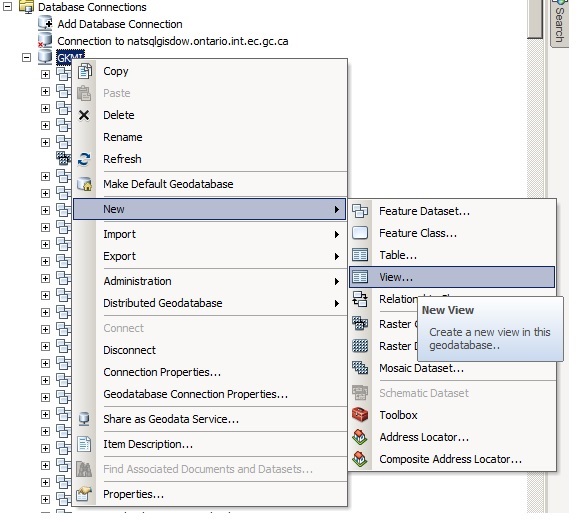 2 Replies

by
VinceAngelo

Esri Esteemed Contributor
Mark as New

Bookmark

Subscribe

Mute
You haven't provided any of the details that would permit us to help you. Among the things missing:
The RDBMS (including version)
Version of ArcGIS
Detailed descriptions of all columns in both tables
If the tables have geometry columns, the geometry storage type(s)
The column(s) the tables have in common
The indexes available on those columns
I always use SQL directly to construct views.
- V

New Contributor III
Mark as New

Bookmark

Subscribe

Mute
Sorry!
The RDBMS (including version)
I don't have any Relational database management system software installed on my PC. Since I work in a federal organization, it is had to get a RDBMS software installed in few day. My database is an ArcSDE one managed originally with Microsoft SQL Server management studio which I don't have. So I have to do it with ArcCatalog
Version of ArcGIS
Detailed descriptions of all columns in both tables
Both feature classes have those fields: FID, Shape, OBJECTID, PARENT_ID, ZONE_ID, BIOME, IUCN_CATEG.
I don't know if it is possible to view both tables based on shape field only
If the tables have geometry columns, the geometry storage type(s)
The column(s) the tables have in common
As I asked before, it is a possibility to view to tables without any column in common
The indexes available on those columns
Thanks