Mark as New

Mark as Read

Bookmark

Subscribe

Email to a Friend
In-person or distance learning?
How to help students with so many families out of work?
Uncertainty.
Frustration.
GO!
At a time hungry for good news, Esri Press offers free desk copies to educators, discounted digital rental options and courseware to higher-ed students, eagerly awaited new titles, and indispensable updates for ArcGIS Pro, ArcGIS Desktop, Web GIS development, and Python scripting for ArcGIS Pro. In addition, 2020 marks the introduction of several resources for teachers in K-12 classrooms (and parents at home!).
K-12 Resources
We couldn't be more excited to announce Esri Press is publishing several books to support teaching spatial awareness, spatial thinking and spatial analysis in K-12 classrooms.
Spatial Awareness
For the lower grade levels, we're announcing, in partnership with engineering and consulting firm Bolton & Menk, a new career-focused series, STEAM at Work!. The first book to publish is titled, Lindsey the GIS Professional. Books in this series come with teacher guides, plus online and downloadable activities.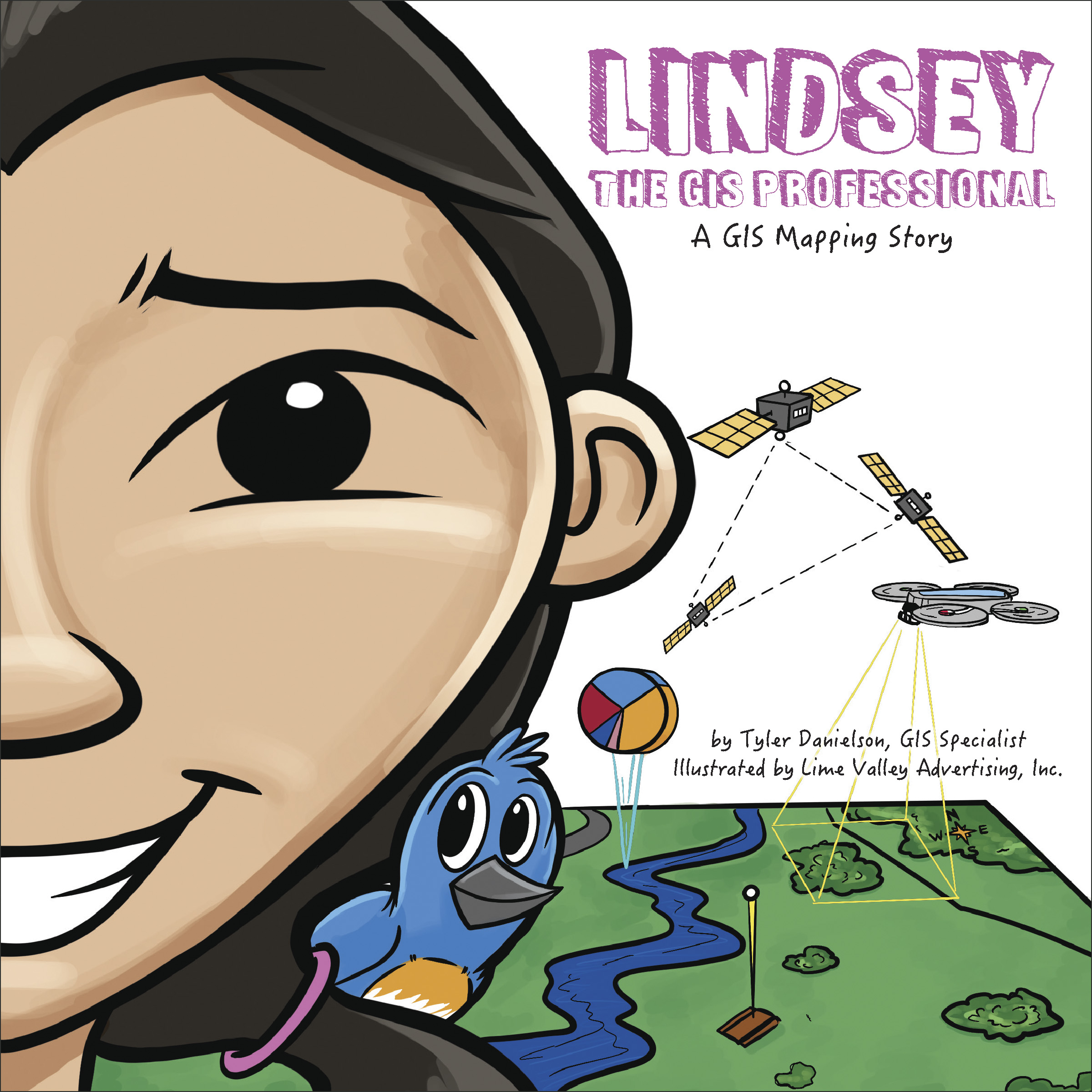 Lindsey the GIS Professional Available in English and Spanish. Follow Lindsey as she collects information about the world around her to make a map of her favorite park. Lindsey the GIS Professional describes what it's like to work with a geographic information system (GIS). Lindsey explains the information needed to make a map and how to collect it. Then she shows how to take all that information to create a map of her favorite park. Perfect for encouraging spatial thinking. Written for K-5 students, teachers, and parents, the book includes online activities and teaching resources, including how it applies to educational standards (NGSS, C3, intl.).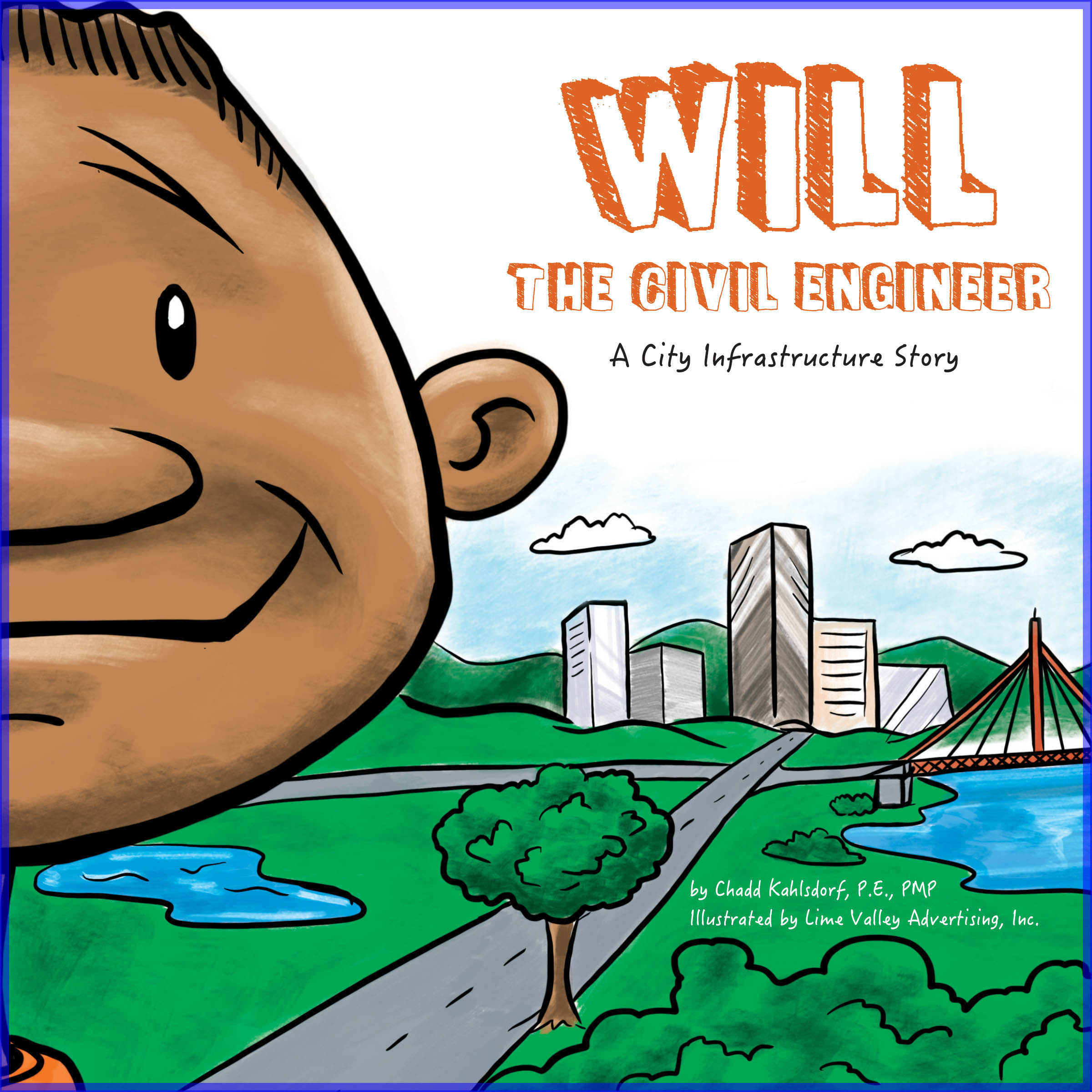 Will the Civil Engineer Will's dad is a civil engineer. He uses math and science to make the world a better place. Civil engineers have been around for a loooong time, but what do they do? Ever wonder where the water you drink comes from? Engineers designed the water system!
Follow along as Will learns about how everything that is built has an engineer. Will the Civil Engineer introduces kids to all the amazing things engineers have created and shows them they can solve problems like an engineer, too.
Available for pre-order from popular online book retailers.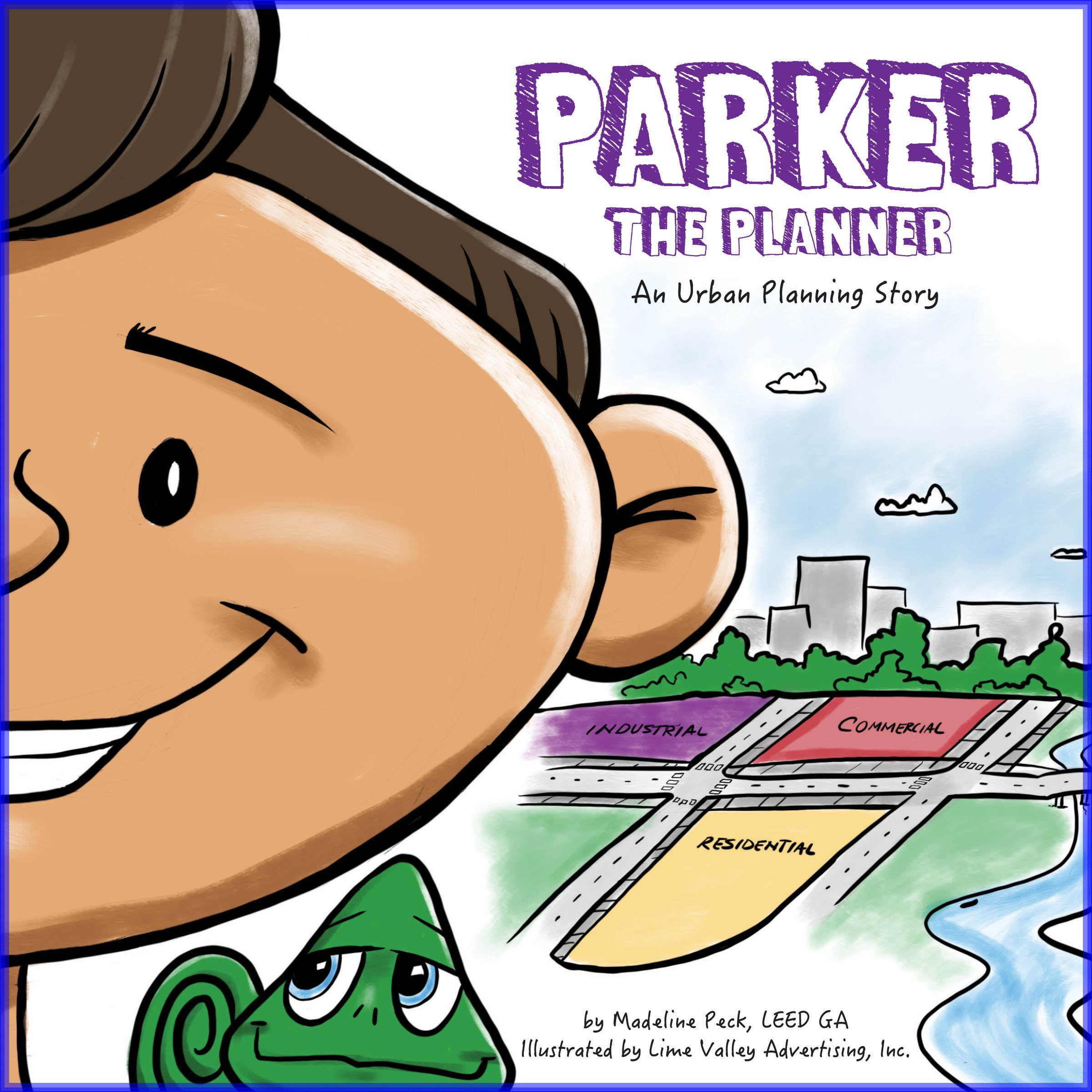 Parker the Planner Parker's city is a mess. It's full of traffic and has no sidewalks or parks. But Parker has a plan! He'll build his own city—with parks, zoos, transportation, environmental benefits, and more. Planning a city is a big project, but Parker is up for the challenge. He has all kinds of ideas about how to create a place that will benefit everyone.
Parker the Planner shows kids they can help create change in their own communities. Like Parker, they can use their passion and ideas to make the world a better place.
Available for pre-order from popular online book retailers.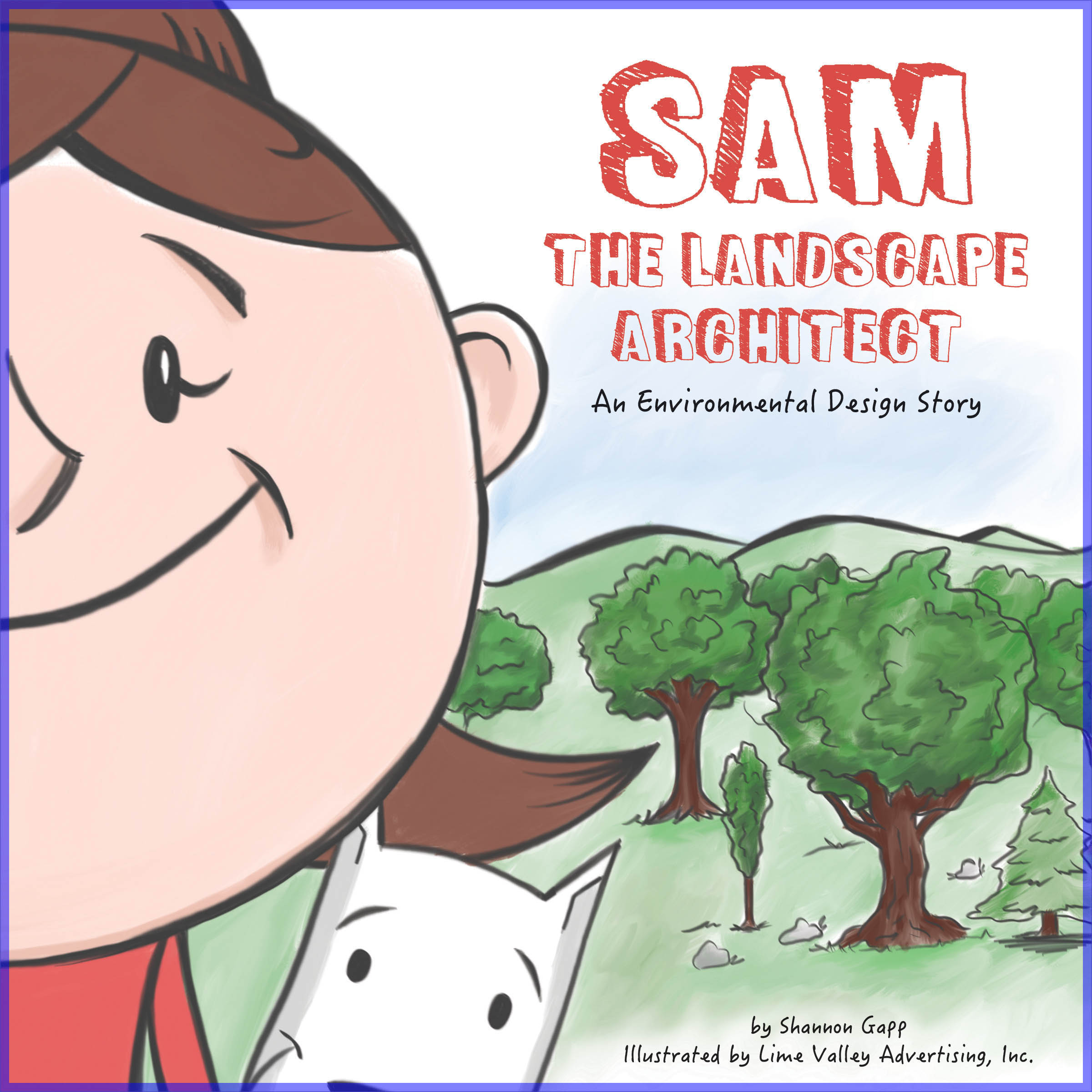 Sam the Landscape Architect Sam loves to design things! She plans to be a landscape architect—to make the world green. Follow along as she designs parks, gardens, and more to improve her community. Sam is full of ideas and uses her imagination to solve problems in her city. Sam the Landscape Architect shows kids how they can take something they love and are passionate about and use it to make the world a better place.
Available for pre-order from popular online book retailers.
Spatial Thinking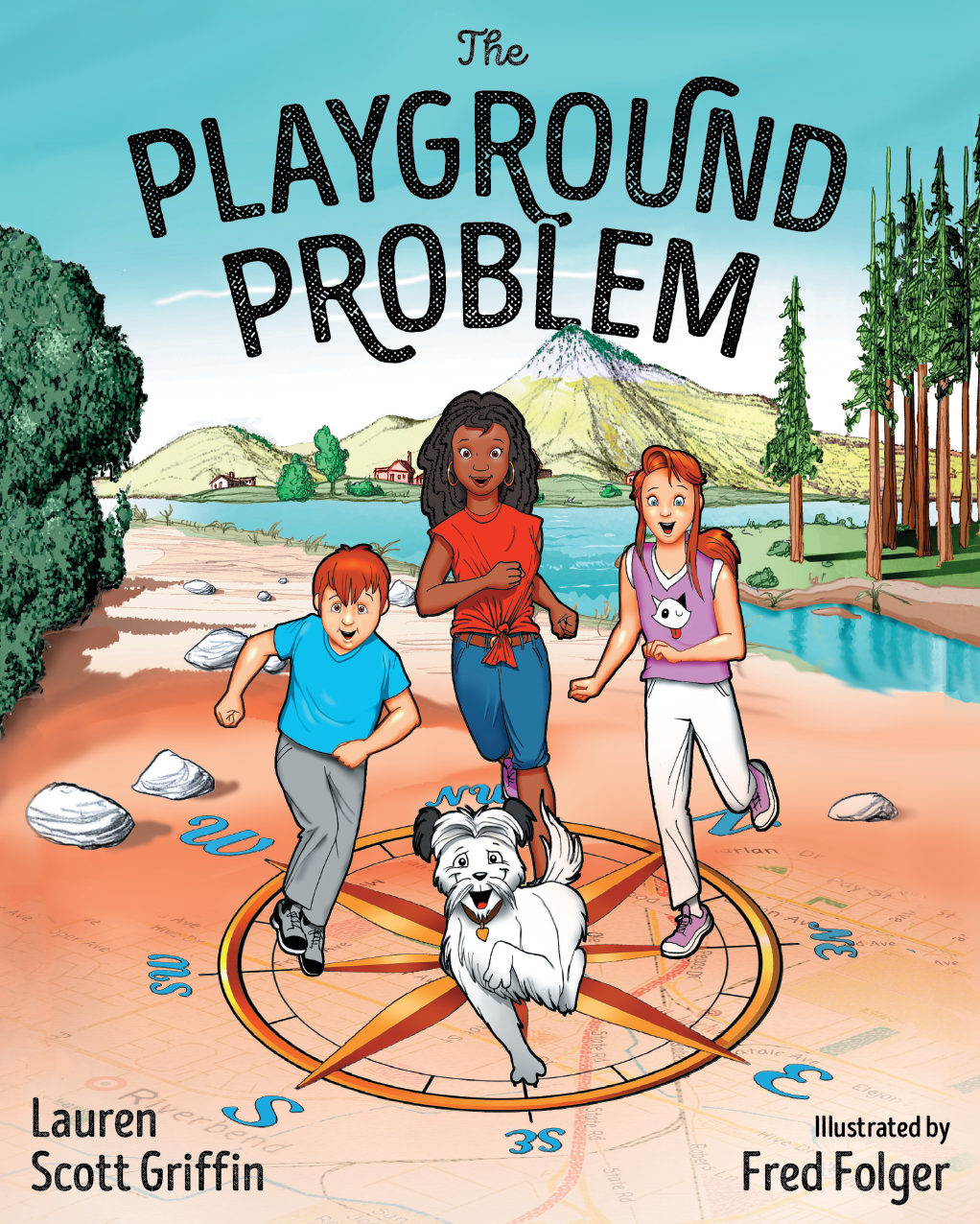 The Playground Problem Emma and David find a chain and padlock across the playground entrance. Where are they going to play with their friends? With help from neighbor Kayla, Emma and David set out on an adventure to find a new place to play.
The Playground Problem is a comic book / activity book with a story and spatial games for ages 6 through 10. As Emma and David learn about maps and use spatial reasoning, readers follow along with their own activities. Solving interesting puzzles and learning about spatial data, young learners not only boost their math skills, they also give themselves a head start in vital careers. Readers learn basic mapping, distance, direction, spatial pattern, buffer, and overlay skills to find the best location for a new play place. Available early 2021.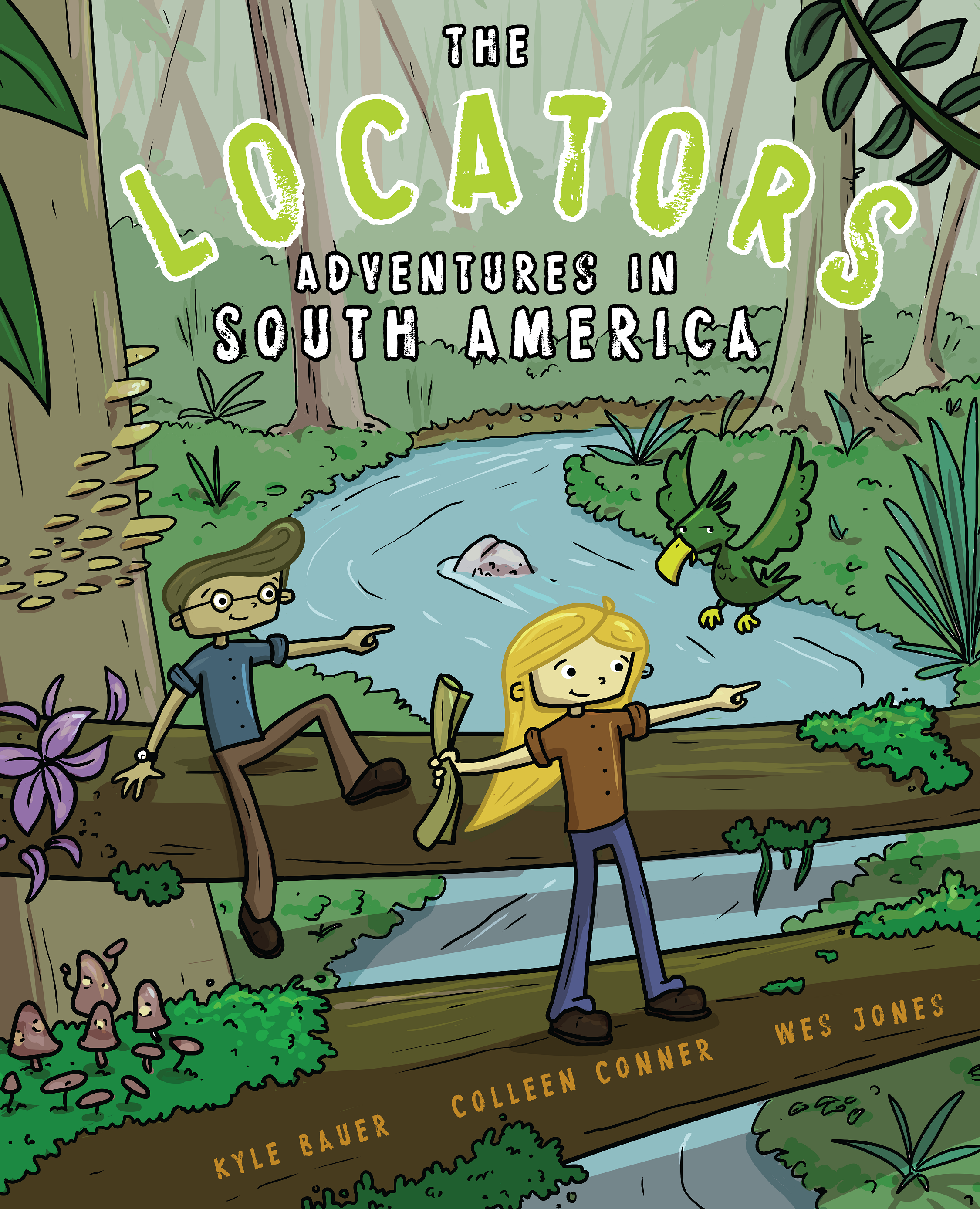 The Locators in this chapter book, characters explore South America, learning about animals, ecosystems, and solving real-world problems like habitat loss.
Available early 2021.
Spatial Analysis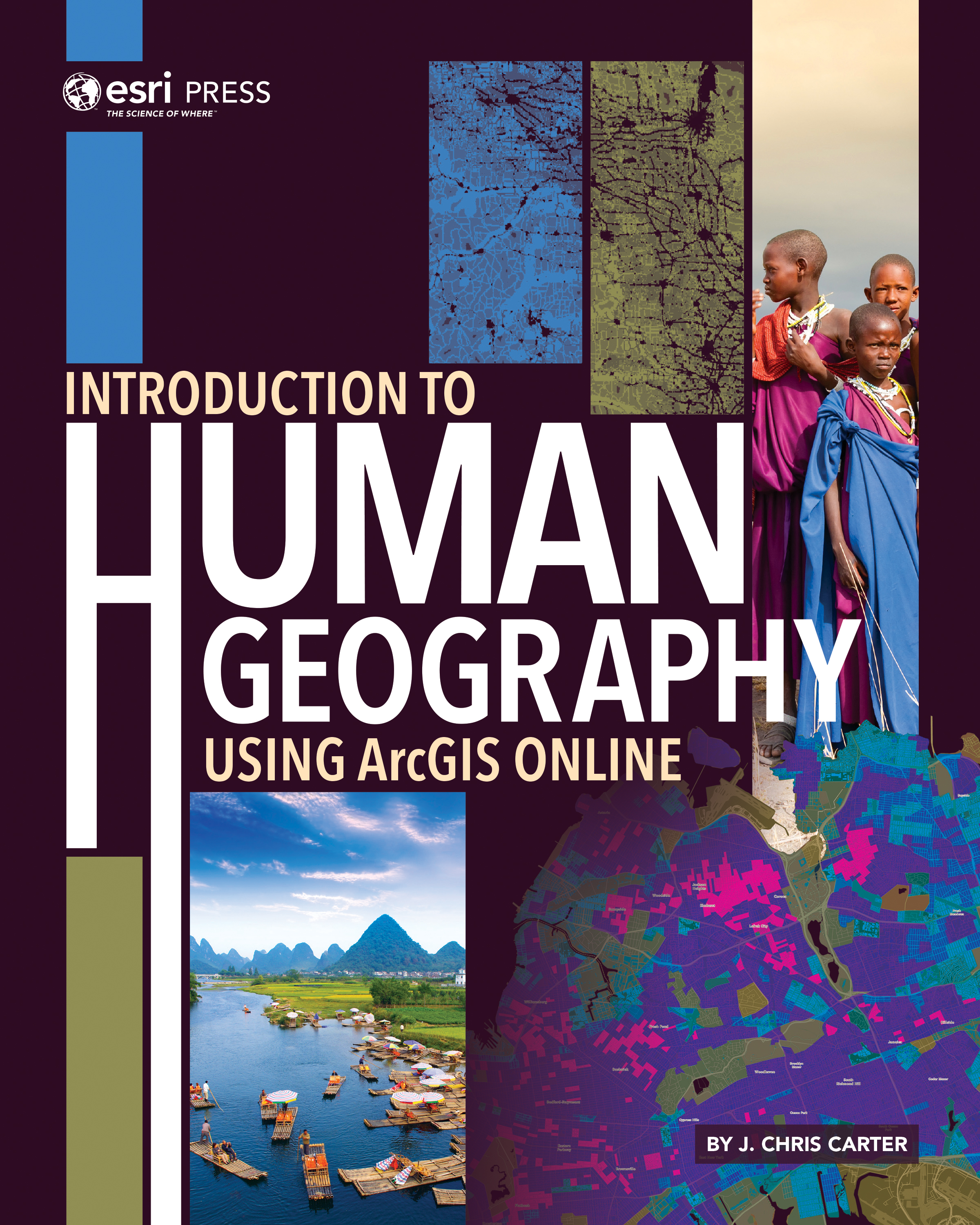 Introduction to Human Geography Using ArcGIS Online
Birth rates are higher in one country than another. Why? Are there patterns? Are there correlations? With Introduction to Human Geography Using ArcGIS Online readers are doers, using sophisticated software to actively explore, analyze, and answer these questions and many more. ArcGIS Online exercises in each chapter dig into the numbers and their spatial relationships, enhancing students' grasp of geographic concepts. This book combines a comprehensive examination of human geography with engaging activities using ArcGIS Online. Appropriate for high school and introductory college courses.
Instructors can tailor classroom examples and homework assignments to local geography.
Higher Education
Now to feed higher academia educators: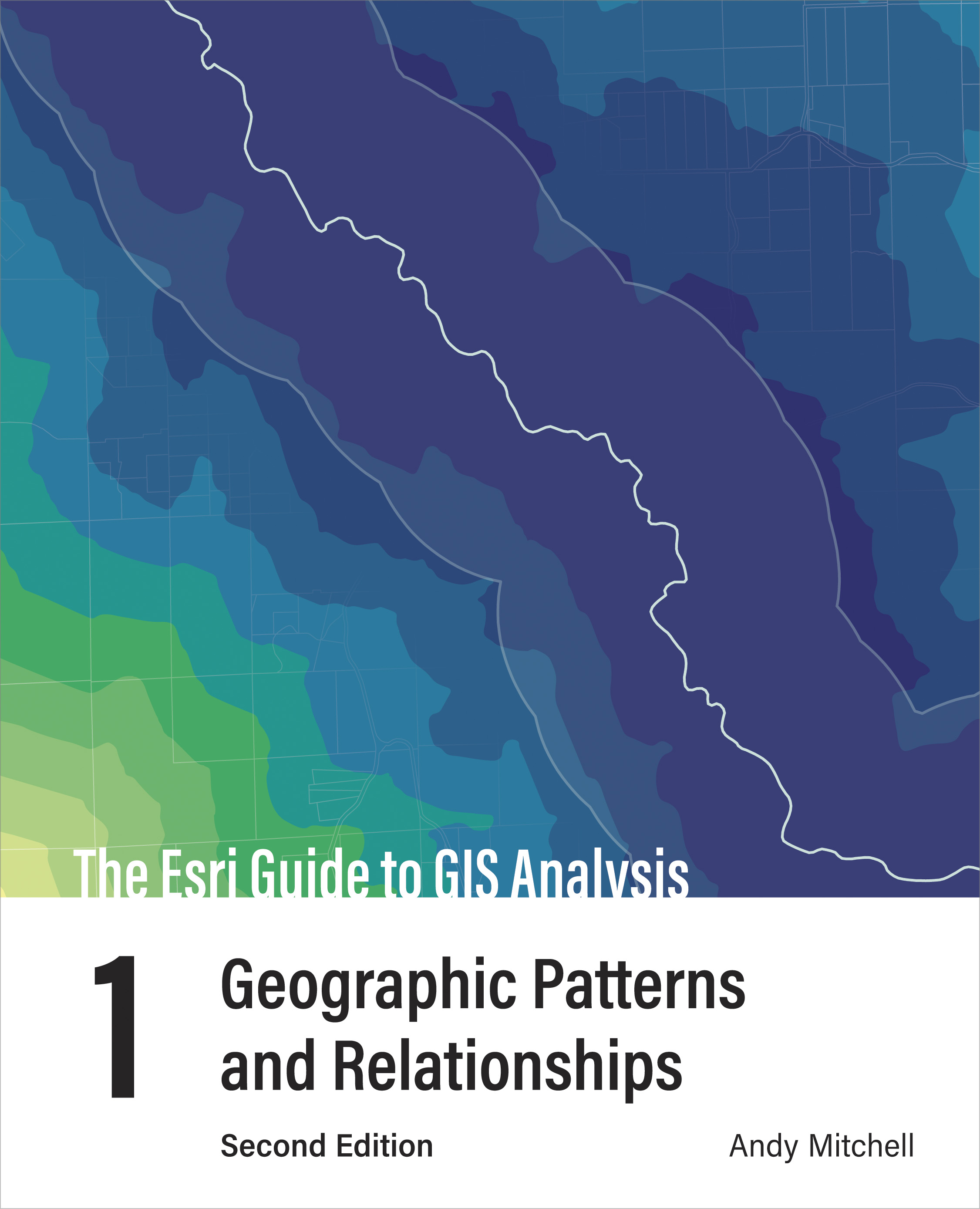 The Esri Guide to GIS Analysis, Volume 1: Geographic Patterns and Relationships, 2nd ed. With this foundational text readers learn the basic concepts of spatial analysis and GIS and build on that understanding with essential mapmaking skills to unveil and display patterns and relationships. This second edition of also is a guide to online lessons that reinforce these concepts and demonstrate real-world GIS application.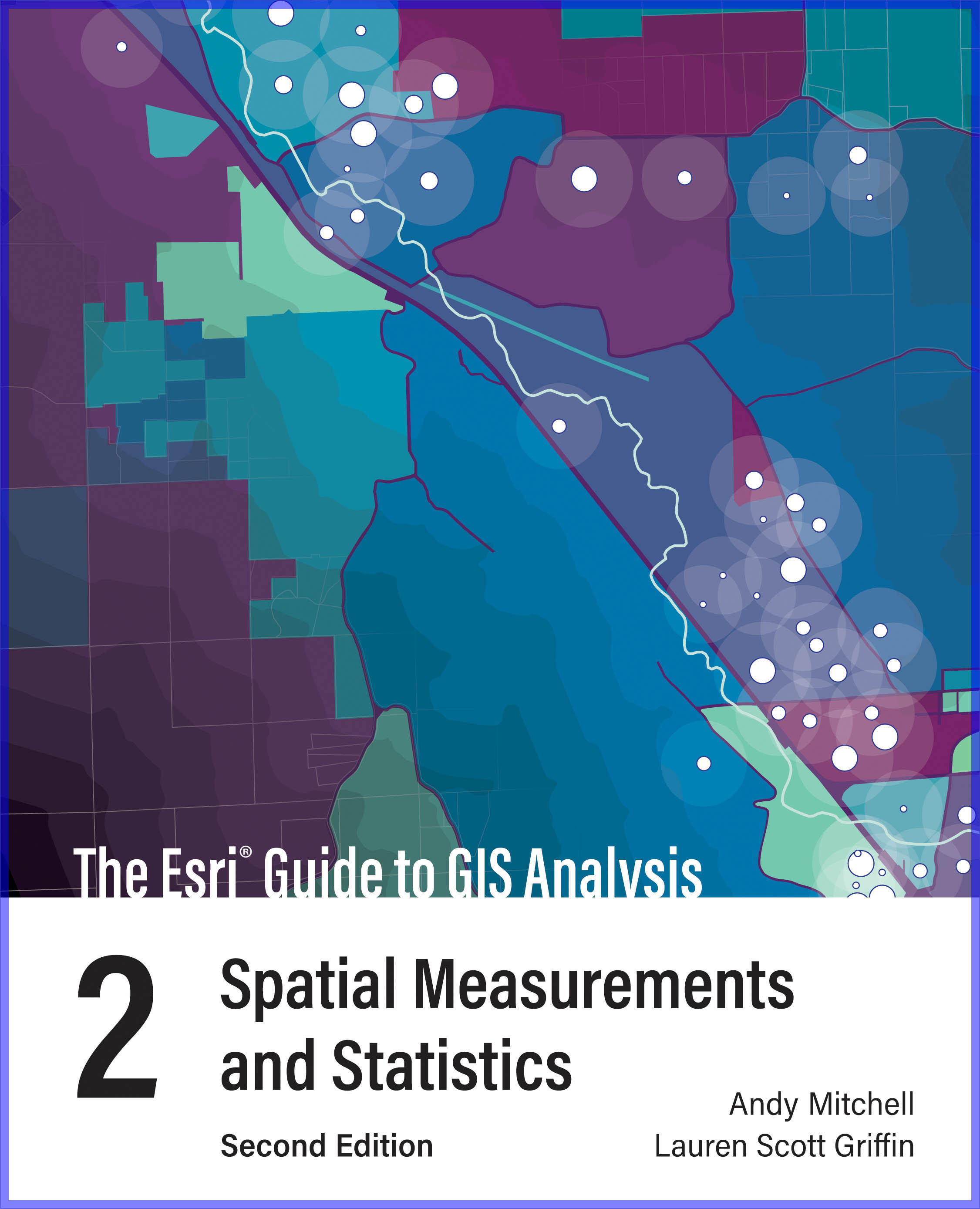 The Esri Guide to GIS Analysis, Volume 2: Spatial Measurements and Statistics, 2nd ed.
Esri Guide to GIS Analysis, volume 2: Spatial Measurements and Statistics, second edition introduces readers to some of the most common spatial statistics tasks: measuring distributions, identifying patterns and clusters, and analyzing relationships. It shows how spatial statistical tools can address these tasks and shows how they can be applied in a range of disciplines, from public health to habitat conservation. Readers will learn basic statistical concepts but needn't understand complex mathematical theories to apply the statistical tools to get meaningful results in projects.
Available Fall 2020.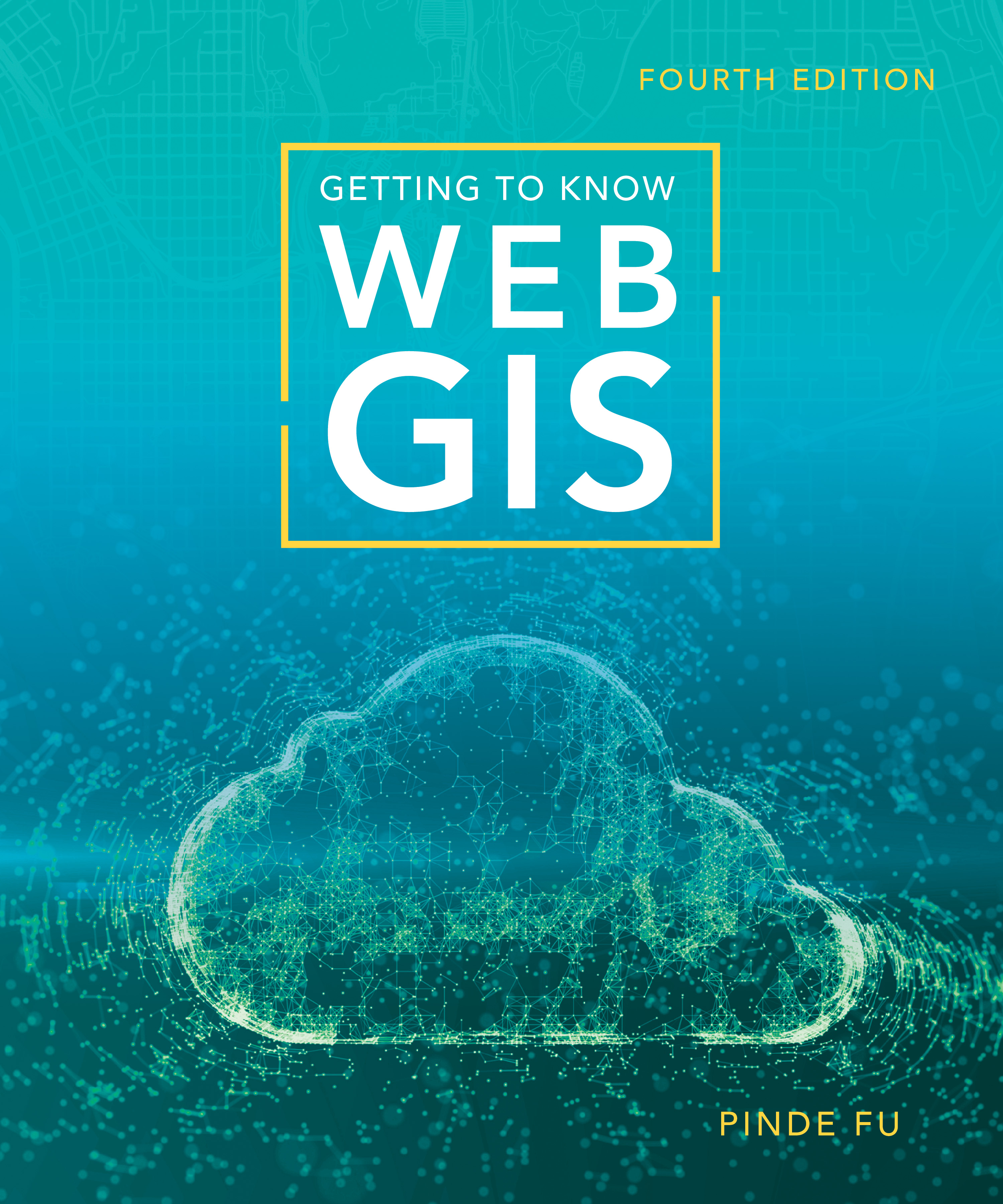 Getting to Know Web GIS, fourth edition The fourth edition of this popular title features how-to's for the latest advances in Esri's entire geospatial cloud. Includes new content and tutorials about ArcGIS Experience Builder, ArcGIS QuickCapture, the new Map Viewer, the new ArcGIS StoryMaps, ArcGIS Notebooks, ArcGIS Analytics for IoT, ArcGIS Indoors, and ArcGIS Tracker, as well as, discussions about IA, AR, and VR. Students need no previous programming experience.
This book is the result of the author's extensive working experience at Esri and teaching experience at Harvard University Extension, University of Redlands, Henan University, University of California at Riverside, and University of Texas at Dallas.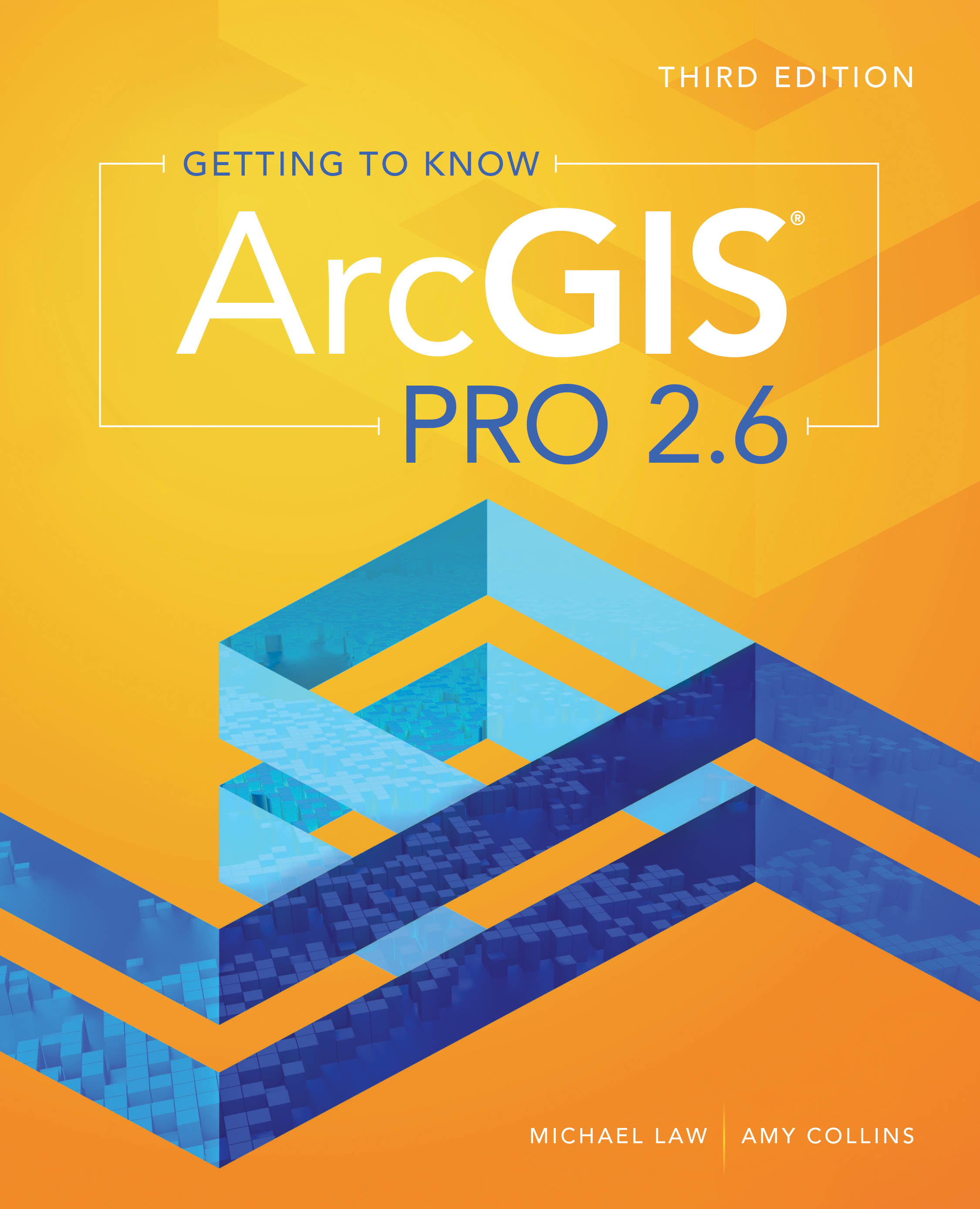 Getting to Know ArcGIS Pro 2.6 Updated to ArcGIS Pro 2.6, this book introduces the basic tools and capabilities of ArcGIS Pro through practical project workflows that demonstrate best practices for productivity. Explore spatial relationships, building a geodatabase, 3D GIS, project presentation, and more. Learn how to navigate ArcGIS Pro and ArcGIS Online by visualizing, querying, creating, editing, analyzing, and presenting geospatial data in both 2D and 3D environments. Using figures to show each step, Getting to Know ArcGIS Pro 2.6 demystifies complicated process like developing a geoprocessing model, using Python to write a script tool, and the creation of space-time cubes. Cartographic techniques for both web and physical maps are included, as well as, 180-days access to ArcGIS Pro.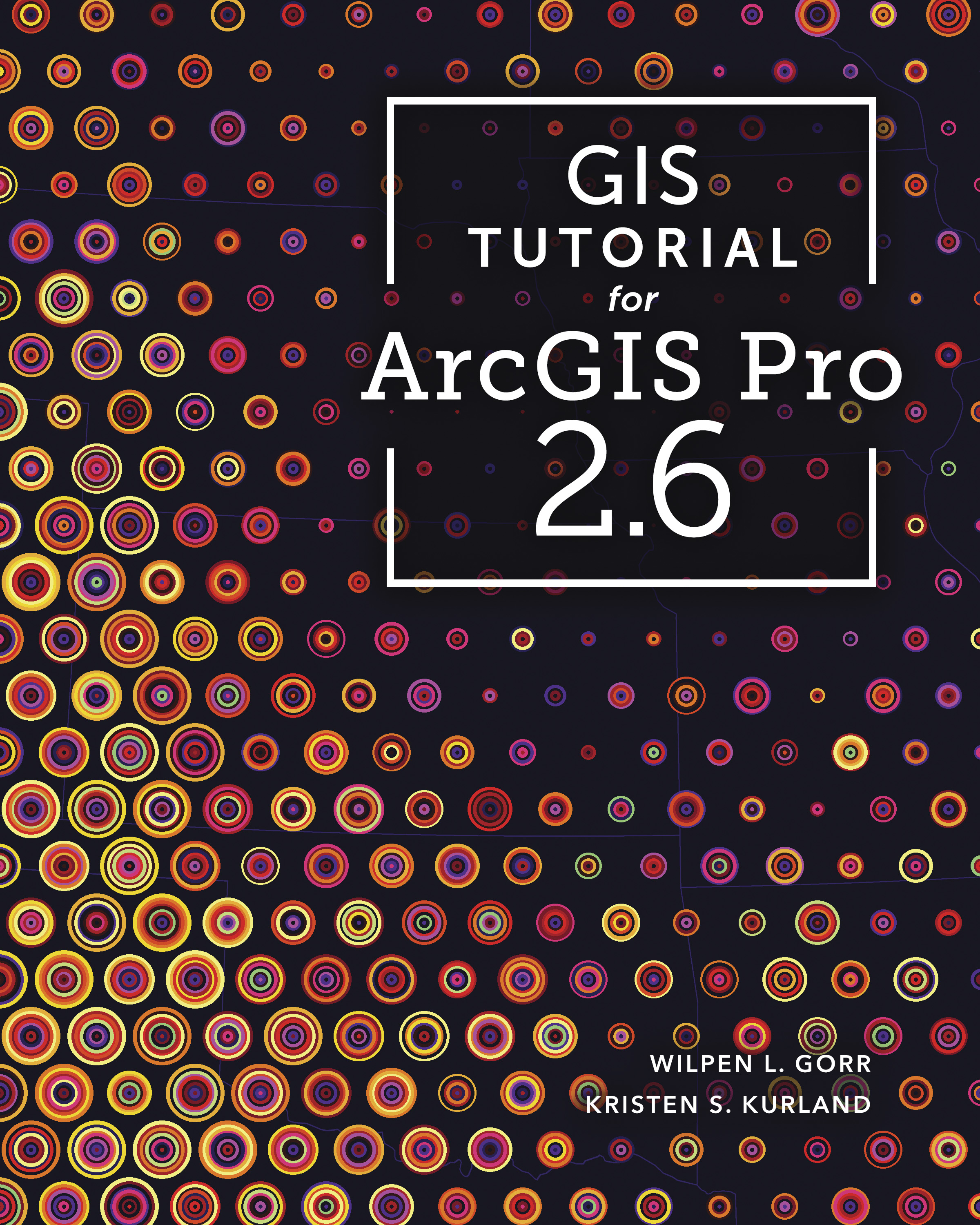 GIS Tutorial for ArcGIS Pro 2.6 Written by Carnegie Mellon professors, Wilpen L. Gorr and Kristen S. Kurland, this is an introductory text for learning ArcGIS Pro that shows users how to make maps, how to create and analyze spatial data, and how to manage systems with GIS, shown through a series of lessons and exercises that user ArcGIS Pro, ArcGIS Online, and other ArcGIS apps. Includes teacher resources, including free downloadable video lectures and lecture slides covering the entire book.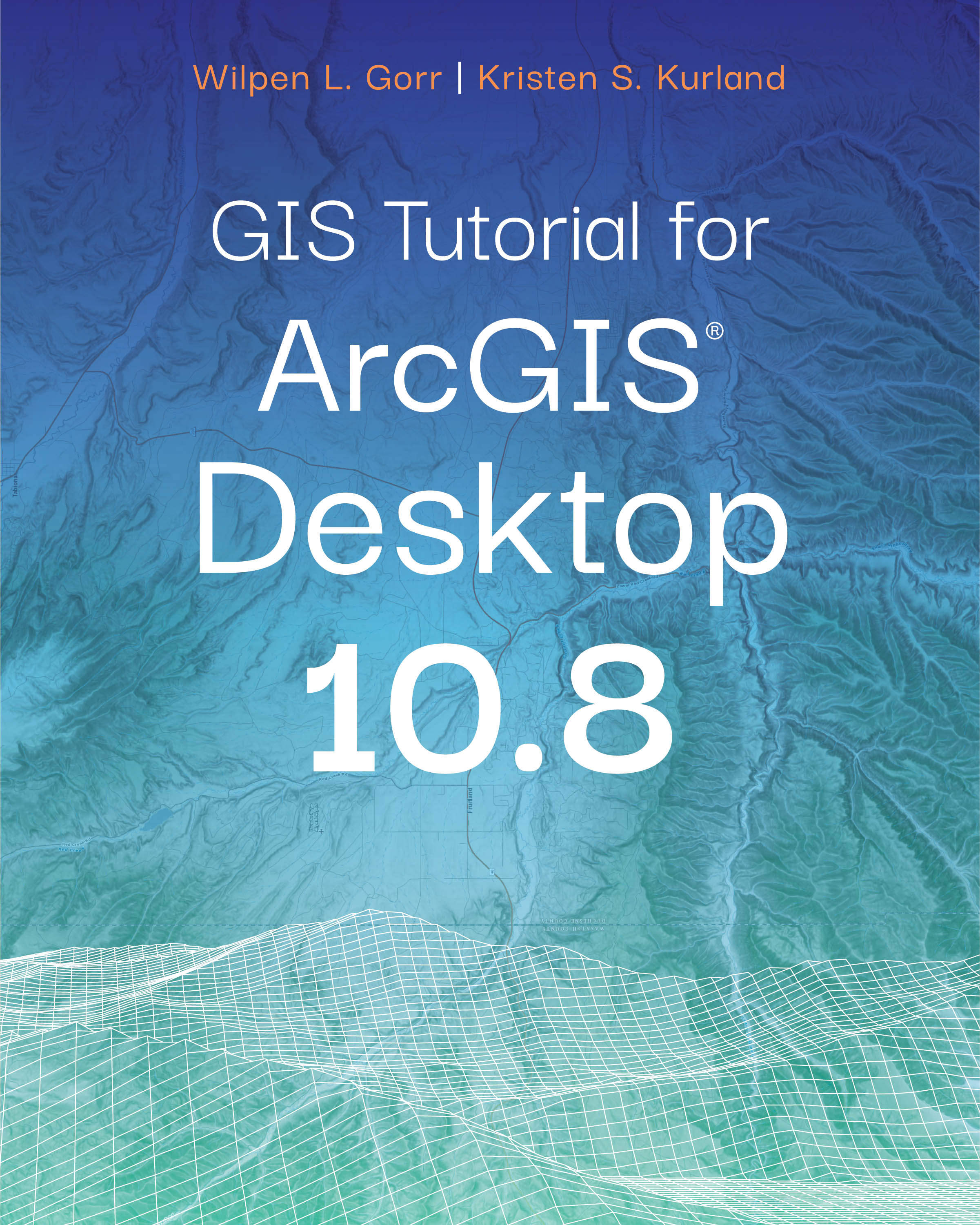 GIS Tutorial for ArcGIS Desktop 10.8 Also written by Gorr and Kurland, this book focuses on ArcMap tools and functionality. Readers use and make maps, work with spatial data, then analyze spatial data doing proximity analysis, site suitability analysis and cluster analysis. They also get hands-on experience using the ArcGIS Desktop 3D Analyst, Spatial Analyst, and Network Analyst extensions. Includes 180-days access to ArcGIS Desktop.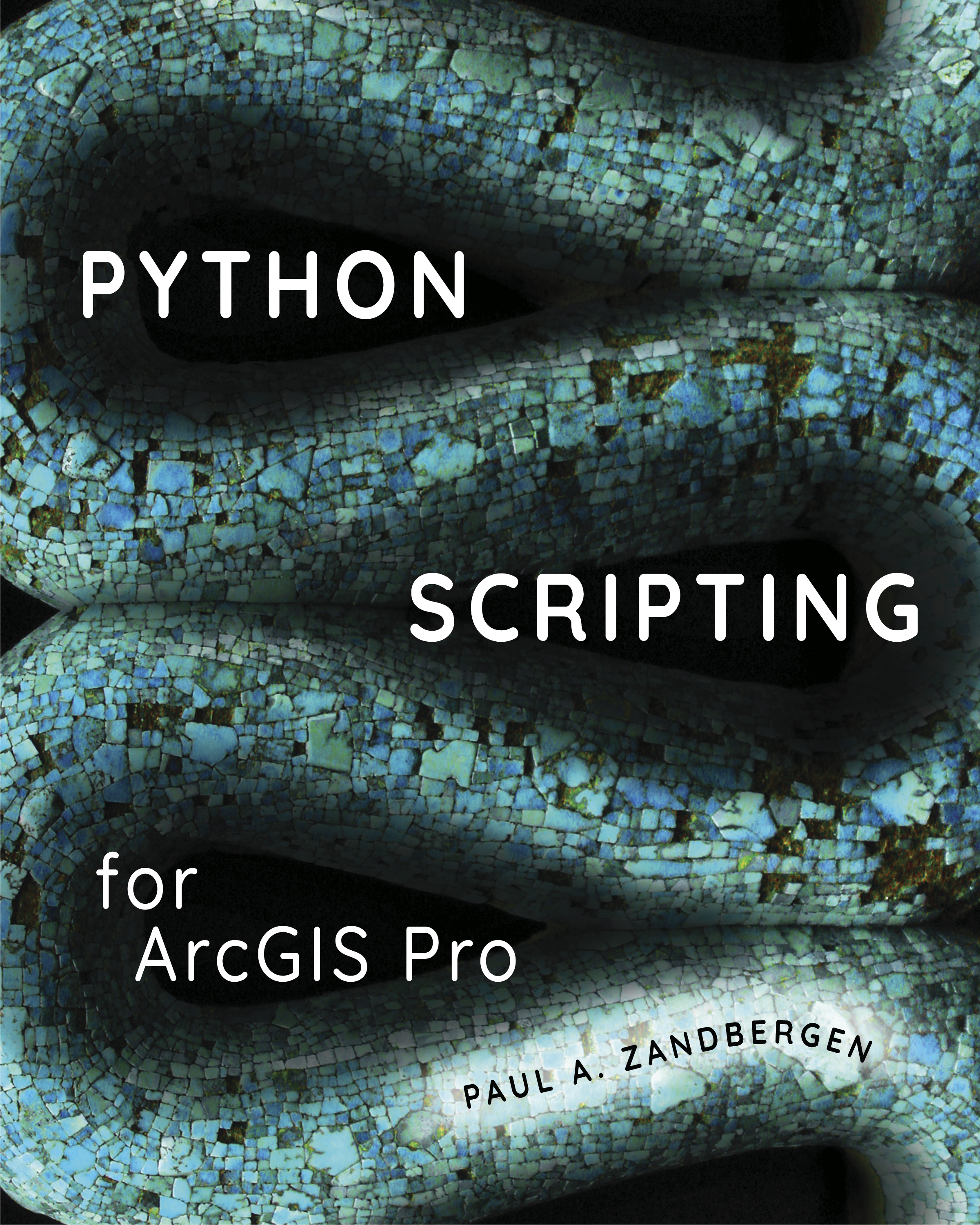 Python Scripting for ArcGIS Pro This is the definitive guide to writing Python code to solve problems and increase your productivity in ArcGIS Pro, whether you're new to programming or not.
For experienced ArcGIS Pro users who want to learn Python but lack scripting experience, Python Scripting for ArcGIS Pro steps readers from understanding the difference between programming and scripting to automating tasks in ArcGIS Pro. Imagine creating a way to easily convert 1,000 shapefiles into feature classes in a geodatabase. In this book, you will.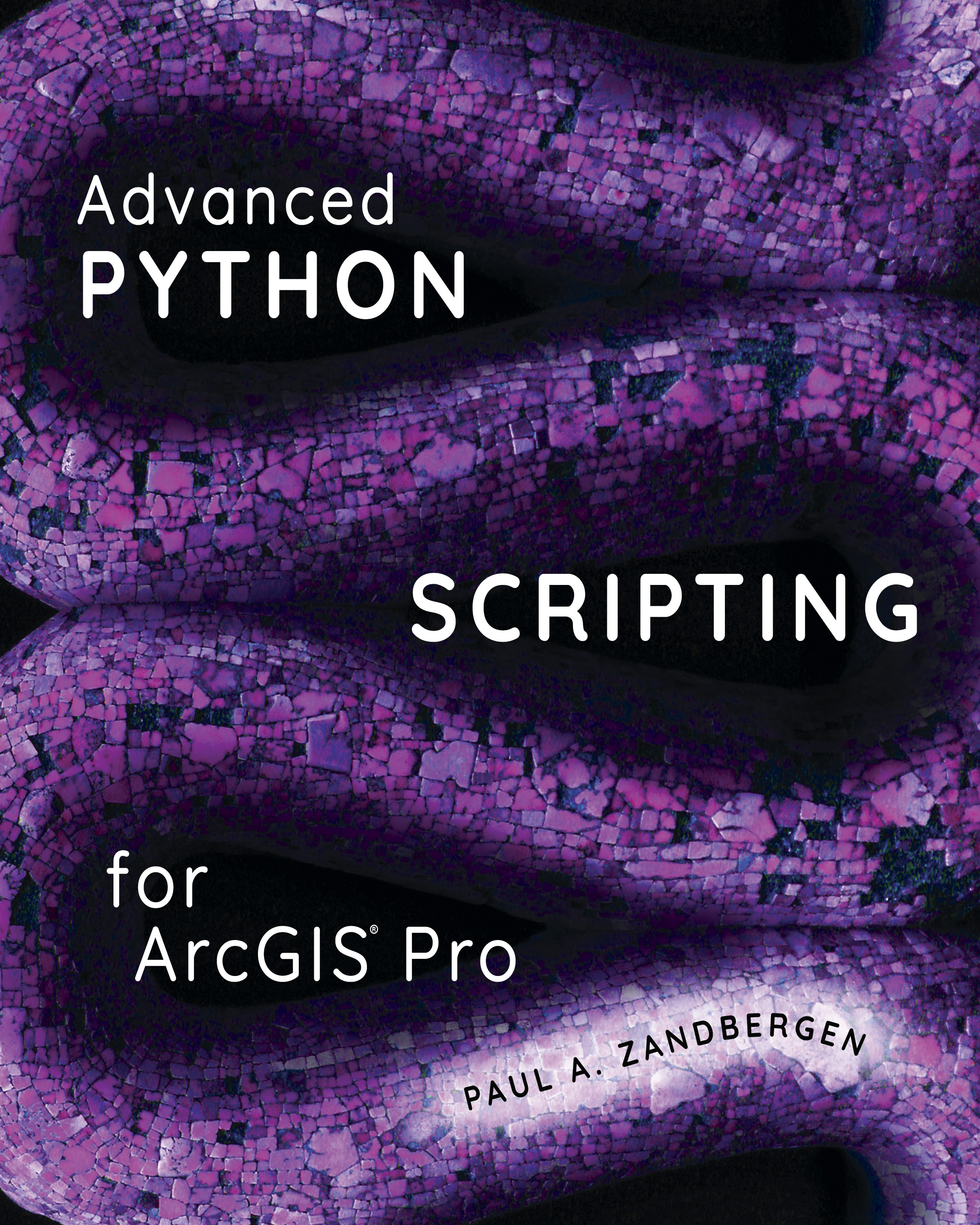 Advanced Python Scripting for ArcGIS Pro The natural next step for those who have the skills developed in the foundational book, Python Scripting for ArcGIS Pro, this book guides readers in creating script tools and Python toolboxes; sharing tools with others; managing packages using conda; using third-party packages other than ArcPy; migrating scripts and tools from ArcGIS Desktop 10.x to ArcGIS Pro; and using the ArcGIS API for Python and Jupyter Notebook.
Women and GIS, Volume 2: Stars of Spatial Science As science, technology, engineering, and mathematics (STEM) disciplines continue to advance and shape people's understanding of the world, so, too, do women who take charge and use new research and methodologies to make big changes. In this book, with a foreword by Jane Goodall, planetary scientists, civil engineers, entrepreneurs, urban planners, and others push past challenges to become inspirational leaders in their fields.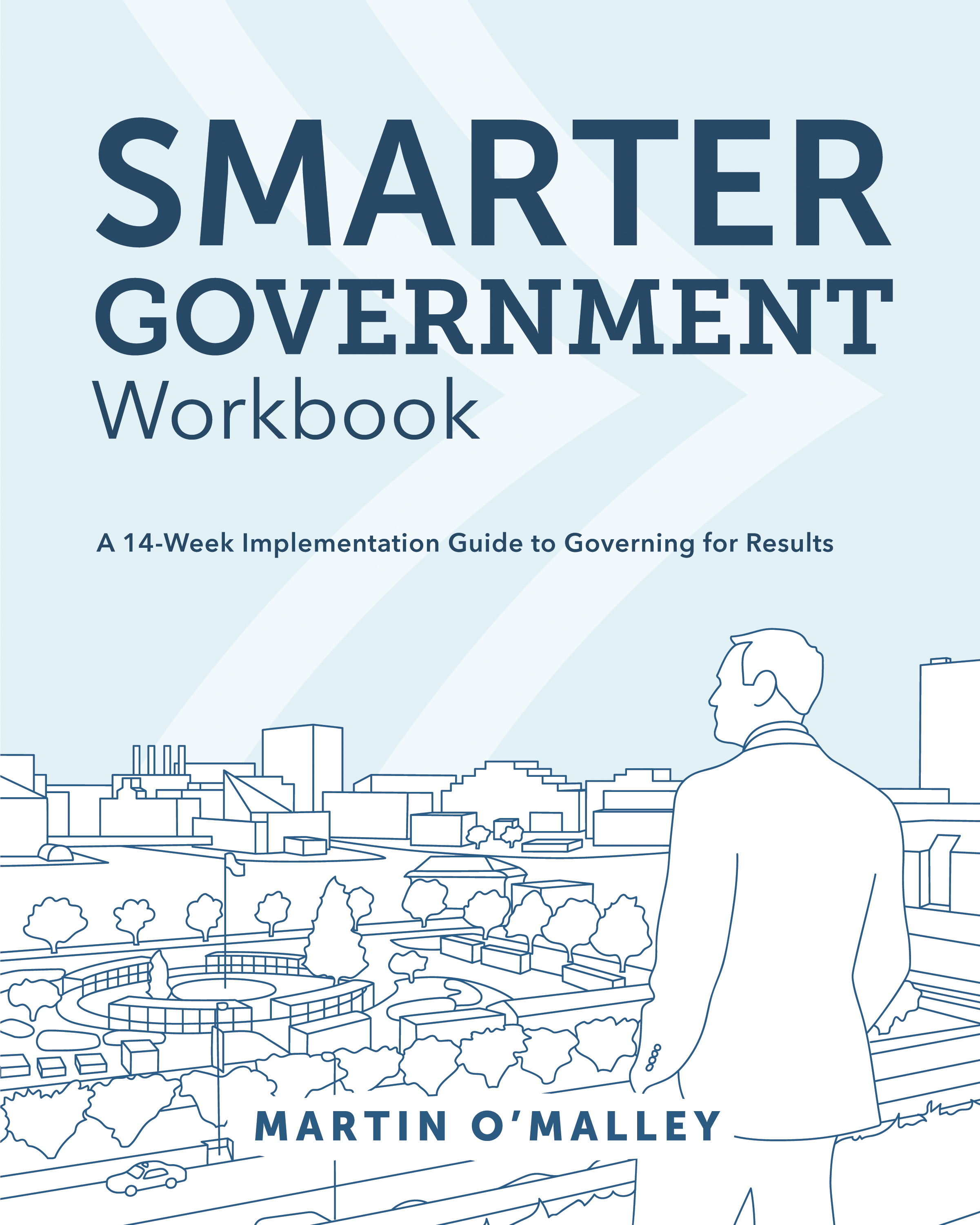 Smarter Government Workbook: A 14-week Implementation Guide to Governing for Results Great for public administration courses as a semester project. Written by former Maryland governor, Martin O'Malley, this book is the companion to Smarter Government: How to Govern for Results in the Information Age. It distills the lessons from that book into a practicable 14-week plan to achieve strategic performance management: Stat.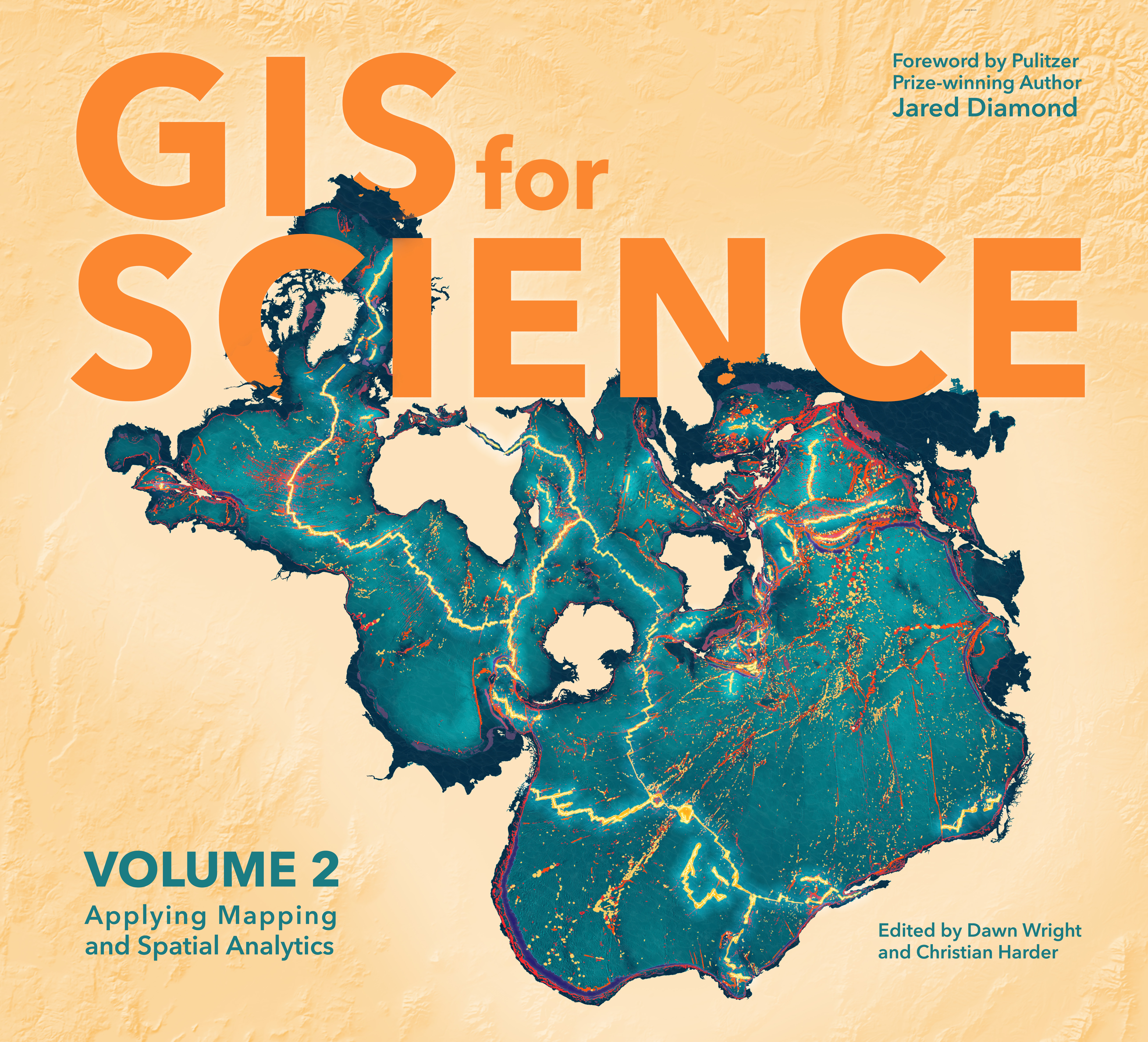 GIS for Science: Applying Mapping and Spatial Analytics, Volume 2
A collection of current, real-world examples of scientists using GIS and spatial data science to expand our understand of the world. Co-edited by Esri Chief Scientist Dawn Wright and Esri Technology Writer and Information Designer Christian Harder and with a foreword by Pulitzer Prize winner Jared Diamond, these case studies are part of a global effort to find ways to sustain a livable environment for all life on this planet.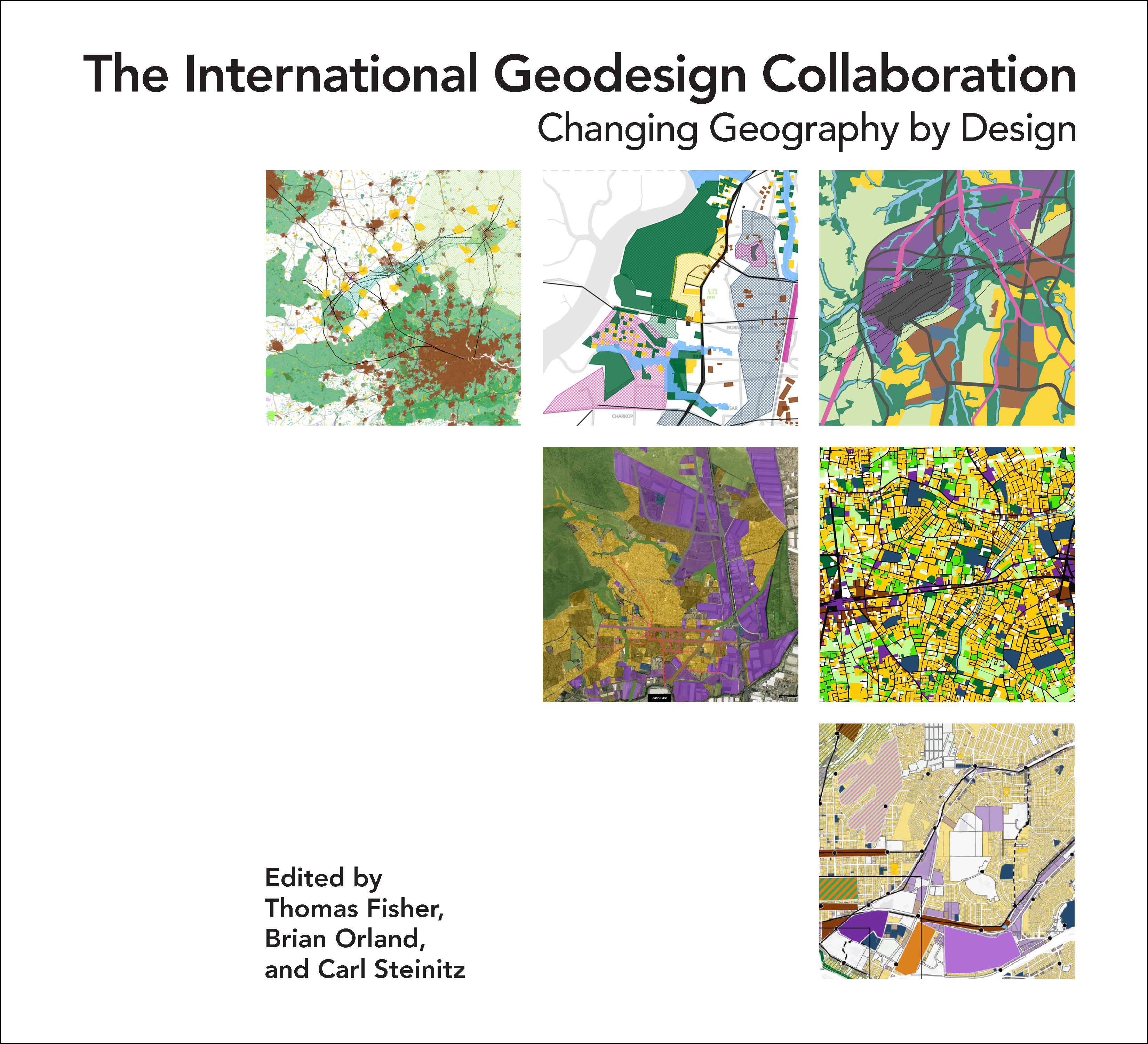 The International Geodesign Collaboration: Changing Geography by Design
Global social and environmental issues will increasingly become multiregional and multinational. Preparing for issues like the outcomes of climate change and population growth requires a diversity of approaches and collaboration among all stakeholders. The International Geodesign Collaboration: Changing Geography by Design shows how researchers, scientists, designers, and students from around the world can use common geodesign principles to work together on shared goals.
Other popular titles
While published before 2020, here are some other titles worthy of educators considering for course adoption.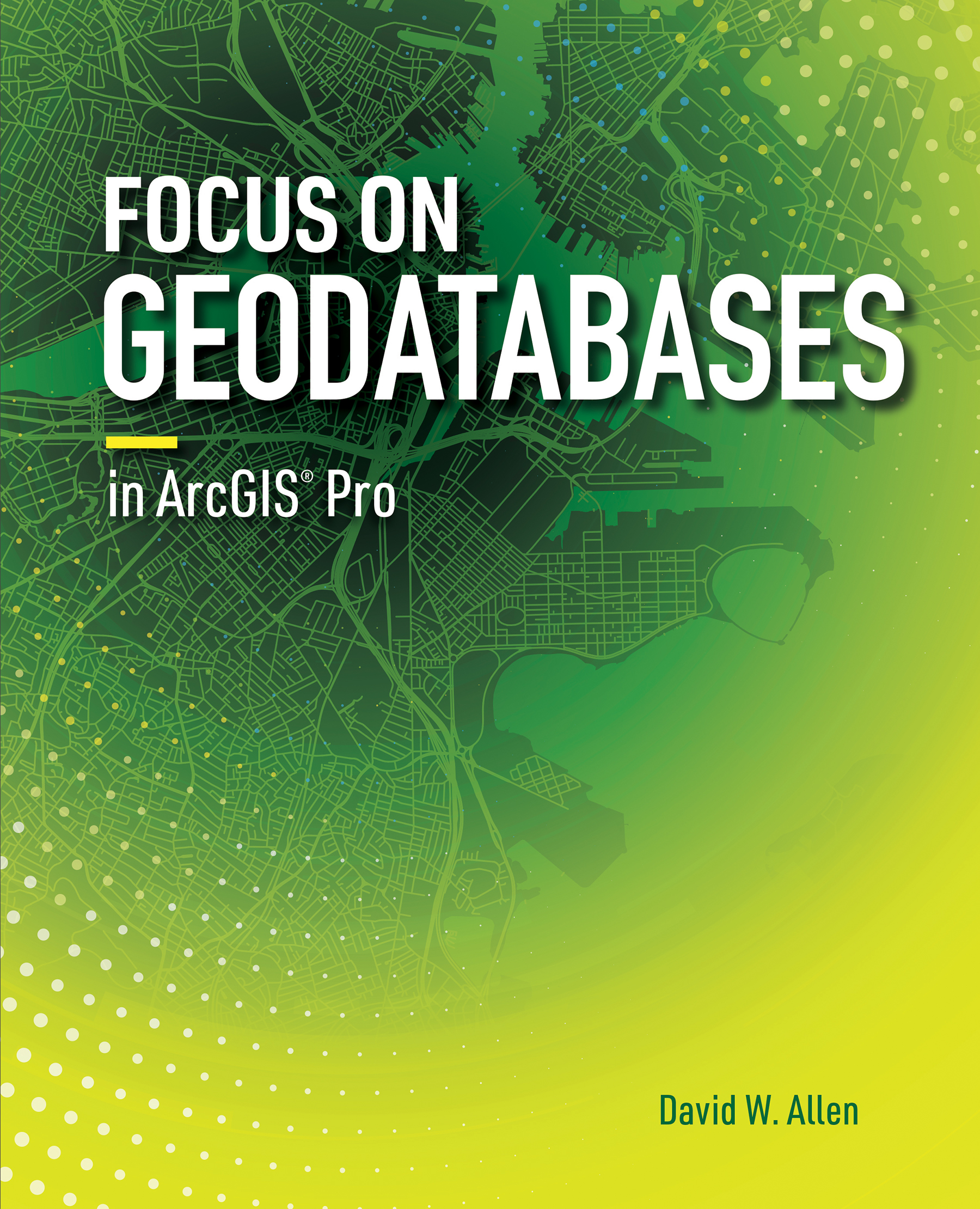 Focus on Geodatabases in ArcGIS Pro Carefully designing a geodatabase schema and building geodatabases that include data integrity rules will pay great rewards. Author David Allen steps readers through the process of creating the logical model, or schema, that is the foundation of a geodatabase; building and populating a geodatabase; extending data formats; creating and editing features; and working with topology.
This book is a great addition to any GIS best-practice library but is a particularly great complement to the end of an introductory GIS course. Instructor resources are available.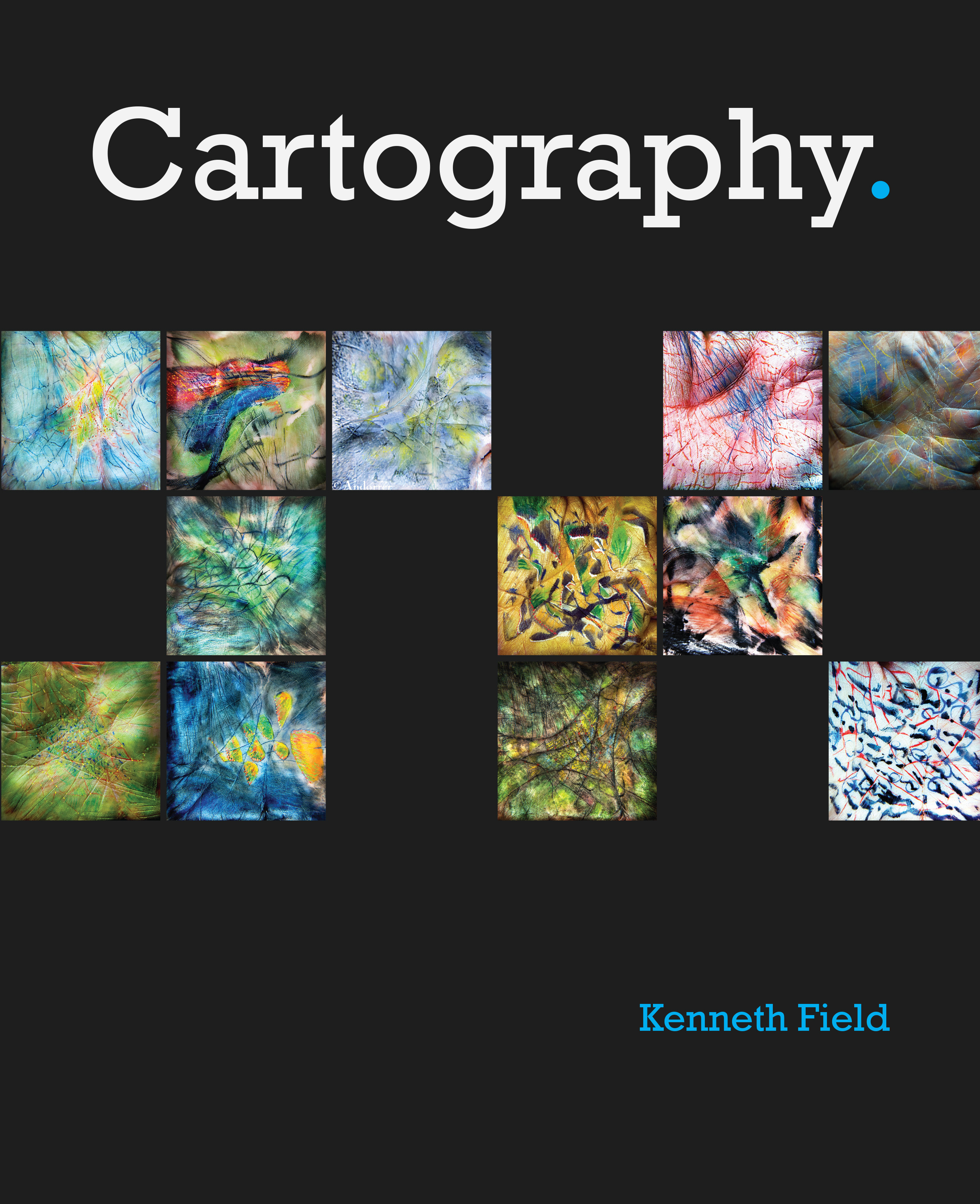 Cartography. Making maps has progressed from filling empty spaces with mythical creatures to trying to unravel the complexities in data to present meaning with clarity. This book sets out to demystify cartography and promote the idea that thinking is key. Maps are rich visual soups of many forms of graphical signage. Approaching mapmaking by thinking about what you want your map to say, how to build something meaningful from visual ingredients, how people read the graphical signage, and what emotions you want to spark is the magic needed to make a better map.
Unlike books targeted to deep scholarly discourse of cartographic theory, this book provides sound, visually compelling information that translates into practical and useful tools for modern mapmaking. A great reference for any student interested in refining their understanding of what makes a great map.
Want to know more?
See our 2020 new titles catalog for even more ideas for your future curriculum.
Stay informed: subscribe to the Esri Press newsletter to know quickly about new publications and other book news
Higher ed students at schools that lack an Esri Enterprise Agreement can, beginning September 1, 2020, register to receive one year of ArcGIS software access. Students should contact their college/university to find out whether they already have access to Esri software. More information about the one-year free access offer can be found here.
You must be a registered user to add a comment. If you've already registered, sign in. Otherwise, register and sign in.