by
GeriMiller

Esri Regular Contributor
Mark as New

Mark as Read

Bookmark

Subscribe
It is rewarding when one looks at innovative student projects. Below is an example of one such project, where the Insights for ArcGIS app was used by a student, Zach Matek, to visualize data in his Final Project in a Spatial Analytics course at Johns Hopkins University.
What was impressive from an instructor perspective, was the fact that Insights was not taught in this particular course (though it will be in the next offering). The Insights app was shared with the student as an option to explore on his own, seeing that it could be useful to his project, and he was able to quickly create a workbook and perform analytics to enhance his project - without any instructional guidance!
The use of the Insights app was a small part of the project, but it presented the data in a clear way. Zach, a part time student, works for RainKing Solutions, which is a market research firm that helps businesses identify likely buyers of technologies on global scale using predictive analytics and sales intelligence. The organization collects data on global corporations, and sells this data to companies in the Business-to-Business (B2B) marketplace. GIS of course can aid in this effort, and Zach is testing the technology in his current workspace.
Zach's project focused on one company, Salesforce.com, Inc., and aimed to examine the geographic behavior of its customers. Salesforce provides Software-as-a-Service (SaaS) and other cloud computing services to the globe and it is best known for its customer relationship management (CRM) platform. The data for this project was retrieved from RainKing's database, and attempted to address important questions applicable to several stakeholders, such as:
Are the instances of Salesforce's customers in statistically significant clusters?

Is there statistically significant clustering of customers based on certain weighted fields such as revenue, number of full-time employees, and IT budget?

Where is the median center of their customers?

Where is the center of their customers for each of the Census Bureau's four study regions –Northeast, Midwest, South, and West?
Below are some screenshots from Zach's workbook, please note that the interactivity of the maps and charts is lost in the screenshots - in a sense, the static nature of the screenshot does not do it justice. The live nature of the maps and charts, and the exploratory tools, was fantastic in the Insights app.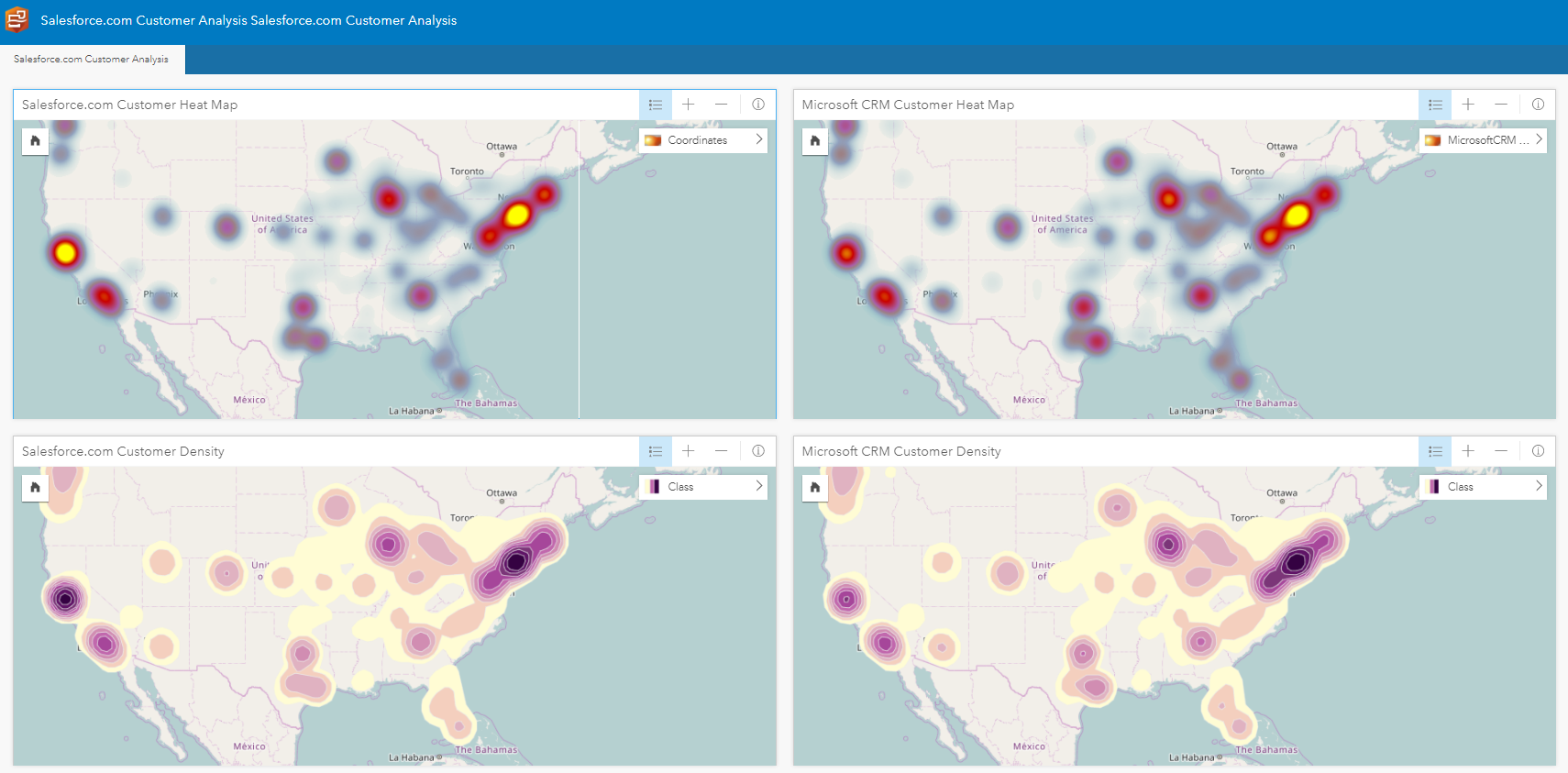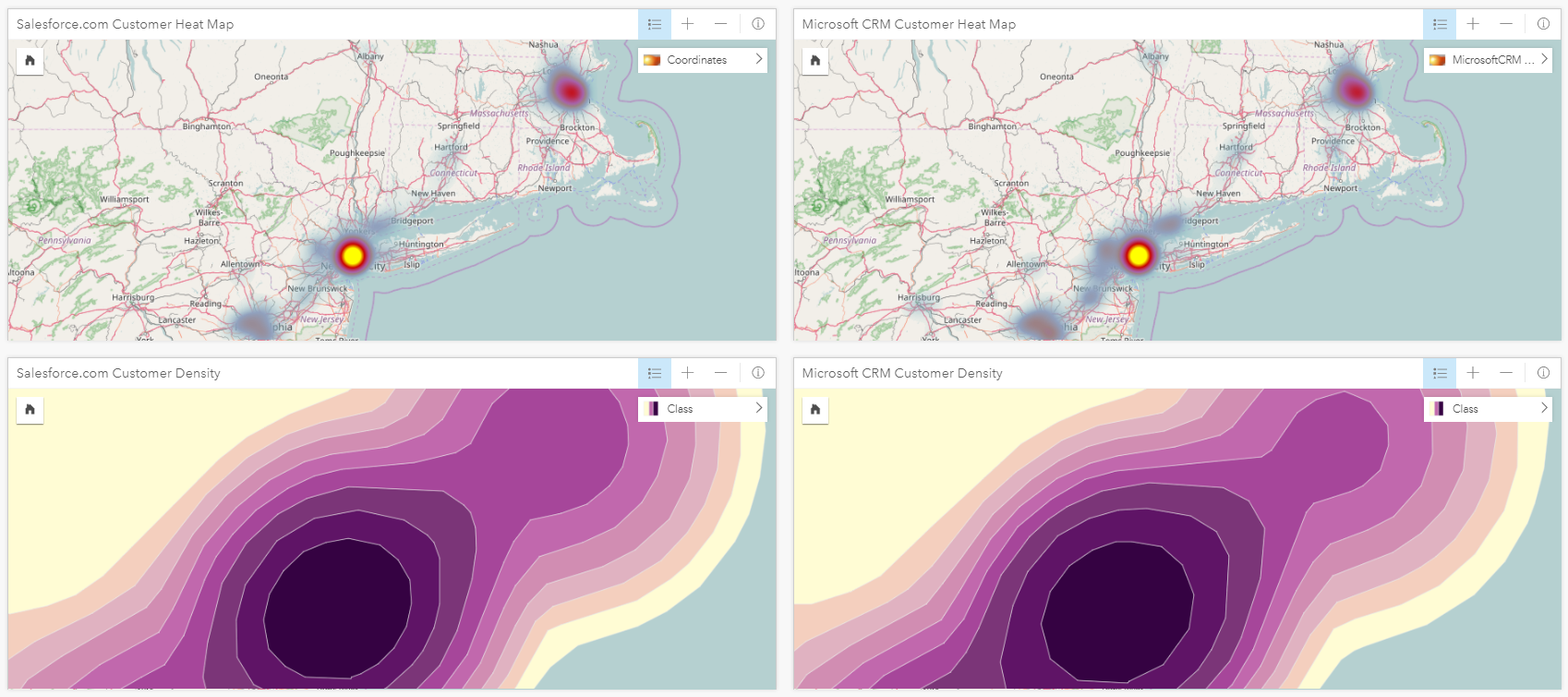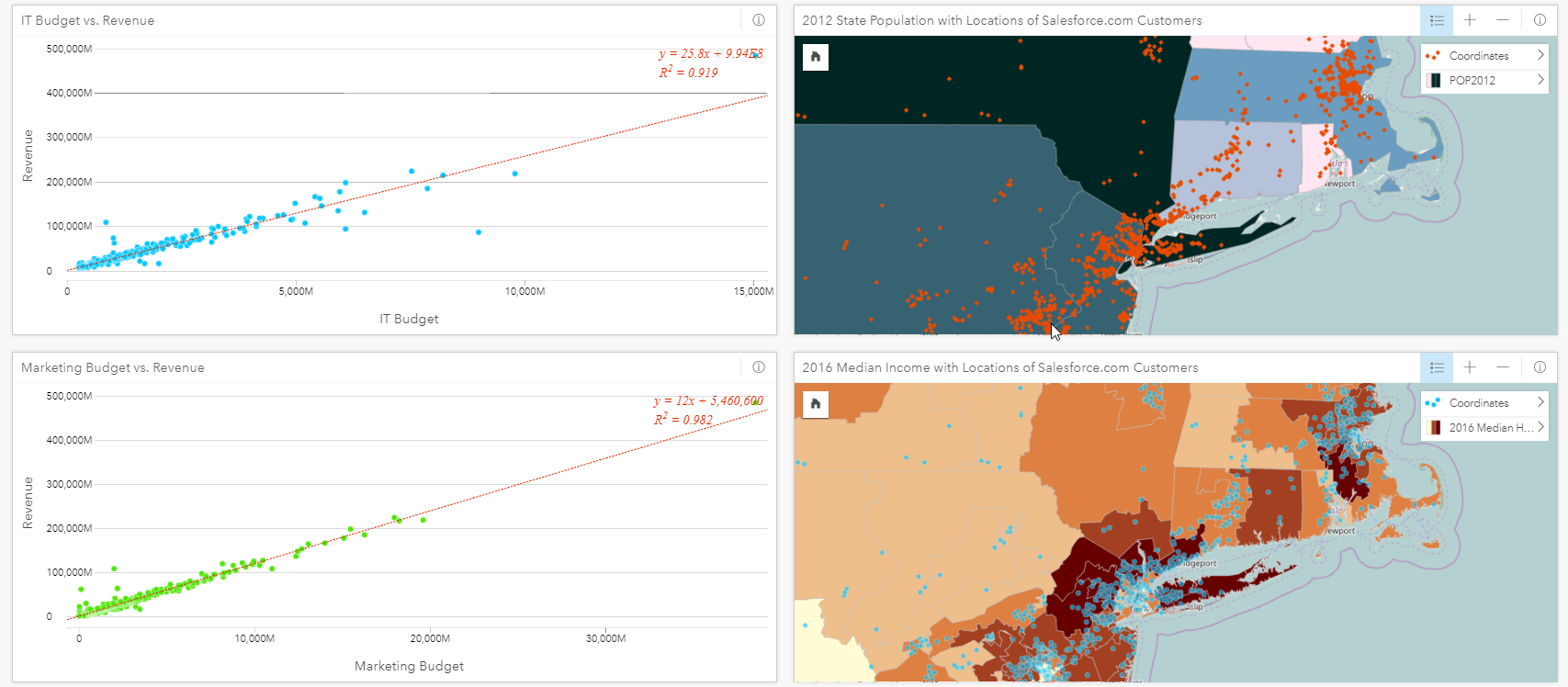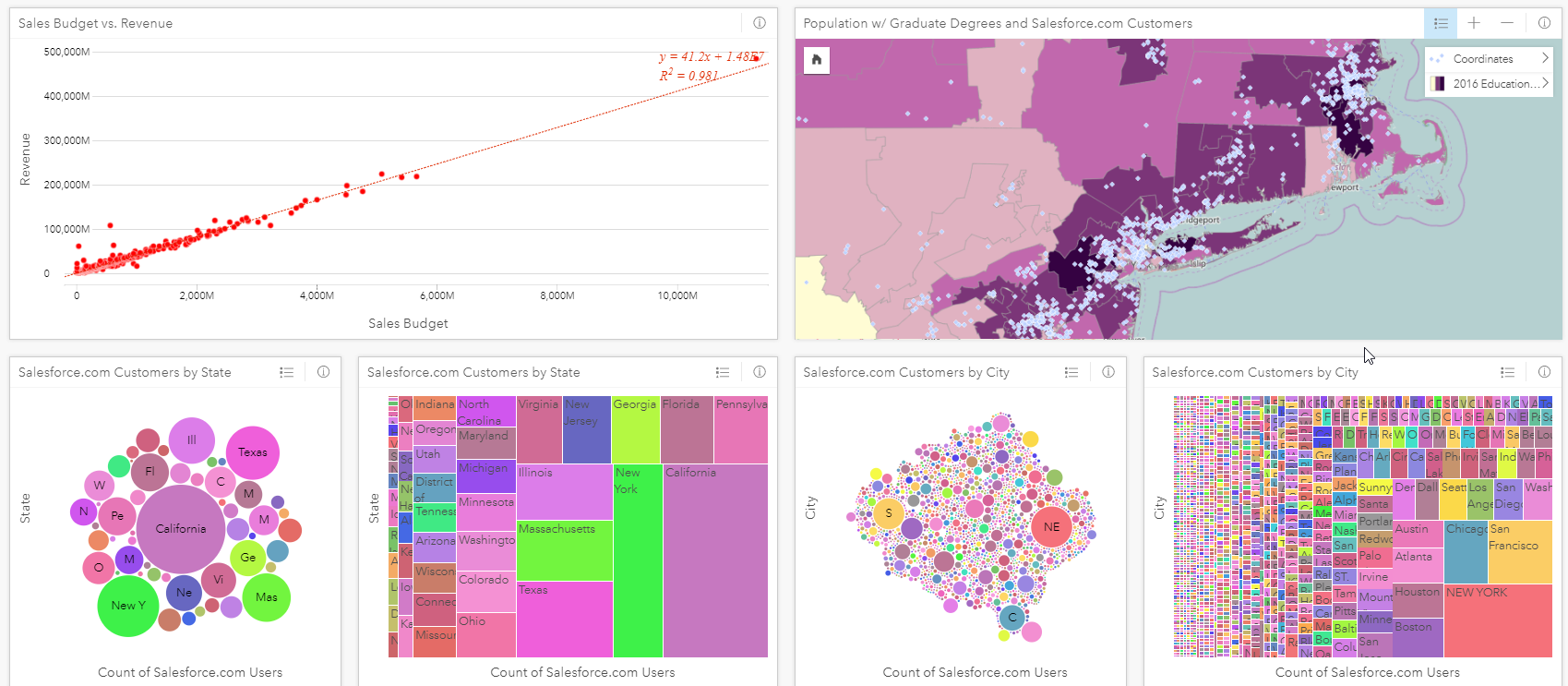 Zach's summary on the Insights workbook:
Salesforce data was exported from RainKing's CRM to a CSV file, which was used in the Insights app.

Data on Microsoft's CRM was exported from RainKing database and compared with Saleforce customers.

A heat map displayed locations of Salesforce customers, also showing similarity of distribution for Salesforce and Microsoft CRM

The Density of customers was measured using the Calculate Density tool.

Charts provide insight into the relationships between several variables:

Three scatter plots show the relationship between budgets (IT, Sales, and Marketing), and Revenue – all yield an R2 over 0.9, which is not surprising.

Four charts provide insight into the nature of the categorical data – through Bubble Chart and Tree Maps, the number of Salesforce customers is compared by state and city.

Salesforce customer data was compared with several demographic factors – 2012 State Population, 2016 Median Income, and the Population with Graduate Degrees.
Zach's feedback after using the app (his quote):
"I think Insights is really cool. It has the feel and aesthetics of ArcGIS Online, but the workflow is different than anything we've used, so I'm glad I got to try it out. I think it would be great to incorporate it into more courses. Especially since, it seems there's quite a bit of server side functionality one can use with it. Also, for a project like mine, where one is working mainly with data in a CSV format, it's really easy to upload and do some analysis. The charts were fun to toy around with, and there's so much demographic data available! It really is a perfect tool to use for business and retail data. "
Zach's project involved a lot more that what was shared above, but the ease of use of Insights and its applicability was joy to observe. He also created a video tutorial, to be shared in future courses or otherwise, attached here. Thank you, Zach!
Data Credits: RainKing Solutions
You must be a registered user to add a comment. If you've already registered, sign in. Otherwise, register and sign in.