Mark as New

Mark as Read

Bookmark

Subscribe
When you are using software, how do you know what is permitted and not permitted? The license tells you. Do you read the licenses for the software that you use? Do you read the licenses for the software that your students use? They are sometimes hard to find, sometimes use impenetrable language, and sometimes are presented only while you are doing setup, when poring through dense legal text is the last thing you want.
The ArcGIS School Bundle Summary should help educators, administrators, and students understand the basic "rules of the road" for working with the ArcGIS School Bundle, which Esri offers to schools at no cost for instruction. Some people have been confused about who can use it, and how, but this document should help. It is a two-page PDF, in "plain language," with icons to help users focus.
The ArcGIS School Bundle Summary is already presented to users at several points during the process of requesting, acquiring, and working with the Bundle, but we are making the Summary even more prominent. We want people to read it, understand it, and follow it.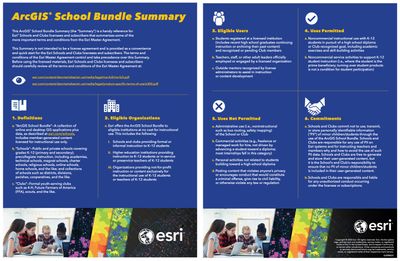 What should administrators of an existing ArcGIS School Bundle do if their software is already up and running, including their ArcGIS Online Organization and numerous user accounts? Read the Summary, understand it, help teachers and students understand it, and set a link to the document inside your Org so anyone who wants to know the rules of the road can do so.
Esri wants everyone in schools to use GIS to explore and understand the world. That's why we offer the ArcGIS School Bundle at no cost for instructional use. We want it to be clear that schools, districts, and youth clubs have a great opportunity to expand engagement and boost student learning about the complex world in which we live, using ArcGIS.
Questions about the ArcGIS School Bundle Summary? Email schools@esri.com.
You must be a registered user to add a comment. If you've already registered, sign in. Otherwise, register and sign in.