Mark as New

Mark as Read

Bookmark

Subscribe

Email to a Friend
The 2020-21 school year has been just awful for students, teachers, communities, and everyone, because of COVID-19. Despite that, the 2021 ArcGIS Online Competition for US High Schools and Middle Schools had the most participation in its five-year history, and many students conducted significant research and created interesting story maps. Complete contents from the event are available at the new ArcGIS Online Competition hub site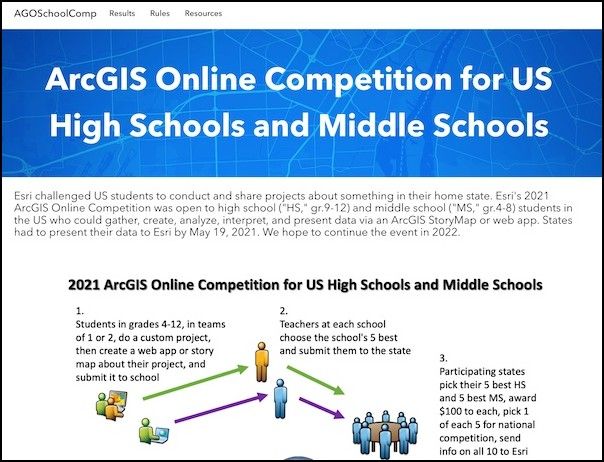 Out of 500 entries from high school (gr.9-12) and 145 entries from middle school (gr.4-8), two winners and two honorable mentions emerged:
High School Winner: Skye Lam
Bronx High School of Science (NY)
"Mapping the Green Book in New York City"
https://arcg.is/1vHG1b

HS HM: Cassandra Vongrej, Brigid McMahon
Marine Academy of Technology & Envir.Science (NJ)
"Analysis of Seagrass in Barnegat Bay"
https://arcg.is/1vTuGf0

Middle School Winner: Kei Handzic-Smith
Wydown Middle School (MO)
"Poverty and Food in St. Louis"
https://arcg.is/1afu1G0

MS HM: Titouan Chaligne, Luc Hoffman
Lycee Francais de New York (NY)
"Organic Food Consumption in NY State"
https://arcg.is/0iybLu
The works by these four national honorees are linked above, and with special pins on the map, though you'll have to zoom in to New York City to separate the two local honorees. These four, plus all other state winners -- 27 more at high school and 21 more at middle school -- have hotlinked images in their popups when you click on them. The creations by the other 83 high school and 56 middle school state awardees are also visible when you click the desired links in their popups. All 191 awardees earned $100 for their award-winning entries, and more than 400 other entries received consideration by teachers before some made it to state judging.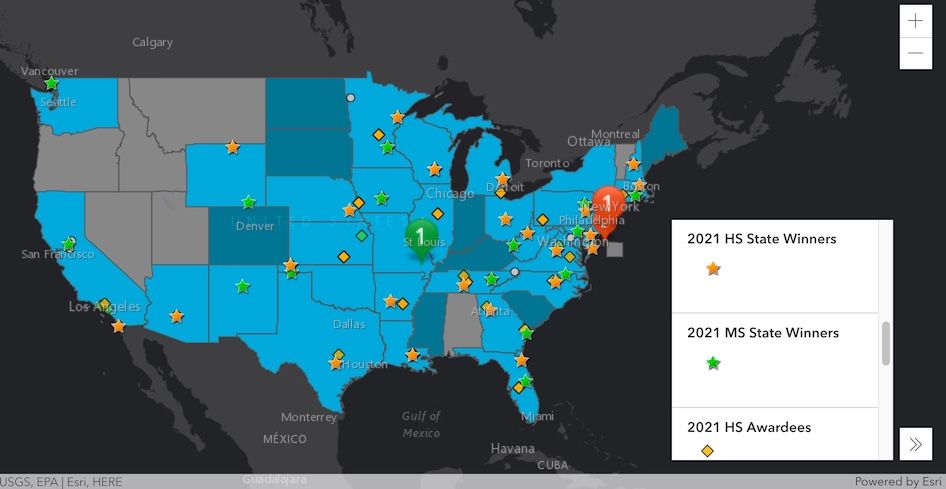 On the map, you can click on the states to see their participation and even revisit the state websites to learn more.
In emails, social media posts, articles, and live stories from teachers this year, I heard constantly how difficult the year was. Students were thus necessarily more on their own to discover, learn, and follow through. That some completed challenging projects is a testament to their fortitude, capacity, and grit. Hopefully, the sand in the gears of life and school is drifting away, and we can all breathe a little easier in the 2021-22 school year.
But we can still celebrate the powerful work that some were able to accomplish. We will use the monthly webinar of our educator network "Teachers Teaching Teachers GIS" (T3G) to hear from the national winner students and some educators. It is a publicly accessible event (registration required), and the recording will be available after. Join us Thursday June 17, 5-6pmPDT (= 8-9pmEDT), for the 2021 ArcGIS Online Competition Wrap-up webinar. See "https://esriurl.com/t3g >> Webinars" for the registration link.
You must be a registered user to add a comment. If you've already registered, sign in. Otherwise, register and sign in.