Mark as New

Mark as Read

Bookmark

Subscribe
Doing powerful things with basic tools is far more impressive than doing basic things with powerful tools. Dramatic results can come from even a wee bit of well-crafted field work. And good projects can become great by engaging the power of GIS. These were just three lessons demonstrated by the school group on stage during the Monday plenary of the 2019 Esri User Conference. Before a registered attendance of 19,000, students from the small town of Lurgan in Northern Ireland, as part of the Shared Education Project, demonstrated these and other lessons for teachers everywhere, all while showing nations across the world that historic differences can be overcome.
(If you did not see the session live and have not seen the video, please watch it now before continuing.)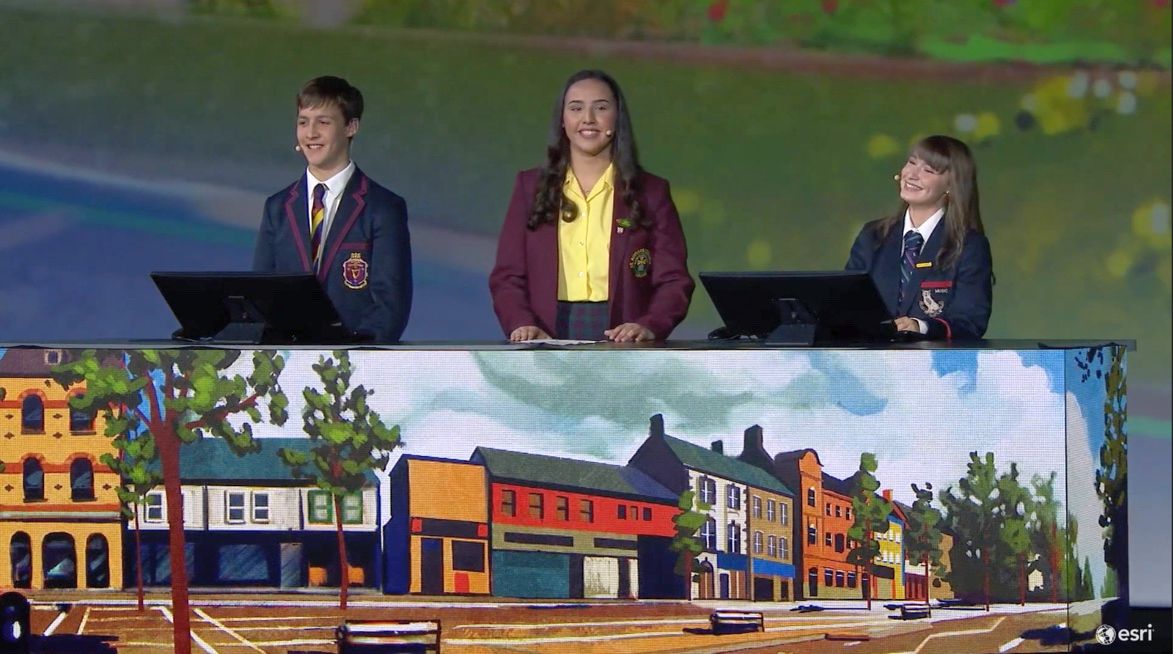 For a few hours on a cold winter day, geography teachers from three schools took 45 students on a bus around town to visit 15 sites, where students were to record two pieces of sentiment data, their school name, a photo of the site, and maybe some thoughts for improving things. The students -- from a Catholic school for ages 11-18, a mostly Protestant school for ages 11-14, and a mostly Protestant school for ages 14-18 -- collected 475 entries, using their phones and a simple survey. They returned to one school and looked at the data together.
The facts above could be replicated by most schools: What do students think about their community? Giving students the permission to share their thoughts and feelings is an important practice by itself. But for greatest benefit, educators must craft the experience carefully, asking clear questions and making it easy for participants to generate good data. Then, explore the patterns and relationships, going beyond the simplistic to tease out the full richness that geographic analysis illuminates.
The skills detectable in this story are legion: project architecture including thoughtful geographic consideration; database design; technological preparation (here, instruction on how to access and use the survey); careful data gathering; exploration of the raw data; in-depth interrogation, geographic analysis, and interpretation of data; and planning of next steps. All these students participated in a life-altering experience, in a single day. They learned powerful lessons, going far beyond what might have come from "just another typical day in class," which will influence their lives and ripple far beyond, for decades.
Good teachers, designing activities to engage students in powerful ways, and employing the tools and practices of geographic analysis, can work what seem miracles. Every school has the chance to engage these GIS tools for free, and every GIS professional can help nearby educators learn to do such projects. Imagine a world where the differences we share are understood. Let's build it, together. As the video notes, "these students are not our tomorrow … they are our today."
You must be a registered user to add a comment. If you've already registered, sign in. Otherwise, register and sign in.