Mark as New

Mark as Read

Bookmark

Subscribe
For over 25 years, students in school have learned "standard classroom content" using GIS. Some have honed their skills further through research projects as club activities, or submitted independent work to competitions. And students in elementary, middle, and high school have engaged in service projects, making a real difference in their communities. Occasionally, students have parlayed those skills into advanced personal opportunities. For 15 years, 12th graders in Virginia's "Geospatial Semester" have earned college credit through a GIS elective class. Similarly, Hopeworks in Camden NJ has included GIS as an option in their training program. But it has been hard to find a situation in which multiple students stepped in, studied the technology on their own initiative, learned enough to seek an internship, and used that as a springboard into a job ... until now.
Michigan's GRACE project is a statewide, multi-tiered effort consciously leveraging the software and training resources made available by Esri for free to any school. GRACE builds capacity among both teachers and students, with a special emphasis on getting students to climb a ladder toward internships. This has succeeded in locations across the state, with dozens of students getting multi-week paid internships. But in one location, it has gone farther, with students now in the local workforce, working steady part-time jobs as paid GIS technicians.
Head south from Detroit toward Toledo, Ohio, and before crossing the border you are in Monroe County. At Monroe High School, science teacher Russell Columbus had used GIS with students for over a decade, interacting with a county GIS manager early on to get some data. As a GRACE leader, Columbus posted flyers in school about internship possibilities, and handled inquiries. Students would be responsible for completing a set of Esri Training courses online, totaling over 30 hours, on their own, but following a pathway with suggested milestones. After students had earned the required course certificates, they prepared for interviews, which went well enough for several to earn paid internships, as had been happening across the state. But in Monroe, several student experiences were positive enough for both host and intern that all agreed to extend them into steady jobs for the county.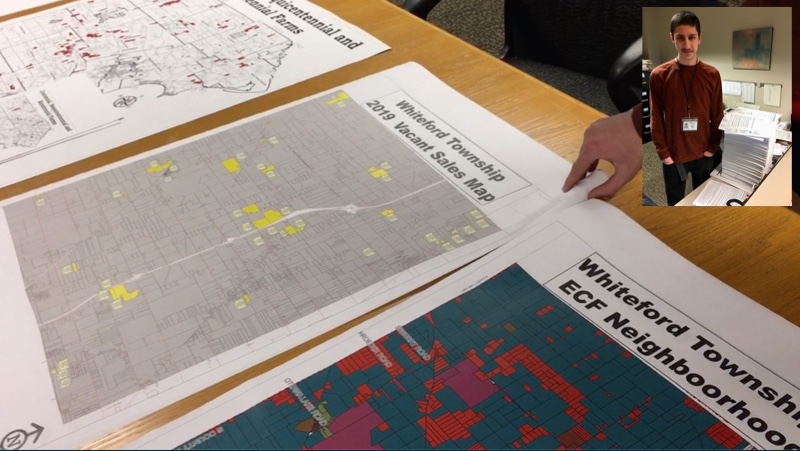 (Main: Monroe County maps using data from interns.
Inset: Vitale and stack of >4000 edited parcels.)
With a growing supply of local GIS talent, Jeff Boudrie, the GIS manager for the Planning Commission of Monroe County, says "We can now handle things that benefit the entire county ... work we couldn't do before because we didn't have the data." The students have been building the parcel map for the county, handling thousands of records, which in turn has supported numerous projects of economic value to individual citizens, communities, and the county. Now, other groups are adding interns, and Monroe County is able to help communities lacking their own trained local GIS workforce. Student/intern/employee Donovan Vitale will graduate from high school this year with almost three years of steady professional work experience, with the components of a digital portfolio that will turn heads, and a deep understanding of the complex relationships between land, laws, policy, data, transparency, publicity, and community development. (See this profile of the Monroe County story in Directions Magazine, and this webinar about the GRACE Project including interviews with GRACE leaders plus [starting at 20:00] Boudrie and Vitale.)
Students building skills sufficient to mold for themselves a future and even a career with GIS is a vision many people share. It can indeed happen, where students are responsible for their own learning, adults support introductory workplace experiences, and there are at least a few in the right places who grasp how GIS can galvanize problem-solving. There is a vast bank of work that schools and districts, plus business, government, and the non-profit sector, would like to have done. High school students are largely tech-savvy, willing to engage, and have "disposable time." Communities everywhere seeking opportunity to improve would benefit by spending an hour investigating the links, and deciding if they too can follow a treasure map.
You must be a registered user to add a comment. If you've already registered, sign in. Otherwise, register and sign in.