Mark as New

Mark as Read

Bookmark

Subscribe
Results are in for the 2018 ArcGIS Online Competition for High School and Middle School students! Congratulations to the national winners and honorable mentions at both levels, and to the 34 other state winners competing for the grand prize -- a trip to the 2018 Esri Education Summit. Congratulations also to the 101 other awardees who, just like the state and national winners, each earned $100.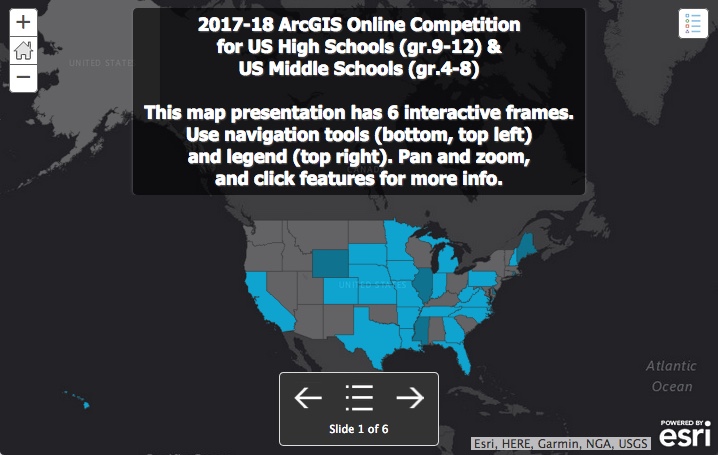 The displays and documentation of all 137 awardees are visible to the public, via an ArcGIS Online Map Viewer Presentation, with six frames. For both HS and MS, the national winner and honorable mention projects were very good, about very different topics, with very different approaches, so see both their Story Maps and documentation. The other state winners at each level reinforce the breadth of topics and approaches available to anyone.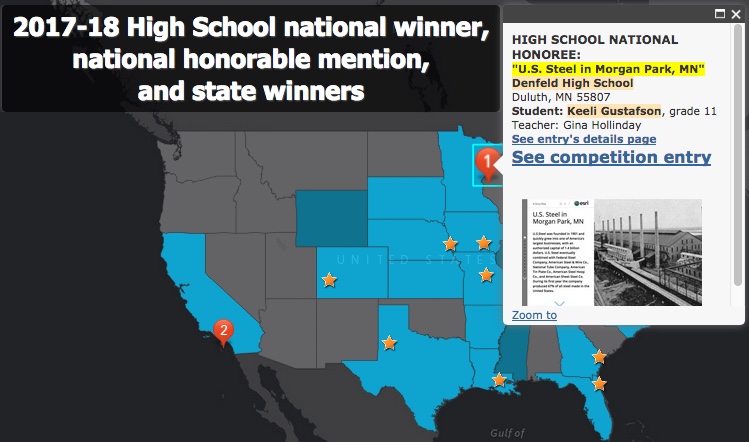 The competition did not require teachers to allocate significant in-class time or instruction, although some did provide it. With the array of instructional resources freely available, students can learn a lot on their own, but they need that first exposure to the technology, and need an account with which to explore, build, save, and share. Esri offers all schools and clubs free instructional accounts, plus lots of classroom-ready content and project starters, and links to local mentors (see Map#4) and instructional opportunities (see Maps #6 and #7), so there is no reason for any student to be left out.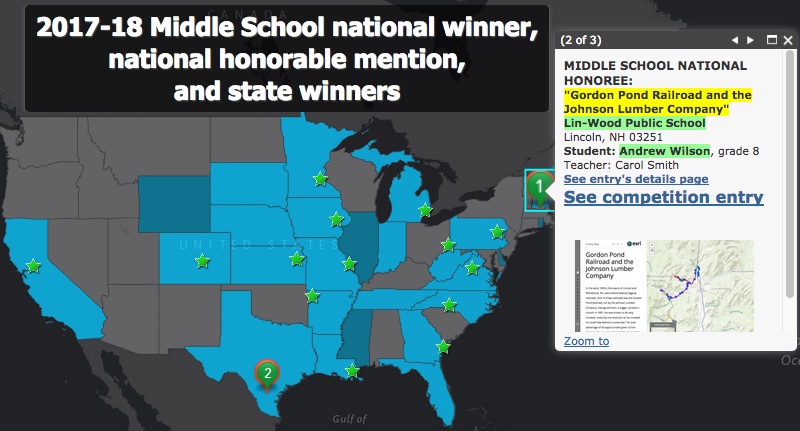 In 2018, 28 states participated. In the 22 states receiving entries, 126 came from 46 high schools, and 180 entries came from 41 middle schools. Of the 306 total submissions nationally, a third happened in just one state -- Minnesota. Think what students will show when all states actively support students investigating and reporting on their world, thinking critically and making a difference, using GIS. Start working now to support the 2019 ArcGIS Online Competition for HS+MS Students!
1 Comment
You must be a registered user to add a comment. If you've already registered, sign in. Otherwise, register and sign in.