Mark as New

Mark as Read

Bookmark

Subscribe
"Workforce" is a prominent topic for state governors; every state is concerned about employability of young people after school … and even during school. And, every year, at Esri's User Conference, some GIS-using professional at a business, non-profit group, or government agency will mention to me the challenge they face "finding people with the right skills … even the beginning skills needed …" to work for them. Digging deeper, with governors and with GIS professionals, two skill sets appear: (a) job-specific fundamentals, and (b) "soft skills" of being a reliable worker, collaborating, working independently, communicating, making decisions and solving problems, being adaptable, thinking creatively, and seeking help when needed. I smile because all of these can be developed with "long-term" experience with GIS.
How do you document these things? A lot of schools run "Career and Technical Education" (CTE) courses that help students learn fundamentals in a line of work … cosmetology, public safety, diesel engines, biomedicine, network administration, GIS. Many of these courses involve independent tests on established principles, latest patterns, and current technology.
Esri offers certification about Esri software. But even the most basic -- "ArcGIS Desktop Entry Level" -- is no slouch of an exam. It is designed for GIS users with up to two years of applied experience. I can vouch for the breadth of its coverage; I took the Desktop Entry 10.5 exam a couple of weeks ago. The published info shows that it includes content about ArcMap, ArcGIS Pro, ArcGIS Online, and even ArcGIS Enterprise. The Certification Team has presented enough for someone to do a critical self-check about their readiness. Given the $225 cost of each exam, scouring these materials is time well-spent.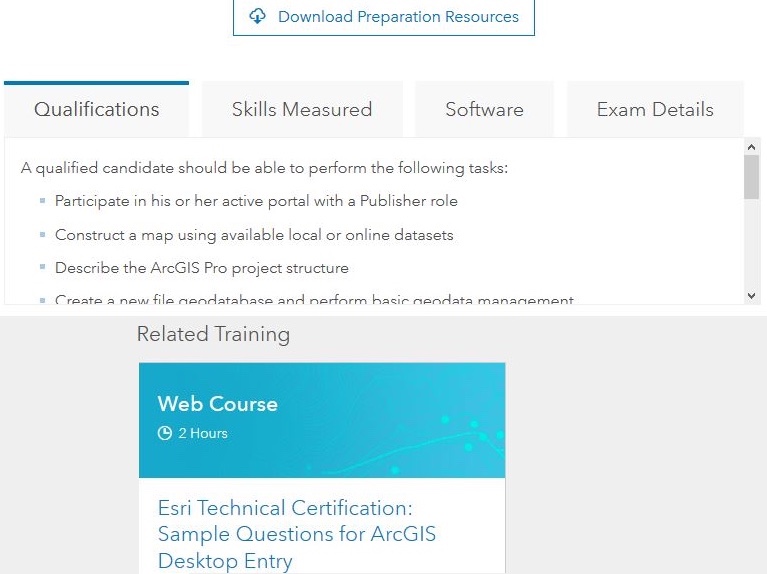 Should secondary students take this exam? It is absolutely not designed for them. There are significant legal and logistical challenges to overcome before one can take the exam. Minors must complete additional paperwork weeks ahead. Still, some educators have steered their students toward it. There is a frightfully low likelihood that a high school student even with two years of hour-per-day classes will pass. (Again, the course was designed for the entry-level professional with up to two years … 4000 hours … of applied experience.)
Should educators take the exam? This makes much more sense, especially in a CTE class. Just as high school teachers get "content certified," it makes sense to earn a software certification if one is teaching what would represent entry-level GIS jobs. It may help the educator (re-)discover the lightning pace of software evolution, the breadth of the ArcGIS platform, and the difference between "just a map" and "a tool for analysis, communication, and problem solving."
So, does GIS even belong in schools, and especially CTE? Absolutely. The combination of "job-specific fundamentals" and "soft skills" can be built starting even in elementary school. Developing capacity to understand maps, create and analyze data, communicate powerfully, collaborate, solve problems, and so on, cannot develop sufficiently high in a single year of hour-per-day class. GIS has a home in every situation involving data and locations, whether learning U.S. history, analyzing local community situations, or modeling global threats. Educators need always to design appropriate and realistic measures of student capacity and achievement, clarifying student responsibilities, and building in their students scholarship, artisanship, and citizenship. (Thank you, Michael Hartoonian.) Documenting this with a digital portfolio, perhaps via a Story Map Journal, might be a useful model.
6 Comments
You must be a registered user to add a comment. If you've already registered, sign in. Otherwise, register and sign in.