Mark as New

Mark as Read

Bookmark

Subscribe
"All our K-5 students are doing at least one GIS activity per year." That's according to Eric Cromwell, coordinator of elementary science for Baltimore County Public Schools in Maryland. "Most are doing multiple activities using GIS in their annual curriculum. Some are just to orient kids to where things are. Kindergarten has three activities (like weather, and getting them ready for doing some examining of their environment in the spring and where will creatures find food, water, and space)." He rattled off different activities across the grades. Listening to him describe activities makes you want to spend the day in school, learning.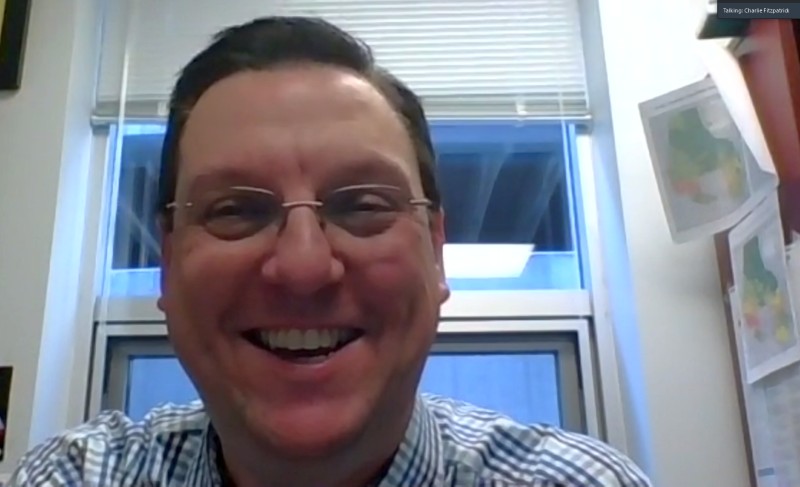 "But Fifth Grade is great. Every fifth grader participates in our outdoor ed program, coming out to one of our parks for a one-day experience. We provide a 20-minute orientation on collecting data using a tablet with the Collector app, then get them out collecting data in the field for about 2.5 hours. We have all 8500 of them, about 150 per day, rain or shine, thru mid-December, and starting up again in late March, and split them up across four of our county parks and one state park. They gather data relating to biodiversity, and with this many kids gathering this much data, we have some pretty big data, which is all theirs, and they compare the biodiversity of their schoolyard with that of the parks."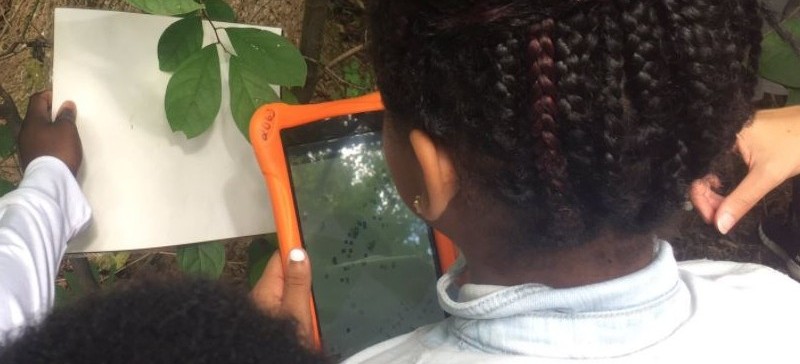 Those devices? "We use Collector," he explained, "so we can have a basemap and go offline. We've got 60 inexpensive Android tablets (well, a few have suffered glitches technically or, uhh, been impacted by gravity, but these were really inexpensive in bulk). They're all pre-configured, the students arrive, do their work, and then we bring them back to the office, synch the data and images (removing any with identifiable kids), and get 'em ready for the next day."
Do the kids like it? And, even more, do they learn anything? "I hear a lot of 'Wow, I never realized this was out here!' And we have different parent chaperones all the time, some of whom really know a lot, so they're sharing what they know, and learning from the kids about the process, so there's all this great intergenerational instruction."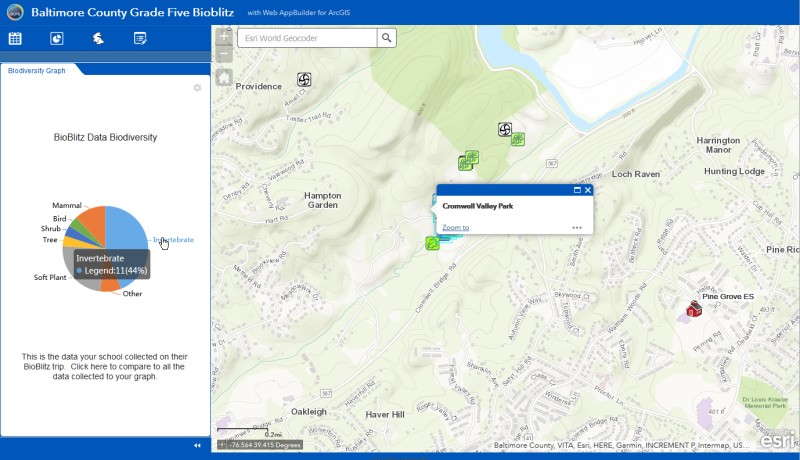 But what about content? "NGSS [Next Generation Science Standards] is all about data … creating it, using it, discovering and understanding patterns in the data. Our kids are all collecting data, so it means something to them. They get to see their items in relation to everyone else's. And when we analyze it across the whole year, during the fourth quarter, they are mesmerized! When I saw what we could do with the Web AppBuilder, I was ecstatic! We've set it up so people can explore it without login (http://arcg.is/2yWhTH3)." So, I explored Cromwell Valley Park ("No relation," he added), zooming in to see the park (date selection is sensitive to map scale), then choosing Oct.26. Items popped up, and I clicked to examine what had been collected, and the supporting images. Then I shifted to Oct.25, and used the food web role filter. "We wanted the app to work fast, even with a lot of data behind it, so we've forced people to choose. All the students love this," he continued. "We just keep growing with it. We've been building this over the years, biodiversity, earth science, data collection and analysis … they learn a ton with GIS. And, yes, they're using some in other areas too, like social studies, with GeoInquiries, and they have a lot of interest in adding more to their curriculum…"
So, for learning about The Science Of Where, truly, it's elementary, in Baltimore County.
You must be a registered user to add a comment. If you've already registered, sign in. Otherwise, register and sign in.