Mark as New

Mark as Read

Bookmark

Subscribe
In spring of 2017, Esri is hosting a network of US state competitions for grades 4-12. Successful pilot events occurred in 2016 in Minnesota (MN) and Arkansas (AR). "Students had a lot of fun with it and liked the freedom of making any type of map they wanted," said MN teacher Kyle Tredinnick. A high school student said "This project was one of the most rewarding things I have done. It makes me respect the amount of work people put into their maps and information because I have now gone through the same process." MN event co-leader Scott Freburg said "One teacher commented 'Students who were doing poorly in most of their classes were absolutely loving this competition and thriving.'"
Competitions spark extra creativity and individuality, and students everywhere love that. MN students chose topics of personal interest ranging from commonplace to exotic: demographics, food, crime, pollution, health care, urban art, even Bigfoot sightings. The open-ended design yielded products ranging from more pictorial to more analytical.
MN's professional GIS community jumped in quickly, offering to judge, and providing special T-shirts to all entrants and their teachers. The competition was highlighted at the state's annual conference for GIS professionals; interested teachers were supported to attend a day of training, and contest awardees spoke to the more than 300 conference attendees at lunch. The state geography teachers' conference also provided special recognition to winners.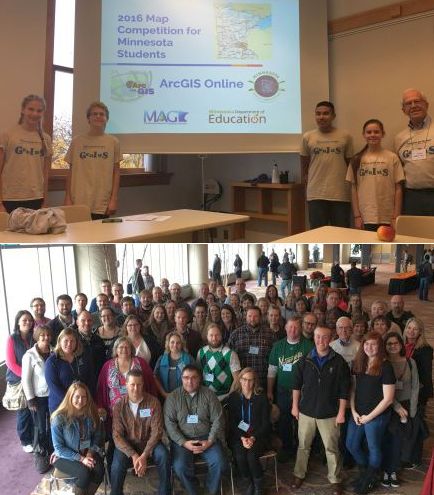 (Top: MN co-leader Jim Hanson and some winners.
Bottom: Teachers and competition winners at GIS conference.)
Esri's 2017 event has school, state, and national tiers. GIS professionals can help their state participate and serve as mentors or judges. Ultimately, one high school and one middle school winner will present at the 2017 Esri Conference. See the announcement for details.
Charlie Fitzpatrick, Esri Education Manager
(This item also posted as http://esriurl.com/funwithgis208.)
You must be a registered user to add a comment. If you've already registered, sign in. Otherwise, register and sign in.