Mark as New

Mark as Read

Bookmark

Subscribe
In spring of 2016, Minnesota announced an ArcGIS Online competition for high school and middle school students across the state. From initial discussion to completion was barely three months, but they had over 200 entries from 25 schools across the state. Hearing Minnesota's initial announcement, Arkansas created a twin event. On the strength of these successes, it's time to take the idea up a notch.
Esri invites all U.S. states to conduct a state-based ArcGIS Online competition in 2017. For each state formally participating, students can submit to their school an ArcGIS Online presentation, web app, or story map about something inside the state borders. Schools can submit up to five projects to the state. Esri will provide each state ten prizes of $100, to go to five high school and five middle school projects. These ten awardees per state will get national recognition, with one each high school and middle school entry advancing to a top level competition. The best high school and middle school projects will earn trips to the 2017 Esri Education Conference in San Diego, CA.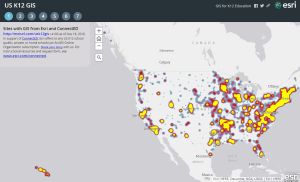 ArcGIS Online maps and apps help users of any age discover/ explore/ display data, show analyses, and present interpretations. Project-based learning experiences such as these help students build the essential problem-solving skills and in-depth background content knowledge needed for college, career, and civic life.
GIS professionals abound across the country (Map#4 above)! They can help educators present ideas and strategies, establish an Organization account, and help students grasp the deeper learning available with GIS. Keep an eye out for opportunities to connect these valuable community resources to learners. Check out the competition!
Charlie Fitzpatrick, Esri Education Manager
This content also posted to http://esriurl.com/funwithgis207
You must be a registered user to add a comment. If you've already registered, sign in. Otherwise, register and sign in.