by
TomBaker

Esri Regular Contributor
Mark as New

Mark as Read

Bookmark

Subscribe
Just in time for Genealogy Day, March 11, 2023!
The Esri K12 program and the AncestryClassroom™ team (formerly AncestryK12) are working together to offer a new StoryMap, intended to guide K12 students through their family's data from the 1950 census. Census records are released in full detail after 72 years, and the 1950 U.S. Federal Census was released in April of 2022. Unlike data GIS users often see, these data are not aggregated by some unit of geography, but are focused on individuals and their household. These data include names of residents (including children) living in the home, occupation, birth place, age, race, gender, and more.

This project utilizes AncestryClassroom™, a free Ancestry® resource for K-12 schools with billions of searchable historical records. For more than a decade, AncestryClassroom has provided educators with access to educational resources and Ancestry® record collections at no cost to help students find their personal place in history. Educators and school administrators can click here to sign up for access to AncestryClassroom at no cost.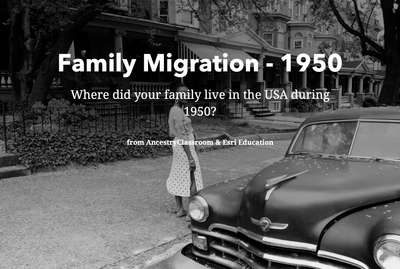 The project asks students to find a relative living in the United States in 1950 as documented in the census. Classrooms submit the address of their relative to a Survey123 form. The result is a map of families' movement between 1950 and today. The resulting map also underscores where people lived within a community 73 years ago. The pattern of movement in small towns and rural areas may look very different from the patterns in suburbs or urban areas. The project map includes a dashboard with all the contributed data from students – allowing learners to compare and contrast their community's changes with others.
This project is designed as a "GeoProject", a short, data collection and analysis activity built around a theme. Several other GeoProjects, on a wide range of themes, are available from Esri staff and external collaborators. See all of the GeoProjects at https://esriurl.com/geoprojects
You must be a registered user to add a comment. If you've already registered, sign in. Otherwise, register and sign in.