Occasional Contributor
Mark as New

Bookmark

Subscribe

Mute

Email to a Friend
Hello!
I have a published feature service, which I would like to update using Survey123. I have built the survey. I have configured the feature service and survey according to the documents/video listed below. Right now, if I fill out a survey, it only adds a record instead of updating an existing record. From what I have read I need to enable the inbox and access the records that way. I am having no luck. More information below:
The feature service is a selection of parcels that have to be surveyed. There are 3 fields with parcel information, and the remaining fields are empty. The 3 fields with data were from an existing data source. The data was not added by surveys. The empty fields are associated with a survey questions to be answered.
When I enable the inbox in Survey123 and publish, I can see an inbox in the Survey123 app, but the inbox is empty. According to the video: ArcGIS Survey123: Editing Existing Data with Survey123 - YouTube I should see a list of all of the parcels in the inbox. Is this an older option that is no longer available? Or have I missed something.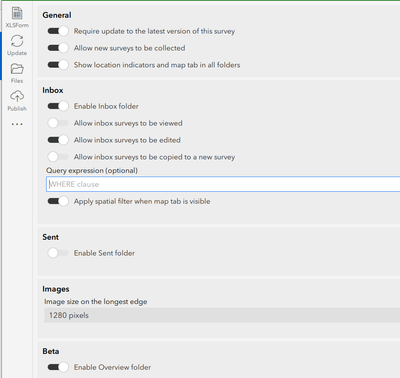 I have checked the json for supportsApplyEditsWithGlobalIDs is set to true.
All of the settings, in theory should be correct. I would love some input on this!
Thank you very much!!!!
Cheers,
Jessica
Links I have referenced:
Working with existing Feature Services in ArcGIS Survey123 (esri.com)
How to enable supportsApplyEditsWithGlobalIDs on y... - Esri Community
Prepare for editing existing survey data—ArcGIS Survey123 | Documentation
ArcGIS Survey123: Editing Existing Data with Survey123 - YouTube
1 Reply

Esri Regular Contributor
Mark as New

Bookmark

Subscribe

Mute

Email to a Friend
Hello @JessicaJThompson,
When you refresh your inbox you are still seeing the inbox as empty correct? For the feature service that you configured with the survey is the parcel layer the only layer in the service or are there other layers? If there are other layers is the parcel layer the first layer in the service?
Thank you,
Zach
Thank you,
Zach