Not applicable
Mark as New

Bookmark

Subscribe

Mute
Hi, I want to transfer a survey from AGOL into enterprise. In order to use AGOL to Enterprise assistants, I need to transfer the survey ownership to another user who has access to both platforms.

The reason for using this approach, is that the Survey123 form field names have capital letters, where as Enterprise doesn't allow that 😞 and i'm hoping the assistants might be able to manage this....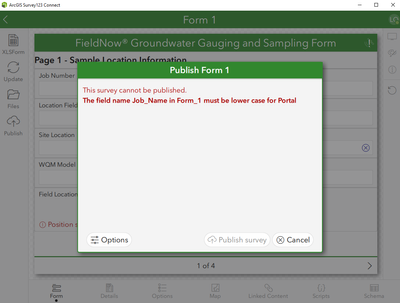 When trying to change the owner of the survey, I get the error "unable to change the owner of this survey", but no other information is provided. Is tis perhaps because the new owner is using enterprise? Is there a way to get more details as to why the change of ownership was unsuccessful?

Cheers!
2 Replies

Esri Regular Contributor
Mark as New

Bookmark

Subscribe

Mute
Hello @Anonymous User,
Please check out this Esri Community blog as the ArcGIS API for Python has a method for cloning items between ArcGIS Organizations. This method works really well with Survey123 Surveys.
As for changing the owner of the survey are you performing this workflow from the Survey123 website? If so are you an administrator in the organization, and does the person you are transferring the survey to have the appropriate privileges to own content?
You could also integrate the ownership transfer in with the Python notebook the Python API team has a good resource that demonstrates the workflow of moving content from one user to another.
Thank you,
Zach
Thank you,
Zach

Not applicable
Mark as New

Bookmark

Subscribe

Mute
Hi @ZacharySutherby ,
Cheers for your response!
I'll pass on the Python API to my team, unfortunately i'm not 100% confident in coding things.

Yes - I was performing the workflow on the Survey123 website - no i'm not the administrator, but I created the survey (I have creator access) - do you need to be an administrator to change ownership?


Yes the person I was trying to transfer to has privileges to own content.
Do you know if these python codes would be able to handle the problem of field names in AGOL having capitals, but not being accepted in portal?

Cheers,
Mike