New Contributor
Mark as New

Bookmark

Subscribe

Mute
Background:
We are using Story Collections to combine information about a given project. The first item in the collection is a storymap explaining the project and the second item we have embedded a WebApp to explore/edit/export the data from the project.
The workflow would be for a project manager to read about the project then switch to the webapp to perform data edits/ filter the data using the attribute table wiget and then export to CSV using the attribute table wiget.
Problem:
When not nested within a story collection, the WebApp exports the CSV as expected, no problem.
When nested into the story collection the WebApp does not export the CSV, no error is given, just nothing happens.
Desired Functionality:
If we are given the ability to add an App to our collection, it should be fully functional when added in. Collections have been a great way to organize projects. Being able to save one URL versus many has been very popular, having to keep track of so many URLs would be a pain for our users but if other ESRI products don't work with StoryMaps/Collections we'll have to stop using stories.
3 Replies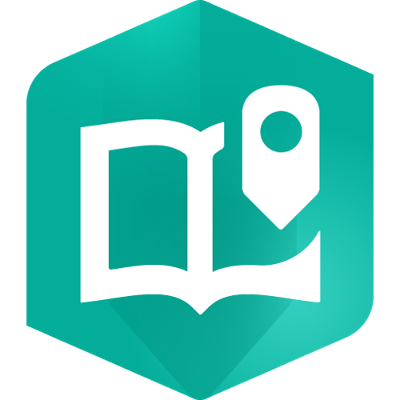 by
OwenGeo

Esri Notable Contributor
Mark as New

Bookmark

Subscribe

Mute
@Sasha_Helton -- Unfortunately, allowing downloads directly from embedded apps is a web security issue, so that capability is not supported. However, there are more secure ways for apps to initiate file downloads when an app is embedded, so we can talk to the team to see if they can update the mechanism. Can you provide a link to your app and/or share which app you are using?
For now, your readers would need to launch the app in a new browser tab if downloading is a critical function. You can add a link or card to your story to easily allow others to launch this app or any other apps you'd like them to have access to.
If only some readers use the download, you could still add the app to the collection, but add a note on the data download widget that the app must be launched in a new tab for downloads to work. There is an "Open in new tab" option in the collection ... menu in the header.
Owen Evans
Lead Product Engineer | StoryMaps

Occasional Contributor
Mark as New

Bookmark

Subscribe

Mute
Any updates on this topic. We have the same problem and the above workaround is not for our users. Curently in Enterprise 10.9.1 we are using Story Map Series to group a collection of webapps and everything works. However, I'd like to upgrade to Enterprise 11.0 and Story Map Series is no longer supported, requiring us to use Story Collections where exporting out CSV and Tiff attachments does not work. Thanks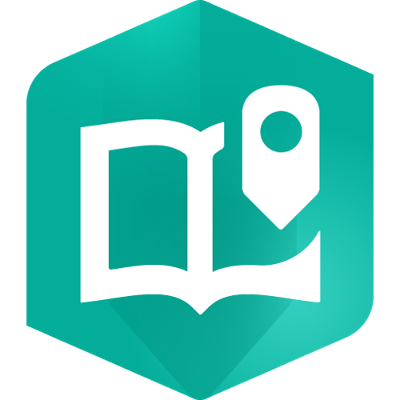 by
OwenGeo

Esri Notable Contributor
Mark as New

Bookmark

Subscribe

Mute
@DamonNelton -- Thanks for your feedback! Please note that the recommended replacement for classic storytelling templates is not always ArcGIS StoryMaps. This help topic has some good information about how to migrate content created with a classic template that's no longer available at ArcGIS Enterprise 11.x.
Considerations for upgrades to 11.0 and later—ArcGIS Enterprise | Documentation for ArcGIS Enterpris...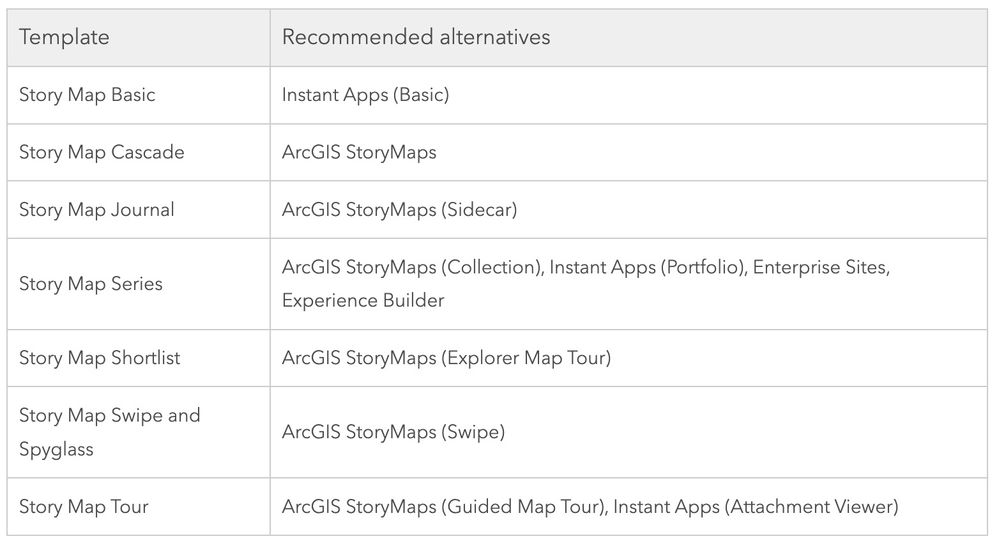 (Please note, the version of the table in the v11.0 help topic linked to above is slightly different than what's in the image. That's because the image is the 11.1 version of the table, which has been shared here since it has some helpful updates.)
Sharing a set of webapps is more of an "app-based" use case rather than storytelling, so this is a situation where it'd be recommended to look at Instant Apps instead of ArcGIS StoryMaps. If you have a need to share apps (especially any with features that are not compatible with ArcGIS StoryMaps security policies), I would suggest you try using the Portfolio or Category Gallery Instant App. Portfolio serves a similar purpose to the classic Map Series template, and the gallery app is another great way to share a set of web apps.
See these articles for more information:
If you have a lot of apps to share, you might even consider using an ArcGIS Enterprise Site or Experience Builder to provide more organization or structure for your set of content items.
Owen Evans
Lead Product Engineer | StoryMaps