New Contributor III
Mark as New

Bookmark

Subscribe

Mute
Hey yall, I am trying to open up my ArcPro project but it says that is has "Failed to open Project" I read elsewhere that going through your files and opening up the MXD file there solves this problem, this was for 2.1.2 https://community.esri.com/t5/arcgis-pro-questions/arcgis-pro-2-1-2-fail-to-open-project-error/td-p/... - but instead I get -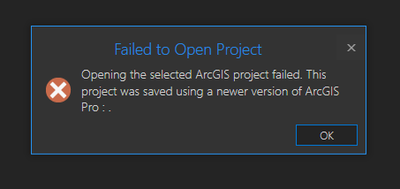 recently ArcPro has been crashing on me several times lately with no reason as to why, even simple things like saving the program which is what I last did to cause it crash and now unable to reopen.
I have checked my updates and it says that it is the current version, I have even closed the app and reopened it, along as restarting my computer. I have not found anyone else with this problem as of recent. Hoping someone can please please please PLEASE help.
1 Solution

MVP Esteemed Contributor
Mark as New

Bookmark

Subscribe

Mute
Did you try opening it from ArcGIS Pro (Open Project) as well as Windows Explorer (Double-click Project file)?
The error message is inaccurate in this case. Although there is no documented solution (from Esri) for this particular issue yet, a few workarounds attempted by people are given below (Please take backup before proceeding).
1. Close all the applications that are open. Please grant read/write access to the current user for the parent folder containing the Project directory. Try opening the project file.
2. From Window Explorer, right-click on the ArcGIS Pro Project File (*.aprx) > Click "Restore Previous Versions".
If any previous version is available, you may be able to restore it.
3. Copy the Project file to the default location (the default location, when you create a new project. e.g. C:\Users\...). Try opening the project file.


Think Location
8 Replies