Regular Contributor
Mark as New

Bookmark

Subscribe

Mute
Hello. I am working on a map for an upcoming comprehensive development plan. Our planning department likes the map so far, except that some of the text labeling is covered by polygons (e.g., parks, FEMA; see first screen shot). I am using the Streets (with relief) reference basemap. I ventured into the Vector Tile Style Editor, saved Streets as a new style, and switched off visibility on all map elements except the text labeling of interest (see second screen shot). The plan is (was) to continue to use the original Streets reference basemap, and add in the "Label only" tile layer into my Pro project map and layout. I know this would be a duplication of labels (stacked on each other). I am assuming that without changing the font size, halo, or font type, the top label layer will simply hide/cover the reference basemap labeling, in place. The no labels layer would be placed above the polygon layers eliminating the partial labeling. However, when I add the tile layer to the Pro map, it appears that everything I turned off (visibility) in the Tile Editor, still shows in the map. (see third screen shot). I was expecting only to see the labels. The layer referenced in the tile layer is World_Basemap_v2. I have tried making a copy of the layer, as well as sharing as a layer file, and adding them into the Pro project, but the display results are the same (seen in the third screen shot).
I don't understand what is going on, or what I need to do. I simply want a layer of labels I can place in the Table of Contents that won't be partially hidden by other map features. Perhaps there is another way to accomplish this and I have my blinders on? Any help would be appreciated.
Reference basemap (Streets with relief) labeling partially blocked.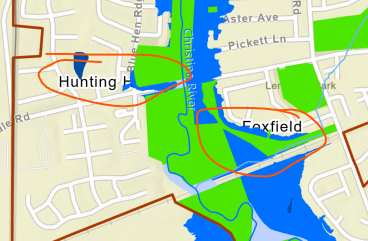 Vector Tile Style Editor result, showing only the labels I am interested in.
After adding the new "labels only" tile layer. Park and FEMA polygons, and anything below this layer in the TofC, is completely hidden by the tile layer.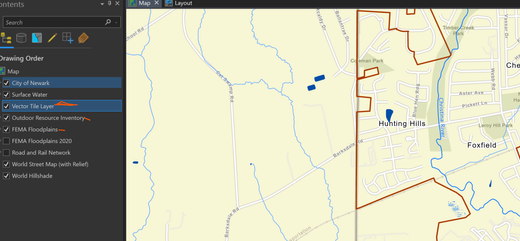 1 Solution

Regular Contributor
Mark as New

Bookmark

Subscribe

Mute
In the latest release of ArcGis Pro you can apply Blending which should maintain the details of the underlying labels
6 Replies