Occasional Contributor
Mark as New

Bookmark

Subscribe

Mute
Hello,
There is a workaround using ArcGIS PRO Basic License to do the following??
I have created a Featureclass (Points) with 3 fields and I want be able (right now or in the future) to create new features in this FeatureClass reading the Data from an excel (The excel structure machts the FeatureClass Table, with elements in the rows and 6 columns 3 with coordinates and 3 with Fields). The Feature Class is published in ArcGIS Online.
I have already tried: XY Table to Point" and "Join Table and Feature Class". It works but, later, I cannot publish the Feature Class with Basic License.
There is a way to do that? maybe with python?
2 Replies

Occasional Contributor
Mark as New

Bookmark

Subscribe

Mute
Angel,
I do something similar with Excel data that is populated by a co-worker and then published to ArcGIS Online by truncating and appending the existing hosted feature layer.
I used modelbuilder to make a model that runs the Excel To Table tool, then XY Table To Point using a calculated date in the feature name, then Feature Class To Feature Class, essentially to overwrite my existing local feature class that is used to append to the online version.
I created a script following the recommendations here https://community.esri.com/t5/arcgis-online-documents/overwrite-arcgis-online-feature-service-using/... and added a tool to the model that points to that script, (Truncate Append tool in model below)

I have attached the script from the community post above.
When updates are made to the Excel file I manually run the model.
Carl

by
RhettZufelt

MVP Frequent Contributor
Mark as New

Bookmark

Subscribe

Mute
If you are just trying to add new features to the layer, can't you just use the "Update Data" option in the hosted Feature Class details page?
Should append any data from the excel file to the layer.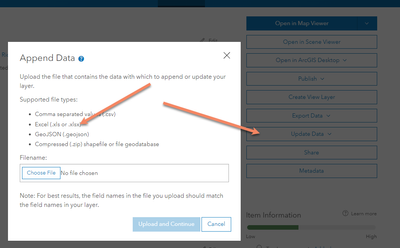 R_