Occasional Contributor II
Mark as New

Bookmark

Subscribe

Mute
Hi,
I just upgraded my ArcGIS Pro to 2.9, and I suddenly realize that I forgot how I used to add connection to my enterprise geodatabase. If I got to Connection - Database - New Database connection, it asks me to select database platform and instance. I don't remember choosing these before. Am I looking at the correct setting?
Thanks!
2 Solutions

Regular Contributor III
Mark as New

Bookmark

Subscribe

Mute
Yes, this is standard information for a database connection. I have added a pic of the connection properties on one of my database connections. The database platform is the kind of database (in my case, SQL Server), the instance is the name of the database server, depending on your authentication, if its by database authentication, you would then select that type and then enter the user name and password (don't forget to check "Save User/Password" box), and then for the database you would choose the name of your database on the server, mine is "mcpagis".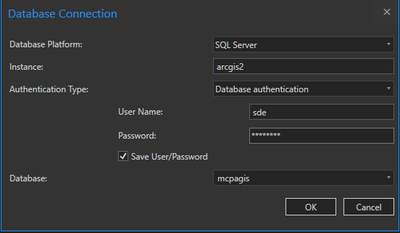 Amanda Bishop, GISP

Esteemed Contributor
Mark as New

Bookmark

Subscribe

Mute
Did you have SDE connections working in your previous version of Pro?
If so, do you remember where these files were stored on disk?
I would have thought the previous SDE connections would still be available in the upgraded version of Pro without the need to re-create new SDE connections.
5 Replies