Occasional Contributor II
Mark as New

Bookmark

Subscribe

Mute
I have data in a concatenated list, created so that it is searchable in a single attribute, but I now discover that I need to make hyperlinks to the various entries
The easiest way to do this seems to be to split them into separate entries and then do a link to each unique entry, as there are far too many different combinations.
I currently have the concatenated fields separated by / e.g. the field currently called 'TYPE' has entries such as 'ENCLOSURE/FIELD/FIELD SYSTEM/SETTLEMENT' and I would like this to become a number of separate new fields TYPE1 = 'ENCLOSURE', TYPE2 = 'FIELD', TYPE3 = 'FIELD SYSTEM' etc
I attach a sample of a file where I did the split manually, to see if the process would produce the data in a form that I could then use in Portal, in a pop-up.
Hope you can help
Thanks
I suspect this may be similar to the solution given to another post I had Splitting data in an attribute table
1 Solution

MVP Esteemed Contributor
Mark as New

Bookmark

Subscribe

Mute
Since the question was posted in ArcGIS Online space, I provided solution in ArcGIS Online.
In ArcGIS Online (Map Viewer)

In ArcGIS Pro, use Calculate Field.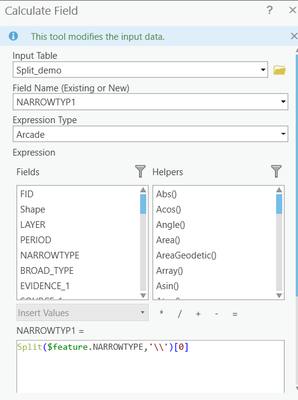 Think Location
12 Replies